Odds are you've heard of xylitol. Most commonly touted for it's benefits in dental health, xylitol is also purported to be a sugar substitute, providing all the sweet taste of sugar without the negative side effects.
While some of this is true, there are some important facts you'll want to consider about xylitol and diabetes before you go out and buy some.
What is Xylitol?
Xylitol is called a sugar alcohol. And while it is neither 'sugar' nor 'alcohol' in the way we commonly refer to those substances, it is categorized as a sugar alcohol due to its unique chemical structure, which stimulates sweet taste bud receptors on the tongue.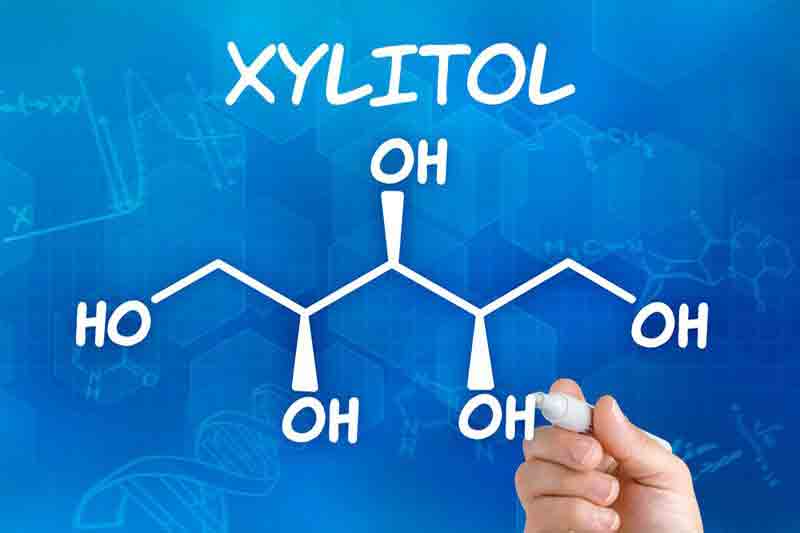 Xylitol is naturally found in trace amounts in fruits and vegetables. But it is more commonly found as a manufactured ingredient (extracted from corncobs or trees mainly produced in China) in sugar free mints, gum and 'diabetic desserts.'
Xylitol has an appearance similar to granulated sugar and tastes similarly sweet.
Xylitol Nutrition Facts
Xylitol is a pure sweetener, though lower in calories (40% fewer than sugar) and lower in carbohydrates (75% less than sugar) than many other sweeteners. Xylitol doesn't contain any protein, fat, vitamins or minerals.
However, because it does not have the same type of impact on glucose levels as sugar does, xylitol can be a better alternative sweetener option for diabetics. It has a low glycemic index (GI) of 7 compared with sugar's GI of 84.
Xylitol Food Comparisons
Xylitol contains 2.4 calories per gram. By way of comparison, table sugar is 4 calories per gram.
Note that all caloric sweeteners will similarly provide about 4 calories per gram including brown sugar, honey, maple syrup, molasses and so forth.
So, while xylitol is lower in calories than pure sugar, it is not considered a zero calorie sweetener like aspartame, sucralose, saccharin, or stevia.
It is also a bit higher in calories than other sugar alcohols – mannitol 1.6 cal/gram, isomalt 2.0 cal/gram, lactinol 2.0 cal/gram, and erythritol 0.2 cal/gram. Sorbitol is the same as xylitol at 2.6 calories per gram.
Myths and Truths about Xylitol
Xylitol contains sugar and may raise glucose levels
While often categorized as a sugar substitute, it is important to remember that xylitol is not sugar free. And additionally, Dr Axe shares that "it has been reported that xylitol can raise blood glucose levels, which suggests that diabetics shouldn't consume it."
This is something very important to be aware of as it's often stated that it has no influence on blood sugar. And while this won't happen for most, it can happen in some.
Xylitol contains calories and may disrupt food cues
It does provide some calories. In addition, there is evidence to support the theory that the sweet taste itself (regardless of whether it provides calories) can induce cravings, blunt taste sensations for normal/more natural foods, and cause people to 'make up for' calories otherwise consumed in sugar-sweetened foods – all of which are not great outcomes for anyone, let alone if you have diabetes.
Xylitol is beneficial for dental hygiene
Xylitol has been promoted by Dental Associations as a effective at preventing tooth decay by reducing food available for harmful bacteria to grow. But there is a bit of controversy regarding this due to potential conflict of interest and conflicting research. People with type 2 diabetes are at increased risk for gingivitis, tooth decay and infection due to harmful effects of elevated glucose levels.
Xylitol is a highly processed refined and manufactured sugar substitute
While xylitol is found naturally in some foods, the form found in commercial products is much more highly processed and generally contains many other ingredients you may not want to include in your diet.
Xylitol may cause stomach issues
And, one thing all of the sugar alcohols do (to varying degrees) is pull water into the intestines, which can lead to uncomfortable gastrointestinal (GI) side effects such as gas, bloating and diarrhea. Whether you experience these symptoms will depend on your body's tolerance and the amount you consume. As with anything new, you should always start out very slowly in case you do have a negative reaction.
Please pin, tweet or share this info to help others. 🙂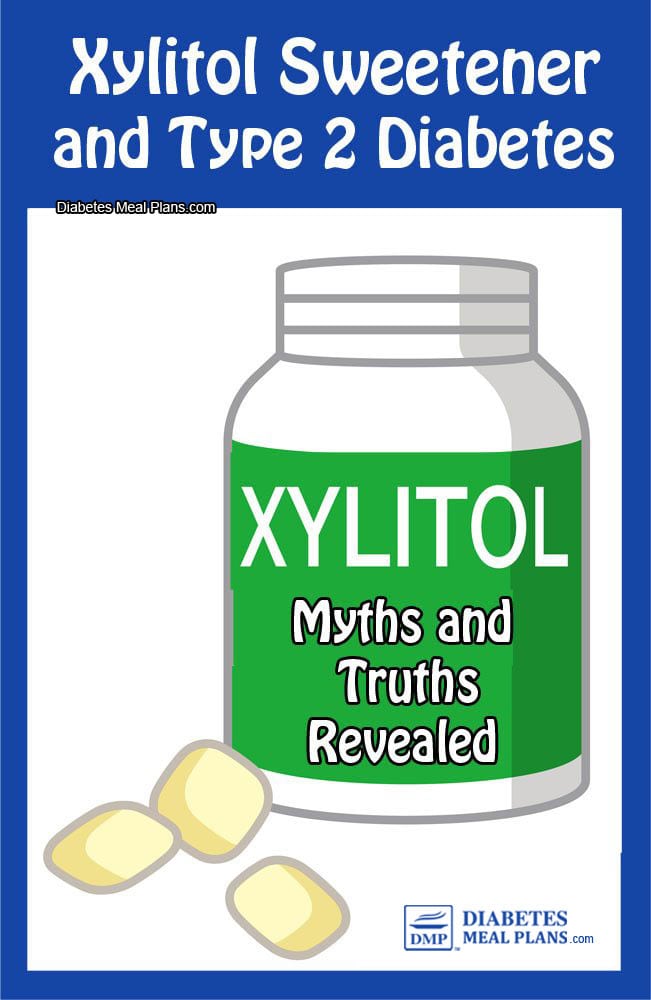 Research on Xylitol and Diabetes
Xylitol has shown to be helpful in improving glucose levels, insulin resistance and lipid profiles, better glucose tolerance and protection from obesity and metabolic syndrome in rats with type 2 diabetes.
Majority of studies regarding xylitol and diabetes have been done in rats and not humans.
Xylitol may have an effect on gut bacteria and gut health and it is not known whether this will produce good or bad outcomes over the long term – there is still MUCH unknown about this topic.
Conclusion about Xylitol and Diabetes
Xylitol seems to be a healthier alternative to sugar for those with diabetes as it does not have the same negative health effects on blood sugar, weight, insulin resistance, lipid levels, or dental caries. That said, it DOES contain calories – in the form of sugar. It also may cause GI upset so is best avoided in those with IBS.
It seems 6-10 grams of xylitol is an appropriate amount for dental benefits. Though there is no set or recommended amount for health benefits as research studies have varied in dosing. However, GI upset is likely to occur at higher doses.
It is best used as a substitute sweetener in various foods–however, keep in mind that it IS caloric, MAY impact blood glucose, and consider the other ingredients in the food you plan on adding it to. If you simple swap xylitol for sugar in your favorite apple pie or chocolate cake recipe, you're still loading up on white flour, unhealthy fats and ending up with a high calorie dessert.
Used in moderation xylitol can be a good alternative for many diabetics. Overall, we prefer stevia as it is zero calorie, has been tested in humans (and in type 2 diabetics) and doesn't provide as many negative effects as xylitol.
Find out more about stevia over here.
A xylitol warning for people with pets
ONE very important thing to remember about xylitol that is not specific to diabetes or whether you choose to include it in your diet is that it is TOXIC to DOGS. So if you have a pet who can reach it as an ingredient or with whom you sometimes share food or give leftovers, please be sure to take precautions against giving them anything with xylitol, as they will actually produce insulin (thinking it's sugar) and become hypoglycemic. It can also cause liver failure.
Please pin, tweet or share this info with others.
Save
Save