Brussels Sprouts. You either love them or hate them.
There are few neutral parties when it comes to this famous (or infamous) vegetable. But in many cases, people who claim not to like them, have never had them cooked properly or have a psychological block simply from the name itself.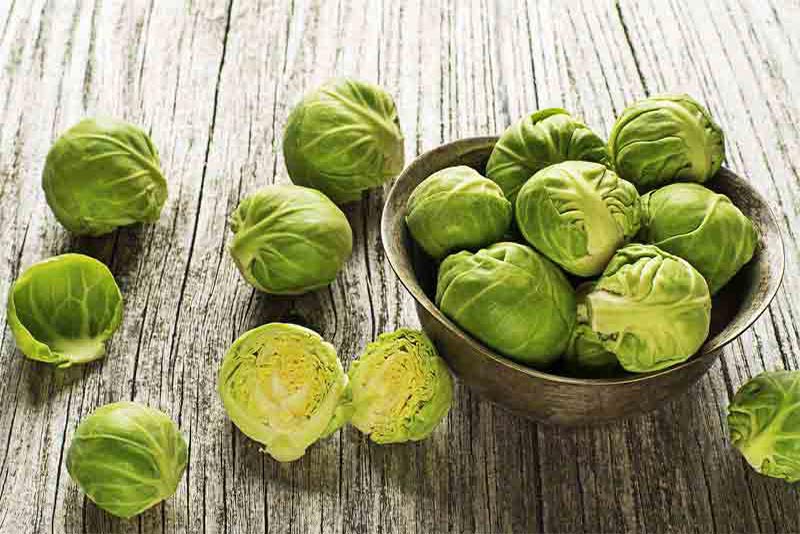 These mini-cabbages originating in (wait for it…) Brussels, pack quite the nutritional punch, not to mention they have an incredibly unique flavor and texture.
Brussels Sprouts Nutrition Facts
Brussels sprouts are very low in calories touting only 56 calories per cup cooked
Brussels sprouts are considered a very low glycemic index food (exact value unmeasured)
Brussels sprouts contain many phytochemicals, including being one of the highest sources of glucosinolates
Brussels sprouts are very high in vitamin K providing 243% DV
A serving of Brussels sprouts provides 129% DV for vitamin C
Brussels sprouts provide many B vitamins and 4 grams fiber
Brussels sprouts contain a small amount of omega-3 fatty acids (not very common in vegetables)
Health Benefits of Brussels Sprouts
Glucosinolates in particular (and phytochemicals generally) have been shown to have cancer protective attributes
Vitamin K is essential for blood clotting, bone structure and heart function
Vitamin C is an antioxidant and builds collagen to form healthy skin tissue
Fiber is essential for healthy bowel movement, providing satiety and keep cholesterol levels in check
Omega-3 Fatty Acids help fight inflammation and support brain health
Research on Brussels Sprouts Specific to T2 Diabetes
Brussels sprouts seem to have an anti-diabetic effect in that they decreased the hyperglycemic effect when fed to rabbits.
Additionally, research studying foods in the same plant family/species have found an improvement of diabetic neuropathy in rats. Another study found similar effects on glucose as well as a decrease in lipids.
Brussels sprouts as a component of a Mediterranean diet has been shown to help reduce risk of blindness through curbing glaucoma and cataracts in African type 2 diabetics.
Sulfur components in Brussels sprouts play a cardioprotective role, reducing risk for heart disease as well as playing a variety of roles in cancer prevention.
Cruciferous vegetables, including Brussels sprouts, seem to benefit and cultivate healthy gut microbiota.
Brussels sprouts also support liver health and aid in strengthening the body's natural detoxification system.
Cruciferous vegetables contain sulfur, which have an anti-inflammatory effect. This can effectively counter much of the inflammation underlying T2 diabetes.
Points for Consideration
Brussels sprouts contain "thiocyanates," which inhibit iron absorption and could lead to hypothyroidism. This is a condition which can slow metabolism and result in weight gain, fatigue, constipation and other symptoms.
This does NOT mean Brussels sprouts cause weight gain, but that hypothyroidism certainly can, and excessive amounts of thiocyanates may be problematic for people prone to thyroid issues. In fact, a study where participants were fed 5 oz Brussels sprouts daily for 4 weeks, they did not have any negative impact on their thyroid.
Brussels sprouts are a very high source of vitamin K. If you are on blood thinners, such as coumadin or warfarin, it is very important that you keep your intake of vitamin K consistent.
Cruciferous vegetables produce sulfur and this can result in bloating and odorous gas. Often this is a result of excessive cooking.
Brussels Sprouts and Diabetes Conclusion
Brussels Sprouts are a welcome addition to a healthy type 2 diabetes diet. B
Be encouraged to include them liberally in your meal rotation as one of the vegetables to eat in abundance, unless you are unaccustomed to high fiber foods or have thyroid issues, in which case it is advised to proceed cautiously and slowly at first.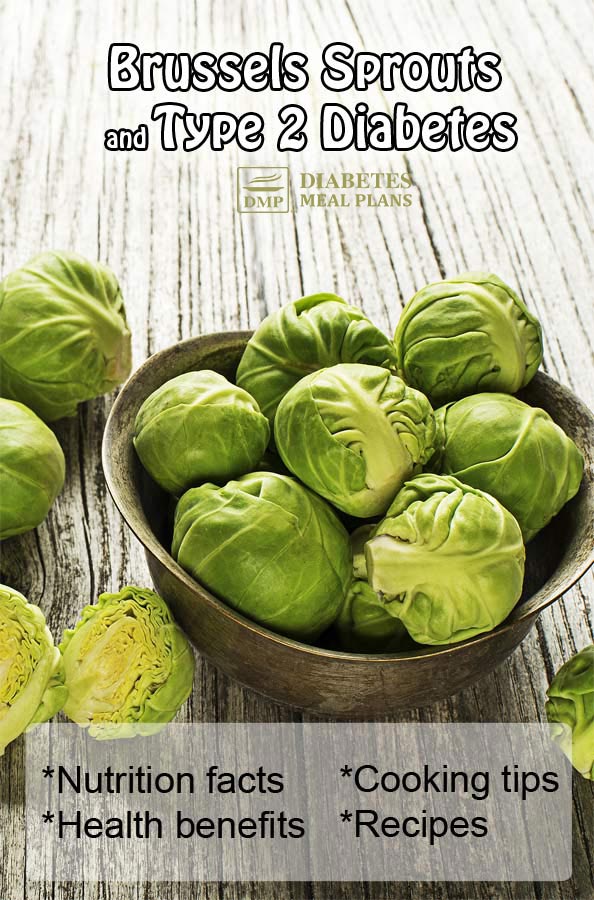 Brussels Sprouts in the Kitchen
Selection
Look for Brussels sprouts with small, compact, firm heads and bright green color. Avoid wilted or yellow leaves or soft texture. Brussels sprouts are a hardy winter crop and usually only available fresh for a limited season, so if you find them available, take advantage!
Storage
Store Brussels sprouts in an airtight bag in the refrigerator crisper and use within 10 days. Wash just prior to using.
Uses
Brussels sprouts can be eaten as side dishes, added to vegetable soups, stews or casseroles, tossed into stir fries or shaved raw into salads.
Cooking
Steam Brussels sprouts 4-7 minutes.
Microwave Brussels sprouts 6-8 minutes, stirring halfway through.
Roast Brussels sprouts 20-25 minutes in 390°F/ 200°C oven.
It's advised not to boil Brussels sprouts, which tends to make them mushy.
Cutting Techniques
If purchased loose, Brussels sprouts do not need to be cut. However, if you purchase a whole stalk (often sold this way at Farmers Markets to maintain freshness), the Brussels sprouts should be cut off the stalk just prior to use. If they are larger than bite-sized, they can be halved or quartered. Additionally, Brussels Sprouts can be shaved or thinly sliced to add to salads.
As you can see in the video, the chef peels the outer leaves of the Brussels sprouts. If you find they look a bit brown or weathered on the outside, just peel the layers until you remove this. Then just trim a small portion of the stalk off, just to get rid of the woodiness. You can then cook whole, in halves, in quarters, or in slices, depending what dish you intend to add them to.
Brussels Sprouts Recipes
Roasted Brussels Sprouts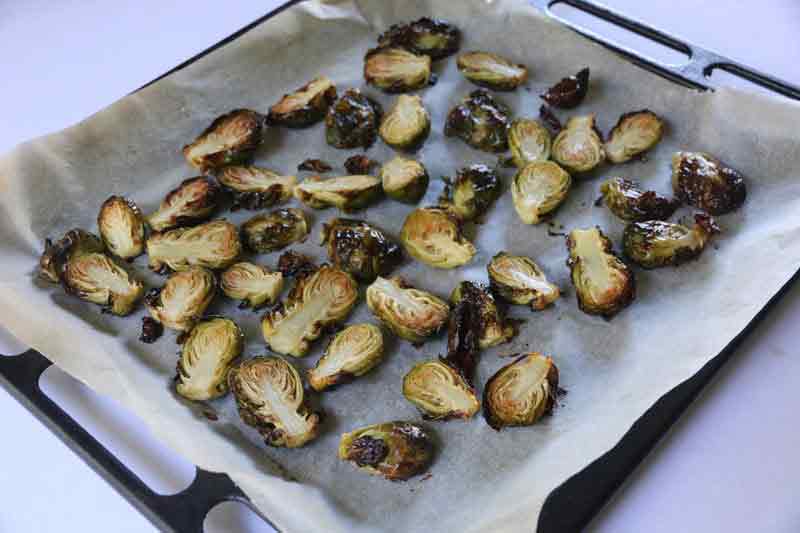 Roasted Brussels Sprouts recipe
Brussels also make a great addition to:
Enjoy your Brussels sprouts
Please pin, tweet or share these nutrition and cooking tips with others.