Fish is generally considered a very healthy food source. And when it comes to type 2 diabetes, this is certainly the case as well.

Read on to discover why you should eat fish, the nutrition it provides, and the research surrounding it's many benefits for improving your diabetic outcomes.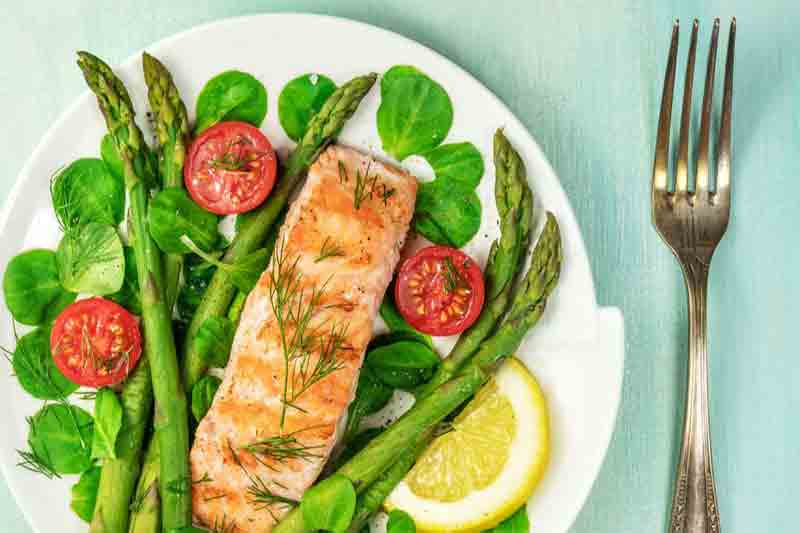 Why Should You Eat Fish?
There are many different varieties of seafood out there, but today we're going to focus on one particular type of sea life: fish — especially fish that are rich in omega-3 fatty acids!
Omega-3s are a type of fatty acid that have powerful anti-inflammatory effects in the body. Most western diets don't provide enough omega-3 fats and they contain too many omega-6 fatty acids, which creates a big problem – inflammation.
The short of it is:
Omega-3s are anti-inflammatory
Omega-6s are proinflammatory
To keep inflammation under control (which can worsen diabetes and increase risk of disease) we want to strike a balance between these two types of fatty acids, and for most of us, that means upping the amount of omega-3s.
Fish like mackerel, salmon, tuna, and sardines are high in omega-3s. So including these kind of fish in your diet at least twice per week can help you reap all the health benefits they offer.
Fish Nutrition Facts
Check out this table comparing the fatty acid ratios of four different fish. The first three fish are high in omega-3 fatty acids, and the last one is not particularly high in omega-3s.
Salmon (4 oz)
Fat: 6.7g
Sat: 1.4g
Omega-3s: 2.3g
Omega-6s: 0.2g
Ratio—1:12
Calories: 166
Carbs: 0
Protein: 24.5g
Mackerel (4 oz)
Fat: 10.6g
Sat: 2.8g
Omega-3s: 2.2g
Omega-6s: 0.2g
Ratio—1:11
Calories: 190
Carbs: 0
Protein: 22g
Tuna (4 oz, canned)
Fat: 1g
Sat: 0g
Omega-3s: 0.3g
Omega-6s: 0.01g
Ratio—1:30
Calories: 90
Carbs: 0
Protein: 20g
Cod (4 oz)
Fat: 1g
Sat: 0.4g
Omega-3s: 0.6g
Omega-6s: 0.1g
Ratio—1:6
Calories: 90
Carbs: 0
Protein: 19g
That doesn't mean white fish isn't a healthy food to eat, it is. It's just not as high in those beneficial omega-3 fats as other forms of fish.
Fatty acid ratios are written with the amount of omega-6 fatty acids first, and the relative amount of omega-3 fatty acids second.
For example, the chart above shows that a 4 ounce serving of salmon contains 0.2 grams of omega-6s and 2.3 grams of omega-3s, which forms a ratio of 1:12.
Long story short, the higher the second number in the ratio is, the more omega-3s that fish contains in comparison to omega-6s.
You can see that the salmon, mackerel, and tuna all have optimal omega-6 to omega-3 fatty acid ratios, but the cod has a less favorable ratio, though it is still good because the omega-3 outweighs the omega-6.
As previously suggested, white fish like cod and tilapia are still healthy low carb choices for a main dish – they are often cheaper, too. But just remember that you'll get a greater dose of omega-3s from other types of fish.
Fish to Red Meat Comparison

We often hear that fish is a healthier alternative to red meat like beef, but why is this?
Well basically, it all comes down to fat…
Fish contains more polyunsaturated fats, like omega-3s, and they tend to have less saturated fat.
On the flip side, the rich flavor of a beef steak is a result of the higher amount of saturated fat in the red meat. While red meat is not bad, eating more omega-3s has certainly proved to be of more benefit to health than eating high amounts of saturated fat.
That certainly doesn't mean excluding red meat because it is a nutrient dense food that provides quality protein, vitamins and minerals. But it is recommended to choose lean red meats where possible and minimize processed meats as well.
Research on Fish and Type 2 Diabetes
Getting enough omega-3 fatty acids in our diets can improve our health in so many ways…
For example, the retina of the eye is rich with omega-3 fatty acids so getting enough omega-3s is important for maintaining eye health. This is especially true for diabetes because you are already more susceptible to vision loss and eye problems – complications of higher blood sugar levels.
A study that examined diet and vision loss found that diabetics who had an omega-3 intake of at least 500 mg per day had a decreased risk for vision loss caused by diabetic retinopathy. The good news is that you can easily meet this goal by enjoying two servings of omega-3-rich fish every week.
In type 2 diabetic subjects, clinical studies have linked omega-3-rich diets to improved health of blood vessels, lower inflammation, a healthier gut microbiome and improved metabolism, along with a decreased risk for heart attacks.
And like already mentioned, oily omega-3-rich fish has been shown to provide more benefits than other types of fish, even for glucose control.
All types of fish are high in quality protein and healthy fats, and they contain no carbs, so overall they are also beneficial for blood sugar regulation.
Fat and protein cause blood sugar to rise much slower than carbohydrate foods.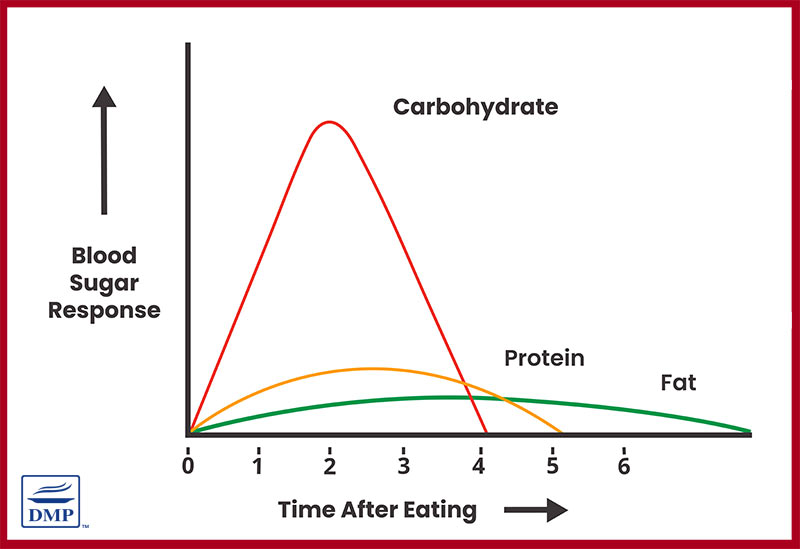 When you enjoy a salmon fillet for dinner, you're going to stay satisfied longer and have more stable blood sugar. More so than eating a big bowl of pasta, which we do not recommend.
So, Is Fish a Healthy Choice?
It looks like fish gets the stamp of approval for diabetics!
Fish contains no carbs, fish is packed with nutritious protein, and depending which type of fish you choose, you can increase your intake of anti-inflammatory omega-3s, which can do wonders for your health.
As a bonus, a fishy meal is easy to prepare. For a low carb dinner that tastes great, all you need to do is sear fish in a pan or bake it to perfection in the oven for around 15 minutes. Marinate your chosen fish in healthy herbs, spices, garlic, lemon or ginger, and you've instantly got a really tasty meal – with a side of non starchy veggies, of course!
Please pin, tweet or share this info to help others. Thanks!