Tea drinking is one of those things that people have been doing for centuries, and for good reason. It provides health benefits, including for diabetes!
Tea is made by combining cured leaves of the Camellia Sinensis (tea) plant with boiling water. And generally, tea is divided into subcategories based on method of preparation, caffeine content, and flavor quality.
The number of categories isn't entirely agreed upon, but the main ones include black, green, oolong, white, and herbal.
Today, we'll be focusing on black and green tea, and in the near future we'll stack up the benefits of a range of herbal teas.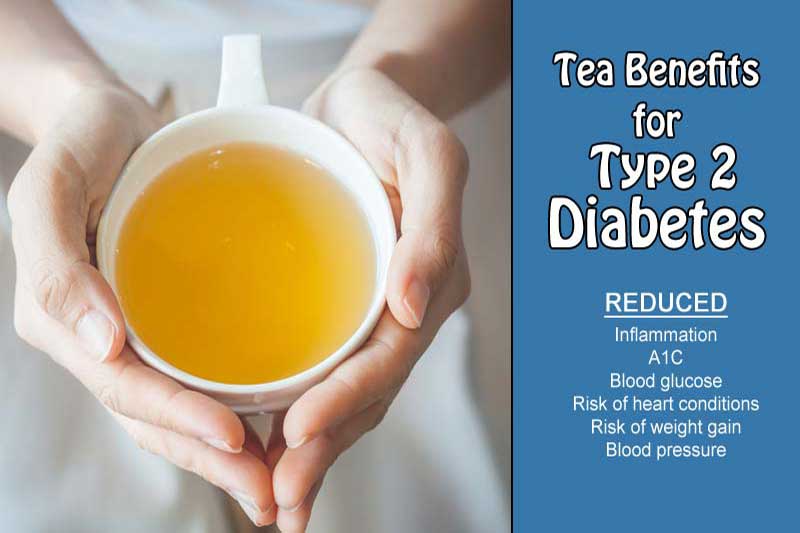 #1: Tea May Decrease Inflammation

Studies have shown that tea – particularly green tea – is stunningly anti-inflammatory.
Much research now supports the notion that chronic diseases of all kinds, including diabetes, are influenced by inflammation. Of course you can't see it but the inflammation is occurring at a cellular level, often called systemic inflammation, or low-grade inflammation. And it's this inflammation in the cells that initiates disease or progresses it.
Thankfully, phenolic compounds in tea work to target, hunt down, and stop pro-inflammatory molecules in order to decrease the body's overall inflammation. While black tea is beneficial, green tea has 6 to 8 times more phenolics than black tea does.
And in terms of reducing inflammation, green tea has consistently proved it's worthiness as an aide to many conditions.
#2: Tea May Promote Heart Health
Heart disease is the number-one killer worldwide and unfortunately, diabetes increases your risk of heart disease, which is obviously not a good thing.
But that's another area that tea can help – it's incredibly good for your ticker!
A 2017 study of almost 500,000 Chinese adults found that daily tea consumption was linked to a reduced risk of ischemic heart disease, as well as a reduced risk of heart attack and other cardiac problems.
Another study found that black tea drinkers (compared to plain hot water drinkers) had significantly reduced cardiovascular risk factors such as triglycerides and fasting blood sugar level, along with improvements in HDL to LDL cholesterol ratio.
In hypertensive women, consuming green tea polyphenols in the form of capsules for three weeks was shown to improve blood pressure after intense exercise.
And because tea is so high in natural antioxidants, it's amazing for your heart health. Quite simply because free radicals are a major source of inflammation in heart conditions. And antioxidants help stabilize free radicals to prevent them causing inflammation and damage to cells.
#3: Tea May Lower Blood Glucose & A1C
If you need an excuse to have a cup of strongly brewed green tea, lowering blood glucose and A1c could be one of them.
One study found that it was the stronger concentration of green tea rather than how many cups being drank a day, that might make all the difference in lowering fasting blood glucose – so brew a nice strong cup.
In an analyses of 17 clinical trials, green tea was shown to reduce blood sugar by an average 1.62 mg/dL (0.09 mmol/l) and A1c levels by 0.3%.
Green tea may also assist with glucose balance, especially after exercise. When overweight men were given a glucose drink and green tea extract in supplement form, they had improved glucose uptake post exercise, suggesting that green tea may assist muscle cells to uptake additional glucose during exercise.
And lest we bestow all of the attention on green tea…it turns out that black tea (and it's polyphenols) may also be an effective blood sugar-lowering agent!
When researchers gave both normal and prediabetic participants black tea along with a sugar-filled drink, the results showed… lower overall post-meal blood glucose!
That's certainly not a free pass to eat sugar and drink tea, but if it can help promote better glucose during a sugar-load, it's got to be beneficial as part of a healthy diet.
#4: Tea May Fight The Obesity Bulge

Although the exact mechanism is not yet known, green tea has been found to have powerful anti-obesity effects.
Animal studies have also found that tea may reduce risk of obesity in those consuming a high fat diet. This is likely due to tea's anti-inflammatory and antioxidant capacities.
Tea's ability to reduce obesity may also stem from the fact that those who drink tea may simply eat less food, as it's been found that beverages containing caffeine and green tea polyphenols decrease appetite and lead to less food consumption at the next meal.
So, if you're trying to consume less calories but you like having something to sip or nibble on, try drinking green tea throughout the day!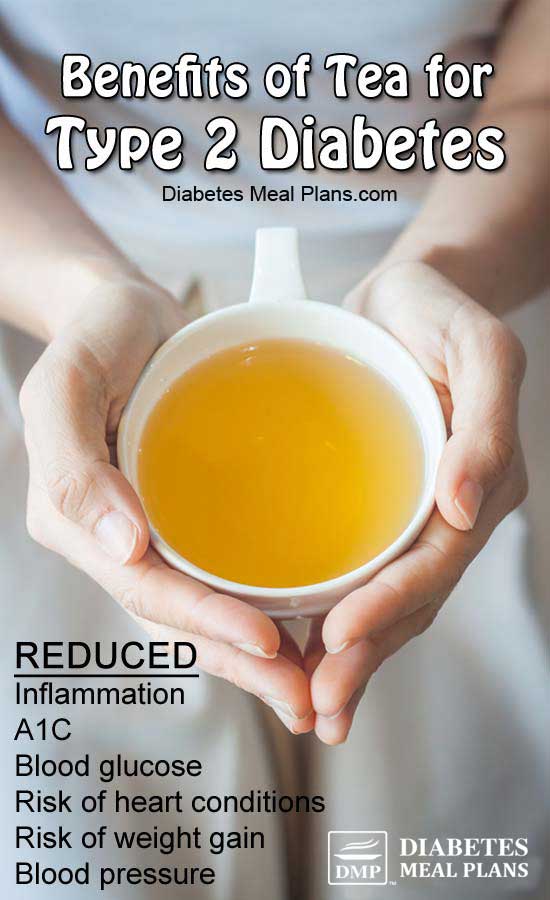 Benefits of Tea for Diabetes
Overall studies indicate the benefits include:
Reduced inflammation
Preventing bacterial and viral infections
Reduced blood glucose
Reduced risk of heart conditions
Reduced risk of weight gain
Reduced blood pressure
The benefits don't stop there but no doubt you can see that drinking tea, especially green tea, definitely has it's benefits.
Tea Side Effects
Black tea contains moderate amounts of caffeine (green tea has caffeine too, but it has much less), so it's important to be aware of how your body reacts to that.
Excess caffeine consumption can lead to increased blood sugar levels in some people and have side effects like headache, anxiety, a racing heart, sleep problems, vomiting, and diarrhea.
If you're sensitive to caffeine, it is possible to find caffeine-free versions of both black and green tea.
Another important factor is whether you're drinking green or black tea, both varieties are diuretic substances, meaning they cause your body to produce more urine than usual.
Because of this, it's important to drink lots of plain water along with your tea (especially black tea) to avoid becoming dehydrated.
How Many Cups Of Tea Per Day?

Studies suggest that drinking at least 3 cups of green tea per day may decrease your risk of stroke. And drinking 5 cups per day may provide a 26% lowered risk of cardiovascular death – that is small cups, not mugs.
As for black tea, don't over do it there – just remember the caffeine content is higher in black tea.
In any case, tea consumption is a safe practice for people with diabetes or prediabetes. So brew a fresh pot and enjoy!
Please pin, tweet or share this info to help others. Thanks!