If you're wondering about how to use a blood sugar monitor, how often to monitor, or have a few questions about monitor choices, you're in the right place. We're going to cover all that and more.
When you're newly diagnosed, the whole blood sugar testing thing can be a bit overwhelming. And even if you've had a little more experience you may have a few questions about using your monitor effectively.
Whatever the situation, you should know that monitoring blood glucose levels is one of the most important elements of good diabetes management and good diabetes control. It is key to knowing how well your condition is managed and how best to treat it.
And, those numbers provide data that you and your healthcare team can use to make informed decisions in the future!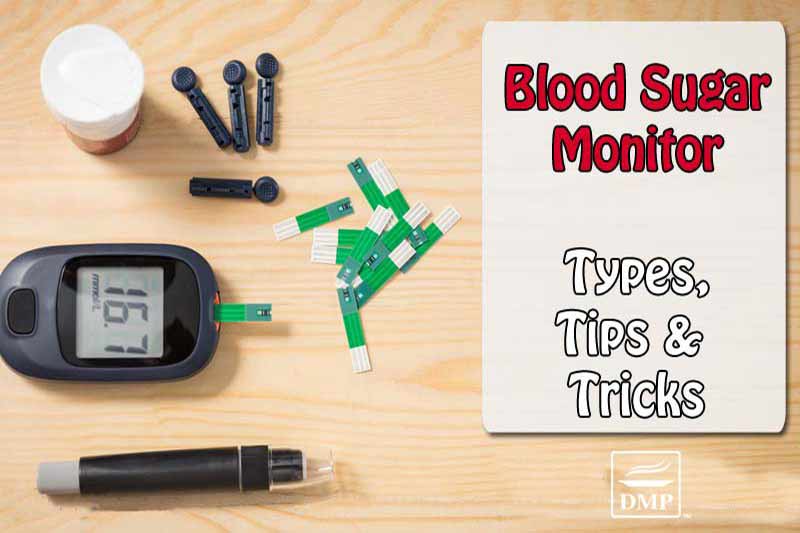 Purchasing a Blood Sugar Monitor
You can purchase a blood sugar monitor at very low cost or even get them free in some cases. And you can use the monitor daily at home to record your numbers.
The needles and test strips that go with blood sugar monitors can be more expensive and often have to be prescribed by physicians to get them at a reduced cost.
And if you're new to this you should also know that a monitor can be called several things:
glucose monitors
blood glucose meters
glucose meter
blood glucose monitors
These are all the same thing – a small device used to test your blood glucose/ blood sugar.
There are many different brands of devices available:
Bayer
One touch
OWell
Accu-chek
Freestyle lite/ Freestyle freedom lite
Abbot
Aviva
and others
In general, all of these function in the same manner.
For those on insulin therapy, continuous glucose monitoring may be beneficial. Continuous glucose provides constant monitoring to inform you of when to take insulin and also to avoid hypoglycemia.
Getting to Know Your Blood Sugar Monitor
Getting started monitoring can seem overwhelming, but once you get the hang of it, it's as simple as brushing your teeth, trimming your nails or anything else you do on a regular basis.
First things first, your machine comes with 2 main parts:
the lancing device (piece that pokes your finger, which often looks like a pen)
the monitor/ meter itself (where you insert strips to get a reading)
These 2 parts are both reusable for many years as long as they are working properly and cared for correctly.
All of the meters and lancing devices work in the same basic way, but have slightly different mechanisms.
Then you have the 2 parts that help perform the tests:
the needles (lancets)
the test strips
Though you can purchase lancets and test strips at the pharmacy, they will be more expensive if not on prescription. Whereas if you physician orders them, the cost is greatly reduced. Just be sure your physician knows what kind of meter you are using as the lancets and strips are not interchangeable.
The lancets and strips must be disposed of after each use. One needle and one strip per use. Got it?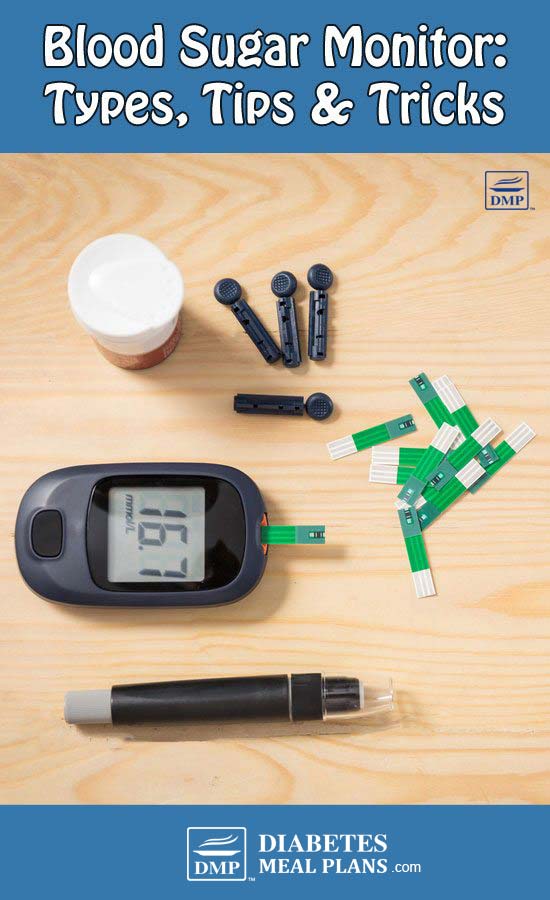 How to Monitor
Okay, so what you'll do first is set up your lancing device – the device that often resembles a pen.
Follow the instructions in your package for inserting the needle to the device. There is often a few settings you can select for needle depth. I recommend starting somewhere in the middle. You can go as low as you like as long as you're able to get a good drop of blood.
Once you have the needle in the device, put the safety cap back on and be sure it's primed, ready to poke you. There should be a "hold" setting, which retracts the needle, then when you place the device on your finger and press the button it will release the trigger mechanism and the needle will get inserted. So your first step is to prime the device on that "hold" setting.
Now that this is ready, turn on your meter. Most meters will turn on with the press of a button, but some turn on when you insert a test strip. Initially, you may have to go through some settings (date, time etc), but after that you just turn it on and insert the strip.
The part of the test strip that looks "computerized" should be inserted while the part that has a smooth line or semicircle (which suctions the blood) should hang out. Follow the instructions for your device.
Once the glucose test strip is inserted, most machines will recognize the strip and then display a droplet indicating it's ready for the drop of blood.
Place the lancing device to the side of one of your fingers and press the button. Squeeze down your finger until there is a decent size drop, then touch the "vortex part" of the test strip to your drop of blood and it will suck it right up and display your reading in a few seconds.
Some test strips have a "display area" that is a different color or has a grid-like pattern where you place your drop of blood.
So the process is:
Load the needle to the device
Prime the device
Load the test strip
Use the device to "poke" your finger and draw blood
Place your drop of blood on the test strip
Get your reading
All monitors work in the same fashion, but you should follow the instructions for loading the needles and test strips to your individual device.
How Often to Monitor
Most people monitor 1-2 times daily – fasting and 2 hours after the biggest meal.
But there is wide variability on how often to monitor depending on the state of your diabetes and treatment.
For instance, those taking mealtime insulin will have to check their sugar at least 3-4 times per day as numbers may determine the amount of insulin given. While others with much better control may only check a few times per week.
If you're newly diagnosed or trying to gain better control, it can be helpful to monitor more frequently.
One thing that is helpful with mealtimes is "monitoring in pairs."
The idea behind this is to detect the impact something has on blood sugars, particularly a meal.
To monitor in pairs you check your levels before, then 2 hours after a meal. It's a great way to get an indication of the effect of foods and the amount of carbs you're consuming.
If there is more than a 40 (2.2) point rise, you can determine that you've eaten too many carbs or the wrong type of carbs for your body or insulin to handle.
And of course, your overall goal is to get those numbers to normal healthy blood sugar levels, which you can do by reducing your carb intake, along with modifying other factors such as stress, sleep, exercise, and medication if needed.
Monitoring Safeguards
Meter Care
It's important that your meter is well cared for or it will not work correctly. Meters should not be left in extremely hot or cold environments (ie. left in the car during summer or winter), and you need to avoid getting them wet.
Meters can be off by as much as 20 (1.1) points so if there is a slight variation in your readings, for instance, 105-110-115 (5.8-6.1-6.3), don't put too much thought into it. The goal is that sugars are "generally" trending in goal range.
Handwashing
Be sure to wash your hands before you stick yourself.
Not only will this help prevent bacterial infections, but it will also help with a more accurate reading. If there is residue of various elements (chemical or natural), the strip will detect it.
If you were just cutting up some fruit that morning and still have pineapple juice on your hands, you may end up with a reading of the pineapple juice rather than your blood.
There is no need to use alcohol–this will only dry out your skin. Just wash your hands with warm water and soap and dry them thoroughly with a clean towel or paper towel.
Needle Disposal
Do not use needles more than once. Please. Do not use needles more than once–they should be used for blood glucose monitoring just one single time only, then disposed.
Once a needle is contaminated with blood it is a biohazard–a breeding ground for bacterial growth.
If you stick yourself with a needle that is not sterile you are risking infection, which is something those with diabetes are already at high risk for.
So what should you do with the contaminated needle? What you should NOT do it just toss it in the trash. This puts yourself and others, including a garbage man, at risk for getting a fingerstick wound and infection.
First, cap the needle off with the cap it came with, whatever you took off the tip after putting it in the lancing device. Then place the needles in a used jar with a screw on lid. It will probably take a super long time to fill this up but once it's full you can dispose of it correctly.
Most cities have occasional biohazard pickups and collections and if not, you can take it to a medical facility to dispose of it properly for you.
Troubleshooting
Pain
Ok, lets address the elephant in the room. While some of us have a stronger tolerance than others, no one likes getting stabbed with a needle.
While it's not possible to get a drop of blood completely pain-free, there are a couple tips and tricks to minimize the pain.
For one, use the sides of your fingers rather than the centers where there are more nerve endings. However, avoid using other sites such as the upper arm, forearm or hands etc. The capillary blood flow is best to fingertips so using these alternate sites might provide inaccurate readings.
Secondly, be sure to rotate fingers–people tend to have a favorite finger, but with 10 fingers (yes your thumb counts!) and 2 sides to each, you have 20 different options. By the time you get to the same site, there will have been plenty of time for healing.
Needle Phobia
Some people have a real fear of needles. The nice thing is that with most lancing devices nowadays, the needle is hidden and never visible (except when putting it in or taking it out), which helps a little.
Next, take a few deep breaths, which will help calm down the 'hyperarousal' state that develops with anxiety and phobias. Remind yourself that this is just a small poke, much less than you'd get from a splinter or a cut.
Finally, if you are still having trouble, you can ask a spouse, relative or friend to lance for you until you get the hang of it a bit more.
Getting a Good Blood Drop
There is nothing more annoying than wasting a strip and needle just to get an "error" message because there wasn't enough blood – this can especially happen when first getting started.
While you don't need a lot, you do need an actual drop, not just a small smear. So here's a few tricks.
Be sure to get your lancing device all ready before you put your strip in so it doesn't time out on you.
Drink a sip of water first and swing your arms back and forth and in large circles to help circulate blood.
Sometimes it helps to plump up your fingertip as you lance, then hold it down (below your heart) and stroke your finger in the direction of the tip to force blood out.
Wait 3-5 seconds and this should give you a nice drop–touch it to the inserted strip and you're good to go!
Remembering
Actually remembering to test is really a tough challenge for a lot of people, but it doesn't have to be.
Until glucose monitoring becomes part of your daily routine (like brushing your teeth or showering), you'll probably have to incorporate something to help establish a habit. The easiest way to do this is to streamline it with something you already do every day. So if we use the example above, set your meter right by your toothbrush.
Another idea is to set a cell phone alarm to go off at certain times when you should test.
Finally, getting organized and writing it down is a good idea. Keep a daily/weekly log of your numbers so you can assess where you're at now and your progress over time.
If you live with a spouse, roommate or kids, if you ask them, they can often be helpful in keeping you accountable to monitoring.
Meter Accuracy
Home blood sugar monitors are not meant to be 100% accurate, but to give you a general idea of what your glucose levels are. The FDA allows a 20 (1.1) point variance that meters can fall within and still be considered accurate.
So don't freak out if your blood sugar is 115 (6.3) one day and 120 (6.6) the next. You may not have done anything differently, the readings may be the same because the meters aren't flawless.
If you are getting significant fluctuations despite consistency in diet and other variables, you may want to test your meter's accuracy.
This is super simple to do as most meters come with a calibrating solution. Simply place a drop on the test strip and see if the reading falls within the acceptable limit on the bottle.
If the reading is accurate and your numbers still look sporadic, schedule an appointment with the person helping you with your diabetes care – physician, diabetes educator, endocrinologist, or other health care provider – as you may need to evaluate a few things.
How to Track Blood Sugar Levels Using Our Spreadsheet
This video will show you how to track your numbers using the spreadsheets we gave you and provide a few tips on monitoring in pairs.
Glucose testing isn't difficult to do but it can take a little getting used to. Using all these tips and tricks, you should now be a blood sugar monitor pro!
Please pin, tweet or share this info to help others. Thanks!