Here you'll find info about why blood sugar is high in the morning, along with tips and resources to lower those numbers!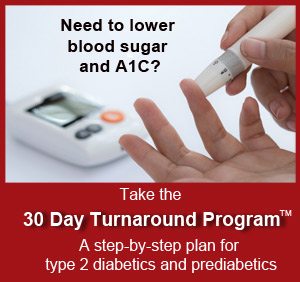 A while back I had a client sending me her blood sugar charts every few days and on those charts she always made some notes if she had questions.
Every time she sent them through, I noticed she had 3 big question marks (???) against her morning blood sugar results. And on another morning when her morning blood sugar levels were high at 160 mg/dl (or 8.9 mmol/l).
She had written:
I don't understand. 97 mg/dl (or 5.5mmol/l) last night when I went to sleep. I didn't eat anything because I didn't feel well. Humm…
I was also over in one of the online diabetes groups I'm involved in today and this message popped up.
I'm struggling with my morning BS number. When I went to bed around 11PM my BS was 107. I'm waking up with my BS between 120 – 135. I did put two pieces of string cheese next to my bed and when I woke up around 3am, I ate one. Since I was told to eat protein at night. When I woke up 3 hours later my BS was 130. I didn't want to eat anything large since it's so close to 140 (my goal is to keep it below 140). So I had 1 piece of toast (sugar free wheat bread) and just a tiny bit of peanut butter. I checked it an hour later and it was 161! What am I doing wrong?
Do these morning situations sound familiar to you?
Are you constantly questioning: Why is blood sugar high in the morning?
I mean, logically we'd think that it should be at it's lowest in the morning right?
Well don't panic, there is a reason for it, so let's explore why morning blood sugar is often higher. And at the end, I'll also point you toward some resources to help you lower those levels.
Why Is Blood Sugar High In The Morning?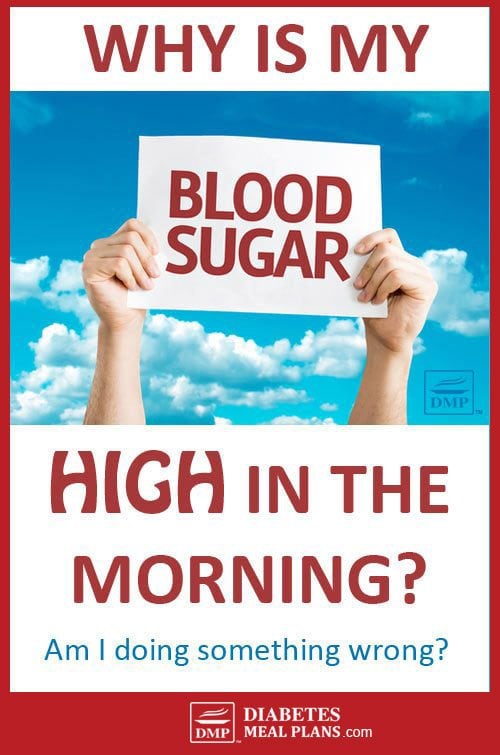 Although it would seem logical that your body would have the lowest blood glucose in the morning this often isn't the case for the following 6 reasons.
1. Glucose Happens 24/7
All the cells in the body need glucose to fuel their function, even when we sleep.
So the body breaks down stores in the liver so that the body and brain can continue to go about their functions. The body can also produce carbohydrates from amino acids in a process called gluconeogenesis.
The point is: glucose production in the body will still occur when you don't eat or if you skip a meal.
2. Hormones Raise Blood Glucose (the Dawn Phenomenon)

Cortisol (the body's major stress hormone) is the hormone that slowly increases in levels from around 3 am onwards, to reach it's peak early in the morning.
This occurs to get us moving and to give us energy. There are also other hormonal factors involved in blood sugar regulation that can influence your highs. This is often referred to as the Dawn Phenomenon.
As a natural consequence of rising cortisol, this stimulates a rise in blood glucose so it is in fact a 'normal' response.
But if you're diabetic there is one factor that impacts both the overnight glucose production and the rise in glucose with cortisol, and that is decreased insulin production.
3. Decreased Insulin Production
Because most type 2 diabetics naturally have decreased insulin production there is not enough insulin being produced to bring the rising blood sugar levels down, even during the night when you are sleeping.
Your body is still producing glucose, your hormones are still doing their thing, but insulin production is low and this is especially so during periods of fasting.
So in the first case we mentioned above where the woman didn't eat anything, this explains why her morning levels were so high the next day.
It's never a good idea to skip a meal when you have diabetes.
4. Hypoglycemia known as the Somogyi effect
This is less common but in some people with diabetes, low blood sugar (hypoglycemia) can occur while you are sleeping.
This can also cause more glucose production. Remember our cells need it so if the body thinks it's low it will naturally produce more.
So, if you're trying to identify why your blood sugar is so high in the morning, you might want to wake yourself up during the night to test it, just in case this might be your situation and your insulin needs to be adjusted (for those who are insulin dependent). You can read more about the Somogyi effect here.
5. Poor Food Choices
The last thing that can have an effect on your morning levels is poor food choices.
Regardless of the time of day poor food choices will impact your glucose levels negatively. So your goal is to clean up your diet, and stick to eating recommended foods that support good blood sugar control.
6. Poor overall glucose control
Good blood sugar control means keeping your blood sugar levels as close to normal as possible.
You need to know your numbers…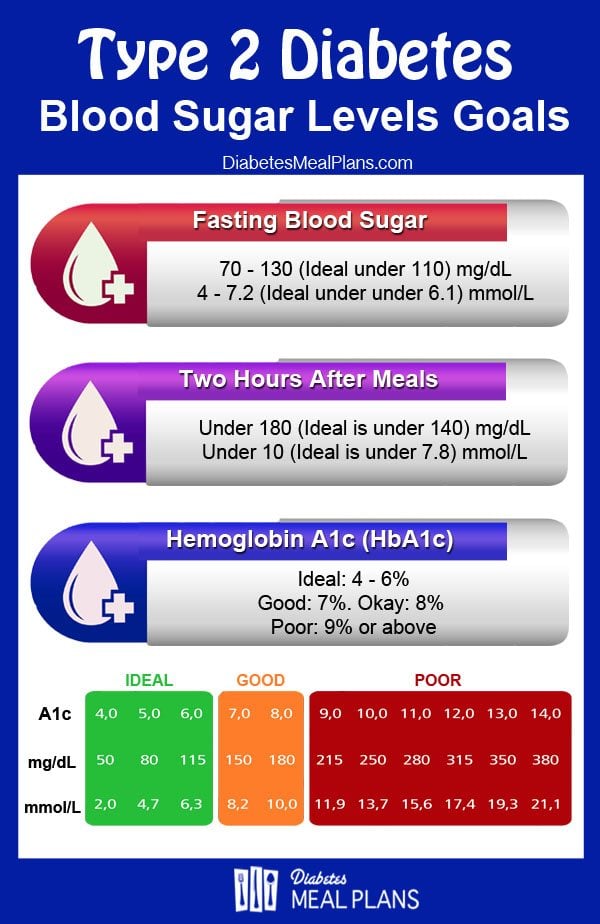 The above levels, for people diagnosed with type 2 diabetes, are the general goals set by the American Diabetes Association and the American Association of Clinical Endocrinologists. However, there is some variation in numbers worldwide and your physician may also set you more stringent goals, or more lenient goals. 
For instance:
Between 70-100 mg/dL or 4-5.6 mmol/l (optimal)
70-110 mg/dL or 4-6 mmol/l (considered good control)
70-130 mg/dL or 4-7.2 mmol/l (more liberal, but realistic for many)
2 hrs post meal the ideal is under 140 mg/dl or 7.8 mmol/l – the lower your postprandial blood glucose is post meal (for instance 120/ 6.7), the better.
Keep an eye on your numbers. And if you've constantly got numbers that are running high during the day, chances are they are going to be even higher in the mornings.
Your goal is to bring your blood sugar levels within a healthy range, then naturally the morning levels do generally come down as well.
So now you know the reasons why blood sugar is high in the morning, what can you do about it?
READ:
10 Practical Tips To Lower Morning Blood Sugar
Tips to bring down high blood sugar levels
Still got questions? Join this Discussion on Morning Blood Sugar Levels.
Please pin, tweet or share this info to help others – thanks!