Table of Contents

[Hide]

[Show]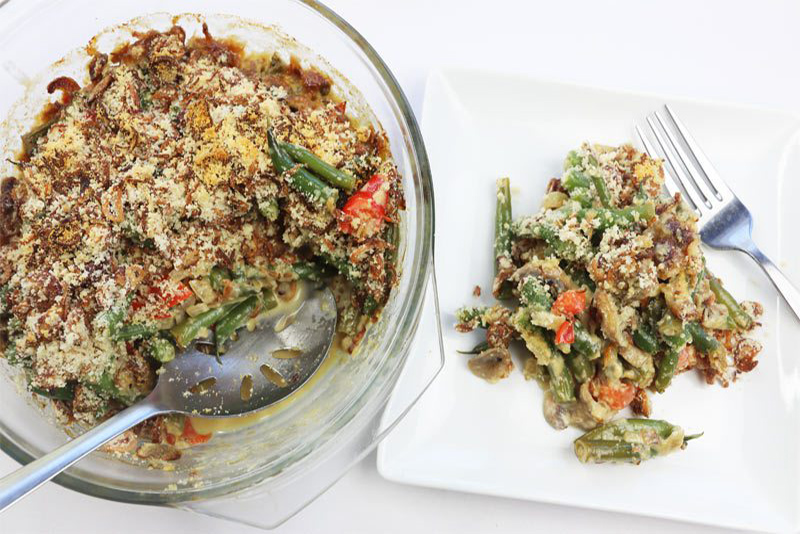 If you look around for a green bean casserole recipe, you'll find many contain all sorts of ingredients from condensed milk, to cream of mushroom soup, to bread crumbs, and more.
And while all of those ingredients might work, if you're not careful, the amount of carbs contained in the meal can quickly become overloaded.
In fact, if you're celebrating Thanksgiving or attending some other holiday celebration, you need to be extra cautious of all those carb side dishes – mashed potatoes, sweet potatoes etc. So one of your best options is to cook some great meals for yourself.
Injecting Flavor
Many of the low carb green bean casserole recipes on the web contain bacon grease and pork rinds to add flavor, which we don't really consider "healthy" inclusions.
Of course, you do need flavor, and it's easy to create with some healthier inclusions. For instance, dairy products are a healthy option for your sauce, whether that be sour cream, cheddar cheese, cream cheese or cream.
We also inject flavor by sautéing onions and mushrooms, and with the inclusion of a splash of dry white wine. And the fried onions/shallots on top, really boost the flavor of everything else, making this dish a truly mouthwatering experience.
You can use either fresh cut green beans or frozen green beans – we used fresh green beans (steamed for 5 minutes before use).
Serving This Dish
This dish does not need to be reserved for your Thanksgiving dinner or holiday meal only. It makes a great side dish paired with fish, turkey or chicken and can be included in your regular meal plan.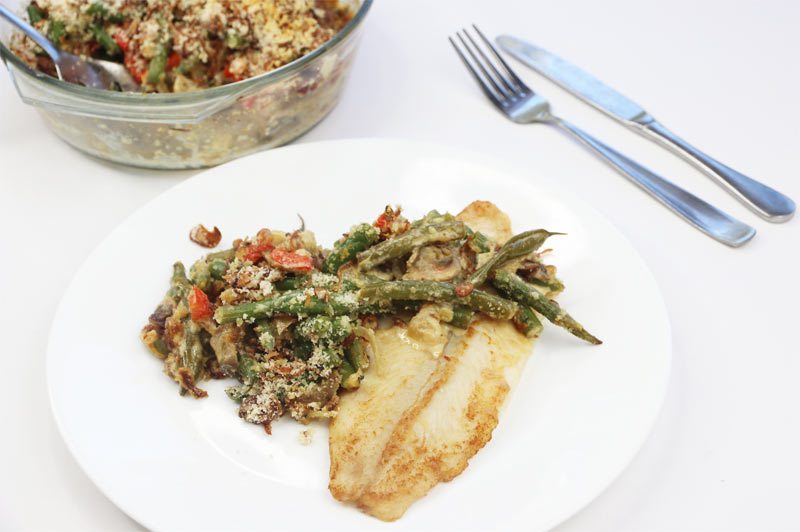 The recipe serves 4 people and clocks in at 10 grams net carbs for a generous and satisfying serve. If you're including it as a side dish alongside other things, it will stretch to at least 6 people – though it is so yummy people will probably want more. 😉
If you're serving more people, simply double the recipe. If you have leftover, it tastes amazing reheated, too!
Preparation
This recipe is super easy to make, with just 7 minutes prep time (there's not much to prep), after which you quickly cook the sauce then put everything into a casserole dish and bake – that's it!
If you like an extra cheesy green bean casserole, add more cheese – it won't impact the carb count a great deal.
Please pin, tweet or share this delicious meal; then keep reading for the recipe below.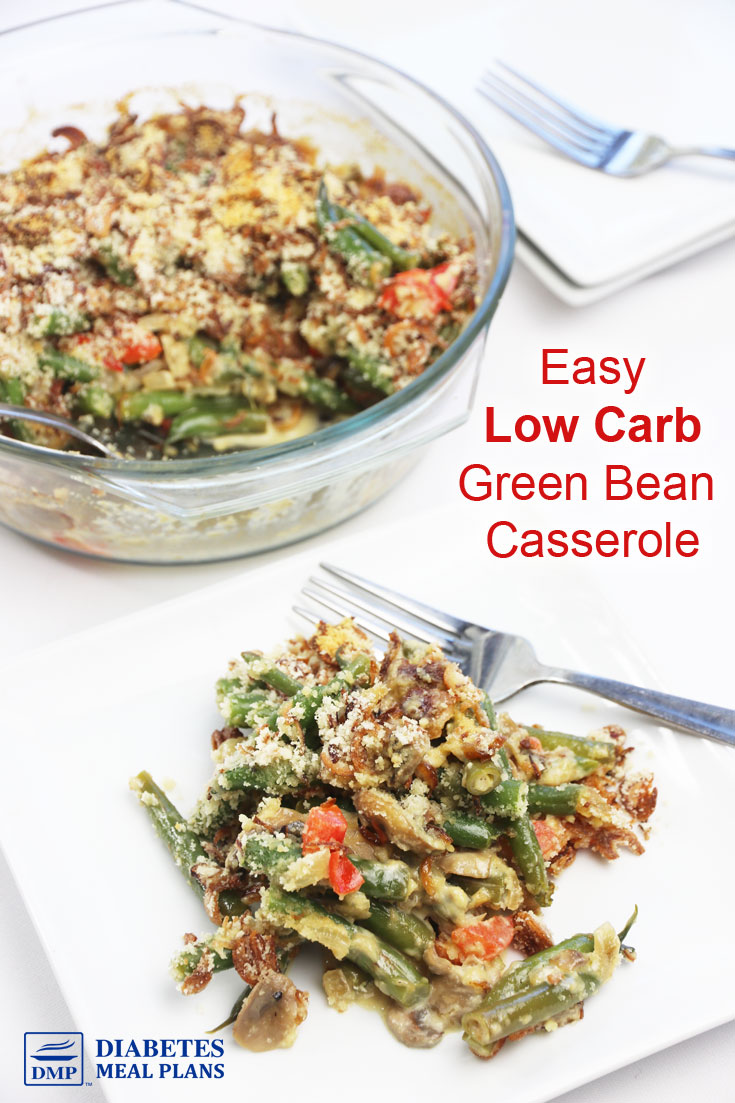 Cooking Class
Did you know we have hundreds of cooking classes available to our VIP members?
Click here to learn more and join us as a member.
Be sure to subscribe to our YouTube channel for future low carb diabetes friendly cooking classes.
Recipe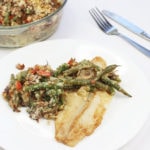 Pin Recipe
Easy Diabetic Friendly Low Carb Green Bean Casserole Recipe
This easy green bean casserole delivers a deep rich flavored dish that you and everyone else will adore. And it's low carb and friendly for blood sugar levels.
Ingredients
11

oz

green beans

- ends removed and cut into halves or thirds

2

teaspoon

olive oil

1

onion

- finely diced

1/2

teaspoon

minced garlic

1/2

red bell pepper

- deseeded and diced

6

oz

mushrooms

- sliced

3

Tablespoon

dry white wine

1/2

cup

cream

1

teaspoon

dijon mustard

3

oz

shredded cheddar cheese

salt and pepper
Topping
1.4

oz

almond flour

- approx. 1/4 cup

1.5

oz

fried shallots

- approx. 1/2 cup
Instructions
Preheat oven to 350°F/ 175°C.

Heat oil in a non stick pan over a medium heat and sauté onions until translucent, around 4 minutes.

Add the garlic, bell pepper and mushrooms and cook for a further 3 minutes.

Add the white wine to the pan and cook off for 1 minute, allowing the alcohol to evaporate.

Mix the Dijon mustard with the cream and season the mixture with salt and pepper (more pepper than salt); then pour into the pan, stirring through. Bring it to a simmer; then stir through the shredded cheese.

Combine the sauce with the green beans and put in a small casserole dish.

Combine the topping mixture together and cover the bean mixture with the topping.

Bake for 30 minutes uncovered.

Serve with fish, chicken, turkey or as a side dish at your Thanksgiving dinner. For a vegetarian option, serve with tofu steaks or top with a handful of walnuts when served.
Notes
This vegetable side dish serves 4 if just eating with a protein such as chicken, fish or tofu. For a Thanksgiving dinner it may serve 6 when distributed in smaller portions.
Will keep in the fridge for up to 5 days.
Tastes fantastic reheated, too!
Nutrition Facts per serving (Serves 4)
Share by Email
Share on Facebook
Share on Twitter
Pin Recipe
Essential Kitchen Equipment
You'll need:
A small saucepan or fry pan for the sauce
A small casserole dish – round, square or rectangle
Measuring spoons and cups
Kitchen scales
ENJOY!
P.S. If you do try this delicious (and easy) low carb green bean casserole recipe, be sure to take a picture and share it with us on Facebook or Instagram (#diabetesmealplans).
We'll send you our weekly newsletter where we share awesome recipes, food ideas and health tips so you can enjoy life more while managing blood sugar and A1c at the same time. After all those Thanksgiving indulgences, you're going to need them!
Subscribe for Weekly Nutrition Tips & Recipes