We often get people ask us how sugar alcohols affect diabetes and it's a great question. Because some have no effect, while for you, some sugar alcohols might be bad. 
Read on as we explore what sugar alcohols are, the different types, and which ones are more likely to raise blood sugar levels.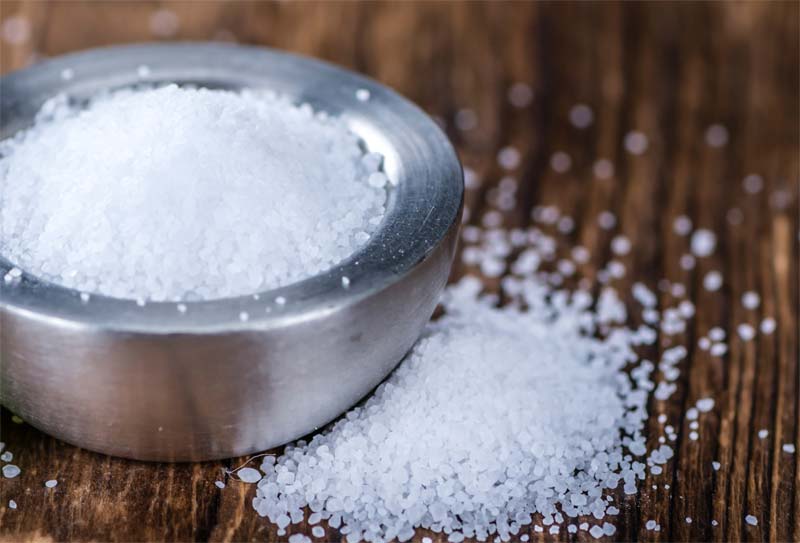 JUMP TO: What are sugar alcohols | Can sugar alcohols raise blood sugar? | Sugar alcohol nutrition facts | How to count sugar alcohols | Research on sugar alcohols and diabetes | Conclusion
What are Sugar Alcohols?
Sugar alcohols are sweeteners that are often present in chewing gum, toothpaste, and "diet foods" such as low-sugar desserts and energy snack bars.
These include:
Erythritol 
Xylitol 
Sorbitol 
Mannitol 
Isomalt 
Lactitol 
Maltitol 
Polyglycitol 
The carbohydrates found in sugar alcohols occur naturally in fruits and vegetables in small amounts. These carbs are then chemically altered and the end result is a sweet-tasting sugar alternative that doesn't cause severe blood sugar swings and contains fewer calories than real sugar.
And despite what the name implies there isn't any ethanol (the kind of alcohol that people drink) in sugar alcohols, so you don't have to worry about getting tipsy off a pack of sugar-free mints!
While sugar alcohols are somewhat processed, they are derived from natural sources and are generally considered to be a lot healthier than artificial sweeteners like aspartame and sucralose.
There are quite a few sugar alcohols out there, with the most common being xylitol, erythritol, sorbitol, and mannitol.
And even though sugar alcohols are very popular, there still seems to be some confusion over whether or not they can affect your blood sugar levels. So let's clear up these confusions once and for all.
Can Sugar Alcohols Raise your Blood Sugar?
Products that are sweetened with sugar alcohols are often marketed to diabetics, so you might assume that these sugar alcohols wouldn't affect your blood sugar much.
But the truth is that some sugar alcohols can raise your blood sugar to a degree, so it's best to do a little research before going wild with these low-calorie sweeteners.
Erythritol is a popular sugar alcohol because it has virtually zero calories and it also has a glycemic index of zero.
Glycemic index, or GI for short, is a measurement of how quickly a food or substance causes your blood sugar to rise, with lower numbers representing better blood sugar stability.
Based on the GI scale, erythritol would have no affect on your blood sugar while other sugar alcohols, like xylitol for example, may have a small-to-moderate affect.
This can be a little confusing at first, so here is a more in-depth look at the nutritional facts for several different sweeteners.
Sugar Alcohol Nutrition Facts
Below is a chart comparing a 1-teaspoon serving (about 4g) of a few common sugar alcohols alongside everyday cane sugar, and honey.
You might notice that all five sweeteners are very similar in the amount of carbohydrates they contain, but take note of the huge differences in glycemic index between them.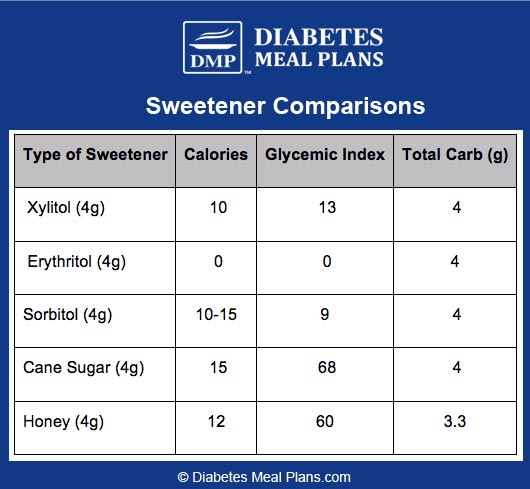 The main appeal that sugar alcohols have over regular sweeteners is their low glycemic indexes. A lower GI equals better blood sugar control, so you can see why xylitol, sorbitol, and especially erythritol are superior to both cane sugar and honey in this respect.
Many people consider "natural sugars" like honey to be a healthier alternative to cane sugar, but in terms of managing blood sugar, honey wouldn't be among our top picks.
You may have noticed that the sugar alcohols listed have the same amount of carbs per serving as the cane sugar does, but the main difference is that your body only absorbs about half the carbohydrates from sugar alcohols.
So even though there are 4 grams of carbs in a teaspoon of xylitol, your body may only absorb about 2 grams of those carbs.
This leads us right into the next topic: how to accurately count sugar alcohols in your diet.
How to "Count" Sugar Alcohols
You might already be a carb-counting wiz when it comes to regular carbohydrates and sugars…but what about sugar alcohols? 
In our experience, many people calculate them incorrectly, even product manufacturers!
To calculate how many carbs are in a food that contains sugar alcohols, start by looking at the number of total carbohydrates and then look a little further down the label to determine how many grams of sugar alcohols there are.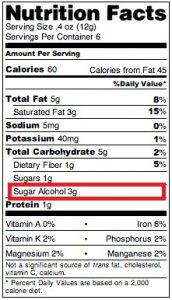 Next, take the amount of sugar alcohol and cut that number in half before subtracting it from the number of total carbs.
Using the above food label as an example, you would look at the amount of sugar alcohol (3g) and cut that in half (giving you 1.5g) and then subtract that from the number of total carbohydrates (5g).
The 5g of total carbs minus 1.5g of sugar alcohol leaves you with 3.5g of carbs.
Sugar alcohols are difficult to digest, which means that your body only absorbs about half of the carbs from them, which is why they're a little easier on your blood sugar than regular cane sugar would be.
Because of this it can be easy to think of sugar alcohols as "free carbs" that you don't have to count, but remember that they can still affect your blood sugar so they should still be taken into consideration when you're making food choices.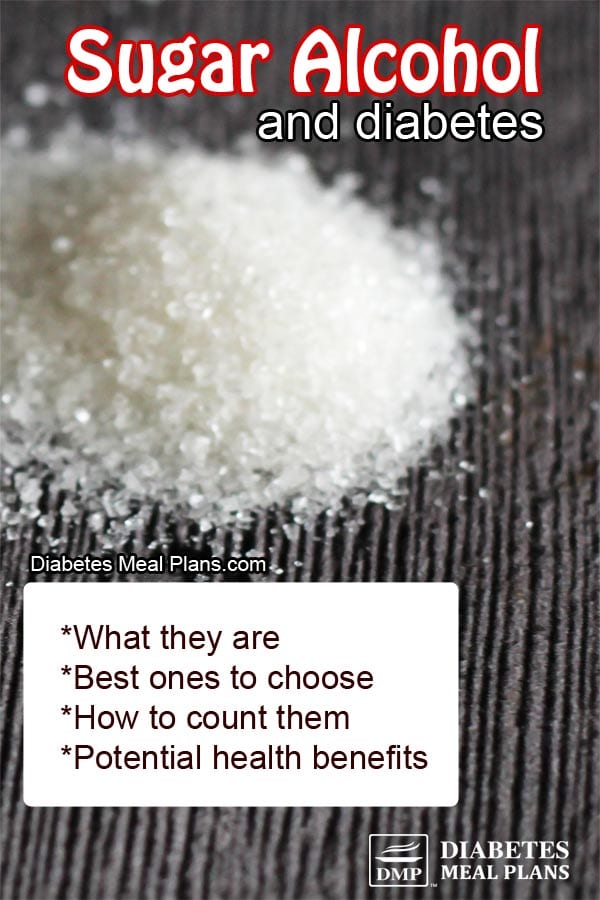 Research on Sugar Alcohols and Type 2 Diabetes
Almost all of the scientific research on sugar alcohols and diabetes is focused specifically on xylitol and erythritol, so we have a pretty good idea of how these two sugar alcohols affect insulin, blood sugar, and vascular health.
Because erythritol has a glycemic index of zero, it doesn't have any effect on your blood sugar whether you are metabolically healthy or not. 
A 2016 study confirmed this, stating that erythritol and xylitol had little to no effect on insulin release or glucose levels among both metabolically healthy and obese individuals.
Not only are sugar alcohols harmless for the most part, but sugar alcohols like xylitol may go beyond simply acting as a sugar substitute.
For instance, a study from 2012 found that diabetic rats had improved blood insulin concentrations and improved glucose tolerance after just 5 weeks of xylitol supplementation (10% xylitol solution).
Another study (2011) on rats assigned non-diabetic rats to either a control group, a group receiving sucrose (sugar), or a group receiving xylitol for a period of 3 weeks. After 3 weeks of supplementation and regular feeding, they found that weight gain was significantly lower in the xylitol group and that the rats in the xylitol group had better glucose tolerance compared to both other groups.
While we do need some more studies in human subjects, this research indicates that using xylitol as a sugar substitute may be a factor that helps non-diabetics and pre-diabetics avoid developing type 2 diabetes, along with assisting people with type 2 diabetes to more easily manage their condition.
Xylitol is also known for its ability to promote dental health.
A literature review (2015) did find that using xylitol-containing products can be an effective way to prevent cavities. One study found that over a 2.5 to 3-year period, fluoride toothpaste that contained 10% xylitol could reduce cavities by 13% when compared to fluoride-only toothpaste. Another study reported that xylitol syrup could reduce cavities by up to 58% when consumed for a yearlong period. 
But that's enough about xylitol. Erythritol deserves a moment in the spotlight for its benefits regarding vascular health.
Oxidation causes damage to the endothelium (the cells that line your blood vessels). This oxidation results in inflammation and poor circulation, both of which can be factors in heart disease.
It turns out that erythritol has some antioxidant effects, being shown to be an excellent free radical scavenger. Another study (2014) found that supplementing 36 grams of erythritol per day for a total of 4 weeks improved arterial stiffness and small-vessel endothelial function.
Conclusion: Sugar Alcohols Can Be A Great Low Carb Tool 
So, what is the final word about sugar alcohols?
For the most part, sugar alcohols are pretty safe to include in your low-carb diet.
They are lower in empty calories than regular sugar and they have a much lower glycemic index than sugar does, which means that in most people, they won't cause a massive blood sugar spike. Plus, science tells us that consuming sugar alcohols like xylitol and erythritol may provide some additional benefits to your overall health.
Those are the major upsides of choosing sugar alcohols.
On the flip side, sugar alcohols are technically "processed foods" which isn't ideal, and some of them do still have the potential to raise your blood sugar. You should also be aware that there are some possible side effects to consuming sugar alcohols – like digestive discomfort, bloating, and cramping. These effects are less common with erythritol.
Finally, keep in mind that everyone may have different responses to different substances, so if you find that one sugar alcohol causes a big rise in blood sugar then try switching to a different type.
Play around with different sugar alcohols at different doses to see what works for you.
Always trust your blood sugar meter when trying out a new food – only it can tell you a true story or reveal a true pattern on different foods that affect you!
Please pin, share, or tweet this info to help others – thanks!