Prunes are well known for their ability to regulate digestion. You may have eaten a few prunes or even gulped down a bittersweet glass of prune juice in an effort to "get things going."
We all need a digestive pick-me-up every now and then, but should people with type 2 diabetes or prediabetes reach for prunes to optimize their digestion?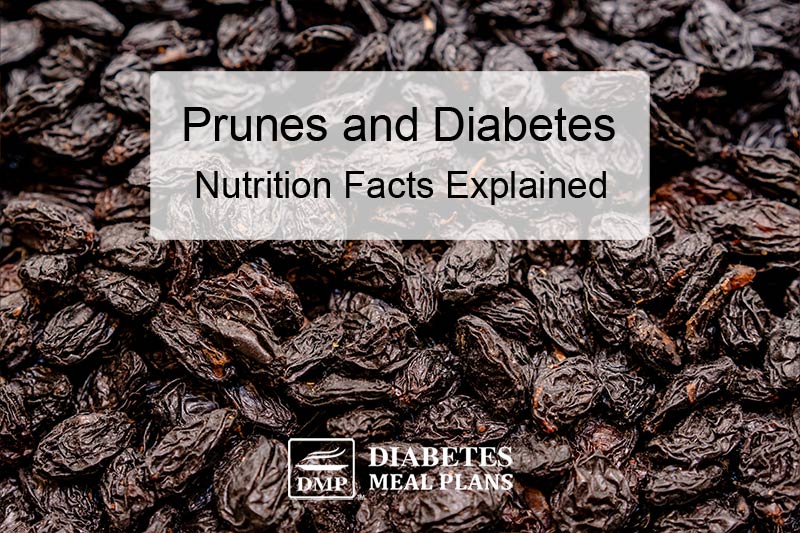 Prunes Nutrition Facts
If you remove all the water from a fresh plum you'll end up with a dried, wrinkly prune. Some people enjoy the flavor of prunes while others find the taste to be too earthy or even sickeningly-sweet.
That overpowering sweetness occurs for a reason. When you dry out a plum you're left with a smaller fruit and super-concentrated sugar.
Take a look at the number of carbs (sugar) you'll find in a single prune (9.5g):
Calories: 23
Carbohydrates: 6g
Fiber: 0.7g
Fat: 0g
Protein: 0g
No, the carbs in most prunes aren't "added sugars," but your body doesn't know the difference between a naturally-occurring sugar like fructose and an added sugar.
The effect is the same; your blood sugar goes up, up, up!
While prunes do contain some healthy antioxidants, they're not our first choice for someone with type 2 diabetes or prediabetes because they contain too much sugar (carbs) and not enough fiber to balance it out.
This is a bit ironic, considering prunes are known for their "high fiber content," but stick around and we'll share a list of low-carb foods with more fiber than a prune!
With all this talk about fiber, you may be wondering, why is it such a big deal?
Fiber and Diabetes
Adults are recommended to get around 30g of fiber per day, but most people only consume half that.
Here are some reasons you may want to up your fiber game using low-carb vegetables and fruits (aka. not prunes!).
Optimizes Digestion
Fiber plays a huge role in digestion. Too little fiber in your diet can lead to constipation, acid reflux, bloating, and general discomfort.
Fiber keeps your digestion regular, wards off constipation, and promotes a healthy gut by feeding the right kind of bacteria.
Manages Cholesterol & Blood Sugar Levels
Fiber, especially soluble fiber, has therapeutic effects in people with type 2 diabetes.
Studies have found that fasting blood sugar, insulin sensitivity, and LDL "bad" cholesterol levels were all improved when participants were given 20g of soluble fiber every day for a month.
All those changes from simply increasing their fiber intake – amazing!
Keeps you Full & Satisfied
Getting enough protein, fat, and fiber is the key to staying satisfied for hours after a meal.
Fiber is an important part of this equation as it bulks up your meal, takes up space in your stomach, and keeps you from digesting food too quickly.
If you find yourself running to the cupboard for snacks every 30 minutes because you're still hungry after lunch, then consider adding more high-fiber foods to your diet.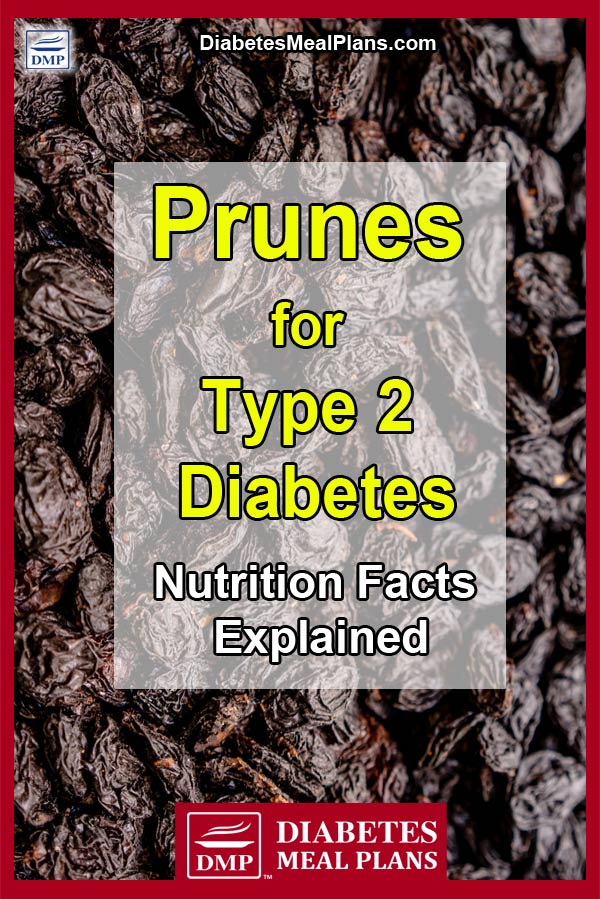 Exchange Prunes for Low Carb Fiber Sources
Long story short, we need plenty of fiber, but relying on dried fruits isn't the best way to get them.
Soluble fiber draws water into the digestive tract, making everything pass through more smoothly while insoluble fiber adds bulk to the digesting food. Together these two types of fiber work to keep things running smoothly.
Let's compare a small handful of prunes (about 4 medium sized prunes) to standard servings of some lower carb, high-fiber foods.
If you ate 4 prunes, you'd get a total of 3.1g of dietary fiber that breaks down into 1.3g of soluble fiber and 1.8g of insoluble fiber.
That's not too bad until you realize that you'll also be consuming more than 20g of carbs (that's a lot of sugar)!
Now let's take a look at some lower carb options to see how you could mix and match them to get even more fiber than you would from a handful of sugary prunes.
Here is a list of some low carb foods rich in soluble fiber. We've listed the amount of soluble fiber (not total fiber) in a standard serving of each item:
Carrots (1.1g)
Sunflower seeds (1.1g)
Hazelnuts (1.1g)
Brussel Sprouts (1.7g)
Broccoli (1.3g)
Kale (2.1g)
Flax seeds (2.7g)
Avocado (4.6g)
Chia seeds (6g)
Psyllium Husk (7.1)
Here are some low carb foods rich in insoluble fiber, with the amount of insoluble fiber listed for a standard serving:
Peanuts (1.2g)
Green beans (1.2g)
Zucchini (1.2g)
Brussel Sprouts (1.9g)
Soybeans/edamame (2.2g)
Walnuts (2.5g)
Almonds (3.5g)
Kale (5.1g)
Most high-fiber foods contain both soluble and insoluble fiber, so if you load up your plate with plenty of healthy veggies, nuts, and seeds, you're sure to get enough of both types.
Conclusion
Dried fruits like prunes aren't the way to go when you're trying to manage your type 2 diabetes or prediabetes naturally.
Trying to optimize your digestion while keeping carbs low? Skip the prunes and reach for low carb, high fiber foods instead.
As you increase your fiber intake, it's also important to drink more water!
Whether it's a drinking sparkling water from a can, a refreshing seltzer, or plain old tap water, you'll want to get hydrated to keep your digestion in shape.
Finally, regular physical activity is the cherry on top. Get moving every day for at least 30 minutes to give your body the best chance at happy, healthy digestion!