Table of Contents

[Hide]

[Show]
If you've ever seen someone toss a handful of produce into a machine that turns food into juice, then you already know what "juicing" is!
And you might be thinking that stuffing a whole day's worth of fruits and vegetables into a drink that you can down in minutes is a great idea. Think about all the vitamins, minerals, and fiber you're getting all in one dose. Juice must be great for diabetics, right?
After all, loads of health gurus promote juicing as a way to guzzle down loads of antioxidants for great energy, health, vibrant glowing skin and to combat disease. So, it must be good, right?
Sure, if you take it at face value, juicing sounds fun and efficient. But, if you take a closer look you'll find several reasons why juicing is a big "no, no" for diabetics!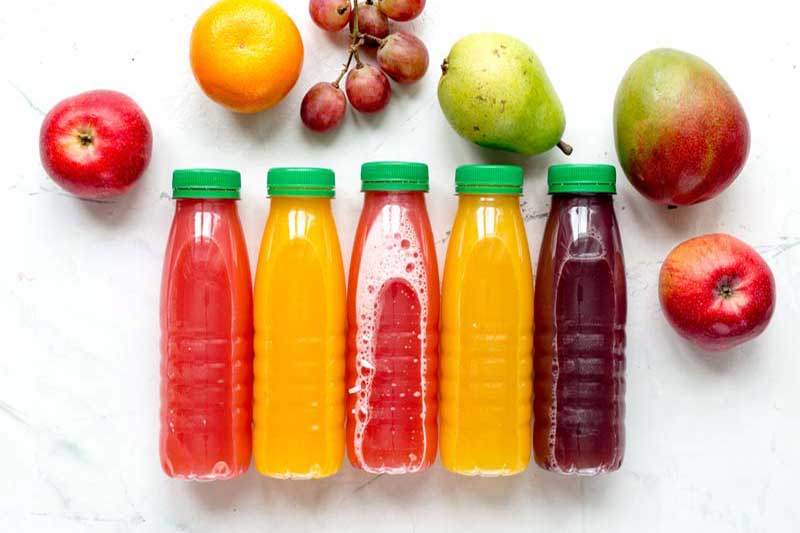 Reason #1
Juicing removes the fiber from the fruits and vegetables. When you eat an apple whole with the skin on it, you get about 4.5 grams of fiber. But if you toss that same apple into a juicer, you end up with only 0.2 grams of fiber.
And by the way, we don't recommend you eat apples either. Stick to only low carb fruits. I'm just using apples as a demonstrative example. But just know, to some extent, the same changes occur across all fruits and vegetables.
Getting back to fiber, you absolutely need it to help with blood sugar regulation, to help lower cholesterol levels, and to aid in digestion and regular bowel movements.
If you look at the following nutrition table you will notice that most of the items on it are very low in fiber. That's because we get fiber mainly from eating whole foods.
Please pin, tweet or share; then keep reading.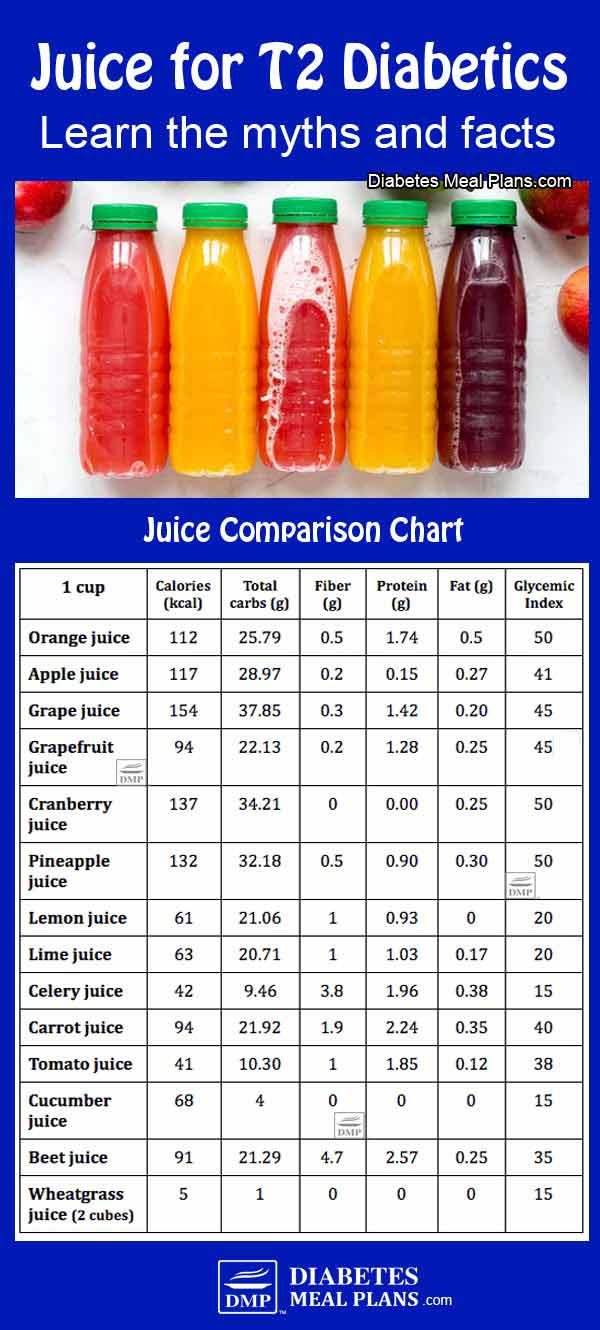 Before moving on, I just want to point out that things like lemon, lime and grapefuit are rarely used in one cup portions like some of the sweeter fruits. Lemon, lime and grapefuit are fruits you can use in smaller portions within a low carb diet.
Reason #2
Drinking juice instead of eating the fruits and vegetables as solid food will dramatically increase the amount of carbohydrates you consume.
Have you ever wondered just how many apples it takes to make a single cup of apple juice?
Well, you're about to find out!
It takes about 4 whole apples to make an 8 ounce glass of juice!
It is very easy to sit down and drink one cup of juice. But there is no way you would sit down and eat 4 whole apples in a row, ever!
A cup of apple juice equates to 29 grams of carbs, and it's all just pure sugar.
Reason #3
Juicing gives your body a shot of straight sugar.
Not only are you consuming more carbs than you would by simply eating foods whole, but you're also dumping a whole bunch of sugars/ fructose straight into your bloodstream.
One apple contains 9.5 grams of fructose, one pear 11.8 grams, 1 cup grapes, 12.4 grams. Limes are zero, lemons are 0.6 grams.
Consumption of fructose has been linked to increased weight gain, higher triglyceride levels (cholesterol), high blood pressure, insulin resistance, higher small dense LDL cholesterol and fatty liver, not to mention, it is a form of sugar so may send your blood sugar soaring also.
Reason #4
Juicing turns a solid food into a liquid, which denies you the vital health benefits you get from chewing!
First, when you chew your food well it takes longer to eat a meal and any carbs/ sugar from that meal is absorbed more slowly and evenly.
On top of this, the mechanical act of chewing actually stimulates hormones that reduce appetite and raise insulin levels. This allows your body to respond efficiently and effectively to the carbs/ sugar you just ate. Plus, those hormones speak to the brain to register the fact that you're either full or still hungry.
When consuming juice, you won't be triggering these appetite hormones in the way they should be, which obviously has a few negative consequences – lack of sufficient insulin, increased hunger, overeating, and so forth.
Are there any juices you can have?

So you might be wondering, is there any kind of juice that's okay for me to drink as a diabetic? Or is it all off the table?
We're big believers in eating food rather than drinking it – at least most of the time.
Typical fruit juices like apple, orange, grape and pineapple are definitely off the table, altogether. They are simply too high in carbs and won't help you keep those blood sugar and A1C levels in check.
Consider this: one cup of celery juice has only 42 calories, a low glycemic index of 15, and under 10 grams of carbs. It also has the added benefit of almost 4 grams of fiber.
On the other hand, one cup of orange juice has a 112 calories, a glycemic index of 50, over 25 grams of carbs, and a meager 0.5 grams of fiber. Clearly, the celery juice wins out in terms of nutrition and blood sugar regulation.
But, there are some juices that have fewer carbs that are acceptable to have, sometimes. Because let's face it, we all love a tasty juice or smoothie from time to time.
And just to mention, blending, rather than juicing will retain slightly more of the fiber and nutrients. So always blend a smoothie, rather than squeezing fruits and veggies through a juicing machine. Thankfully, these days there are a range of zappy bullet blenders available that make this easy to do.
So back to what you can have… you can get away with using small amounts of lower carb fruits (berries, peach, plum) and vegetables like tomatoes, celery, cucumber, wheatgrass, and leafy greens.
You can also throw some lemon or lime into your juice for a zesty flair!
For an added bit of sweetness, add a little stevia to the mix and you'll have a juice that you can enjoy.
Give this Green Superfood Smoothie recipe a try:
1 1/4 cups of unsweetened vanilla almond milk
2 ice cubes
2 cups of spinach
1/2 of an avocado
1 tablespoon of vanilla protein powder
4-5 drops of liquid stevia extract
Directions: Blend everything up in a blender. Pour into a glass and enjoy right away.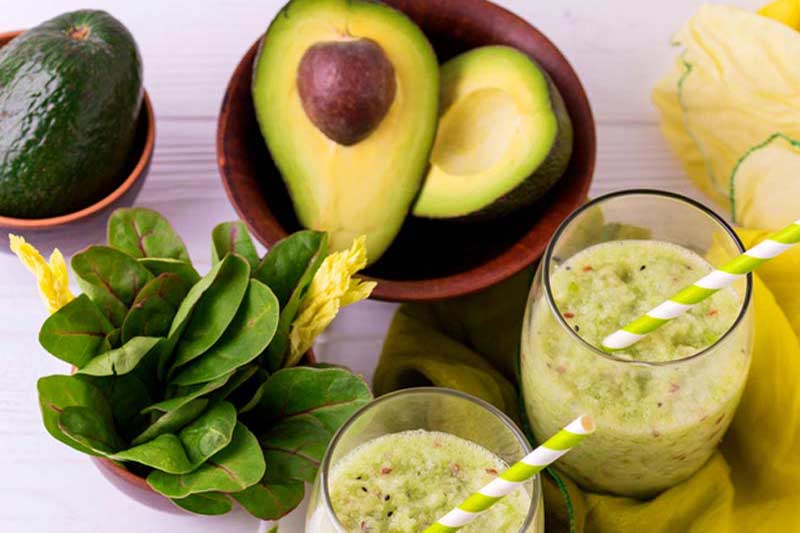 Or try this Berry Smoothie recipe.
3/4 cup fresh berries or frozen mixed berries
2 scoops vanilla protein powder
1/2 cup desiccated coconut
1 cup almond milk – or use coconut milk
1 Tablespoon flaxseed oil – or olive oil
1/4 teaspoon vanilla extract
1/4 teaspoon ground cinnamon
5-10 drops liquid stevia – optional for extra sweetness
1/4 cup Water – if it's too thick for your liking
Directions: Blend everything up in a blender. Pour into a glass and enjoy right away.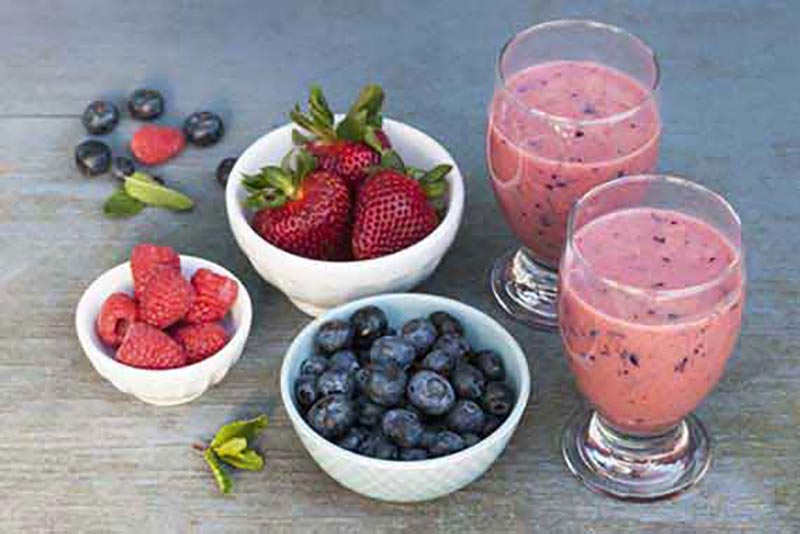 NOTE: There is one thing worse than a homemade juice filled with fructose — a juice concentrate from the refrigerated or frozen aisle at the store. They may seem convenient but they are loaded with sugar, so they are actually just another sugar death-trap!
You might also be tempted to go for a sugar free version, but just be wary. Artificial sweeteners have their own set of problems and should also be avoided.
Conclusion
We know that you can improve your health by consuming plenty of antioxidant-rich foods, but there are ways to get those same benefits without resorting to high carb juices.
For you as a diabetic, high carb foods just don't fit, despite the fact they may come from 'natural' food sources.
While the type of carbohydrate you eat is important. Just keep in mind that it's the total amount you eat that will have the biggest influence on your numbers.
If you do choose to go with the juicing route, then your best bet is to whip up a low carb, vegetable based juice with a little citrus and stevia thrown in.
Otherwise, stick to eating whole foods in their solid form so you can keep the level of fiber up and the sugar down!
Please pin, tweet or share this info to help others. Thanks. 🙂