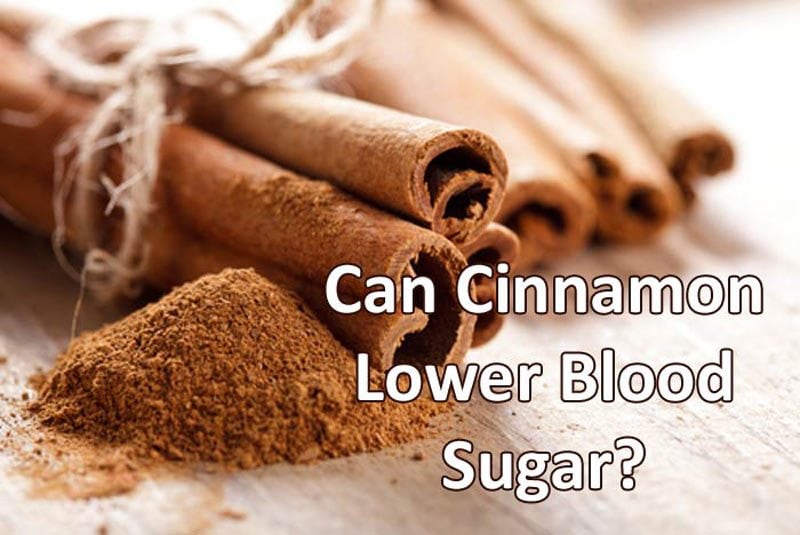 Reader question:
Can cinnamon lower blood sugar?
The short answer is Yes.
In fact studies have shown several benefits of consuming cinnamon including:
Decreased oxidative stress
Improved blood lipids (cholesterol)
Improved blood glucose
Improved insulin sensitivity
We're not going to look into all these benefits here but we are going to explore if cinnamon can help lower blood sugar levels, and how much to take to get the benefits.
How Does Cinnamon Lower Blood Sugar?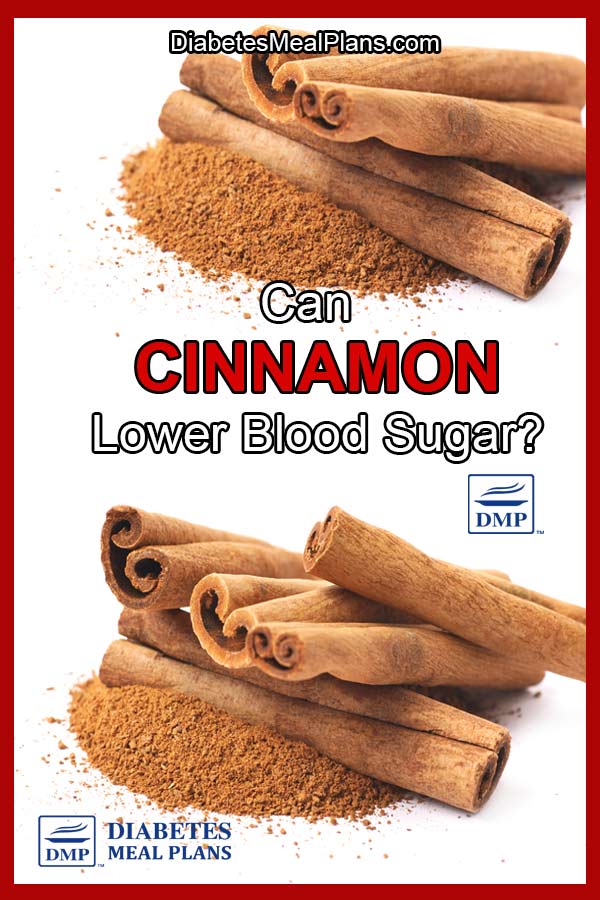 Polyphenols are a type of compound found in many plants and it's the polyphenols found in cinnamon that have been proposed to help the insulin receptors in beta cells respond more efficiently, enhance insulin signaling, and improve glucose transport and glycogen storage. Cinnamon also seems to directly target insulin resistance.
Cinnamon Lowers Blood Sugar and a1c
Studies do show mixed results, some saying that cinnamon helps both blood glucose and a1c, others say only a1c has been affected and a couple show no result at all.
Having mixed results is normal in science because it depends on the study design. But when the results from all studies were compared together, the results showed that cinnamon does lower both blood glucose and a1c compared to placebo.
How Much Does Cinnamon Benefit Blood Sugar?
Out of 5 clinical trials that used cinnamon powder the benefits ranged from 18-29% decreases in blood sugar levels, which is a pretty pleasing result.
A recent study published in 2015 showed these results from 2 months of taking cinnamon and making no other changes:
Fasting glucose decreased by 11.8 mg/dl / 0.66 mmol/l (placebo 2.34 mg/dl / 0.13 mmol/)
2-hour post meal glucose decreased by 32.22 mg/dl / 1.79 mmol/l (placebo 7.92 mg/dl / 0.44 mmol)
Fasting insulin decreased by -2 mU/L (placebo +2 mU/L)
2 hour insulin decreased by – 10 mU/l (placebo -4)
HOMA-IR decreased by -1.35 (placebo +0.61)
How Much Cinnamon Do You Need To Take?
The research shows that doses ranging from 1- 6 g all had a beneficial effect on fasting blood glucose and a1c.
In the most recent study mentioned above, the people were taking 250 mg twice a day.
What I'd recommend is that you follow the instructions on the label of the supplement you purchase because generally these are fairly accurate.
Supplements I'd Recommend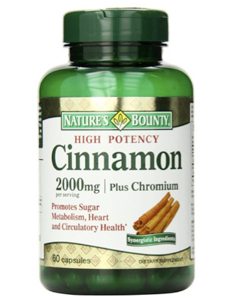 Natures Bounty High Potency
Ingredients: Gelatin, Silica, Vegetable Magnesium Stearate.
Dosage: 2 capsules daily
Cost: $7.27 for 60 capsules
Ceylon Cinnamon – Certified Organic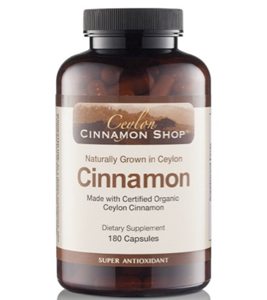 Ingredients:
Organic Ceylon Cinnamon (Cinnamomum verum) 1,000 mg per serving. Other ingredients: Vegetable Cellulose Capsule
Dosage: 2 capsules 2 to 3 times day
Cost: $16.99 for 90 capsules
With all the benefits of cinnamon you've got nothing to lose by trying it to see if it works for you. So grab yourself a supplement add it into your daily routine.
Wishing you the best in health 🙂
P.S. Share this post around to help others with type 2 diabetes lower their blood sugar levels too.