Cinnamon for diabetes – perhaps you've browsed over some info that suggests it's beneficial for lowering blood sugar or to use for various other aspects of diabetes treatment – that's what we're here to explore.
Cinnamon is one of the most well-known spices across the world. Famous for its sweet warming taste and rich aroma.
You'll soon discover that not only does cinnamon add a zing of flavor to almost any hot beverage or meal, but it's also ripe with several amazing health benefits – including specific benefits for type 2 diabetes and prediabetes.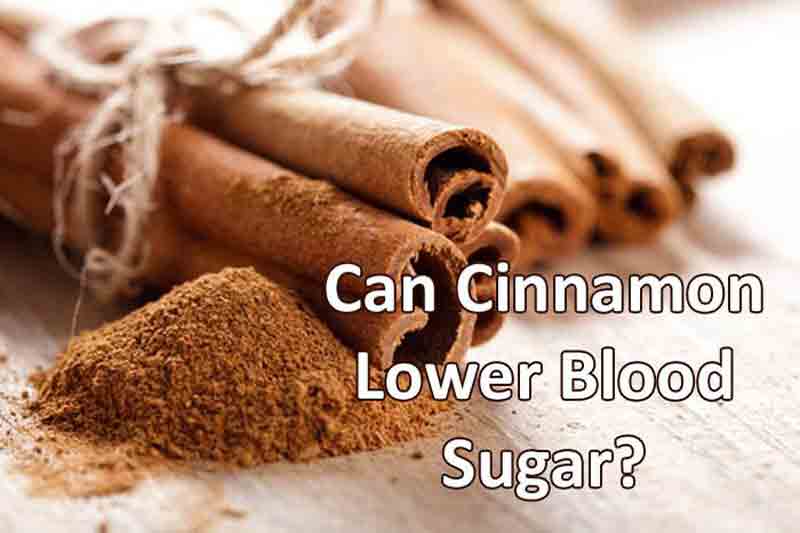 Beneficial Properties of Cinnamon
Cinnamon bark contains polyphenols called procyanidins and catechins, along with resinous compounds including cinnamaldehyde, cinnamate, cinnamic acid, and numerous essential oils.
Research shows all of these components make cinnamon a potent protective agent:
anti-inflammatory

antioxidant

antidiabetic

antimicrobial

anticancer

lipid-lowering

and protective of cardiovascular disease
In terms of type 2 diabetes and prediabetes specifically, cinnamon may help:
Decrease oxidative stress

Improve blood lipids (cholesterol)

Lower blood glucose

Improve insulin sensitivity
How Does Cinnamon Lower Blood Sugar?
Polyphenols are a type of compound found in many plants and it's the polyphenols found in cinnamon that have been proposed to help with diabetes in several ways.
Polyphenols in cinnamon:
assist the insulin receptors in beta cells respond more efficiently

enhance insulin signaling

improve glucose transport into cells

improve glycogen storage

may directly target insulin resistance

delay stomach emptying, which balances hormonal chains involved in glucose regulation

modulate

liver enzymes and suppress the activity of genes that promote inflammation, fat storage, and oxidative stress

may positively

influence

the gut microbiome and improve gut function
How Much Does Cinnamon Benefit Blood Sugar?
One review found that out of several clinical trials using cinnamon powder/ supplementation in type 2 diabetic patients, the benefits ranged from 18-29% decreases in fasting blood sugar levels.
The average results from two months of taking cinnamon and making no other changes show:
Fasting blood glucose decreased by 11.8 mg/dl/ 0.66 mmol/l (placebo 2.34 mg/dl/ 0.13 mmol/)

2-hour post meal glucose decreased by 32.22 mg/dl/ 1.79 mmol/l (placebo 7.92 mg/d/ 0.44 mmol)

Fasting insulin decreased by -2 mU/L (placebo +2 mU/L)

2 hour insulin decreased by – 10 mU/l (placebo -4)

HOMA-IR decreased by -1.35 (placebo +0.61)
It is important to note that we do need more clinical trials, which is often the case for most therapeutic agents. Still, the results do show promise that cinnamon may be a great agent for helping with blood sugar control, which is why researchers continue to explore the potential of cinnamon for diabetes management.
For instance, a study from 2017, involving 44 type 2 diabetics, found that cinnamon supplement 3g/day for 8 weeks reduced fasting blood glucose levels by 11.65 mg/d (0.6 mmol/l) while those not taking the cinnamon saw a rise in blood glucose of 8.57 mg/dL (0.5 mmol/l).
The cinnamon group also had decreased scores on a test called the Homeostasis Model Assessment for Insulin Resistance, while the control group saw a rise in these scores. The reduction in points indicates that the cinnamon group may have acquired better insulin sensitivity over the 8 weeks of supplementation.
The group taking cinnamon also experienced an increase in their total antioxidant capacity.
The point here is: Any improvement in glucose control can help reduce your risk of diabetes complications.
Cinnamon for Prediabetes
When people with prediabetes were given 500 mg of cinnamon over 12 weeks, their fasting blood glucose reduced from 114 mg/dl to 104 mg/dL, without making any other changes. These changes became more apparent the longer people supplemented with cinnamon.
Another study gave prediabetic people 6g/day of cinnamon (6 capsules day) for 16 weeks and found improvements in waist circumference, waist-hip ratio, blood pressure, total cholesterol, LDL, triglycerides, and HDL, along with decreased fasting glucose and A1c levels. Overall the researchers concluded that the group taking cinnamon had a 34.5% reduction in metabolic syndrome compared to just 5.2% in the other group.
Please pin, tweet or share; then keep reading!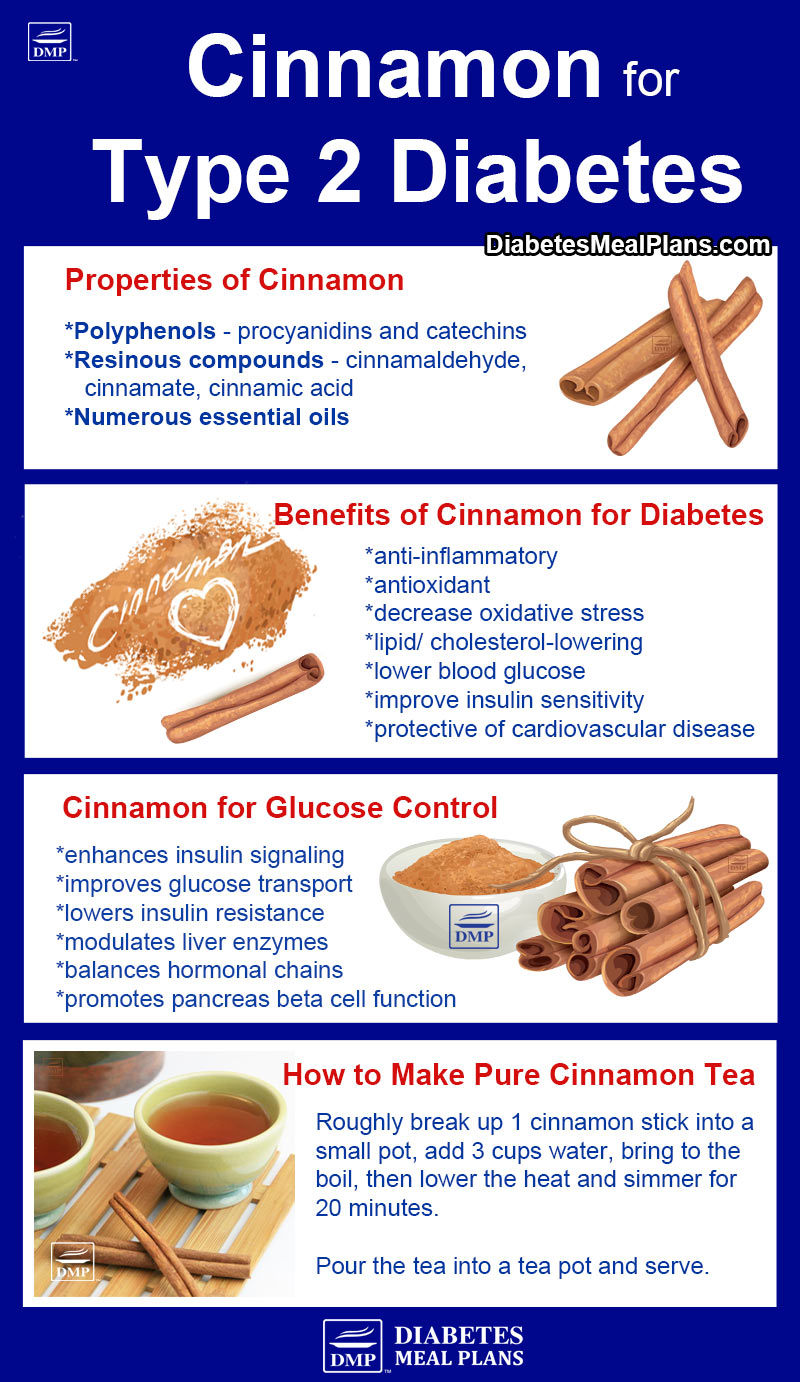 Cinnamon for Cholesterol Levels
Reducing cholesterol/ lipid levels is another proposed benefit of cinnamon.
And indeed, research indicates cinnamon supplementation 3 g/day for 8 weeks helps lower triglycerides and LDL cholesterol, with no major influence on HDL cholesterol.
Another review confirmed that supplementing with cinnamon for 4 to 12 weeks may help lower total cholesterol, triglycerides, and LDL. And even help improve HDL.
Since diabetes increases your risk of heart disease, any natural substance that can help is worth including in your routine, especially since cinnamon can even be included in your everyday eating routine, too.
Cinnamon has also been shown to tackle high blood pressure, another heart disease risk factor.
Cinnamon for Diabetes Dosage
The research shows that doses ranging from 1- 6 g all had a beneficial effect on fasting blood glucose and a1c.
However, unless working with a health practitioner a safer daily intake of 1 g to 1.5 g per day is recommended.
The best rule of thumb in most instances is to follow the instructions on the label of any supplement you buy, as the manufacturers usually list their individual safe dosage range.
Cinnamon Side Effects
Studies suggest cinnamon is safe and has no adverse side effects when taken within the dosage range of 500 mg to 6 g per day.
The occasional person has reported rash, hives, and nausea, which can be a side effect of almost any food or therapeutic agent. Of course if these happen to you, then cinnamon may not be right for you.
Additionally you need to be aware that cinnamon is a blood sugar lowering agent, therefore, if hypoglycemia (low blood sugar) could be a problem for you, be aware of the symptoms and treatment procedures.
There are no reported side effects with medications.
How to Choose a Cinnamon Supplement
The two different types of cinnamon, Ceylon cinnamon (sourced from Sri Lanka) and Cassia cinnamon (from China), have similar health benefits. Unfortunately, most studies don't specify what type of cinnamon they use.
However, some evidence suggests Cassia may lead to liver problems when taken in large amounts, so for safety reasons, Ceylon cinnamon supplements do seem to be the best choice.
Using Cinnamon at Home
Consuming cinnamon as a ground powder or using cinnamon sticks are both useful ways you can incorporate cinnamon on a daily basis.
Sprinkle cinnamon over some Greek yogurt

Add it to a steaming mug of

low carb hot chocolate

Add it generously to baked goods and desserts

Add it to curries and stews

Sprinkle over a salad or add it to a dressing for an added zing of flavor

Or make yourself a daily cup (or two) of cinnamon tea – see our

cinnamon tea recipes here
Conclusion
While we always need more studies to determine the true therapeutic effects of cinnamon for diabetes, research so far does indicate some impressive results, one of them being lower morning/ fasting blood sugar levels – a common concern for many people with type 2 diabetes.
With all the benefits of cinnamon, you've certainly got nothing to lose by trying it to see if it works for you.
Please share this info around to help others.