Being a diabetic, when it comes to pasta you do have to be very choosy because most pastas are just too high in carbohydrates.
By now you're probably well aware that to lower your blood sugar and A1C you need to reduce the amount of carbohydrate you eat.
Unfortunately, some of the highest carbohydrate foods also happen to be many of the foods we all commonly love.
Pasta, rice, bread, potatoes, crackers, cereals – the types of staple foods we're all so used to eating – they're all carb loaded. 🙁
But there are low carb options and alternatives. So today we're exploring low carb diabetic pasta options.
Pasta Serving Sizes
When you go searching around the web, you will still see plenty of pasta recipes and places saying it's okay to eat pasta. Here at Diabetes Meal Plans, we promote low carb because science shows it works. But, if you do branch out and eat pasta, it's essential to know your serving sizes and choices.
When it comes to eating pasta, most people overeat it. One serve is only half a cup, which still equals around 16-20 g. People will easily eat 3 times as much as that in one sitting.
Here's a visual example to show you just how easy that is to do.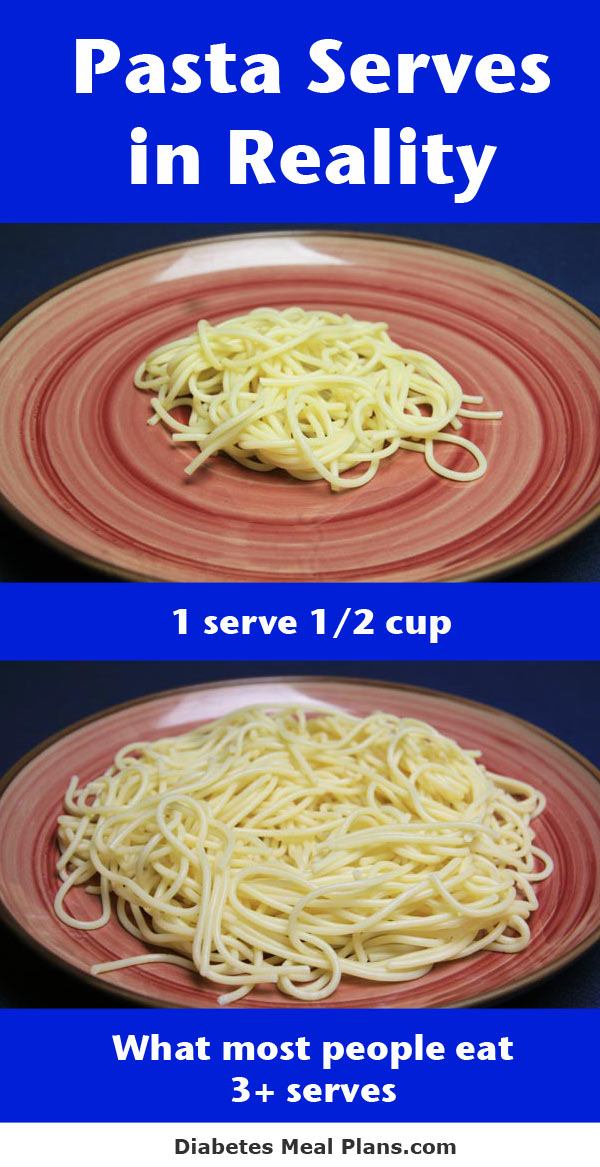 Visuals help give us a true example of what we're really eating, right?
Pasta Nutrition
Okay, so we know that pasta is a high carb food, but how high is it?
Let's look at a few facts.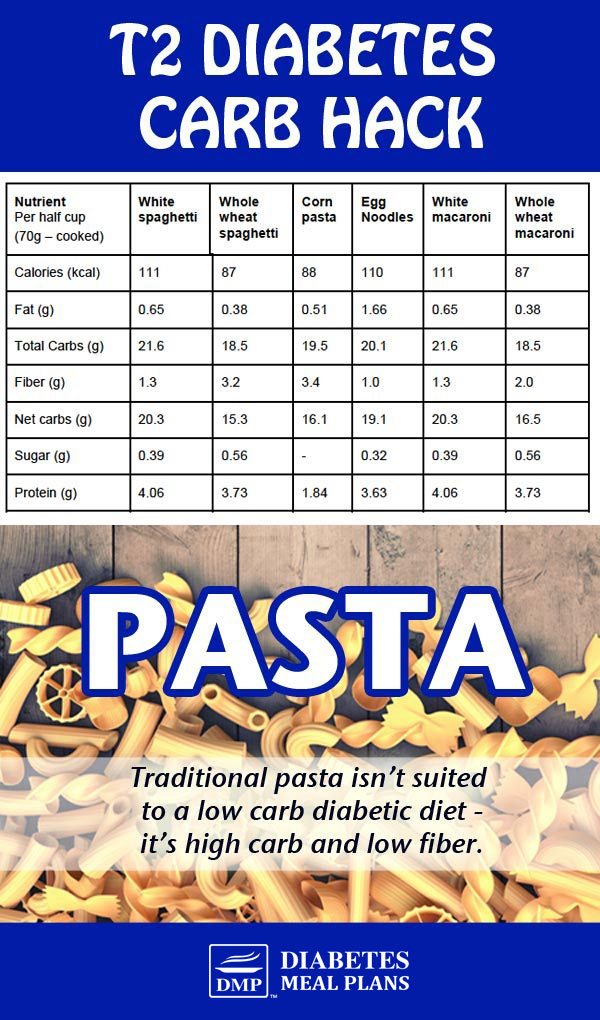 You can see that all of these 'standard' types of pastas are high carb. Even the whole wheat spaghetti option is 18.5 g total carbs and 15.3 g net carbs. And remember, that's just for a small half cup serving.
Of course, because whole wheat is a complex carbohydrate it is a better choice. But most people find traditional pastas such as these spike their blood sugar and don't help the situation of gaining better control.
So I think we've established that staying away from traditional pasta is a good idea if you're diabetic and want to lower blood sugar and A1c. And even if you want to lose weight and feel better it's still something that's best avoided.
But the problem we always hear is, "What am I going to eat instead?" and "Are there low carb alternatives that actually taste ok?"
The answer is YES. You can definitely survive without 'traditional' style pasta and there are LOTS of alternatives.
So we've gathered some options together for you. First we've got low carb alternatives you can buy, we've got some options you can make at home, and there are also a couple of awesome diabetic pasta recipes below.
Always read food labels
When you buy anything that comes in a packet, always read the labels.
This is really the only way you will find out how many carbs are in an item and we covered how to determine this in our carb counting tutorial.
Low carb pasta alternatives you can buy
Konjac noodles: Japanese low carb noodles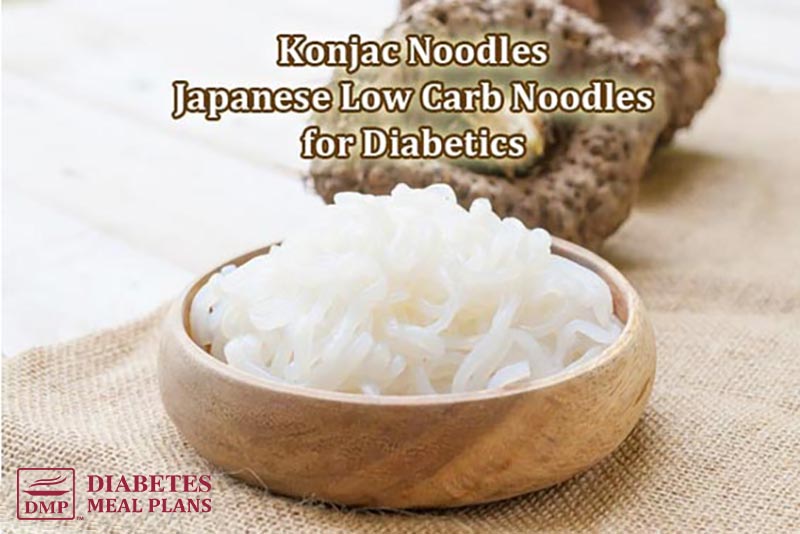 We wrote lots of info about konjac noodles in more detail over here.
Konjac is an Asian plant where they use the root to make a 'yam cake' then put it through sharp blades to make noodles. The noodles themselves have zero carbs and are mostly made of fiber. Eating the konjac fiber has also shown good benefits for diabetics.
Although you can sometimes find konjac noodles at the supermarket, it's easier to buy konjac noodles in bulk online because it tends to be cheaper.
You can either buy them from somewhere like Amazon, or directly from a supplier like Miracle Noodles.
You can get:
You might like to purchase a mixed pack so you can give a few different varieties a try.
Carba-nada low carb egg pasta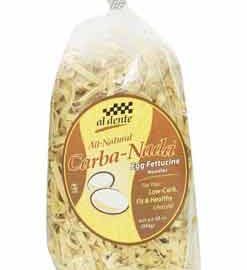 This Carba-Nada pasta is low carb compared to traditional pasta. As we showed you above, traditional pasta has around 20 g carbs per 1/2 cup pasta, whereas this Carb-Nada pasta has 18 g carbs per 1.5 cups pasta. So if we cut the serve in 3, we're left with 6 g compared to 20 g for the same size serve, which isn't too bad.
Egg pasta still uses some flour but they use eggs to make up the difference, and since eggs are a protein, that significantly lowers the carb count.
Ingredients: Enriched Semolina Flour, wheat gluten, malto-dextrin (fiber), digestive resistant cornstarch, soy flour, water, whole eggs.
A 10 oz./284 g bag will cost $7.07 but you can get it cheaper by buying a pack of 6 for $19.97 bringing it down to $3.32 bag.
Quest Pasta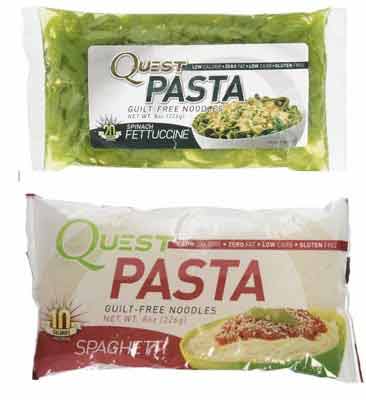 If you were to do a search for low carb pasta options, you might come across Quest pasta.
Quest is a popular low carb brand that does have a lot of diabetic friendly products. Their Quest pasta is basically just konjac noodles. For an 8 oz / 226 g pack you're looking at $8.95 per pack, which is for 2 servings.
But if you buy it in bulk, you can slash the price to $3.49 per pack. A 12 pack of spinach flavor costing $41.99.
Quest pasta has zero carbs.
Ingredients: Water, glucomannan fiber, calcium hydroxide.
ThinSlim Foods Impastable Low Carb Pasta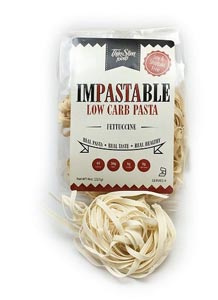 These pasta noodles are made from various fibers, and because of the high amount of fiber the carb count per serve is only 8 g.
Ingredients: Oat fiber, wheat fiber, wheat protein isolate, egg whites, durum flour.
For a 6 pack of ThinSlim pasta costs $49.99, which is $8.33 per pack, so they are on the higher price side.
Kelp noodles
Kelp noodles
Kelp is seaweed, so to make the noodles they remove the outer layer of the seaweed to reveal the inner 'noodle' like structure. Kelp noodles are very nutritious, full of vitamins and minerals.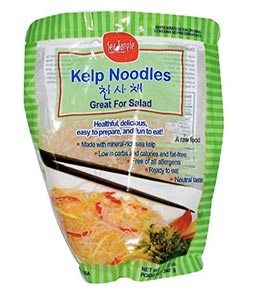 Sea Tangle kelp noodles are the brand you'll most likely find. They are okay but their texture isn't soft like pasta, it's more a crunchy style noodle. This means they work well in salads, or where you don't mind having a bit of a crunch.
Like konjac noodles, they have zero carbs. They also have no flavor so they can be included in almost anything.
A 12 oz pack of kelp noodles will cost around $6-7 per pack.
Carb Counters Skinni Spaghett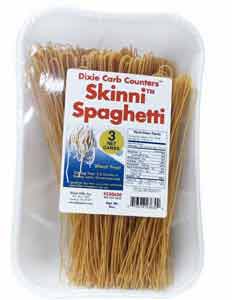 This spaghetti does seem great with only 3 g net carbs.
It's made with soy flour, soy protein, and fiber.
But again the price seems a little on the high side at $8.49 for an 8 oz. serve. And it doesn't seem to be all that popular, only having 2 reviews on Amazon, one good, one bad.
As you can see, there are lower carb options, you just have to search them out. You can probably even find some options at your local supermarket.
Homemade Diabetic Pasta Options
You can make some pasta alternatives at home using some common veggies.
These options are a bit different and might take some getting used to. But they do make excellent low carb alternative – full of vitamins, minerals, and other valuable nutrients we need.
That's one thing that is going to take a bit of time – is getting used to the fact that things taste different or are different to what you are used to.
It's difficult for all of us to swap foods that we enjoy and love, so this process can take time. Don't beat yourself up, just do what you can step by step and in no time you'll see big changes occur.
Zucchini Noodles
Zucchini is a very versatile vegetable for making various different noodles. It doesn't have a strong overpowering flavor so it tends to soak up other flavors from sauces and such.
You can use zucchini noodles with any type of pasta or noodle dishes.
Making Zucchini Noodles
There are a few different ways you can make zucchini noodles.
1. Make them with a kitchen gadget like the Paderno Spiral Veggie Slicer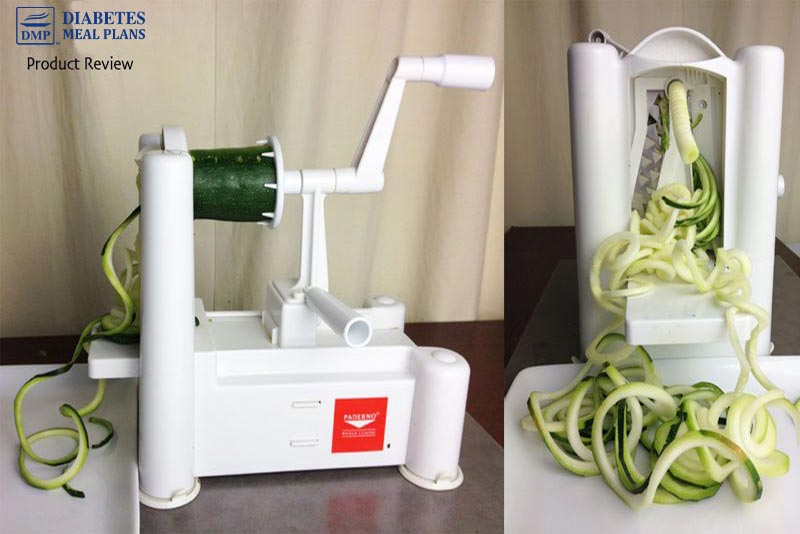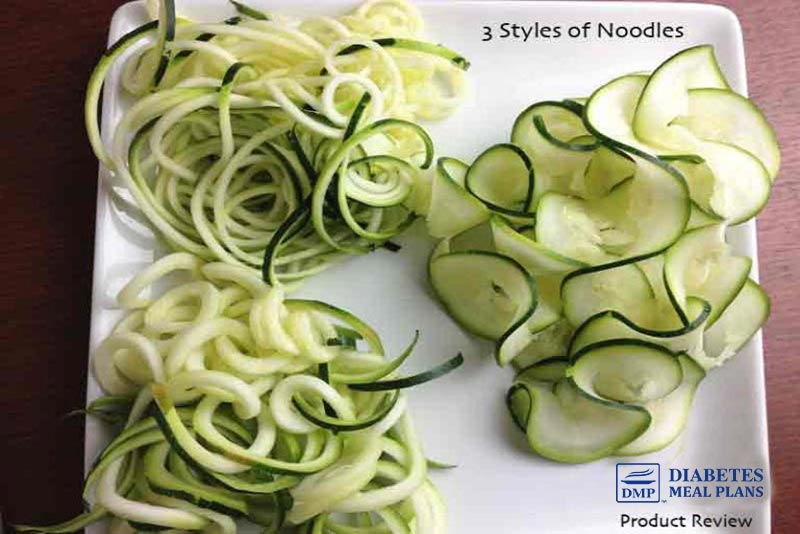 This handy kitchen gadget simplifies the process of making low carb noodles. You can make 3 different types of noodles and use any type of veggie that fits – zucchini, carrot, radish, beets, onions, etc.
I did a full review of this item over here, and would highly recommend you get one of these for yourself at the low cost of $35. It's one of the most used kitchen gadgets in my house. 🙂
2. Use a grater to get a similar effect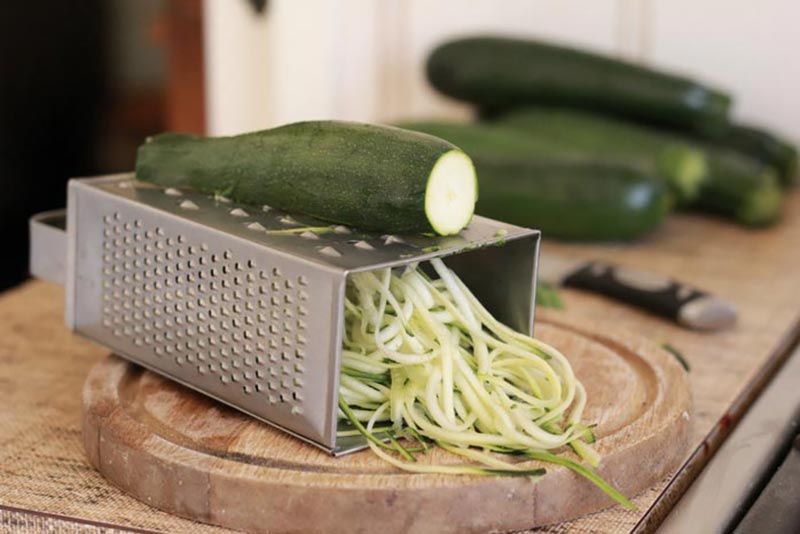 Most of us have a grater on hand so this is another way you can make zucchini noodles without chipping out any extra cost.
Lay your grater on the side, then take the zucchini and try to grate long strips of it – making noodles.
3. Use a regular vegetable peeler to make zucchini strip noodles
Take a regular vegetable peeler – we all have those in our drawer – and use it to peel zucchini strip noodles.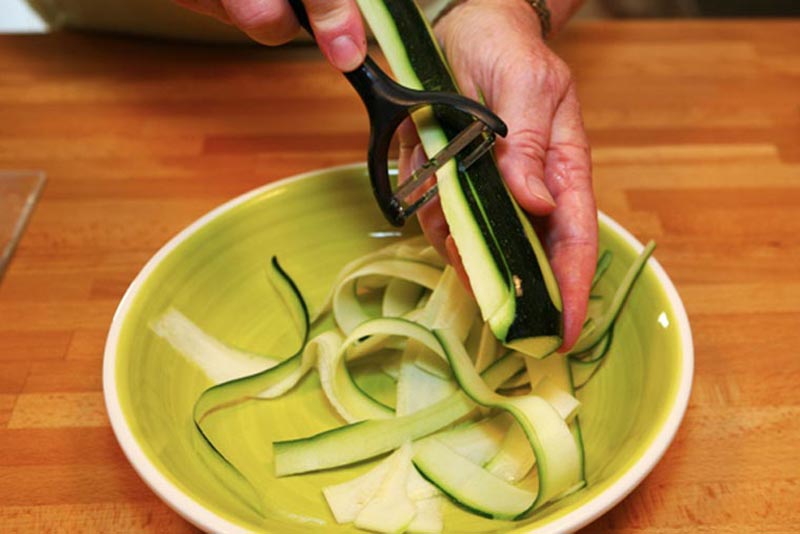 You can also cut the zucchini in half length ways before using the peeler to get thinner strips.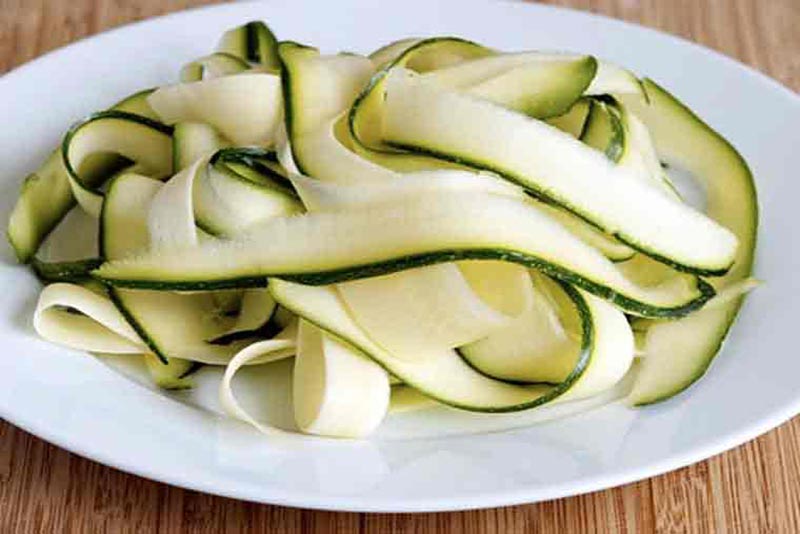 You'll be left with a whole plate of noodles you can use to add to your dishes – much like fettuccine. They really are awesome.
Sauteed cabbage noodles or Steamed cabbage noodles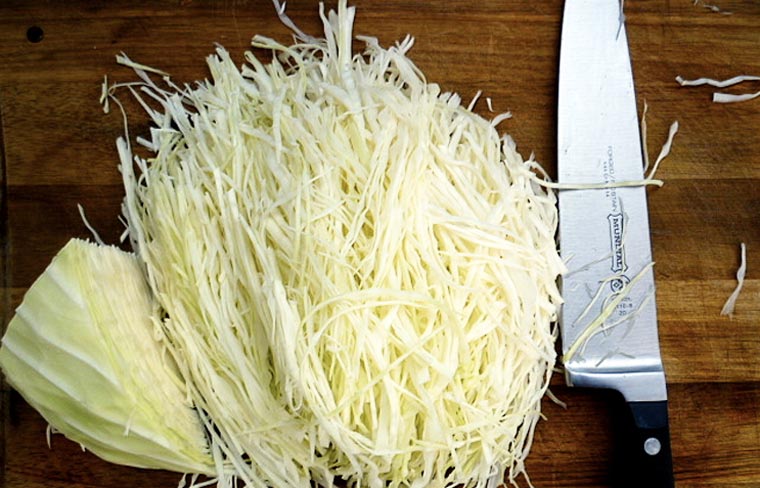 Cabbage is another vegetable that works perfectly as a base for any pasta and noodle dishes.
Simply shred it up finely like in the picture above, then either steam it or saute it.
To steam it, just add it to your boiling steamer and steam for 5-7 minutes, or until soft. To saute, just add a little oil to a pan, and cook the cabbage to until it's brown and cooked.
It makes a perfect base for a bolognese or tomato pasta sauce – or any other noodle dish for that matter!
Other Options
Skip the "base" altogether!
We've all become so used to eating everything on a base of something – bolognese and pasta, beef curry or satay and rice, chicken stir fry with noodles, etc, etc.
The thing is, bolonese sauce tastes great served with steamed vegetables and topped with cheese.
Beef satay is great with some stir fried greens. And chicken stir fry can even be eaten on it's own or with a side salad.
It's all about getting out of our usual way of thinking (and eating), to explore different and healthier combinations of foods.
3 Delicious Diabetic Pasta/ Noodle Recipes
Give these easy recipes a try at home, I know you'll love them.
Creamy Mustard Chicken Noodles: Konjac Noodle Recipe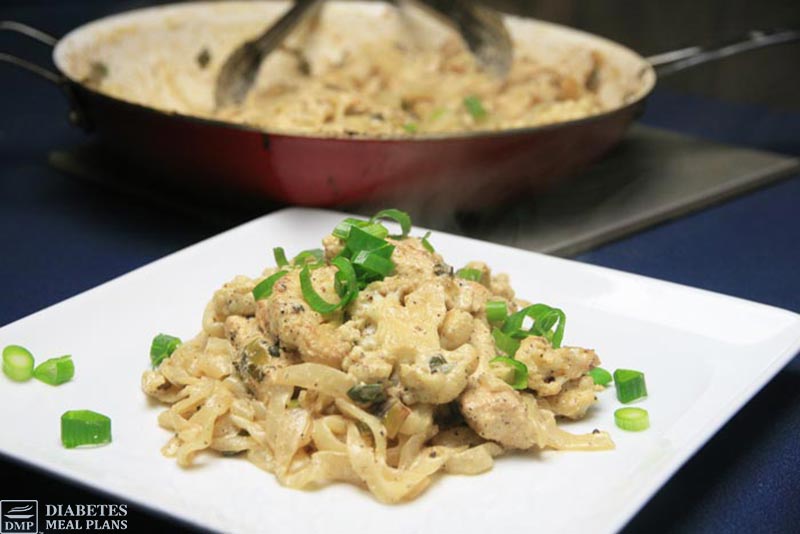 Low carb noodles, chicken and cauliflower, thickly coated in a creamy sauce that has the slightly spicy scent of mustard.
Creamy Mustard Chicken Noodles
Ingredients
2

packs (8.8oz)

konjac noodles

- rinsed and ready to use

1/4

cup

coconut flour

salt and pepper

18.6

oz

chicken breast

- sliced into strips

2

spring onions (scallions)

- sliced

10.5

oz

cauliflower

- chopped

3

Tablespoon

olive oil

1

teaspoon

garlic oil

- or 1/2 teaspoon minced garlic

1/2

cup

dry white wine

2

Tablespoon

dijon mustard

1/4

cup

sour cream
Instructions
In a bowl season the coconut flour with salt and pepper, then add the chicken strips to the bowl. Using your hands, coat the chicken with the flour mix, then remove, shaking off excess flour and set aside in another bowl.

Heat 2 tablespoons of oil in a pan, when hot ad chicken and fry off until brown and almost cooked, set aside on a plate.

Add another tablespoon of olive oil to the pan, 1 teaspoon garlic oil, then add cauliflower and spring onions (scallions) and cook for 2-3 minutes, stirring occassionally.

When the cauliflower is almost cooked, add the wine into the pan and cook for a further 2 minutes. The wine should mostly evaporate but if it drys out too much while cooking, just add an extra couple of tablespoons of water to prevent burning.

Turn down the heat to low, add the noodles and chicken back into the pan, along with the mustard and stir through.

Add the sour cream and stir through, then serve.
Notes
This serves 2 big serves so can potentially serve 3 people or you will have some leftover for a snack. That means the nutrition/ carb details are probably less than quoted on the nutrition label.
If you don't have konjac noodles, you could use shredded cabbage or some zucchini noodles.
Share by Email
Share on Facebook
Share on Twitter
Pin Recipe
Give this one a try. It's really easy to make, tastes delicious and is very satisfying.
Chicken Pesto Zoodles Salad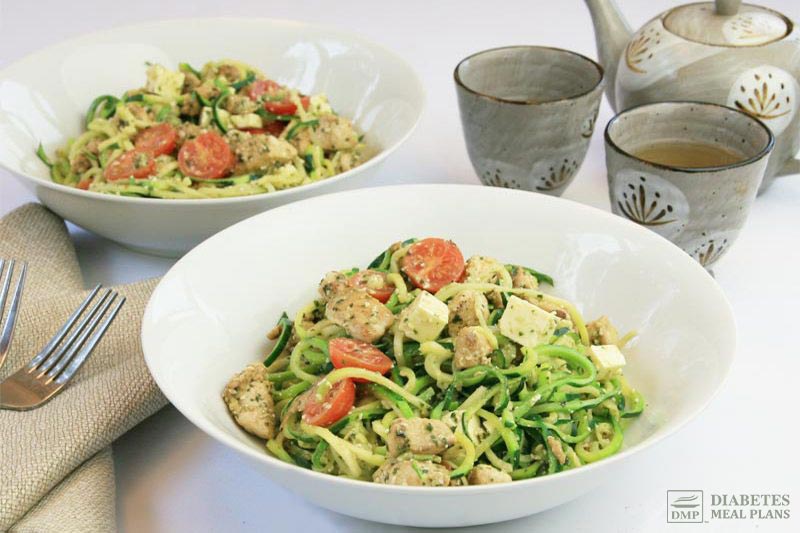 A light, fresh and tasty dish made with sweet scented pesto.
Zucchini noodles make a great pasta alternative for many of your favorite dishes. This Chicken Pesto dish can be eaten cold as a salad or stick it in the microwave for 2 minutes to heat it up, it works just as well.
And if you want to try our Homemade Pesto recipe, it comes highly recommended.
Chicken Pesto Zoodles Salad
Ingredients
The pesto
1

cup

fresh basil leaves

1/2

cup

pine nuts

1/4

cup

olive oil

Squeeze

lemon juice
The salad
3

zucchini

1

teaspoon

olive oil

9.8

oz

chicken breast

– or tofu - diced

2

teaspoon

tamari - wheat free soy sauce

12

cherry tomatoes

– halved

2.1

oz

feta

– diced (optional)
Instructions
To make the pesto, add all the ingredients except the lemon juice to a food processor, and blend until smooth. You often need to stop mid way, and scrape down the edges, then blend again.

Add a little squeeze of lemon juice and blend again.

Place in the fridge overnight. When freshly made the pesto often tastes bitter. It needs time for the sweetness of the basil and nuts to combine so is best left for 24 hours before use.

To make the zucchini noodles use a vegetable spiralizer, or if you don't have one of those, you can use a vegetable peeler, and peel the zucchini into strips instead – it will work just the same.

Add the zucchini noodles to a steamer, and once the steamer is boiling, steam for 3 minutes, then remove from the heat.

In a fry pan, heat the olive oil over a high heat, add the chicken and cook for 1-2 minutes, stirring occasionally.

Add 1 tablespoon of pesto, and 2 teaspoons tamari to the pan with the chicken and cook for a further 1-minute, stirring to coat the chicken in the sauces. If using tofu, use exactly the same method.

Add the zucchini noodles into a large bowl.

Add 2 tablespoons pesto and using some tongs or two spoons lift the noodles up and down from the bowl to stir in the pesto.

Once it's well coated, add the rest of the ingredients into the bowl, then stir to combine.

Serve into 2 bowls and enjoy.
Share by Email
Share on Facebook
Share on Twitter
Pin Recipe
Olive Herb Chicken Spaghetti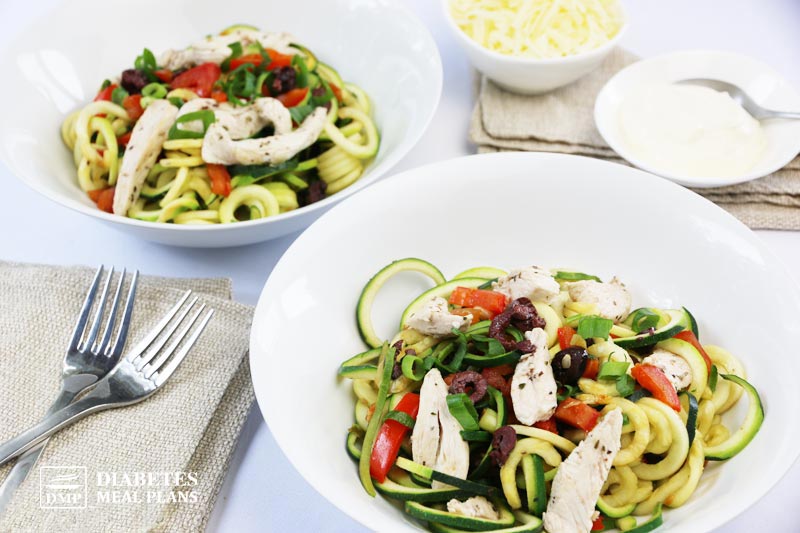 A delicious blend of subtle oregano undertones, tart kalamata olives, noodles, chicken and bell pepper.
Low Carb Diabetic Olive Herb Chicken Spaghetti
Ingredients
10.5

oz

chicken breast

- sliced

1

tomato

- diced

10

pitted kalamata olives

- sliced

1

spring onions (scallions)

- sliced

1/4

red bell pepper

- sliced

3

zucchini

- made into noodles

1

Tablespoon

olive oil

1/4

teaspoon

minced garlic

1/2

teaspoon

oregano

1

teaspoon

red wine vinegar

black cracked pepper

1.7

oz

cheddar cheese

- grated (optional)

1

Tablespoon

sour cream

- (optional)
Instructions
Cut the chicken into small strips as pictured.

And slice up all the veggies ready to go.

Heat a large wok or pan with a little oil over a medium-high heat; add the minced garlic and chicken and cook for 1 minute.

Add the oregano and red wine vinegar and continue to cook the chicken until it is almost done; then set aside in a bowl. The key to cooking tender chicken is to slightly undercook it. Meat continues to cook while it is still warm. If you're unsure, break one of the strips in half and you will see if it's still pink inside, or if it's cooked.

Next, add a little more oil to the pan; along with the spring onion (scallions), tomato, red bell pepper and cook for 1 minute.

Stir in the zucchini noodles and give it about 2 minutes to cook; stirring occasionally. If you like the noodles cooked more, then continue to cook a little longer but they work very well if they are crisp.

Stir the chicken back through the dish and turn off the heat.

Serve in 2 bowls and top with a little grated cheddar and a spoonful of sour cream.
Share by Email
Share on Facebook
Share on Twitter
Pin Recipe
Those recipes above only take around 15 minutes to make, so be sure to give them a try.
As you can see there are plenty of low carb alternatives to regular pasta that are going to keep you just as satisfied.
Your job now…go get cooking!
These meals are super easy to make and I know you're going to love them.
Do you use any of these options or something else? Did you learn something new from this post? Chime in and leave your thoughts and comments below.
Please share, pin, or tweet this post and share the foodie love. Thanks 🙂