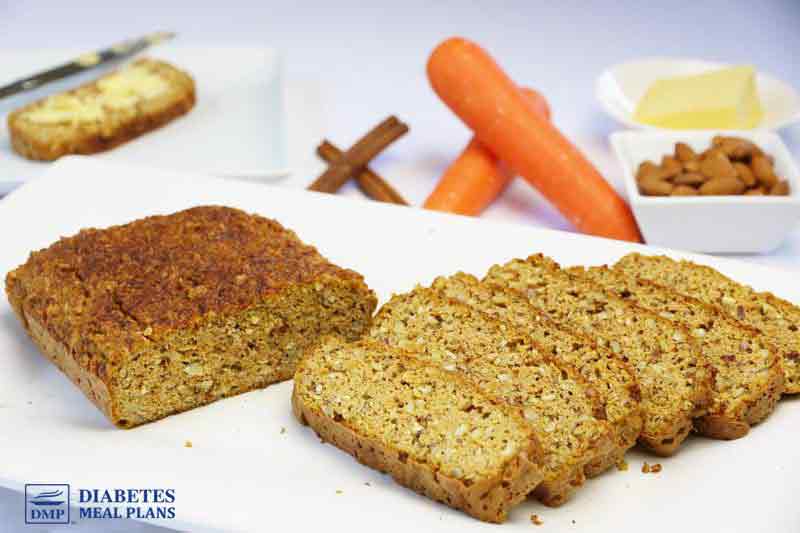 This low carb carrot and cinnamon bread is super moist, with a mildly sweet flavor. If you like it sweeter, you can add some additional stevia but don't overdo it because sugar substitutes are a lot sweeter than sugar and can tend to go bitter when overdone.
This cake/ loaf also has a wonderful slightly crunchy texture with the addition of some ground up almonds. And overall it makes a great dessert, or morning or afternoon tea.
Like most of our recipes it is very easy to make and comes in at just 3 grams net carbs per slice – making it perfectly blood sugar friendly!
We've also included the cooking class (it is one of the recipes in our Low Carb Breads Masterclass), so hope you enjoy it. 🙂
COOKING CLASS
Be sure to subscribe to our YouTube channel for future low carb diabetes friendly cooking classes.
Please pin, tweet or share; then keep on reading for the recipe.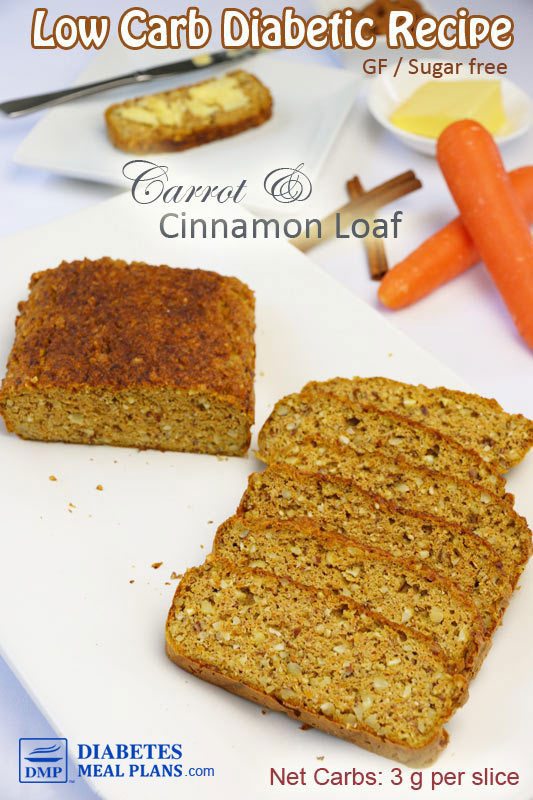 RECIPE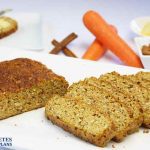 Pin Recipe
Low Carb Carrot & Cinnamon Bread Recipe
Ingredients
5

oz

almonds

- equiv. 3/4 cup - finely chopped

3.3

oz

almond flour

- equiv. 3/4 cup

3

egg

2

carrot

- grated

1.5

oz

butter

- or coconut oil - melted

1/4

teaspoon

salt

1/2

teaspoon

baking soda

1

teaspoon

ground cinnamon

20-30

drops

liquid stevia extract
Instructions
Preheat the oven to 350°F/ 180°C (fan forced) or 375°F/ 190°C (conventional).

To finely chop the almonds, add them into the food processor and blend until they are well chopped up. You want them fine but not like a flour, you still want them to give the loaf some texture.

Add the rest of the ingredients and blend for 1 minute until well combined. You may need to scrape down the sides to make sure all the ingredients are included. And, don't over blend it, you still want some texture in the mix.

Line a small loaf tin with parchment paper, leaving enough so it goes up the edges to cover the whole pan.

Pour the mixture into the pan, using a spatula to spread it evenly over the pan and into the edges.

Bake for 35-40 minutes, then remove from the oven and let cool for 5 minutes before removing the paper and cooling on a wire rack.

Slice into pieces and enjoy.
Notes
Store in an airtight container in the fridge for up to 5 days.
Serve warm or cold
Serve as it is or topped with butter, cashew cream, or vanilla cream cheese.
Sugar substitute conversions
Most stevia products and sugar substitutes have an "equivalent teaspoon" amount on the label. The stevia used for this recipe is 2-3 drops = approximately 1 teaspoon sugar. 
Troubleshooting
Mixture seems too dry? After blending the mixture, it should be fairly thick but light and sticky. If it does seem dry, which may occur with different flours, add a little additional liquid.
Cake seems slightly burned on the top or bottom? Your oven temp is a little too high, or it may have been left in your oven too long. Try adjusting the temperature or cooking time.
Not sweet enough? Add a little more stevia and a teaspoon of vanilla extract to help bring out more sweetness. Be careful on the sweetener though, adding too much can sometimes make a loaf bitter.
Tastes slightly bitter? Depending on the sweetener you use, if you add too much it can taste a little bitter to some people. Try using a different sweetener or adding less next time.
Share by Email
Share on Facebook
Share on Twitter
Pin Recipe
Essential Cooking Equipment
Please share, pin, or tweet this recipe so others can enjoy it, too – thanks!
Subscribe for Weekly Nutrition Tips & Recipes