I was recently gathering a collection of the latest research and came across a brilliant type 2 low carb diabetic case study that I wanted to share with you.
I'm always on the lookout for low carb research because from what I've seen so far it outperforms low fat diet, American Diabetes Association diets, and all other diets for that matter. What research shows is that a low carb diet works!
A low carb diabetic diet outperforms all other diets for:
Decreasing blood glucose
Lowering A1C
Decreasing cholesterol
Increasing HDL (good cholesterol)
Increasing weight loss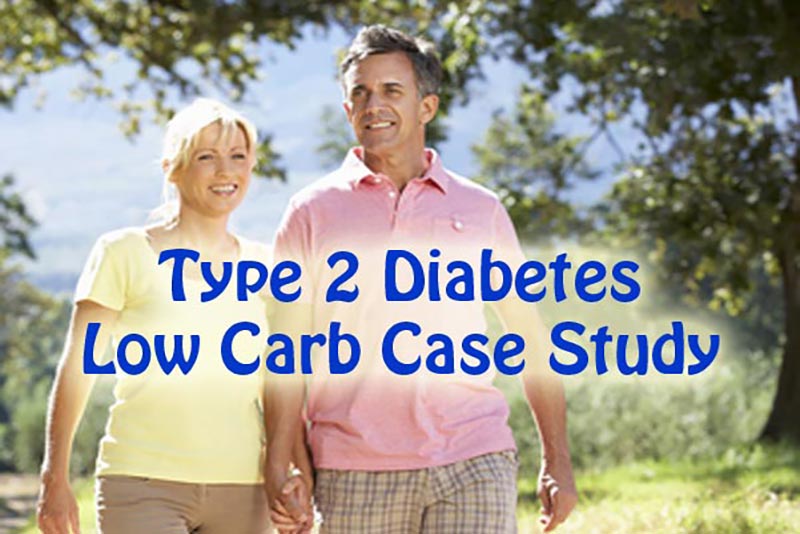 T2 Low Carb Diabetic Diet Case Study
This study, published in The British Medical Journal, was conducted by Dr David Unwin and Dr Simon Tobin – 2 GPs in the UK.
The Case
52 year old man with type 2 diabetes for 14 years, high blood pressure for 9 years, on metformin and 3 other meds, overweight, and having bowel issues (a common side effect of metformin).
The Results
In just 7 months he lost 35 pounds/ 16 kg, got off all 4 meds, A1C down, blood pressure normal, cholesterol down – in just 7 months!
Amazing results, right?
That is the power of a low carb diet – it really works!
Metabolic Syndrome
Type 2 diabetes is a condition of faulty metabolism – which simply means your body is not metabolizing nutrients correctly. As a result a collection of issues commonly arise – insulin resistance, weight gain/ obesity, hypertension, and high cholesterol – it's a common cluster of symptoms that occurs with 'faulty' metabolism.
Frequently, the metabolic syndrome is driven by weight gain around the midsection, which promotes systemic inflammation and changes to hormones and metabolism.
As the study says:
"Evidence suggests that the features of the metabolic syndrome can be improved by the low carbohydrate diet…. Patients with obesity and type 2 diabetes should avoid sugar, as well as bread, pasta, cereals, and rice—the starch in which is composed of conjoined glucose molecules."
This is exactly what we show you how to do here at DMP. Our meal plans and the food, diet and nutrition info we share here is based off the latest science!
About the mans medications, the study says:
"He was taking aspirin 75 mg once daily, metformin 500 mg three times daily, perindopril 4 mg daily, and simvastatin 40 mg at night."
But, the doctors stated that none of the medications was necessary, saying:
"We suggest that, rather than prescribing drugs to patients, healthcare providers should try to explain the benefits and harms so that patients and clinicians can come to a shared decision."
Such great advice. I always opt for the natural – no meds option whenever possible.
Dr Unwin and Tobin suggest that physical activity and diet "have a low risk of harm compared with the drugs," which of course is VERY true.
How Did The Man Get These Results?
He followed a low carb diet – exactly like the one we encourage here at Diabetes Meal Plans.
He started doing more exercise at the gym and some yoga.
He came completely off sugar.
He stopped eating bread (which he ate a lot of), potatoes, pasta, cereals, and rice.
As a natural consequence he ate more green vegetables, eggs, full fat Greek yogurt, and cheese.
And as a consequence of these changes he lost 35 pounds/ 16 kg, got off all 4 meds, A1C down, blood pressure normal, cholesterol down. On top of that he has maintained his weight loss of 35 lbs/ 16 kg for a year and continues to keep his health in good check.
Important Note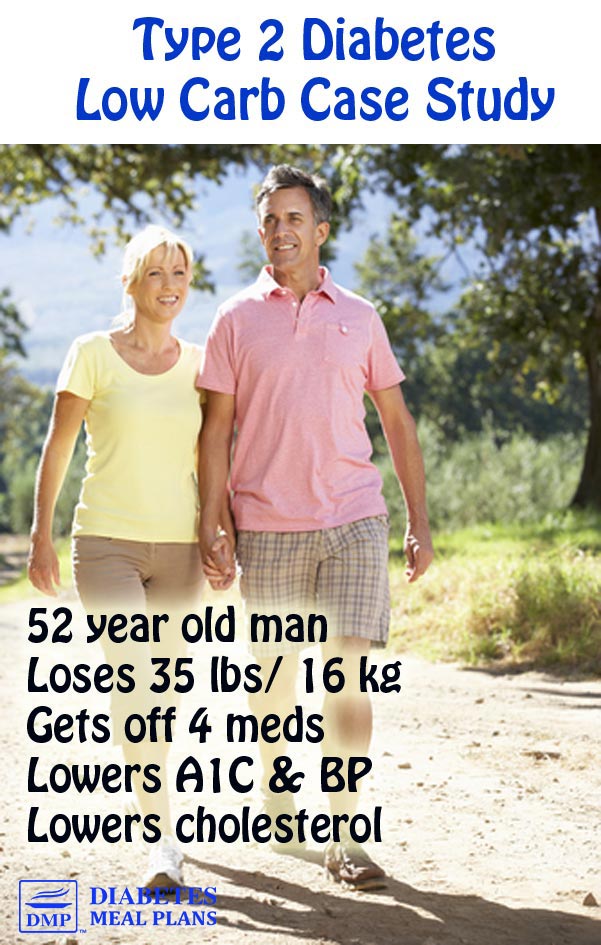 If you're taking medications, this is not something you should do on your own and you should not just suddenly stop taking medications.
This is something you need to consult your doctor about.
In the case study above, the GPs helped this man come off all drugs in a stepwise manner as he lost the weight. It's something you need to do slowly under supervision.
If your doctor isn't in support of the low carb diet, print out the case study and take it into your doctor to read.
One thing is for sure – we can have our own opinion but we can't ignore science – it proves what works!
Pretty inspiring, right?
If you're not taking meds, then go ahead and start implementing the low carb diet right away.
YOU CAN DO THIS TOO!
Anyone with type 2 diabetes CAN get great results just like this.
As Dr Unwin and Dr Tobin have shown your lifestyle (aka diet and exercise) is VERY POWERFUL!!
Way back in 400 BC Hippocrates said: "Let Food Be Thy Medicine."
It's such a true statement because human biochemistry (our body) relies on nutrients provided by natural real foods. Nutrients that need to be fed to our body in the correct balance.
With our modern lifestyles we've been led astray by food companies and packaged 'convenience' foods. All you have to do is get back to eating REAL FOOD.
Cut out the sugar, bread, potatoes, pasta, cereals, and rice. Or, at least know all the alternatives – something we show you how to do here at Diabetes Meal Plans.
If you'd like some help to eat better and learn all your alternatives PLUS have meal plans and recipes at your fingertips to help make it easier. Join the VIP Members Club – we can help.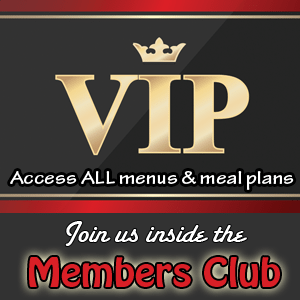 As a VIP Club Member you have access to:
Ready-made meal plans
A database of low carb recipes.
A collection of menus – breakfasts, desserts, and more.
Low carb virtual cooking classes.
Food lists and resources.
And more.
Right now you can Save $50 off the Annual Membership.
Use coupon code: "VIP50" at the checkout. This is a limited time offer.
Please share, pin, or tweet this post – it is definitely going to inspire and help others. 🙂
And, of course, you don't have to join the VIP Members Club (though I highly recommend you do while it's on special). But if you don't want to, then at the very least subscribe to our weekly newsletter. We share LOADS of free stuff every week, too.