Carbs, carbs, carbs – they can be a big problem for many.
If you're a person with type 2 diabetes or prediabetes, the issue of carbs is in managing blood glucose and A1C. If you're not diabetic, too many carbs could be a contributing factor toward getting diabetes, not to mention too many carbs can pack on the fat!
What if there was an easy way to control and reduce carb intake?
There is. And it's much simpler than you think!
A Typical Day On A Western Diet
Before digging into an easy carb cutting regimen, let's just review the typical Western diet.
The average persons diet today looks something like this:
Breakfast: Toast with a glass of orange juice – carbs.
Morning tea: 1 small blueberry muffin – carbs.
Lunch: A ham salad sandwich and a coke – carbs.
Afternoon tea: A packet of salt and vinegar chips and a choc chip cookie – carbs.
Dinner: Spaghetti pasta with a ready-made bottle of sauce – carbs.
Dessert: 1/2 cup chocolate ice cream – carbs!!
Nutrition Breakdown Of The Average Menu

As you can see, carbohydrates total to around 337 g for just one day eating such a menu! Even just one day like this is problematic (for everyone), let alone eating that many carbs day in and day out.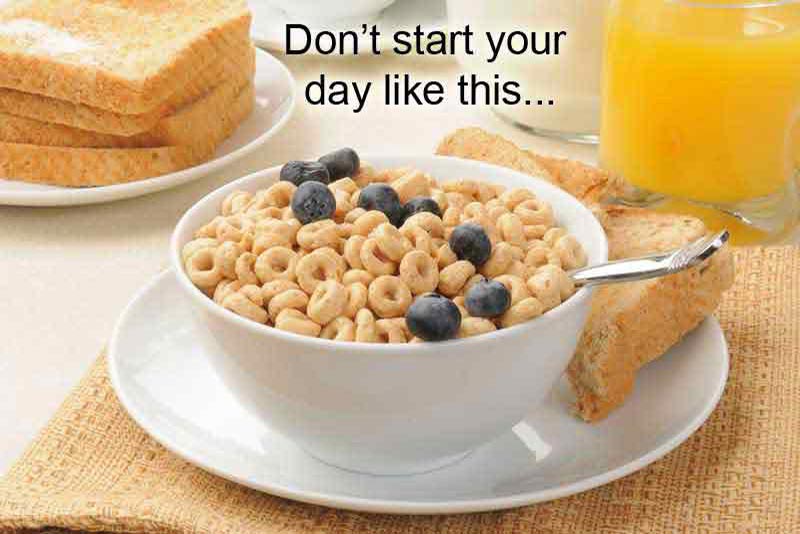 Carbohydrate Basics
All types of carbohydrates break down to glucose, period!
As it turns out, the total amount of carbohydrates is the single most significant factor in maintaining blood glucose control.
Therefore, the higher your carbohydrate intake, the higher your blood sugar can potentially be. With a lower carbohydrate intake, your blood sugar levels will naturally be lower.
This is exactly the same mechanism for us all because carbohydrates are the nutrient that influences our blood sugar the most.
We Need Carbs
After we sent out our weekly newsletter recently, one of our subscribers sent a reply about one of the recipes saying: "Diabetics should be eating zero carbs so for that fact I am unsubscribing because your recipes contain carbs."
If you've heard that a no carb diet is best, well, this is not exactly accurate.
You do need to eat some carbs, just the right kind.
The Right Kind of Carbs
Check out this video by Dr Mark Hyman. He gives the perfect explanation of the right kind of carbs.
As you heard, carbohydrates are some of the healthiest foods because they are plant foods – full of phytonutrients, flavonoids, high in vitamins and minerals and fiber!
The Easy Way To Control and Reduce Carb Intake
The easy way to control and reduce carb intake is to just eat the right types of carbs.
Don't Eat (or eat very limited portions)
Grains and grain foods (even whole grains) – pasta, rice, crackers, noodles, cereals – although these are plant foods, these are all high carb starchy food sources. They usually won't help you regulate blood sugar.
Sugar – in all shapes and forms (even natural kinds like honey, molasses, agave). Most people use stevia instead.
Sugary beverages, sodas and juices – this is like a fuel injection of sugar straight into your bloodstream and is simply bad news for you.
Jarred and bottled sauces and condiments – usually high in added sugar. Always read the labels and look for sugar free options.
Fruits – most are very high in carbs – stick to these low carb fruits.
Life is not over on a diabetic diet, there are substitutes for all your favorite foods, you just have to learn what they are and eat them instead.
Here's what Cheryl said after taking our 30 Day Turnaround Program and then becoming a VIP Member:
Cheryl said: I learned that alternative foods are just as delicious as "normal" foods. I've lost 16 lbs since I went low carb. I'm not as fearful about eating fat. My daily blood sugar readings are slowly going down. Thank you for all of your efforts.
After 6 months Cheryl reported:
"Last week I went in for my yearly physical and my A1c was 5.5! The doctor had told me that if I could keep my A1c under 5.7 for a year he would take me off metformin. So… I'm off metformin and you could say that I'm not pre diabetic anymore!"
Please pin or share this post, then keep reading!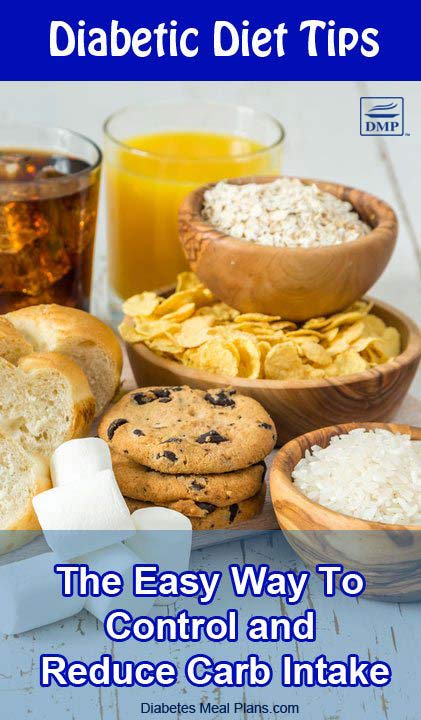 Do Eat Plenty Of VEGETABLES
You can eat a smorgasbord of lower carb non starchy veggies, and by doing so you make it super easy on yourself when it comes to carb reduction. Not to mention you get TONS more nutrients and fiber from vegetables.
Vegetables to choose from in abundance
Artichoke, asparagus, celery, tomatoes, bell peppers, carrots, onions, beets, leeks, kohlrabi, green onions, eggplant, cauliflower, broccoli, asparagus, cucumber, cabbage, Brussels sprouts, artichoke, okra, zucchini, yellow summer squash, radish, snow peas, mushrooms, green beans, and so forth.
Eat loads of Green Leafy Vegetables
Lettuce, seaweeds, alfalfa, bean sprouts, spinach, collard greens, kale, beet greens, mustard greens, dandelion, fennel, Swiss chard, watercress, turnip greens, arugula/rocket, endive, bok choy, chicory, radicchio, Chinese cabbage, and silverbeet.
Try and get some green leafy veggies into your daily routine.
Vegetables to eat sometimes or in smaller amounts
Pumpkin, turnip, swede – these are more starchy but still moderate when it comes to carbs.
Vegetables to avoid
Potato, sweet potato, yams, plantain, parsnip.
Beans and legumes – in small amounts. These are both a protein and a carb. They are a higher carb food compared to non starchy vegetables, so don't overdo it. But, they also contain lots of fiber and resistant starch, which has been shown to benefit our gut bacteria and immune system in a positive way.
Take It One Step At A Time
Changing your eating plan is not easy because it takes time to learn alternatives for all your favorite foods. It also takes time for our tastebuds to change and adapt. But they do!
While going cold turkey and making big changes works for some, for the majority a slow steady pace usually works better. Choose 1-3 things in your diet that may need changing and start there.
For example, if you find most of the sauces and condiments you use are filled with sugar, try selecting quality sugar free condiments or learn to make your own.
If you're a big mashed potato lover, swap it for cauliflower mashed 'potato.' You'll be pleasantly surprised that it tastes almost the same.
There are plenty of options and alternatives!
Just keep learning about carbs and nutrition by reading our blog or joining us as a VIP Meal Planner. We've always got tons of ideas to share. 🙂
Have you lowered your carb intake? How did you do it? What was your easiest or hardest carb to change? I'd love to hear your thoughts so please leave your comments below.
By the way, if you haven't already, download our freebie pack, which includes our food list. It will help you get started with a whole range of foods that are safe to eat.
Please pin, tweet or share this info with others. 🙂