Eggplant (US and Australia) or Aubergine (in Britain) is a smooth-skinned (usually) purple vegetable originating in Asia, but grown worldwide in warm climates. It's harvest season ranges from August to October making it a wonderful vegetable for fall cooking.
Eggplant is a nightshade vegetables, along with potatoes, tomatoes, and peppers. While most eggplant is purple, there are white and speckled varieties as well.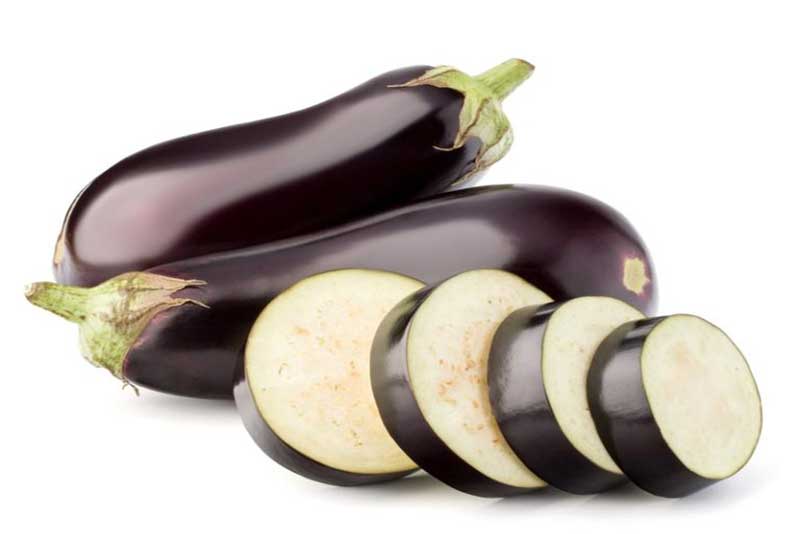 Eggplant Nutrition Facts
Eggplant is low in calories with only 35 per 1 cup serving
Eggplant has a low glycemic index of only 15
Eggplant is a source of many antioxidants
Eggplant is a decent source of several vitamins and minerals as well as fiber, especially if the skin is consumed
EGGPLANT (1 cup, boiled, drained, without salt, 99 g)
Nutrition Facts
Calories: 35 | Total Fat: 0.2 g | Sat Fat: 0.04 g | Poly: 0.09 g | Mono: 0.02 g | Total Carbs: 8.6 g | Fiber: 2.5 g | Net Carbs: 6.1 g | Protein: 0.8 g
Minerals
Calcium: 6 mg | Iron: 0.25 mg | Magnesium: 11 mg | Phosphorus: 15 mg | Potassium: 122 mg | Zinc: 0.12 mg
Vitamins
Vitamin C: 1.3 mg | Thiamin: 0.075 mg | Riboflavin: 0.020 mg | Niacin: 0.594 mg | Vit B6: 0.085 mg | Folate: 14 ug | Vit B12: 0 mg | Vit A: 37 IU | Vit E: 0.41 mg | Vit D: 0 IU | Vit K: 2.9 ug
Health Benefits of Eggplant
Eggplant's boast a meaty, hearty low calorie texture, a decent amount of fiber, good levels of copper, B vitamins, and potassium as well as phytonutrients and antioxidants.
Fiber is helpful for bowel function – especially in helping relieve constipation and IBS, cholesterol improvement, and blood glucose stabilization
Copper is a key mineral in building tissues, maintaining blood volume, and producing energy in cells
Phytonutrients (caffeic and chlorogenic acid, and flavonoids) in eggplant act as antioxidants that counteract oxidizing cell damage
Anthocyanin is a compound that produces the purple color of eggplant's and has been shown to protect cell membranes in the brain from free radical damage
Research on Eggplant Specific to T2 Diabetes
High phenol levels in eggplant have been shown to improve metabolism of carbohydrate, protect beta-cells – the cells that make insulin, enhance insulin activity and increase glucose uptake. Cardiac disease is among the top complications resulting from diabetes and leading cause of death.
Chlorogenic acid, the top antioxidant found in all eggplant varieties has been shown to be antimutagenic (anti-cancer), antimicrobial (helps fight infection), and anti-LDL (lowers atherogenic lipids thereby having a heart-protective effect). Excess glucose in the bloodstream reduces blood flow resulting in a host of problems. Experiments providing juice from eggplants to laboratory animals resulted in relaxed blood vessels and improved flow. Interestingly a comparison of a healthy diet including eggplant had the same LDL cholesterol effects as statin medications!
Points for Consideration
Nightshade plants are correlated with autoimmune flare-ups in certain individuals, so if you have an autoimmune condition, be sure to keep an eye on any change of symptoms.
Additionally, eggplant is high in histamine and can be allergenic in people who are susceptible. Mild allergy symptoms include tingling or itching the mouth, throat or lips. Rare, severe allergies can include anaphylaxis.
Finally, eggplant does contain salicylates, which some people are sensitive or allergic to.
Eggplant and Diabetes Conclusion
On the whole, eggplant is a great low calorie, low GI, low carb vegetable to include in your diet so long as you don't have an allergy or sensitivity to them.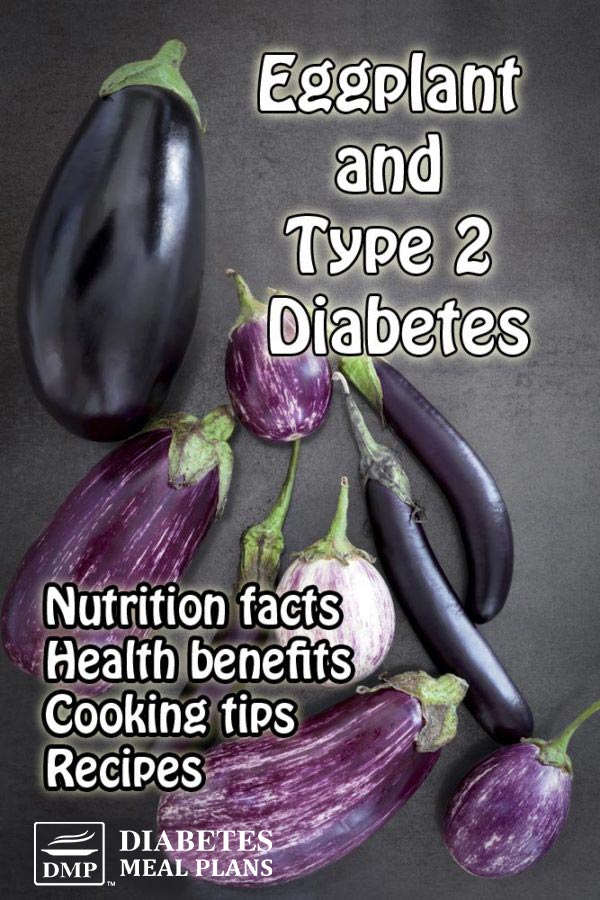 Eggplant in the Kitchen
Selection
Choose eggplants which are firm and heavy for their size. Avoid those that are shriveled or discolored. Skin should be mostly smooth and have vivid coloring. If you press in lightly, the eggplant should spring back, whereas if it remains indented or feels very soft, it is overripe.
Storage
Optimal storage temperature for eggplant is 50 F (10 C), which is not comfortable room temperature, but warmer than refrigeration. A cellar or basement is optimal (if unavailable, store in refrigerated vegetable crisper drawer) and it's recommended to use/cook soon after purchasing. Once cut, eggplant will brown quickly, so do not cut it until ready to cook.
Uses
Eggplant has a very bitter taste raw, so it is highly recommended that it be cooked before eating. It has a very 'meaty' texture, which makes it an excellent meat or starch substitute.
It's perfect to use as a pasta substitute for lasagna or other casseroles, or cut long flat slices as a pizza crust to top with tomato paste/sauce, crumbled meat, veggies and cheese.
Eggplant can also be roasted or thinly sliced and baked crisp as "chips." Eggplant has a bit of a thickening effect, so when cubed and placed in chilies or stir fries, it can create a binding effect, which contributing a very nice sauce. While the skin is edible, it may be unpalatable if very thick or rough so can sometimes be best removed for certain dishes.
Cooking
Eggplant can be baked, roasted, grilled steamed or fried.
Baked Whole: If it is cooked whole, be SURE to poke it with holes (using a fork) to allow steam to escape. If not, you're risking a potential explosion.
Baked Sliced: If sliced, eggplant can be salted then baked or cubed and roasted. Slicing very thinly and roasting at high heat (400°F/ 200°C) with a touch of olive oil and sea salt, will yield crispy eggplant chips.
Grilled or Fried: Additionally, eggplant can be marinated and grilled or tossed into a stir-fry toward the end of cooking.
Cooking time will vary with technique and how thinly it is cut – a full baked eggplant taking 40-50 minutes and thin sliced "chips" or grilled slices taking less than 10 minutes. The higher the heat, the more 'roasted' or 'charred' the flavor will be.
Cutting Techniques
If keeping skin, simply wash the eggplant, and slice with a sharp knife.
Generally eggplant can be cut into rounds with varying thickness depending on the desired effect, then used or further cubed. For instance, thicker rounds gives a meatier texture, thinner will cook more quickly and may crisp.
Alternatively, if making a lasagna, slicing the eggplant lengthways is an option, though a bit more challenging as the shape of eggplants will not always lend themselves well to consistent length/sizes.
If using as noodle substitute, sprinkle with salt and let sit about 20 minutes, which will "sweat" the eggplant, pulling out some of the water. Once cut, eggplant will brown quickly. This is no reason to be concerned, but avoid cutting until ready to use.
Below are two chef videos that demonstrate different cutting and preparation tips for eggplant.
Eggplant Recipes
Eggplant Pizza
Eggplant makes a delicious low carb pizza base to top with all your favorite toppings.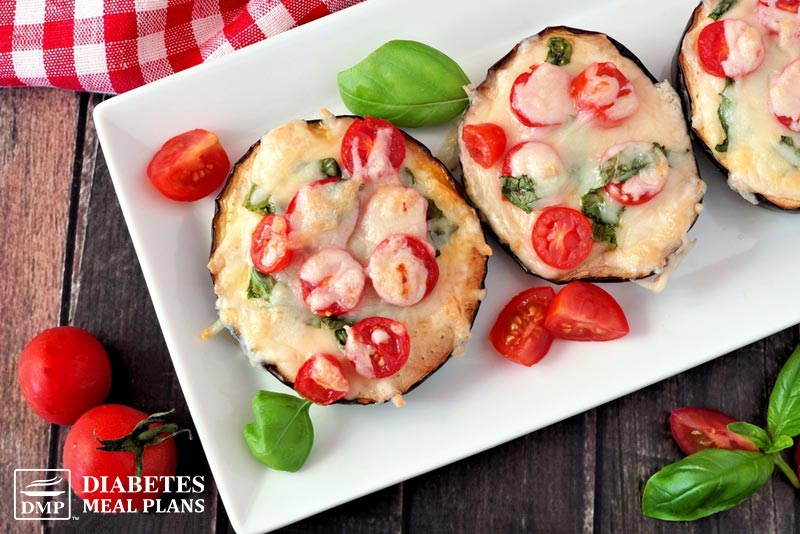 CLICK HERE for the full Eggplant Pizza recipe
Eggplant Chips
A great low carb snack alternative for crisps.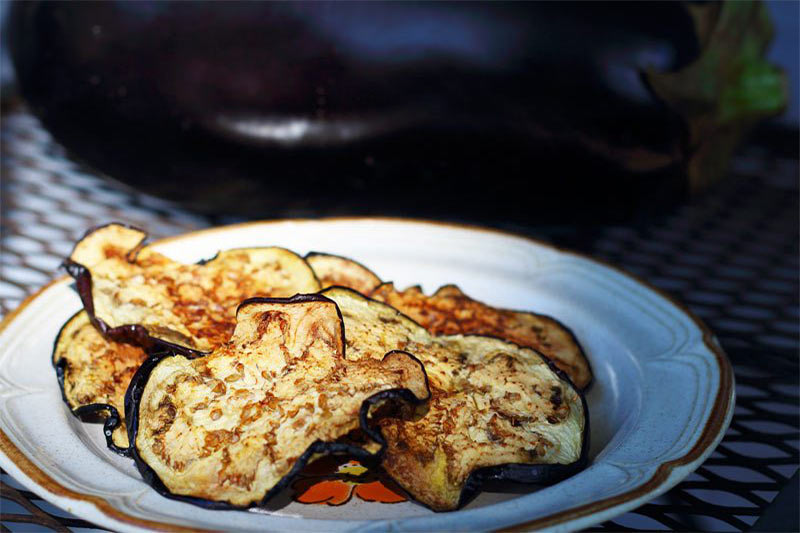 CLICK HERE for full Eggplant Chips recipe
Baba Ghanoush
A wonderful middle eastern dip made with roasted eggplant, tahini (sesame paste), and spices. Similar to hummus, it is a great alternative to commercial dips providing a rich flavor and texture without the high calorie inflammatory oils.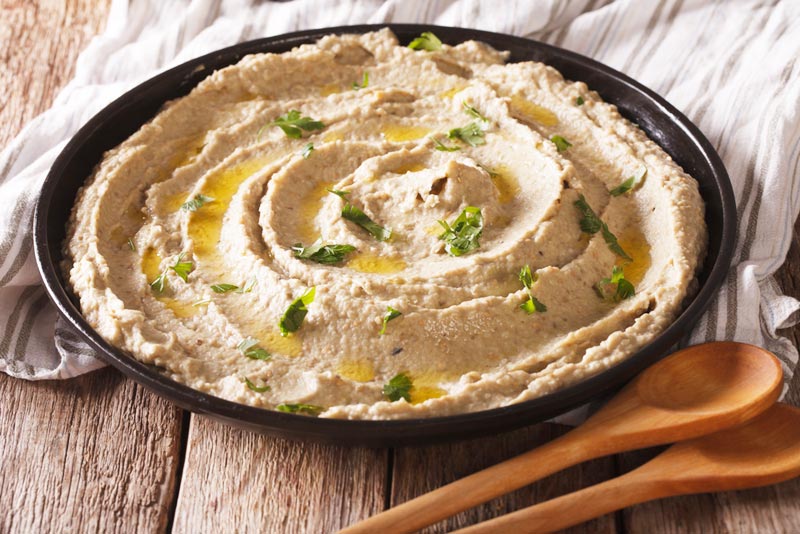 CLICK HERE for full Baba Ghanoush recipe
There are plenty more veggie tips to come. Tune into our blog for the next new veggie in the spotlight!end of
Save
Save