If you were interviewing coconut oil for a job, you'd soon see it has quite an impressive resume, which is exactly why we're going to chat about coconut oil and diabetes.
A quick internet scan will highlight the claims of coconut oil being good for everything from weight loss to curing diseases to skin and hair benefits, and even for fighting off infection.
Are you keen to find out whether these claims are true and if it's a good food for diabetics?
Let's dive in and take a closer look at coconut oil to help us sort out the facts from the truth.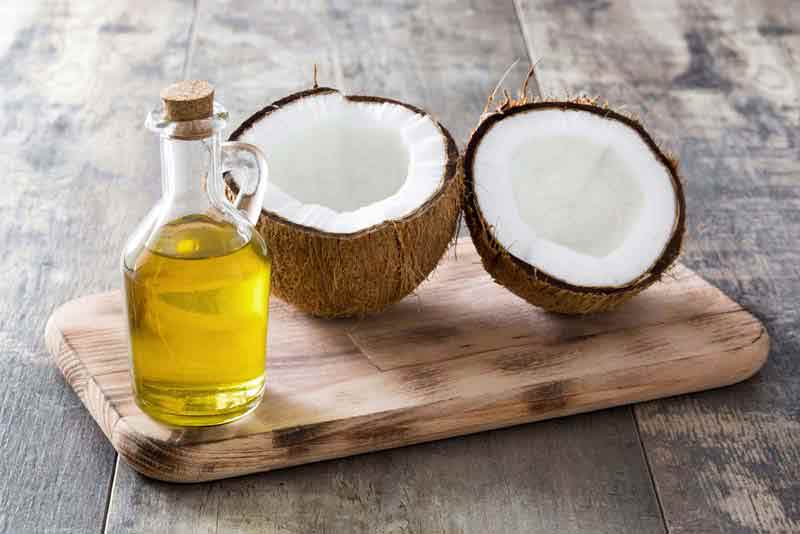 What is coconut oil?
Coconut oil is simply that, oil produced from the meat of mature coconuts.
There are a few methods for extracting it. It can be cold pressed by rotary mills or extracted using heat and a solvent such as hexane, in which case it would then need to be refined (refined, bleached and deodorized). Cold pressed coconut oil has a slight 'coconuty' flavor while the refined option will not. Virgin coconut oil (there is no "extra virgin") is produced using a single manual press without using heat or chemicals.
Coconut oil is very unique in that it has a melting point of 76 F (24 C) making it more liquid at room temperature in warmer seasons, but generally it is a solid fat. Coconut oil can be hydrogenated to raise the melting point to 100 F (38 C) so it stays solid at room temperature.
Coconut oil nutrition facts
Coconut oil is purely fat. There are no carbohydrates or protein to speak of. It is 91% saturated fat, 6% mono and 3% polyunsaturated fat.
While 91% fat sounds like a lot, much of the saturated fat is a very unique kind known as lauric acid, which is where the many health benefits are derived (we'll get into that in just a moment).
Because coconut oil is solid fat, free of water content, it is higher than several other fat options per volume. Butter has some water and air to dispense it so it is a bit lower. Similarly, shortening is lighter than the dense coconut oil so is lower in calories per volume, but not necessarily by weight.
When comparing different fats, the main differences you'll see as you compare food labels is the breakdown of the fatty acid composition.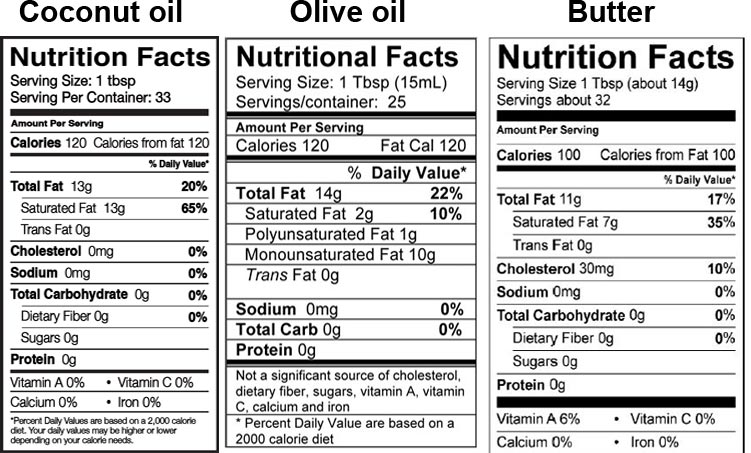 Myths and Truths about Coconut Oil

What makes coconut oil controversial is the fact that it is high in saturated fat, which have historically been demonized as the worst kind of fat because it supposed clogs our arteries and leads to heart disease.
However, many large studies indicate those initial claims may not be as valid as once thought. While saturated fat is one thing, not all saturated fat is the same.
As Authority Nutrition outlines, the most common saturated fatty acids in the human diet are:
Stearic acid: 18 carbon atoms (long)
Palmitic acid: 16 carbon atoms (long)
Myristic acid: 14 carbon atoms (long)
Lauric acid: 12 carbon atoms (medium)
Capric acid: 10 carbon atoms (medium)
Caprylic acid: 8 carbon atoms (medium)
Caproic acid: 6 carbon atoms (medium)
Basically we have long, medium and short chain triglycerides, and that's where it gets interesting.
As suggested above coconut oil is predominantly 'lauric acid' – a Medium Chain Triglyceride (MCT).
One thing that isn't reflected on the nutrition facts label of foods are the MCTs, which are a type of fat metabolized much differently than long or short chain fatty acids, going directly to the liver for processing.
And surprisingly, research shows that populations who consume large amounts of coconut oil (30-60% of their calories) have very low rates of heart disease.
Unlike more fragile unsaturated vegetable and seed oils such as canola, cottonseed, sunflower and so forth, coconut oil remains very stable over high heat, is not sensitive to light and is not easily damaged. This is a great health benefit because oxidized oils can cause health problems.
So in saying this, it makes it an excellent choice for cooking foods at higher heats (ie roasting in the oven, grilling or frying eggs) and because of its stability, it has a longer shelf life than other oils, too.
Please pin, tweet or share this info to help others; then keep on reading. 🙂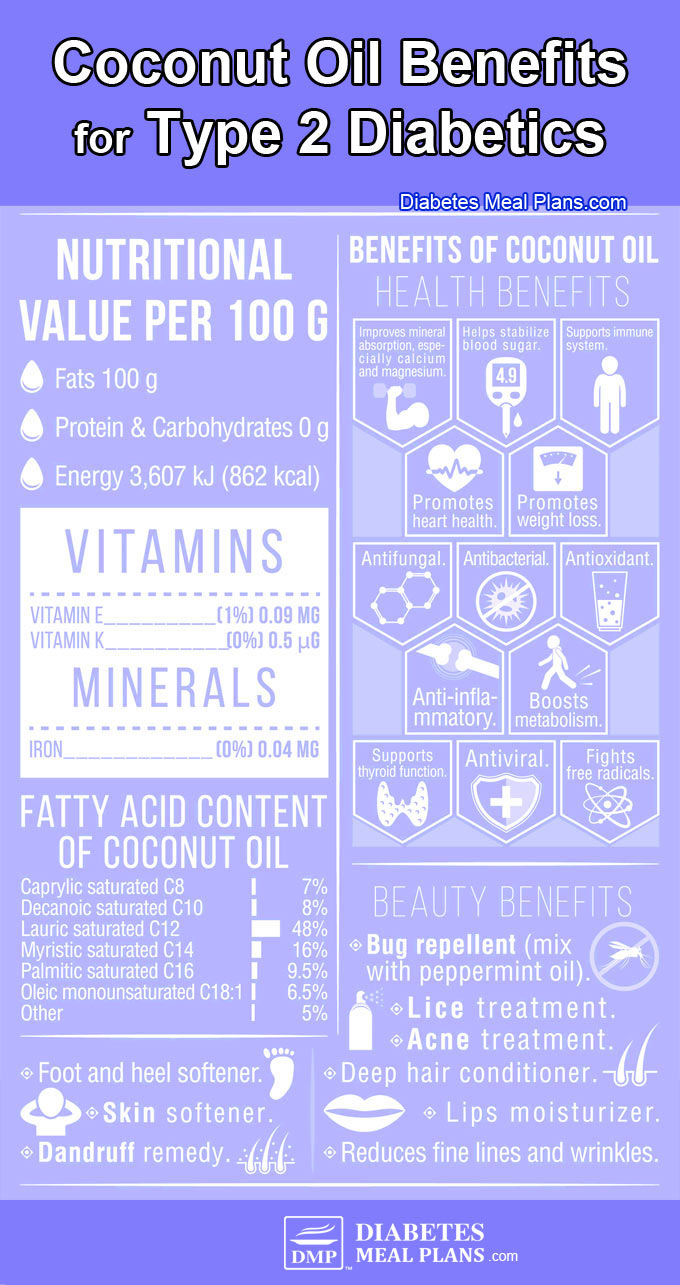 Research behind coconut oil and diabetes
While coconut oil is very high in calories, the nature of MCTs is that they seem to help raise metabolism, which can help with weight loss, specifically belly fat – which is correlated with type 2 diabetes.
Additionally, the ketones produced when it is metabolized may help reduce appetite and food cravings. When men were fed high fat diets, those with the MCTs ate 256 fewer calories than those eating long chain fatty acids.
Despite its high saturated fat content, coconut oil has been shown effective at reducing LDL, total cholesterol and triglycerides, while increasing (the 'good') HDL. It has antioxidant and anti-inflammatory benefits as well.
People with diabetes are at higher risk for infections and the lauric acid in coconut oil is effective at killing pathogenic bacteria, yeasts and fungi.
People with diabetes often have dry or cracked skin. Coconut oil is an excellent moisturizer and helps restore skin health.
Dental problems such as gingivitis and other tooth/gum infections are more common in those with diabetes. Oil pulling (swishing coconut oil in the mouth, and between the teeth, then spitting it out and rinsing) is quite effective at killing bad bacteria in the mouth, which contribute to the dental problems.
Finally, MCTs seem to be effective at promoting brain health and protecting against damage from diseases such as Alzheimer's.
Is coconut oil a good option for diabetics?
Coconut oil can be a great addition to an overall healthy diet, including a low carb diabetic diet.
In fact, one to 2 tablespoons of coconut oil daily has been shown to increase metabolic rate by 5%, translating to approximately 120 calories per day, which can help improve lipid levels and satiety (feeling of fullness) and also assist with weight loss – yes, this does seem contradictory but is true.
That said, it's 130 calories, per tablespoon. That's crazy high! Higher than butter, which is a mere 100. The point is, while it's fine to include in your diet, take it easy and don't go overboard. Limit yourself to a 1-2 tablespoons per day–more than that and you may end up with excess weight gain.
Of course, if you're objective is a little more weight gain, which is the case for some people, then coconut oil is the perfect way to increase your caloric intake safely.
The best news is, the fat in coconut oil will not raise blood sugar levels since coconut oil contains zero carbohydrate or protein. Added benefits include brain health and protection against infectious disease.
If you do choose to consume coconut oil, the best option is to look for a cold pressed virgin coconut oil, which will provide you with the highest nutritional benefits.
Tip for dental hygiene: To oil pull, simply swish some oil around your mouth and between your teeth several minutes (before you brush them), then spit the oil out (not in the toilet or sink since it can clog pipes–use a trash can). DON'T swallow as the oil is pulling bacteria out of your teeth and mouth so you don't want these toxins in your body.
Please pin, tweet or share this info to help others.
While you're here, Grab our great freebie pack