Almonds have a rich cultural history that dates back centuries – they're even mentioned in the Bible! 
And even now, they're still an extremely popular healthy snack.
Almonds can be eaten whole, flavored, or roasted. They're commonly found in baked goods and cereals, as well as in healthy staples such as almond milk and almond flour.
And when it comes to type 2 diabetes, you'll be happy to learn that these are one of many nuts you can truly enjoy!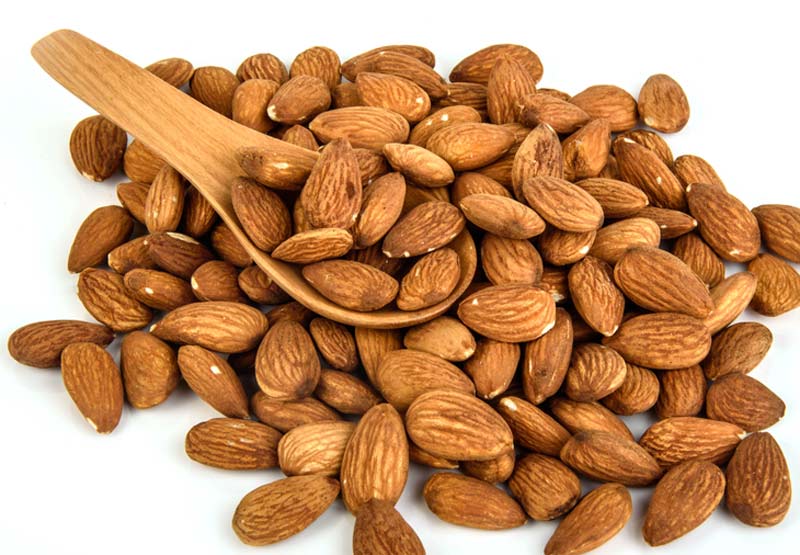 Almonds Nutrition Facts
Almonds are a fantastic source of healthy monounsaturated fats, which can protect you from heart disease and help you stay full without consuming too many calories or carbohydrates.
One quarter cup of almonds contains 11 grams of fat, and 7 grams of that fat is monounsaturated.
Almonds are also a great source of quality protein. There are 6 grams of protein and 170 calories in a quarter cup serving.
Perhaps most importantly, almonds are fairly low in carbohydrates. That same quarter cup serving contains just 7 grams of carbohydrates.
On top of this, almonds are also a great source of dietary fiber, providing 4.5 grams of soluble fiber in each quarter cup serving of almonds, which makes these nuts an amazing food for anyone who wants to control their blood sugar and lower their cholesterol.
They are also rich in micronutrients. One quarter cup serving of almonds contains the following:
Calcium (96 mg) – needed for healthy bones
Magnesium (96 mg) – needed for more than 300 enzymatic processes in the body
Potassium (262 mg) – beneficial for blood pressure
Phosphorus (172 mg) – needed for bone mineralization, energy production and cell signaling
Vitamin E (9 mg) – a powerful antioxidant to fight free radicals
Overall, almonds are a highly nutritious and super healthy snack to munch on.
Different Types of Nuts Compared
| | | | | |
| --- | --- | --- | --- | --- |
| Nut (1 oz) | Calories | Carbs | Fat | Protein |
| Walnuts (14 halves) | 185 | 3.9 | 18 | 4.3 |
| Almonds (23 nuts) | 163 | 6 | 14 | 6 |
| Peanuts | 161 | 4.6 | 14 | 7 |
| Pecans (19 halves) | 196 | 3.9 | 20 | 2.6 |
| Pistachios (49 kernels) | 159 | 8 | 13 | 6 |
| Cashews | 157 | 9 | 12 | 5 |
| Macadamia Nuts (10-12) | 204 | 3.9 | 21 | 2.2 |
| Brazil Nuts (6 kernels) | 186 | 3.5 | 19 | 4.1 |
As you can see, almonds have a fairly similar carbohydrate, fat, and calorie count when compared to other nuts, but they're among the highest in protein.
Myths and Truths about Almonds
Some people avoid nuts because they're high in fat…but remember, there are many different kinds of fat and almonds contain the most healthiest fat of all – monounsaturated!
And if you think eating fatty nuts is going to make you fat, think again. Eating fat does not make you fat. That's one of the biggest nutrition myths in history.
In fact, eating sugar and carbohydrates makes you fat. Why?
Because it triggers insulin and insulin is the fat storage hormone. The body also needs carbs to create fats because all fats are made of a glycerol (carb) backbone!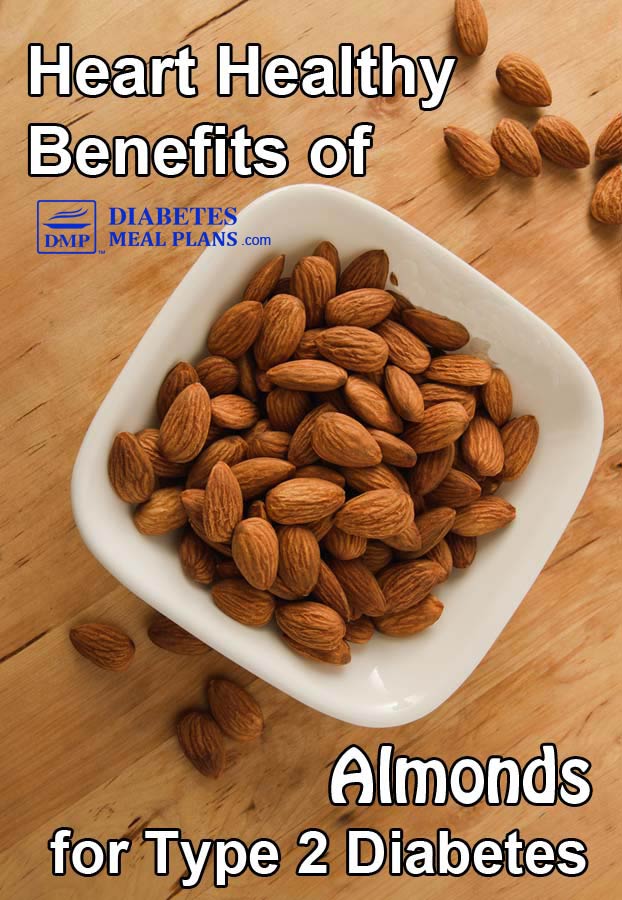 Research about Almonds and Diabetes
Monounsaturated fat (present in things like nuts, olive oil, and avocado) are good fats for you to eat, especially as a diabetic.
Compared to a high carb diet (60% carbs – often recommended on sites like American Diabetes Association and Diabetes Australia), having around 40-50% of your diet from monounsaturated fat (olive oil or nuts), with 35-45% of the right carbs, shows decreases in fasting glucose and overall glucose levels of 24.66 mg/dl (1.37 mmol/l) compared to 9.72 mg/dl (0.54 mmol/l). And a reduction in a1c of 2.4% compared to 0.2% in higher carb groups.
Almonds are also hunger-stopping heroes. One study found that eating a small almond "appetizer" (approximately 12 almonds) reduced post-meal hyperglycemia in people with prediabetes.
Another study gave people almonds (43 g/day) with breakfast or lunch, or alone as a morning and afternoon snack. They found that not only did almonds lower post-meal glucose response, they also reduced hunger and desire to eat.
And the researchers note for both of the studies mentioned above, there was no weight gain experienced by those eating almonds daily.
In fact, daily consumption of almonds in type 2 diabetic patients has been linked to smaller waist circumference, improved waist-to-height ratio, lower total triglycerides, lower LDL cholesterol, lower A1c and less inflammation in the body.
The healthy fats in almonds help reduce total cholesterol and LDL cholesterol (the bad stuff) without lowering HDL (the good stuff). And researchers conclude that overall they provide awesome heart-healthy benefits and help reduce risk of heart disease in those who eat them.
Yet another study reached the same conclusion, eating 30 g/day of almonds (about 3 tablespoons) reduces overall cardiovascular risk in type 2 diabetes patients, due to their ability to regulate lipid (cholesterol) abnormalities.
And if that's not enough to convince you to eat them, almonds have also been shown to reduce inflammation and oxidative stress in type 2 diabetics. They slash proinflammatory markers down by 10-15%. And on top of this, they also prevent LDL cholesterol (the bad stuff) from oxidizing, providing at least 16% protection.
This is yet another heart-healthy benefit because oxidized LDL is the type that leads to clogged arteries, heart attacks and stroke.
Since your risk of heart disease is increased in diabetes, this is all GREAT news for you!
So, are Almonds Good for Diabetics?
Yes!
Simply put, almonds are an amazing food that we absolutely recommend you include in your diabetic diet.
And if you want to do some bread or cake baking, almond flour is one of the low carb flours we recommend. Almond milk is also a great alternative to dairy milk.
So… go nuts and enjoy those almonds!
Please pin, tweet or share this info to help others. Thanks. 🙂