By Beth Michaels, in-house Dietitian
We've collected a combo of diabetic diet questions with the corresponding answers and resources below.
1. My sugar levels are always shooting high no matter what I eat.
That's frustrating. I understand it can be super-difficult to feel like you're doing all the right things and still having a hard time keeping your blood sugar under control. Keep in mind that there are a lot of factors that impact your blood sugar, some of which are controllable and some of which are not.
We like to focus on the controllable ones (because there is nothing we can do to change the others), but it is important to realize age and genetics DO play a role in insulin resistance and metabolic syndrome.
As we age, our insulin production diminishes somewhat and family history CAN play a role. Additional controllable factors to consider are:
If any of these aren't dialed in, your hormones may be predisposed to elevated glucose. Keeping a journal or log of what your intake (calories and carbs), weight and activity as they correspond to blood glucose readings will help identify patterns.
Remember as well, it is not only what you're eating, but also how much. Perhaps you are choosing healthy foods but portion sizes are too big. I'd suggest keeping a very detailed food and activity log and do some calculations to see where you stand in terms of calories and carbs. Discussing this with a doctor, dietitian or diabetes educator may be helpful as well.
2. My dietitian insists I eat whole grains with every meal, is this really true?
Most of the nutrition recommendations made to the general public are drawn from sources such as the USDA Dietary Guidelines and other similar governmental sources. Health experts, including, dietitians often draw their advice from such as well.
They are based on research, but also consider practical availability and food supply – hence the US Department of Agriculture leans toward the promotion of the consumption of grains. And governmental sources and dietitians associations are often sponsored by such departments, too.
While whole grains contain many nutritional benefits such as fiber, and vitamins and minerals; they are also problematic for diabetics in that they contribute a lot of calories and carbs. And since grain foods often come as packaged products, they are often combined with sugar, resulting in elevated blood glucose levels.
There is plenty of evidence-based research to suggest certain populations do very well without grains – in fact prior to agriculture, humans subsided on plants and animals alone! However, it is very important to ensure sufficient intake of vitamins, minerals and fiber from healthy sources such as non-starchy vegetables.

Non-starchy veggies are a better source of nutrients than whole grains, but you do need to make sure you eat them. If you're switching to a lower carb diet and just eating fat and protein, that isn't really a healthy way to eat. So no, you don't need to eat whole grains. But be sure to eat those veggies!
3. Why is alcohol consumption discouraged for type 2 diabetics?
Alcohol is a toxin which ties up the liver, contributes 'empty' (non-nutritive) calories and carbs, is often mixed with sugary carbs and tends to lower inhibition.
For fuller explanation of each of these, check out our article on alcohol over here.
4. Is chewing sugar free gum going to affect my blood sugar?
It depends on how much you're chewing and what kind.
A piece or 2 every now and then won't make much of a difference, but chewing several pieces daily might have an effect. Chewing regular gum will contribute calories and carbs in the form of sugar, which you definitely want to avoid. While you don't swallow the actual "gum" itself, chewing it releases sugar and other ingredients which are digested and absorbed.
Sugar free gum may be a better option if it is made with xylitol (contributes to blood glucose but much less and healthy for teeth) or stevia (much more natural sweetener shown to provide some health benefits in diabetes).
Steer clear of gum (and any product for that matter) with aspartame, saccharin or sucralose, which are chemically produced in a lab and have many health concerns. Check the ingredients label to be sure.
5. I feel like a loser, I'm not getting anywhere. Do you have any tips?
Sounds like you need a PLAN and some coaching!
How will you know if you are getting anywhere if you don't know where you're starting or where you're going? What are your goals? Can you make them more specific?
Write them out and post them where you can see them!
Buddy systems help. And resources help. Check out this to get an idea of how to make general healthier changes to your diet, read through blog articles to educate yourself.

You also might like to check out this habit changing routine.
And remember habits take a long time to form, and while they may not change overnight, they can be broken one by one. We're here to help walk you through getting started. Hang in there!
6. I eat..I gain..I don't eat, I don't lose. Where should I get started?
Well you have to eat!
What, when and how much you eat makes all the difference!
Check this out for tips on getting started with a lower carb diabetic diet plan.
And the best advice: work on changes one at a time!
You may not see results immediately, but little changes will add up over time. How long have you stuck with new habits (without cheating)? Sometimes people get frustrated because they don't see results after a few weeks of changes. Hopefully they will come, but remember, you didn't get where you are overnight and it may take some time for your body to adjust, adapt and respond.
Keeping a food/ exercise/ lifestyle log also helps too. Often we are unaware of what we're actually doing/ eating. So when we put it on paper we can stop sticking our head in the sand and face reality. 🙂
7. I can't stick to any diet, even if they call it a "lifestyle change," for more than a week or two. Do you have any tips?
For one thing, you're on the right track not calling it a "diet." That term tends to connote short-term, deprivation and daunting unrealistic extremes. A lifestyle change is a much more positive way of thinking about the process.
Which brings me to the next suggestion: think of this as a journey, and sometimes you're going to go 2 steps forward, one step back!
Every purported "failure" is an opportunity to learn from. What is it that makes you fall off each time? That's your barrier. Identify what it is and you can work on changing it.

Brainstorm some strategies to put in place around the 1-1.5 week mark. Consider a buddy-system or accountability partner. Tell them your plan and ask them to check in on you at strategic times and get on you if you're not on track.
Habits can be a tricky thing to break. Perhaps you're trying to change too much at once, which is a common problem that usually ends in failure. Try to focus on one habitual change per week or so, until you feel you've got it nailed before moving onto the next one.
Diabetic Diet Resources
Here is a short list of resources you may find helpful:
Please share, pin, or tweet this post. 🙂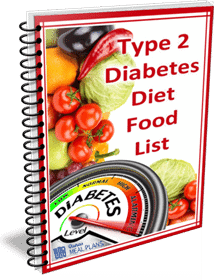 FREE DOWNLOAD
to grab your downloadable copy of this food list!