Blueberries are perhaps one of the most well-loved fruits of all time. From an icy cold whipped blueberry smoothie in the heat of summer to a yogurt and nut breakfast topped with the dark blue orbs, there are so many ways to enjoy blueberries – and who doesn't love that funny blue smile they give you?
The health benefits of blueberries have been widely discussed in health news over the past decade or so. But as a diabetic, you may be wondering how these berries can fit into a diet that works for you and keeps your blood sugar well-managed – that's what we're here to talk about.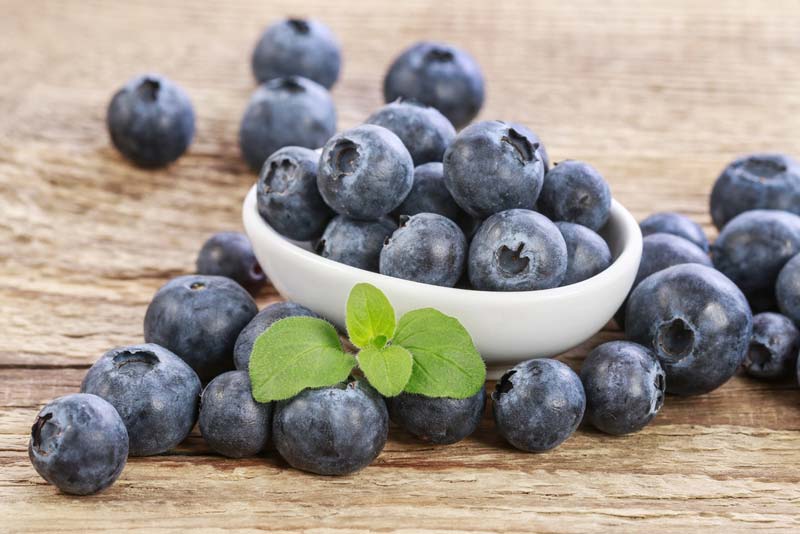 You'll be pleased to know right up front that blueberries are actually one of the best fruits for people with type 2 diabetes to eat. Hooray!!
Let's learn more about them…
Blueberries Nutrition Facts
Blueberries are a relatively low calorie food – half a cup contains 42 calories.
Their high fiber content (1.8 grams per cup) will keep you well satiated (feeling full).
One cup of blueberries contains 21 grams of carbohydrates, which is why a maximum of half a cup per serve is recommended (10.5 grams carbs per serve).
The berries contain very small amounts of fat and protein.
Blueberries have a moderately low glycemic index of 40.
In terms of vitamins, minerals and antioxidants, blueberries are nutritional superstars. Half a cup will give you 16% of your recommended daily amount (RDA) of vitamin K, 12.5% of your RDA of manganese, 9.5% of your RDA of vitamin C, and many more nutrients.
They're also rich in a type of antioxidant called anthocyanins, which can lower your risk of cardiovascular disease.
Health Benefits of Blueberries
Vitamin K: Can improve bone health and prevent fractures. Vitamin K helps your body absorb calcium, and may even reduce insulin resistance in older adults.
Vitamin C: This antioxidant helps with tissue repair and regrowth, boosts your immune system, and may reduce blood sugar and lipids in people with diabetes, which means it could help prevent diabetic complications.
Manganese: This mineral helps prevent osteoporosis and reduces inflammation.
Anthocyanins: These antioxidants help prevent cardiovascular disease (the #1 killer worldwide), as well as helping to prevent eye-related complications of diabetes. They work by reducing chronic inflammation associated with the development of disease.
Research on Blueberries
Blueberries have been found to have properties that prevent cancer. They inhibit the production of inflammatory molecules and reduce DNA damage, cancer cell proliferation, and other results of oxidative stress – the thing that causes free radical damage that changes how cells in your body behave.
Blueberries may assist with brain health. The anthocyanins in blueberries have been found to enhance task-related brain activation and blood flow in healthy older adults, and they may also improve neural activation in people who already have mild cognitive impairment.
If you're prediabetic, blueberries may lower your risk of developing type 2 diabetes. There is some evidence that blueberry intake may decrease insulin resistance, fatty liver and improve glucose tolerance in diabetics. These findings have been supported in animal studies.
Eye-related complications can be a real worry for diabetics, but blueberries can help stave off that anxiety: their anthocyanins protect retinal cells from diabetes-caused oxidative stress and inflammation. Animal studies have also shown that wild blueberry consumption may decrease inflammation in those with obesity and metabolic syndrome.
Points for Consideration
Although blueberries have a relatively low carb content compared to many other fruits, they do still contain a moderate amount, so you do need to be aware of this and not go crazy on your portion sizes. Keeping to a maximum of half a cup per serve (around 10 grams) is recommended so you don't throw your blood sugar levels out of whack.
If you are taking blood-thinner medications such as warfarin, it's important to be aware of blueberries' high vitamin K content. This is because vitamin K is involved in blood clotting, and suddenly consuming considerably more or considerably less vitamin K can affect your medication's efficacy.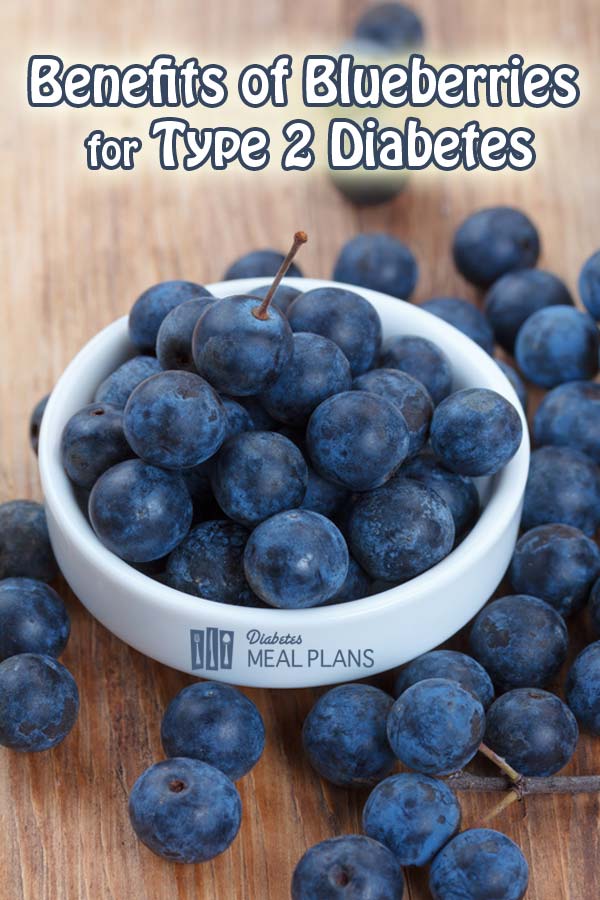 Blueberries in the Kitchen
Selection
Frozen and dried blueberries can be enjoyed year-round, but the fresh variety is normally in its prime during the summer months. Choose berries that have no visible red color, and avoid those that are mushy or watery-looking.
Storage
Don't wash your blueberries until you intend to eat them, as water can speed their ripening process. Keep unwashed berries in an airtight plastic container in the fridge for up to two weeks, or freeze them if you have more than you can eat!
Uses
Blueberries are a delicious addition to any green salad. They're also a great way to add some nutrition and flavor to your breakfast – try them blended into a delicious breakfast smoothie or serve with a bowl of nut-based cereal.
Blueberries Recipes
Mixed Berry Smoothie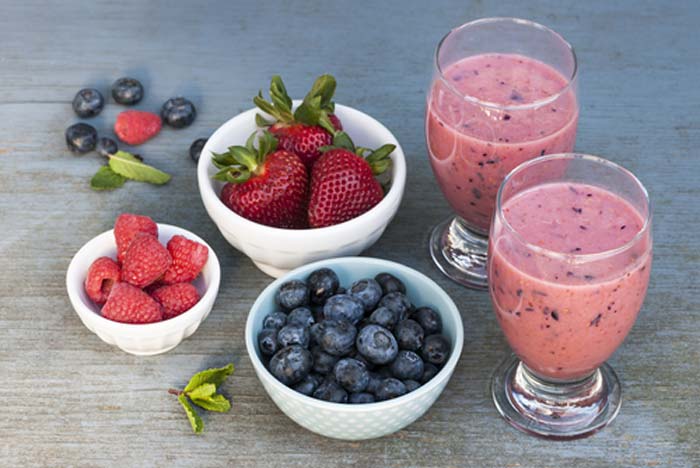 You can include blueberries in solo or a range of mixed berries to make this Mixed Berry Smoothie Recipe.
Roasted Nut Low Carb Muesli
Swap put the strawberry side for a blueberry side with this delicious Breakfast Muesli Option.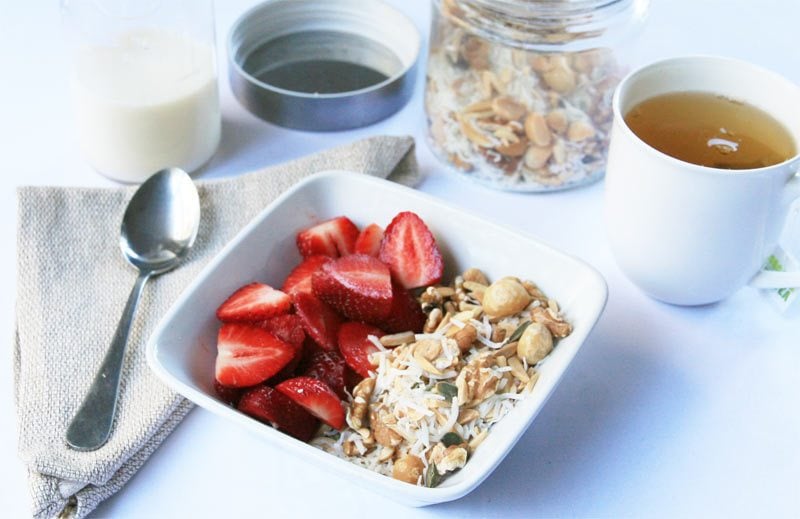 Blueberries are super scrumptious and packed with super nutrition. So feel free to enjoy them, just don't overdo it!
Please pin, tweet or share this info to help others. Thanks!