Ah, strawberries – for a lot of us, these gorgeous, juicy red berries conjure up images of carefree summer days, picnics, and airy fruit desserts.
Due to their red color and heart shape, strawberries were once used as a symbol for Venus, goddess of love. And the Romans used the berry as an all-purpose medication for everything from kidney stones to depression. While we don't use strawberries for quite this purpose today, they certainly do contain a huge amount of health-promoting vitamins and nutrients.
You may be confused (with good reason!) about how fruit can fit into a healthy diabetic diet due to its sugar content.
Yes, all fruit does contain sugar, but as it turns out, strawberries are one of the absolute best fruits for people with type 2 diabetes. Read on to find out why…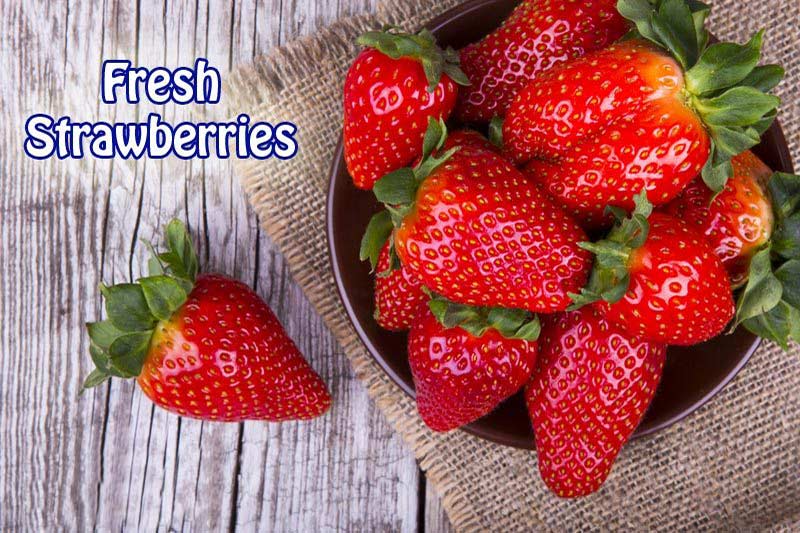 Strawberries Nutrition Facts
Half a cup of halved strawberries contains 75% of your recommended daily amount (RDA) of antioxidant vitamin C.
Half a cup of halved strawberries contains 24.5 calories, just under 6 grams of total carbohydrates, roughly 1.5 grams of dietary fiber, which makes them just 4.3 to 4.5 grams of net carbs.
Half a cup will also give you 14% RDA manganese, 4.5% RDA folate, 4% RDA copper, 3% RDA potassium, 2.5% RDA magnesium, and 2.5% RDA phosphorus.
Unlike many fruits, strawberries have a low glycemic index of 40.
Health Benefits of Strawberries
Anthocyanins: This dietary compound contained in strawberries can boost cognitive function and prevent heart disease and cancer.
Vitamin C: This antioxidant bolsters your immune system, aids in tissue growth and repair, and helps the body absorb iron from plant sources like spinach.
Folate: This mineral may help reduce oxidative stress in type 2 diabetics.
Fiber: Dietary fiber promotes satiety, regulates blood sugar, and helps your body cultivate healthy gut bacteria.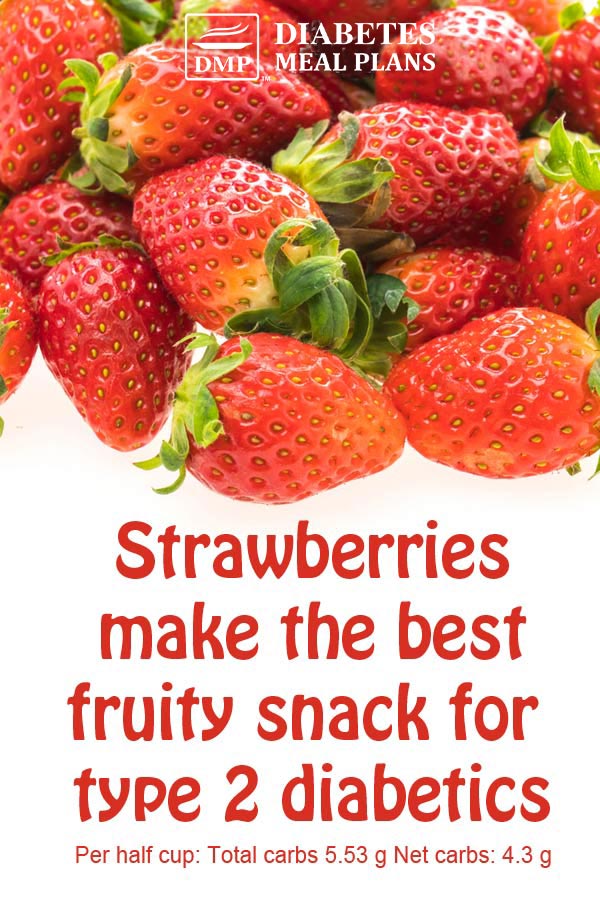 Research on Strawberries
Consumption of berries has been found to prevent most factors associated with metabolic syndrome and its cardiovascular risk factors, in the general population. If everyone at risk for metabolic syndrome and/or diabetes ate more berries (which are considered low carb fruits), it's likely that fewer people would need to use drugs to control their risk factors.
Strawberries contain compounds called ellagitannins and ellagic acid, which researchers suggests may help prevent hypertension and high blood sugar levels in type 2 diabetics.
Freeze-dried strawberries have also been found to decrease inflammation and improve glycemic control and antioxidant status in type 2 diabetics.
Polyphenol compounds in strawberries have been found to help improve insulin sensitivity in insulin-resistant overweight and obese adults.
Strawberries may improve cardiovascular risk factors such as blood pressure and total cholesterol levels. They appear to reduce oxidative damage to LDL (bad) cholesterol and therefore help the body maintain low levels of LDL cholesterol, along with producing a more desirable HDL (good cholesterol) to LDL ratio.
The list of strawberries' miracle properties continues: animal studies have found that the berries can also significantly improve lipid levels and liver function.
Points for Consideration
Strawberries may be a relatively low carb fruit that, as discussed above, can help diabetics control blood sugar – however, this doesn't mean that it's a good idea to eat boundless amounts of the berries.
Try to eat your strawberries in small portions, and pair them with a source of protein to promote fullness and prevent blood sugar spikes.
Strawberries in the Kitchen
Selection
Choose firm, plump strawberries with a bright red appearance. Avoid those with mushy or wet looking patches, as they may be overripe.
Storage
Store strawberries in their clamshell packaging or in a partially open plastic bag (for ventilation) in the crisper section of your refrigerator for up to 7 days.
If you're unable to finish your strawberries before they become overripe, they can also be stored in a sealed plastic bag in the freezer for up to a year.
Uses
Avoid washing strawberries or removing their caps until just before you're ready to eat them.
Try serving strawberries atop a delicious bowl of nutty muesli or Greek yogurt for a delicious, vitamin rich breakfast!
They also make a great snack paired with nut butter, whole nuts, or cheese, and they can dress up any summer salad when used as a topping (we love the spinach + strawberry combo!).
Cutting Techniques
Simply slice off the strawberries' caps (or remove them with your hand), give them a wash and they're ready to eat!
Strawberries Recipes
Low Carb Strawberry Rhubarb Crumble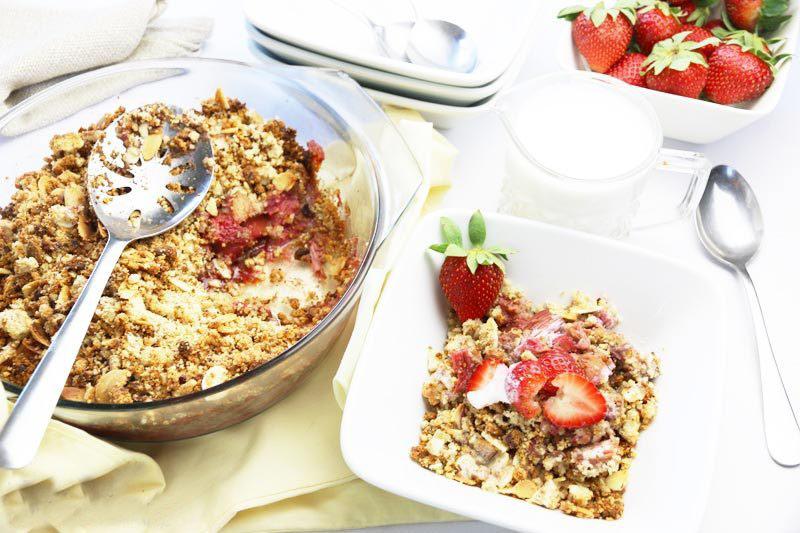 Click here for the crumble recipe
Roasted Nut Muesli
Click here for the muesli recipe
Enjoy your strawberries!
Please pin, tweet or share this info to help others. Thanks!