If you could turn your life around in as little as 30 days, would you be prepared to take action and do it?
Today we've got a type 2 diabetes success story featuring an inspiring woman who took the 30 Day Turnaround Program and is now forging a completely new life for herself.
"I started this program to help me figure out how to eat low carb since that is what my nutritionist recommended. My blood glucose was reading 250 to 300 (13.9 to 16.7). My readings are now within normal range. And I'm down over 20 pounds (9kg) and feeling so much better. Thank you."
Introducing Leisa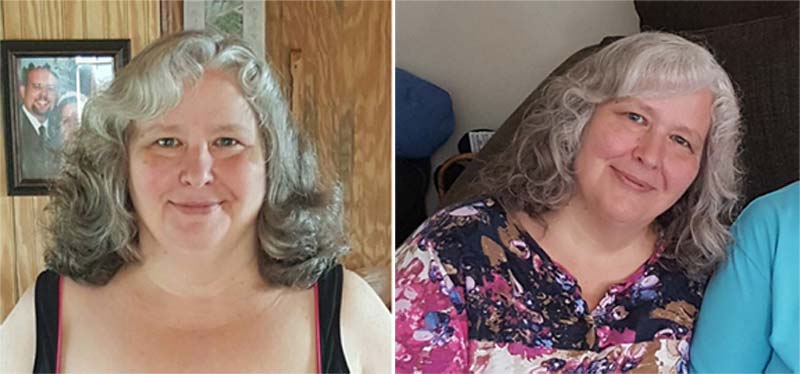 My name is Leisa M and I am a busy 56 year old wife, mother and grandmother.
I live in a tiny house and practice a homestead-type of lifestyle in the mountains of rural West Virginia.
I love God, my family, animals, gardening, canning, preserving fresh meats, boating, and being close to nature.
As a profession I am a church secretary and also the Vice President of a non-profit animal advocacy group.
A family history of diabetes
My family has a long history of diabetes and my grandmother lost her leg to the disease.
My son is a type 2 diabetic who has neuropathy in his feet and his last A1C reading was 13.
My sister is diabetic and has had A1C readings of 12 and higher.
I have a brother in law who is a double amputee and is on dialysis from complications of diabetes.
I also have a niece who has been a type 2 diabetic since age 5.
But even with all this around me, I easily dismissed my own A1C readings that slowly crept up from 5 to 6.7 over a range of a few years. I thought, well, that's not too bad.
Still, I went and talked to a nutritionist who suggested a low carbohydrate diet and weight loss (I am 5' 1" and weighed 240 pounds.). But, I was left with a problem, the nutritionist I saw really didn't offer me a lot of information on how to do that. So instead of taking her advice I just went on eating like there was no tomorrow.
At least, until I got a sudden wake up call…
Suddenly I got the wake up call
In June of this year I went for a routine mammogram and was faced with the results of years of being in denial. Denial about my eating habits and ignoring my blood glucose readings, and the collective effect of what that denial was doing to me.
Suddenly I had to face that denial.
The veins and arteries in my breast were highlighted in bright white from calcium deposits and the beginnings of atherosclerosis (the most common form of heart disease).
After seeing my mammogram I started checking my blood glucose and it was running between 275 and 325 (15.3 and 18.1)!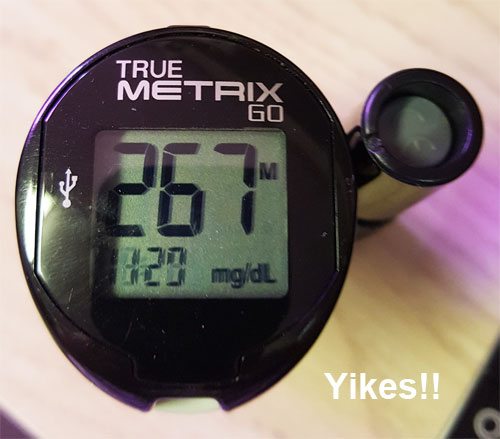 I knew then I was in trouble and could no longer pretend everything was okay. I was tired all the time, could hardly walk without pain and barely had the energy to do the tasks that had to be done.
So I started looking online to research the low carb diet and stumbled upon the DMP website. The information here intrigued me enough that I paid for the 30 Day Turnaround Program.
And, I'm so glad I did!
I was motivated to make changes

Before I began the program I was eating a diet that consisted mostly of fruits, vegetable, potatoes, pastas, gravies, and lots and lots of cakes, pies, candy and soda pop.
After beginning the program I began reading labels and choosing foods that were not only low carb but contained the type of carbs that were slowly digested.
I now choose meat that is organic and high in quality so that the fats in them are less inflammatory. I cut out the constant snacks and concentrated on cooking meals that would satisfy me so that I would not stay hungry all the time.
I also began a simple walking program and now take the time to make grocery lists and plan my menus for the upcoming week.
The daily emails from DMP were a great reminder to keep my eating in line with the plan. The recipes and tips were invaluable. But for me the most important part of becoming a DMP member was the amount of information supplied and becoming educated about how different food affects my body and health.
I printed out each days lessons and put them in a binder so I have easy access to refer back to them when I need to.
Please pin, share or tweet; then keep on reading!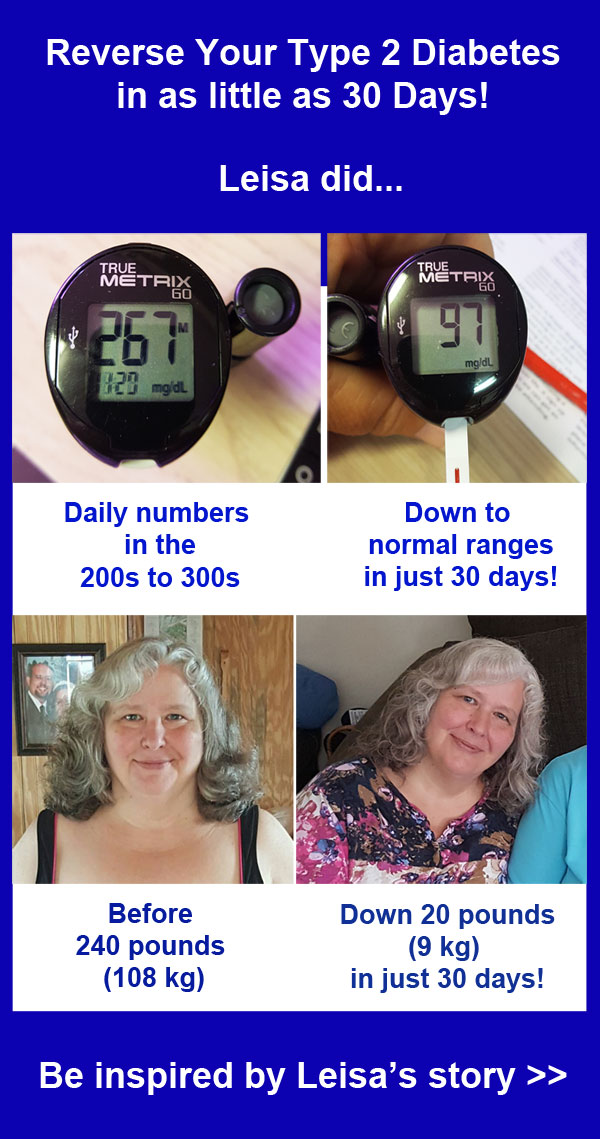 After just 30 days, Leisa's results speak louder than words…
At the beginning my blood sugars ranged between 275 and 325 at the 2 hour post-meal point. Now my blood glucose ranges are between 96 pre-meal and 145 post meal!
I still struggle with my morning blood sugar readings being higher than what I would like but I feel confident that with time I will be able to bring them down as well.
At the beginning my morning fasting blood glucose was between 150 and 160. It is down to an average reading now of 125. My goal is to be able to bring it below 110 (6.1).
My weight has gone from 240 pounds in June, 2017 to 205.4 pounds now!!!
I try not to fixate on my weight as long as my blood glucose is coming in at an acceptable level but I cannot lie that as I see that number on the scale drop, I get a little excited!!!
How the 30 Day Turnaround Program has changed Leisa's life
Since beginning the 30 Day Turnaround Program my life has changed so much.
My pain is gone, I now walk 3 miles (4.8 km) up and down our mountain with ease. My outlook on life is positive and I look forward to a future that is healthy and filled with being able to do the things I love and are important to me.
My advice to people who think that change and giving up a high carb diet is going to be just too hard, is for them to consider the ramifications and consequences of continuing on the path they are on (diabetic complications, amputations – it's not a great prospect!).
Yes, change does take a bit of work!
But with the information and support of the 30 Day Turnaround Program it is doable… not only doable but exciting and enjoyable.
I thought there was no way that I could eat only 20 to 30 carbs (or even less) at each meal and not "fall off the wagon," but the way I feel on this program is amazing and makes me want to continue to make progress.
I don't want to waste one more minute of my life being sick, tired and miserable.
My advice is just DO IT!!!
If I can, anyone can.
Yours,
Leisa M
P.S. Leisa is now a VIP Member and continues to make great progress every day. We'll bring you an update sometime in future. 🙂
WOW, thanks so much for sharing your story with us Leisa – so inspiring!!
This is exactly why we do what we do because we love helping people turn their lives around.
What did you learn most from what Leisa shared? Or what inspired you the most? Please leave your support and comments for Leisa below.