Let's just get straight to the point, blood sugar fluctuations are normal for everyone, even people who do not have diabetes.
Sure, in a perfect world our blood sugar levels would stay a constant 100 mg/dL (6.1 mmol/L) at all times, but in a real life situation that is completely unrealistic.
Blood sugar levels can fluctuate from day to day, from hour to hour and even from minute to minute – this is all normal!
Blood sugar fluctuations can occur for a variety of reasons, some of which we have more control over than others. And of course, large fluctuations could be a concern.
So let's talk about normal blood sugar levels, how much of a fluctuation to expect, and what you can do to regulate your levels a bit more.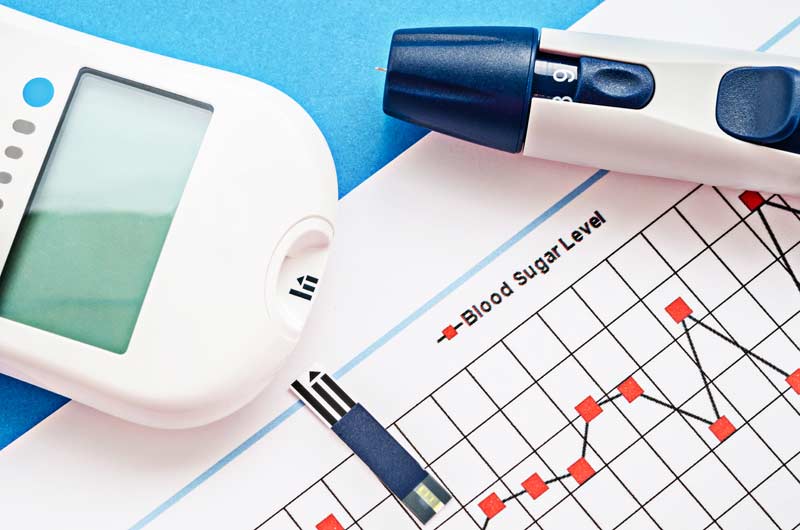 Normal Blood Sugar Range
Let's do a quick recap of normal numbers.
Fasting blood sugar:
Between 70-100 mg/dL or 4-5.6 mmol/l (

optimal

)

70-110 mg/dL or 4-6 mmol/l (still good control)

70-130 mg/dL or 4-7.2 mmol/l (more liberal, but realistic for many)
Postprandial blood sugar (2 hours after a meal):
Under 140 mg/dL or 7.8 mmol/L
Join Us As A Member Today: **Access over 1500+ diabetes-friendly recipes, weekly meal plans, food guides and ongoing support to reach your blood sugar goals.
What Causes Blood Sugar Fluctuations?
Events you have control over
Events that cause blood sugar fluctuations that you typically have control over include:
what you eat

when you exercise

remembering to take medication as prescribed
Events you may have no control over
On the other hand, some events may be out of your control, such as:
fighting a cold or infection

some medications
Still, there's a huge difference between normal blood sugar fluctuations and having poor control over your diabetes.
How Much Of A Fluctuation Is Normal?
This is a bit of a loaded question, as it can depend on many factors and it also depends on the person.
As an example, fasting blood sugar that bounces between 80 mg/dL (4.4 mmol/l) and 110 mg/dL (6.1 mmol/l) is pretty normal – those values are still considered "within range."
Another normal fluctuation example would be if your blood sugar was 6.4 mg/dL one afternoon, and then a few hours later your blood sugar was 6.9 mg/dL.
What's not necessarily normal is if your blood sugar is 75 mg/dL (4.2 mmol/l) one morning, and then 140 mg/dL (7.8 mmol/l) the next morning – that's a large fluctuation!
The only way to know your sugar level is to check, and check often!
You may check your blood sugar before breakfast and find it's 95 mg/dL (5.3 mmol/l), but that doesn't mean your blood sugar is going to stay at that level all day.
Ideally you want to be working toward having a blood sugar level that is within a healthy range on a consistent basis.
Fasting blood sugar:
Between 70-100 mg/dL or 4-5.6 mmol/l (

optimal

)

70-110 mg/dL or 4-6 mmol/l (still good control)

70-130 mg/dL or 4-7.2 mmol/l (more liberal, but realistic for many)
Postprandial blood sugar (2 hours after a meal):
Under 140 mg/dL or 7.8 mmol/L
The more consistent your blood sugar is on a daily basis, the better off you are. Throughout the day your levels may vary around 20-30 mg/dL (1.1 -1.7 mmol/l) naturally; your goal is to stay within range as much as possible.

A1c versus Blood Sugar
We often get asked if it's necessary to check your blood sugar if your A1c is within range.
First, review the following guidelines for hemoglobin A1C:
Under 6% optimal

6-6.5% prediabetes

>6.5% diabetes (>8% poorly controlled diabetes)
If you've been diagnosed with diabetes it's always recommended to check your blood sugar levels, even if it seems everything is status quo with your A1c. A1c and daily blood sugar checks measure different aspects of your diabetes control, but both are important for having good control.
Checking blood sugar daily catches small fluctuations; your A1c level does not catch these smaller fluctuations because A1c is an average.
A1c won't tell you if your blood sugar is rising a bit mid-morning, or dropping low in the afternoon. A1c represents what your average blood sugar has been over the past 3 months; you could have a relatively good A1c and still be having a lot of fluctuations throughout the day.
Checking your blood sugar with your meter is the best way to monitor blood sugar trends and know your day to day fluctuations.
Please pin, tweet or share; then keep reading.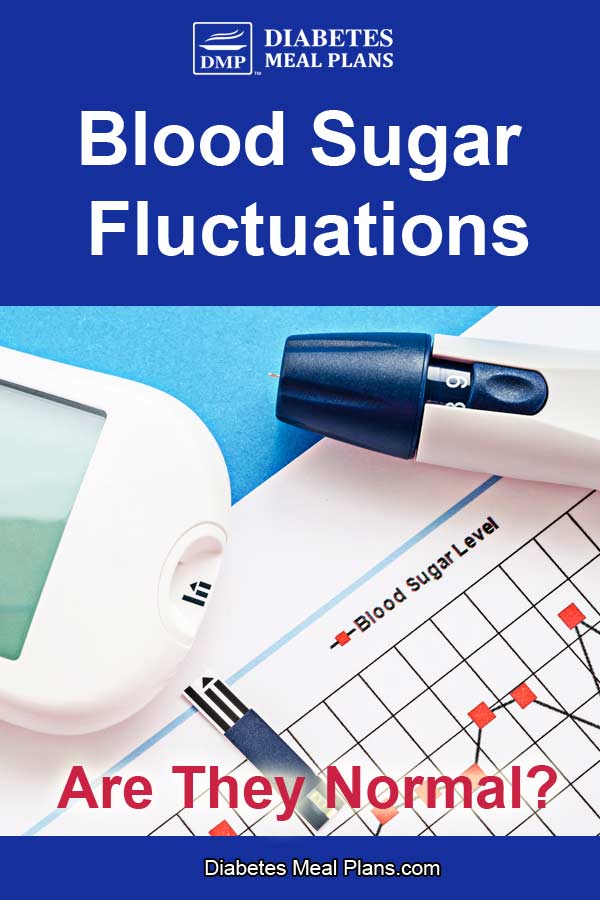 How Often To Check Your Blood Sugar Levels?
Most diabetes organizations recommend checking your blood sugar 3-4 times per day.
Many people choose to check before breakfast, midday, and then before bed, although your doctor may be able to suggest specific times that are best for you to check.
If you have poorly controlled diabetes, then you may need to check more often until your control improves. Checking more frequently (5-6 times per day) will better allow you to remedy your high blood sugar.
How To Minimize Blood Sugar Fluctuations?
Remember, even if you ate nothing all day your blood sugar would still go a little up and a little down throughout the day. This has to do with hormonal changes that you don't even realize are happening.
But, there are a few things you can do to improve your control and minimize fluctuations.
1. Eat Consistently
When we say eat consistently, we don't mean eat all day. We mean eat a healthy diet day in and day out.
You don't need to (nor should you) eat the same exact thing every day, but it is beneficial when you can eat the same types of foods and keep your carb intake consistent, and for many people, they need to lower their carbohydrate intake.
Carbs are the nutrient that has the greatest impact on blood sugar levels.
Many of our members find consuming between 50-80 grams of carbs per day results in optimal blood sugar control.
Subscribing to our meal plans may be helpful to you if you are looking for more structure and guidance when it comes to eating consistently.
2. Check Often
As stated above, checking your blood sugar is the only way to know what your blood sugar is. Plus, that number changes so frequently, which is why it's important to check often.
If you have trouble remembering to check your blood sugar try setting an alarm on your cell phone and keeping your meter in a frequently visited location.
You can also use a method called "monitoring in pairs" – this will help you determine the effect of different foods/ meals on your blood sugar levels.
View the image below to see how to do this: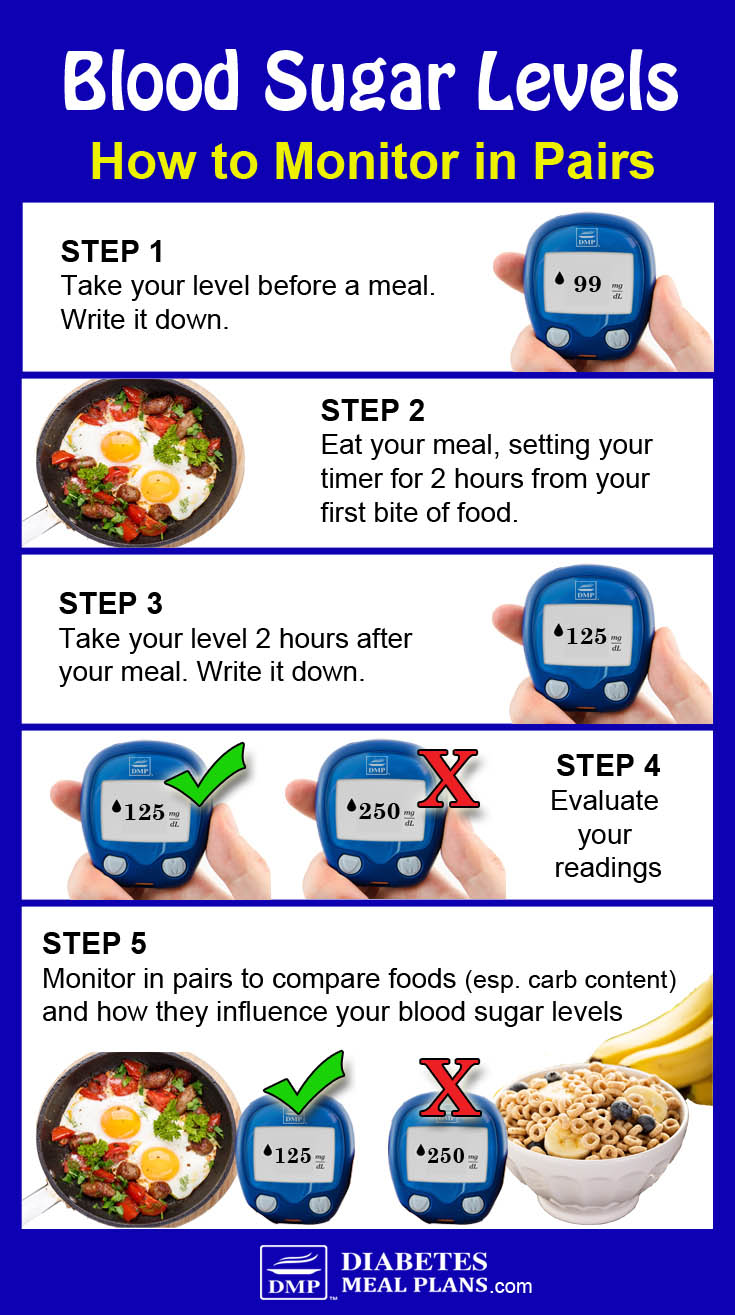 3. Record Your Numbers In A Log
Don't just check your numbers! Keep a log of your numbers. 🙂
Writing down your blood sugar levels can help you, and your doctor, identify trends in your fluctuations. It's especially helpful when you can also log your food intake and exercise routine alongside your blood sugar levels.
By looking at several days worth of blood sugar values you can better identify patterns. For example, you may notice certain foods are more problematic on your blood sugar than others.
Logging your levels is a great way to understand your body and your blood sugar levels, and how things in your life influence you – food, exercise, stress, sleep, medications, etc.
Blood Sugar Fluctuations Q&A
Below are a few more questions we commonly receive about blood sugar fluctuations.
Can the menstrual cycle cause blood sugar fluctuations?
Yes. Hormone changes that occur during your menstrual cycle impact the same hormones that regulate your blood sugar.
Each woman will respond differently during their menstrual cycle so make sure to check frequently so that you can respond accordingly.
How do you feel when your blood sugar is high?
Signs and symptoms of high blood sugar include:
Thirst

Fatigue

Frequent Urination
Depending on on how your blood sugar level is, you may not notice any of the above symptoms.
The best way to know if you're high is to check your blood sugar. If the reading seems to be a "sudden high" make sure to recheck your blood sugar to confirm that your blood sugar is truly elevated – on occasion your meter could give you a false reading.
Can drinking water lower blood sugar levels?
If you experience a high blood sugar reading you should drink water as high blood sugar can make you dehydrated. Water doesn't directly lower blood sugar, but it can help dilute your blood which would temporarily fix your high blood sugar.
You should also avoid eating anything until your sugar level returns to an acceptable range. Contact your doctor if your blood sugar is above 400 mg/dL (22.2 mmol/l).
Conclusion
It is normal for blood sugar levels to fluctuate and it is dependant on many factors.
Stay focused on the things you can control, such as diet, exercise, and medication.
Acknowledge that some fluctuations will still occur regardless, but in general those are small fluctuations that won't disrupt your overall blood sugar control.
Of course, if your levels are always high then you need to be proactive. But if you are keeping your levels in range, that's a good thing!
The important thing is to monitor regularly so you can recognize patterns and take action on any major blood sugar fluctuations.
Please pin, tweet or share this info to help others – thanks!