While we know that vitamins and minerals are important for good health. Are there any real benefits to taking a multivitamin for diabetes? 
Let's discuss the myths, facts and research below.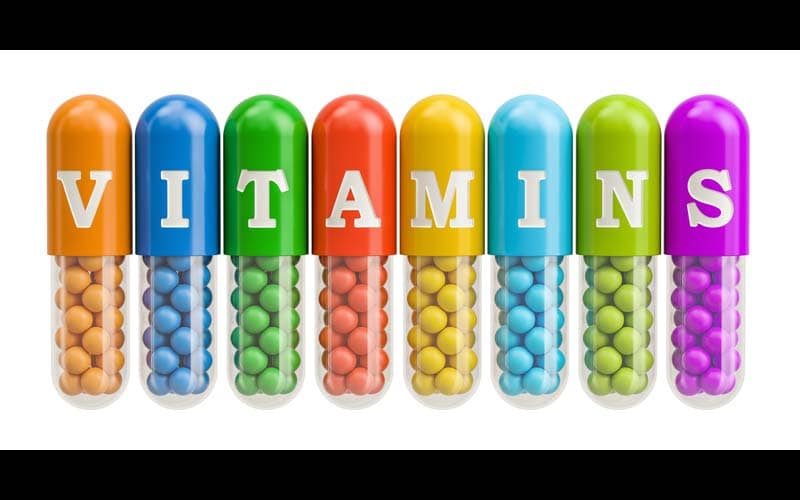 What are Multivitamins?
We see vitamins advertised everywhere – on store shelves, in nutrition articles, and in magazine ads. You may have even been recommended by your doctor to take a multivitamin…but do we actually need to take them?
The CDC confirms that vitamin deficiencies are widespread, with vitamin B6 and vitamin D deficiencies being most common in the general population. 
More than one-third of Americans take a multivitamin every day and supplementation in other western nations is similar, so obviously a great number of people feel they need to supplement their diet.
BUT, whether or not the average person "needs" to take a multivitamin is up for debate. And many people who take a multivitamin may not know exactly what they're consuming.
In general, most over-the-counter multivitamins will contain some or all of the following micronutrients:
Water-soluble vitamin C as well as vitamin B1 (thiamin), B2 (riboflavin), B3 (niacin), B5 (pantothenic acid), B6, B7 (biotin), B9 (folate), and B12
Fat-soluble vitamins A, D, E, and K
Minerals such as calcium, potassium, iron, zinc, selenium, or magnesium
Fillers such as cellulose, gelatin, or silicon dioxide (and often many others!)
How Do Multivitamins Work?
In developed countries where access to food isn't a problem, vitamin deficiencies may be caused by chronic digestive issues that inhibit absorption or by eating a diet heavy in processed foods. Modern soil in some regions may also be nutrient-depleted from over-farming which, in turn, produces crops lacking in vitamins and minerals.
Multivitamins are meant to work by filling any deficiencies you may have.
For example, a vitamin B12 deficiency may leave you feeling sluggish, low on energy, and weak, because of its effect on red blood cells. 
Vitamins A, C, and E function as antioxidants that fight oxidative damage in the body and limit systemic inflammation – two factors that are especially important for diabetics. Equally important are vitamins D and B12, as these nutrients affect blood sugar regulation, insulin sensitivity, and inflammation levels.
Individual Vitamins & Minerals
We do know that getting adequate levels of individual vitamins and minerals is critically important. 
For instance, vitamin D deficiencies are connected with inflammation, insulin resistance, high glucose levels, neuropathy and increased risk of diabetes.
This was demonstrated in a 2018 study that found that diabetic patients with neuropathy had lower vitamin D levels than the diabetics without neuropathy or those in the healthy control group.
Not only has research shown the harm that vitamin D deficiency can cause, but it also shows the powerful effect that proper supplementation can have. For instance, a 2017 meta-analysis found that vitamin D supplementation was associated with decreased A1c levels in people with diabetes who were vitamin deficient.
Another example is vitamin B12 deficiency, which is often more prevalent among people with type 2 diabetes, partly because the anti-diabetic drug Metformin directly contributes to vitamin B12 deficiencies.
A 2016 study found that people with diabetes on Metformin who took a multivitamin had 50% higher vitamin B12 than those not taking a multivitamin.
We also know other vitamins and minerals, such as magnesium and vitamin C, have studies that show great benefits when these are taken as supplements. 
The major obstacle is, these studies are conducted using one or two supplements only, not multivitamins.
Please pin, tweet or share this info; then keep reading – thanks!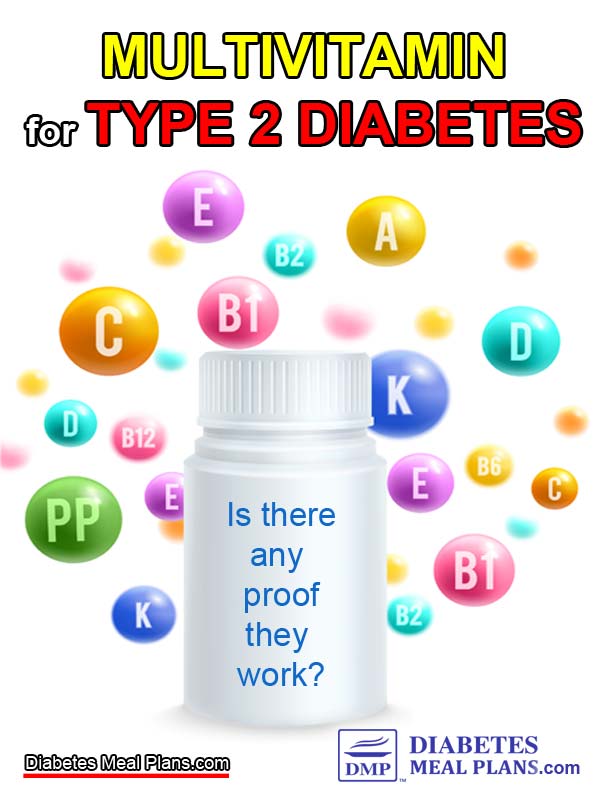 Should You Take a Multivitamin?
A few years ago, the Dietary Guidelines Advisory Committee determined there was not enough evidence to recommend multivitamin supplements. 
More recently, the consensus reached by a panel of 14 international experts suggests that taking a multivitamin supplement may help fill the gap for any deficiencies, for the general population. 
In terms of diabetes specifically, the fact is, there isn't a lot of research that shows they are good nor bad. 
The pitfall with multivitamin supplements is there is no common consensus or regulation for the amounts of different vitamins and minerals that should be included in a multi – so this makes it difficult to evaluate their health effects. 
So, while a multivitamin may help you improve any deficiencies, you may also be wasting your time and money. 
Overall, the best advice is to skip all the processed foods and improve your overall diet by eating plenty of fresh vegetables and other nutrient-dense foods. This will improve your nutrient intake.
You can also ask your doctor or a nutritionist to conduct blood tests to determine if you do have any nutrient deficiencies. At least then you can supplement with individual vitamins and minerals and receive the full benefits that you need.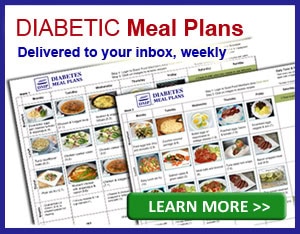 Tips for Choosing the Best Multivitamin  
If you do choose to take a multi, or if your doctor recommends it, here's a few tips to choosing one that may be more effective.
Look for "pharmaceutical grade" vitamins from reputable brands. These will often provide a quality product that is more absorbable and contains fewer fillers compared to the cheapest vitamins at your local supermarket.
In the U.S. look for the "USP Certification" sticker on bottles. This signifies that the supplement meets FDA requirements and that the label is accurate. If you live outside the US, do an internet search for certifications in your area.
Check the form of certain vitamins. For example, vitamin D3 is more effective than vitamin D2 at raising vitamin D blood levels. Also, folate (the natural form of vitamin B9) is more absorbable than folic acid (which is the synthetic form).
Examine the label and look for as few fillers, dyes, and additives as possible. These should be listed under the "inactive ingredients" or "other ingredients" portion of the label. There will likely be some fillers in every multivitamin, but a long list of them is a red flag.
Tips for Taking a Multivitamin
On an empty stomach, B vitamins and minerals like iron can cause nausea, so take vitamin and mineral supplements with food unless directed by your doctor to do otherwise.
You may want to take your multivitamin earlier in the day because B vitamins give many people an energy-boost and you don't want that right before bed! Many people take their multivitamin with their morning breakfast.
Don't take more than one multivitamin without consulting a doctor first. While you can't overdose on water-soluble vitamins like C and B, fat-soluble vitamins A, D, E, and K can be toxic when taken in large amounts. There is an established Upper Limit (UL) for all vitamins and going over this limit may result in liver damage.
Always check with your doctor before taking supplements of any kind.
Please pin, tweet or share this info to help inform others – thanks!