While we are predominantly a diet, food and lifestyle site, we are always discussing diabetic health topics, sometimes ones that no one wants to tackle – like sexual dysfunction in diabetes.
This is a bit of a difficult and awkward topic for some, but important to address because of it's prevalence and the pervasive effects it has on so many people.
I'm going to broadly use the term 'sexual dysfunction' to apply to any problem in male or females that results in inability to achieve sexual satisfaction.
Both men and women with diabetes are at higher risk for sexual dysfunction due to a variety of factors – decreased blood flow to, and lubrication in key organs may result from elevated A1c, metabolic syndrome, insulin resistance, atherosclerosis (artery damage often linked with poor lipid levels), neuropathy (decreases nerve stimulation), menopause or PCOS in women (which results in lower estrogen and androgen levels), and certain medications.
Generally speaking, risk of sexual dysfunction increases with age and complications. Inability to achieve satisfaction in intimacy can play a huge role in physical, mental and emotional health and can be very taxing on any relationship.
It is very important to understand this is an issue whether you currently struggle with it or not. That way you can be prepared with how to deal with future challenges that may arise.
While there is some overlap, I'm going to treat male and female sexual disorders separately because there are differences in their descriptions and treatment. As a disclaimer, throughout the article I have tried to be careful and tactful in these explanations, but will explicitly reference male and female body parts according to their appropriate terms as they are key to understanding some of the underlying causes and treatments.
Male Erectile Disorder
Male Erectile Disorder (abbreviated ED) is defined as the "consistent inability to achieve and maintain an erection to sustain adequate sexual relations."
ED is very prevalent, affecting more than 150 million men worldwide and expected to double by 2025. It is both under diagnosed and under treated, largely due to feelings of embarrassment around discussion. It is estimated that 50-75% of men with diabetes experience ED.
ED is predominantly a vascular disorder, which can be affected by diabetes, aging, high cholesterol, hypertension, sedentary lifestyle and smoking. Because diabetes restricts blood flow, diagnosis increases risk of ED in men by threefold.
It tends to start at earlier ages, and increases with duration of the disease. It seems that in many cases, ED precedes cardiovascular events (heart attack and stroke), which is another reason to make sure you discuss this with your physician if it is an issue.
Severity of ED can be reduced or postponed through tight blood glucose control (blood flow is increasingly impaired with worsening glucose control).
Treatment Options for Male Erectile Disorder Include:
Best Erectile Dysfunction Pills for Diabetes
Examples: Viagra, Cialis, Levitra, Stendra.
These are effective in about 50% of cases; however, ED is progressive, so many may need second line therapy at some point. Some experience side effects and it can also be costly over time, too.
Injection Therapy
This involves injecting the penis (believe it or not!) with alprostadil (Caverject or Edex), which dilates the arteries improving blood flow, resulting in an erection within 15 minutes. While it works very well (70-80% effective), some find it uncomfortable and psychologically distasteful to inject themselves every time they want to have a sexual encounter.
Vacuum Therapy
These are mechanical devices that can be purchased over the counter. They have pumps that are connected to cylinders that are placed on the penis. The pumps create negative pressure that increases blood flow and creates an erection. They are very safe for most people and moderately effective (50-60% satisfaction reported).
Penile Implants
These are cylinders that are placed in the penis and a pump connected to a reservoir is (usually) inserted into the testicle which, when squeezed causes fluid to flow into the cylinders causing an erection. Implants are safe, generally very high satisfaction, and covered by most insurance companies. They restore normal penile anatomy and are curative for some.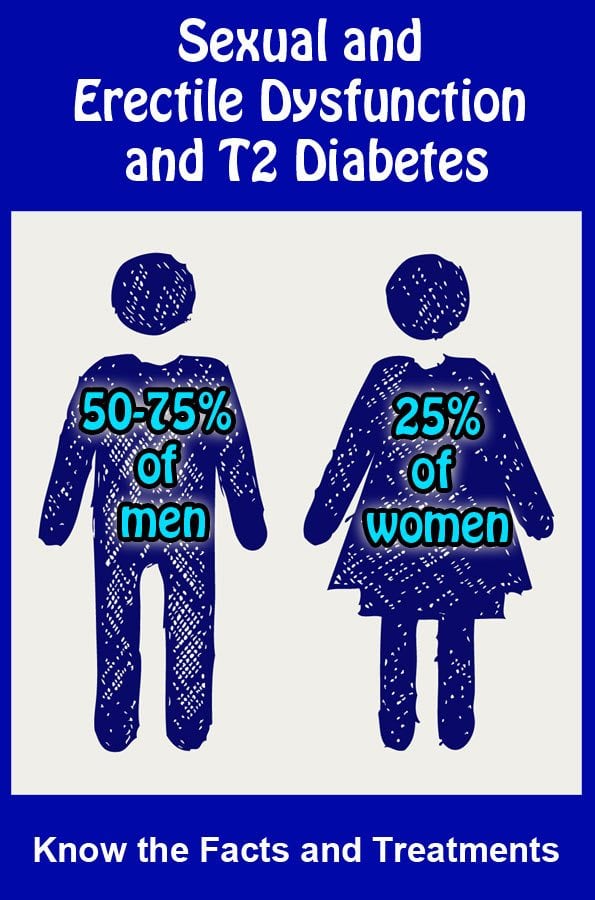 Female Sexual Disorders
There are several types of female sexual disorders, all of which have increased risk in those with diabetes. They are very common with 25% of women reporting an inability to achieve orgasm.
Hypoactive Sexual Desire Disorder
This is described as "a persistent deficiency or absence of fantasies or desire for sexual activities that causes marked distress or interpersonal difficulty." Lowered sexual desire is reported by 1 in 10 postmenopausal women. Again this is likely due to an alteration of hormones that occurs at that time.
Subcategories of this condition include Female Arousal Disorder and Female Orgasmic Disorder.
Sexual Pain Disorder
Differentiated from a simple lack of desire or pleasure is physical pain in the pelvic region either during or after intercourse. This may be linked to decreased blood flow or lubrication, along with anxiety or stress and can create a cyclical effect in which the thought of sexual activity induces anxiety, linked with previous painful experiences causing them to transcend future encounters.
Treatment Options for Women with Sexual Dysfunction Include:
Counseling
This may include marriage counseling, especially if another partner is affected or general counseling. Psychology plays a very large role in female sexual issues. Even if it isn't the underlying cause, it can easily begin to contribute to further complications.
Medication
Viagra (sildenafil) or Addyi (flibanserin) have shown varying levels of efficacy in women.
Treatment of chronic disease can be beneficial, which may be the underlying root cause of the problem. These may include: hypertension, hypothyroidism, depression and of course, maintaining blood glucose control if diabetic.
The most important element of treatment is being willing to seek help. Remember this is a very common problem and nothing to be ashamed of. If your physician is not receptive, find someone who will listen and help you along your way.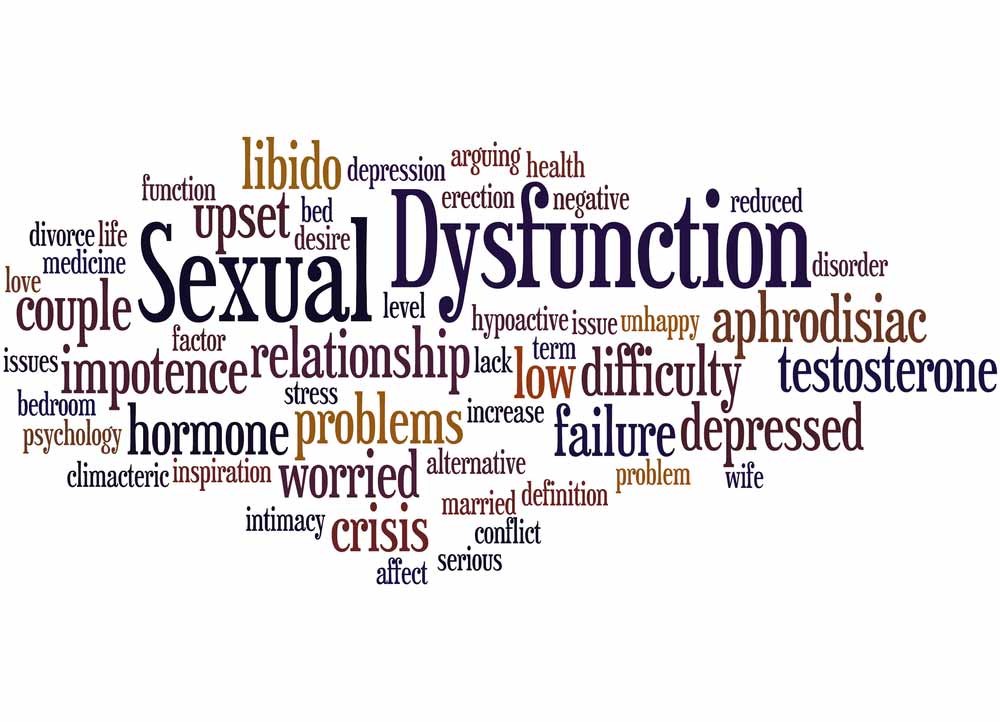 Specific Foods That May Help With Sexual Dysfunction
In addition to following a low carb balanced diet, inclusion of the following may be beneficial in promoting sexual health:
Tight Blood Sugar Control
Whether you're a woman with sexual disorders/ difficulties or a man with erectile dysfunction, if you have type 2 diabetes, you can reduce, postpone or decrease the effects through tight blood glucose control.
Eat a healthy lower carb diet, exercise regularly, talk to your doctor about medications, address any areas of stress, and work on gaining excellent control of your blood sugar numbers.
The most important thing is address the issue.
Don't stick your head in the sand or be embarrassed to talk about it because sexual and erectile dysfunction and diabetes do go hand in hand at a high rate. And there are some solutions to help.
If you have any further questions, please leave them below and I will do my best to answer them and guide you in the right direction.