For our subscribers and members celebrating Thanksgiving shortly, pie is a frequent addition to the menu. Whether you're attending an event elsewhere or hosting a celebration yourself, try our sugar-free low carb diabetic pie crust recipe.
It will make the perfect base to fill with all your favorite pie toppings (pecan, pumpkin, blueberry, lemon cream, key lime, coconut cream pie, cream chocolate pie etc).
It's a super easy recipe to make – put in the food processor, then assemble the crust – no laborious rolling of dough required!
Best of all, this recipe fits perfectly into your diabetic lifestyle and can be used on any celebration, without feeling like you're missing out because you have diabetes.
And hey, with this recipe, you can even pie to your regular menu – after all, it is a diabetes-friendly dessert. In any case, you'll love it!
NOTE: If you want an update on pie fillings we'll be sharing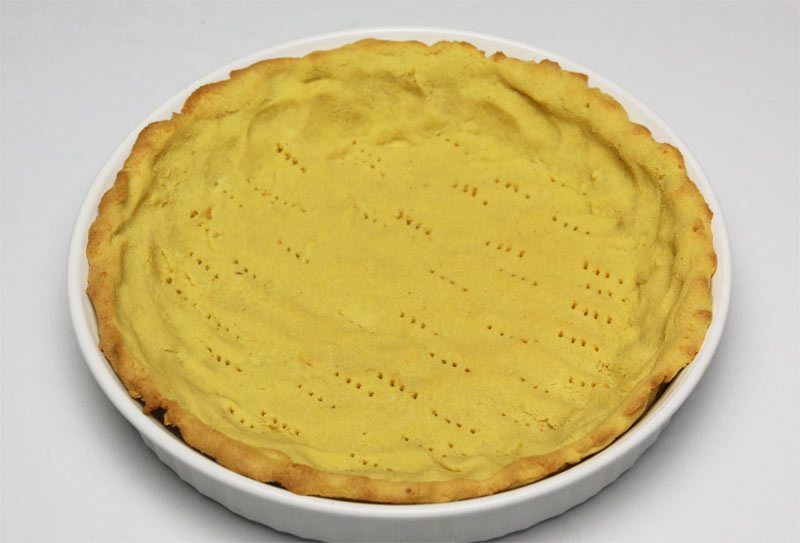 Let's talk "normal" pie for a sec…
Admittedly, you'll have to be careful with pie, at least "normal" pie that is. Because a regular pie crust is packed with carbs, often the refined type of carbs, too – white flour and sugar!
For instance, a pie crust made with graham cracker racks up around 19 to 20 grams of carbs per slice before adding any filling. Other wheat flour pie crusts can range anywhere starting from 10 grams per slice upwards. And these crusts often contain little, to no dietary fiber, which doesn't lower the net carb count by much, if any.
And then you'd need to be super careful selecting your filling. For instance, a pie filled with apple, is not going to leave your blood sugar levels happy.
Yes, sorry to say, apple pie is not a diabetes friendly option. In fact, an apple pie often ranks up a whopping 30 to 60 grams of carbs per slice – ouch!
But, there are still plenty of options you can have. And we always say: focus on what you CAN have, not what you can't – it makes for a healthier, happier life. 😉
That's where our low carb pie crust comes into play: 9 grams total carbs, 6 grams fiber, ranking in at just 3 grams carbs per slice.
As long as you pick your fillings carefully, you'll find you can enjoy life more (including pie!) while regulating blood sugar and A1c at the same time.
Making a Low Carb Pie
Our pie crust recipe uses a combination of low carb flours: coconut flour and almond flour, which means it is also a gluten-free pie crust.
If you have a nut allergy, you could potentially try ground flaxseed meal as a substitute. But just be warned, we haven't tested it with ground flaxseed meal, so we can't guarantee it will work.
This pie crust was baked in a 10-inch pie plate (26 cm) but will work equally well in a 9-inch pie plate. It can even be split into portions for smaller pies. Simply follow the same process and you'll get a similar outcome. This crust is best cooked with parchment paper, then remove it after pre-baking.
And, since the crust is pre-baked, you can then use it to make a no-bake pie, as it doesn't need additional baking.
Our preferred sugar substitute is liquid stevia extract. Other suitable options include monk fruit, tagatose, erythritol, xylitol or a blend of those.
Diabetic Pie Crust Cooking Class
To show you how easy this pie is to make, watch the below cooking class.
While you're here, CLICK HERE to subscribe to our new YouTube channel – we'll have more videos coming soon!
This sweet diabetic pie crust is one of the recipes in our Low Carb Breads Masterclass – a class containing over 30 recipes and cooking classes including breads, buns, crackers, pastries and more.
Low Carb Diabetic Pie Crust Recipe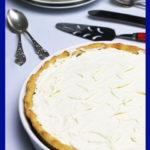 Pin Recipe
Low Carb Diabetic Pie Crust Recipe
A slightly sweet, perfectly flavored and textured low carb diabetic crust suitable for any sweet pie filling - pecan, pumpkin, blueberry, lemon cream, key lime etc.
Ingredients
3.5

oz

almond flour

- equiv. approx. 1 cup

2.7

oz

coconut flour

- equiv. approx. 1/2 cup

4

egg

1/4

cup

olive oil

- equiv. 4 Tbsp

1/4

teaspoon

salt

10-15

drops

liquid stevia extract

- if you like it sweeter, add a few more drops

Parchment (baking) paper
Instructions
Preheat oven to 350°F/ 175°C.

Place all the ingredients into a food processor (using a mixer element) and blend for 1-2 minutes to combine. When it first starts to blend it will look like quite a runny mixture. But as the flours absorb the liquid, they will swell and the dough will slowly begin to thicken. If the mixture sticks to the sides of the processor, remove the lid and use a spatula to scrape down the edges. Once it's well combined, you should have a thick, sticky dough.

Line a 10-inch (26 cm) pie dish with parchment paper.

Remove the sticky dough from the food processor and place into the pie dish.

Moisten your fingers with water so they don't stick to the dough; then use the palm of your hand and flat of your fingers to flatten it out evenly across the bottom of the dish and up the edges. It is a bit of a fiddly process so just take your time and work the dough mixture evenly across the dish. When you're satisfied the base is fairly even, use a fork to intermittently poke the bottom of the crust.

Place the pie crust in the oven on the middle shelf for 25 minutes, until the edges begin to brown.

Remove from the oven and allow to cool before removing the parchment paper.

Your crust is now ready to add your pie filling.
Notes
STORAGE
Fridge: This pie crust will keep for up to 7 days in the fridge, so you can make ahead and store in the fridge for a few days if necessary.
Freezer: Can be frozen for up to 3 months.
COLD PIE FILLINGS
You will not need to recook the crust. Simply add your fillings and you're good to go.
HOT PIE FILLINGS
If you have a pie filling that requires the pie crust to be cooked again, reduce the precooking time by 10 minutes, then you can safely bake it again for an additional 30 minutes or so if necessary.
Share by Email
Share on Facebook
Share on Twitter
Pin Recipe
Please pin, tweet or share; then keep on reading.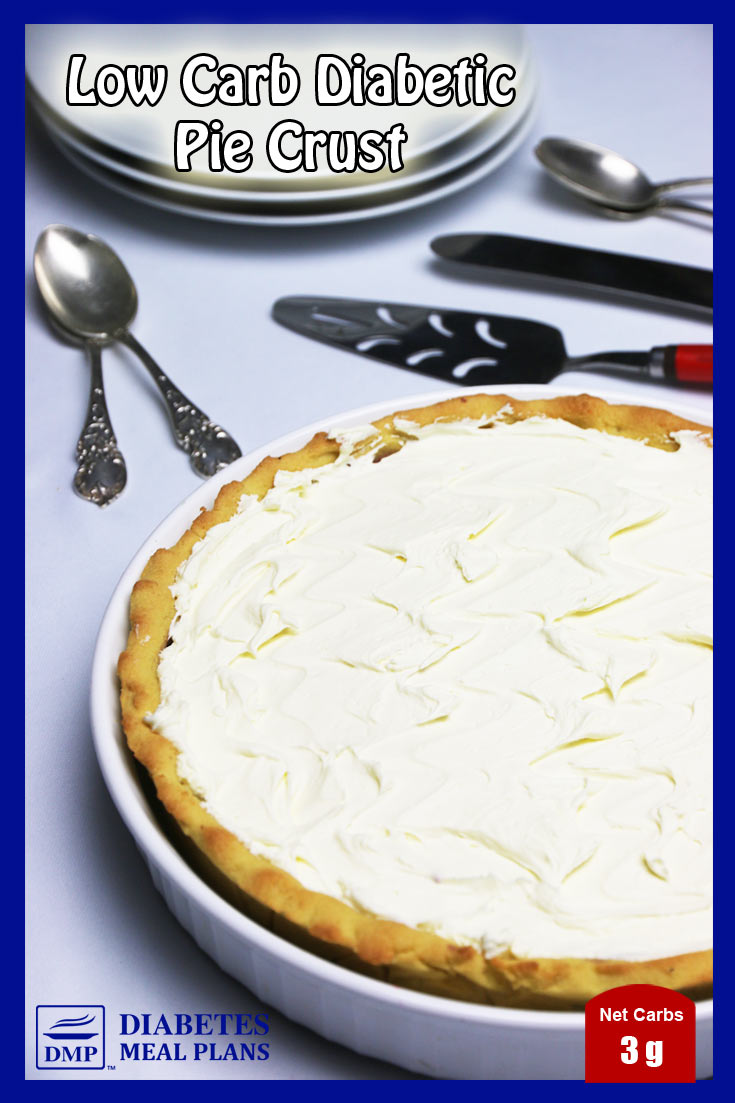 NOTE: If you want to re-bake the pie crust, cook it for just 15 minutes so that you get a blond crust.
As you can see in the image below, one crust is blond and can be re-baked. The other is browned and perfect for a cold pie filling. Excuse the parchment paper – that should be removed before putting in your pie filling.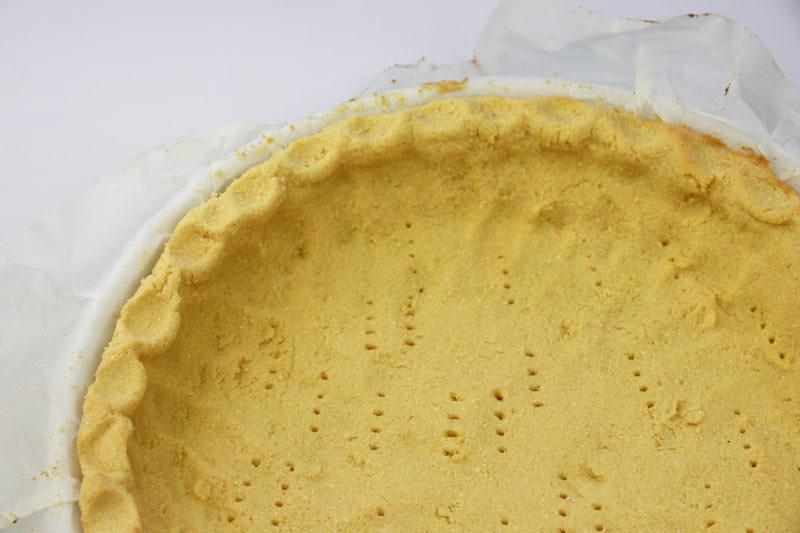 You can also do different "designs" around the edges of the pie crust. For instance, in the image below we just used a finger to make a pattern. You can use a fork, spoon or another gadget you have on hand to make an impression in the crust before baking it.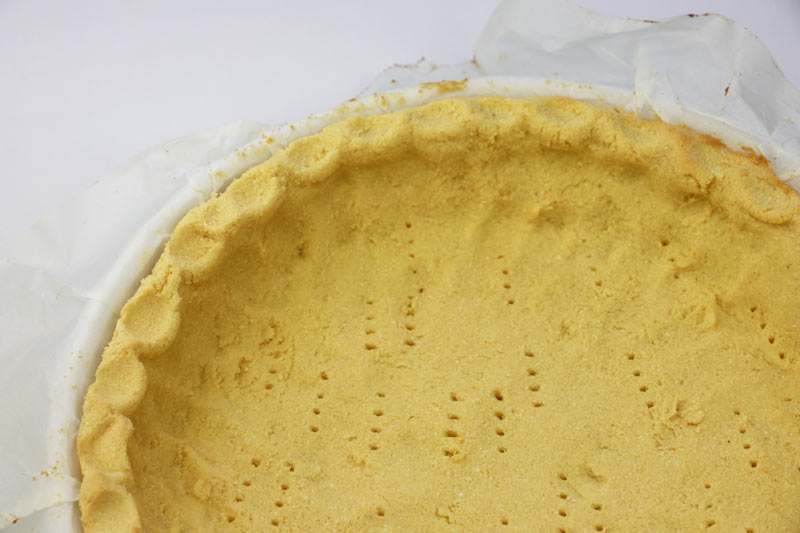 Stay tuned… in a couple of days we'll share our Raspberry Cream Pie filling. With a whipped topping of sweet cream and a blissful berry filling. We use frozen raspberries but you could easily use fresh raspberries as well. Or any other frozen or fresh berry for that matter.
You could also use the exact same process to make it a blueberry pie or a strawberry pie topped with fresh strawberries and cream – YUM!
And, a couple of days after that, we may even be sharing a pumpkin pie recipe as well (our tests are still in the making so fingers crossed all goes well).
And in case you didn't know, all our recipes are tried and tested by us – they're low carb and 100% diabetic friendly, of course!
ENJOY. 🙂
Subscribe for Weekly Nutrition Tips & Recipes