Many people with type 2 diabetes and prediabetes automatically think that following a gluten-free diet is going to help their blood sugar levels.
While it certainly can, unfortunately it's not in the way people think. For instance, many gluten-free foods are high in carbohydrates and low in nutritional quality. Whereas, the type of diet we encourage here at DMP, which is naturally gluten free, is helping people get great results.
Read more as we explore the question: is gluten free good for diabetes and blood sugar.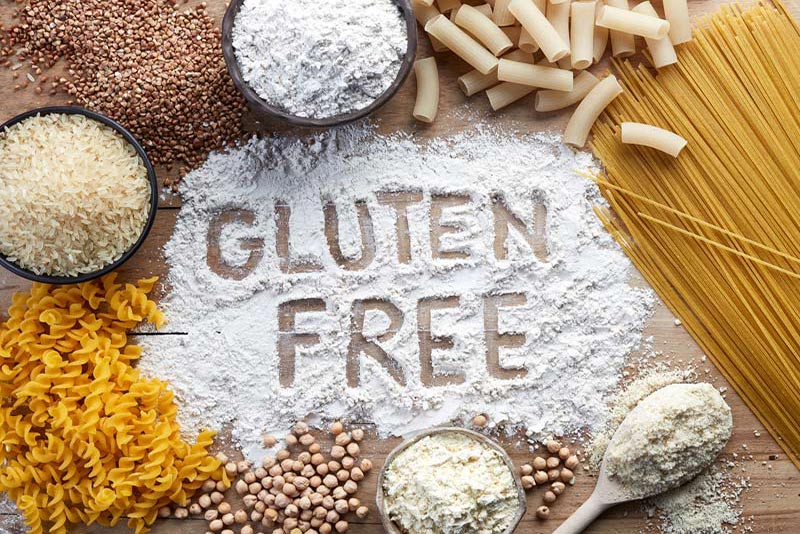 What is Gluten?
Gluten is a protein found in wheat, barley, rye, triticale (blend of rye and wheat) and sometimes oats. While oats don't technically contain gluten, they are frequently contaminated with gluten because they are grown nearby to wheat, barley or rye, or processed on the same machines used to process wheat, barley or rye.
Gluten is used in our food supply as a "glue"- essentially its purpose is to hold food together. And today, gluten is found in a lot of different foods, some we would expect such as breads, baked goods, pastas and cereals. But gluten commonly hides in foods that may surprise you, for instance, soups, salad dressing, sauces, condiments, and even many medications contain gluten.
Other hidden sources of gluten are found in foods that contain "malt" on the nutrition label. For example, malted milk, malt extract, malt flavoring and malt vinegar. Malt essentially is a buzz word for barley.
Celiac Disease
Celiac disease, also known as coelic disease, celiac sprue, non-tropic sprue and gluten sensitive enteropathy, is an autoimmune digestive disorder. Celiac disease runs in families and can develop at any age after people have been exposed to gluten.
When individuals with celiac disease ingest gluten, their body mounts an immune response in the gut. Villi are small fingerlike projections that line the small intestines and promote nutrient absorption. If you have celiac and eat gluten, these villi are damaged and won't be able to absorb nutrition from food.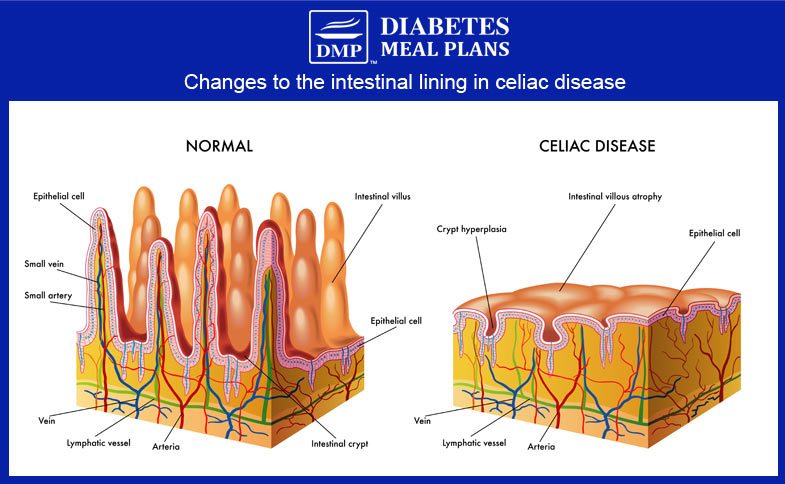 More than 200 symptoms are associated with celiac disease, making diagnosis difficult. To further complicate the diagnosis, many people have no symptoms and go undiagnosed for years.
The most common symptoms in children are digestive related including bloating, abdominal pain, diarrhea and constipation. Adults are less likely to have digestive symptoms but are more prone to bone or joint pain, fatigue, arthritis and osteoporosis.
If untreated, celiac disease can lead to serious health problems including osteoporosis, fertility problems, nutritional deficiencies, anemia, epilepsy, migraines, short statute, and intestinal cancers.
A strict gluten free (GF) diet is the only treatment option available for people with celiac disease.
Celiac Disease and Diabetes
There is no established link between celiac disease and type 2 diabetes. However, a link does exist between celiac disease and type 1 diabetes, as these are both autoimmune conditions.
If you have type 1 diabetes, your chances of getting celiac disease are approximately 6% compared to 1% for the general population.
Gluten Sensitivity or Intolerance
It's not only people with diagnosed celiac that can suffer from problems related to gluten intake. Non-celiac gluten sensitivity (NCGS) and/or non-celiac wheat sensitivity (NCWS) is also a recognized problem. And in a roundabout way, these sensitivities could influence prediabetes and type 2 diabetes by way of causing "leaky gut," which we'll get to in just a minute.
The symptoms of gluten sensitivity are very similar to celiac disease:
difficulty focusing

abdominal pain

bloating

diarrhea

constipation

headaches

chronic fatigue

brain fog
While you may not have celiac disease, if you have a sensitivity to gluten and don't follow a gluten free diet you may still experience intestinal damage and be at risk for the development of more serious health problems. The issue again is, many people don't even know they have a gluten sensitivity.
Please pin, tweet or share; then keep on reading.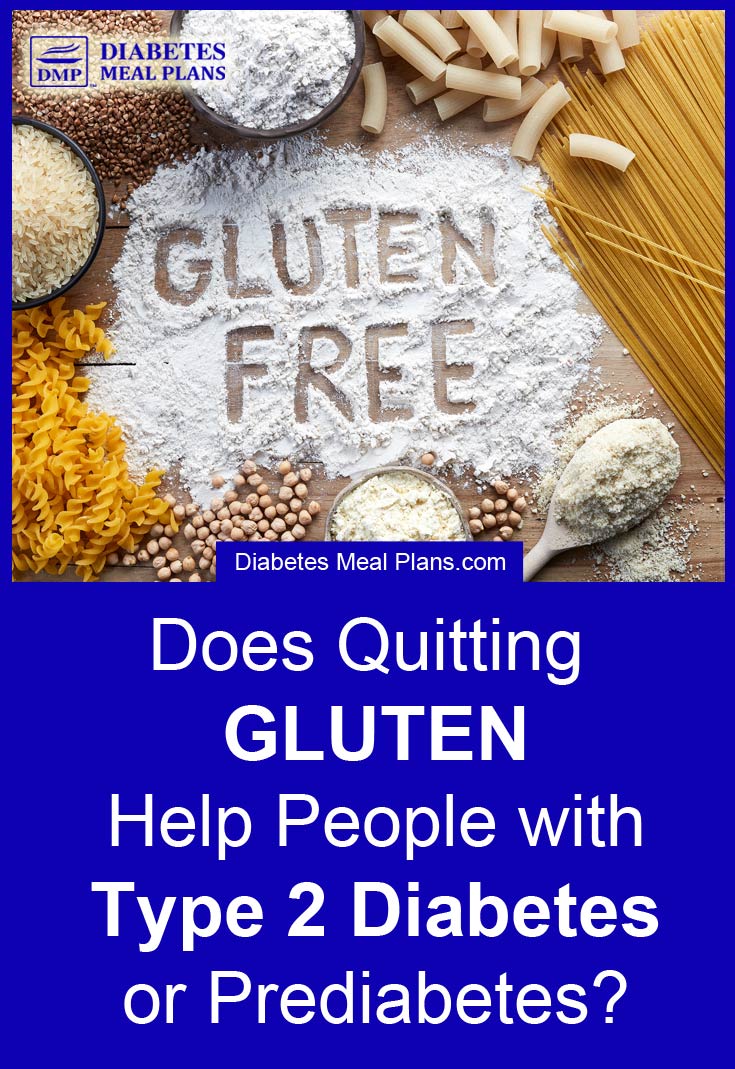 Gluten and "Leaky Gut"
"Leaky gut" refers to increased intestinal permeability.
First it's important to keep in mind that your gut should be a little leaky in order to absorb nutrients. But when the lining to your gut is weakened and/or develops holes it will begin to let things in that should not be there, such as pathogens and toxins. Therefore, having a leaky gut is not good for your health!
Several factors play a role in the development of "leaky gut," including:
medications

stress

bacteria

dietary components, including gluten consumption
For those with celiac disease and gluten sensitivity, gluten directly impacts the intestinal lining through a variety of pathways.
Gluten exposure triggers the increased release of

zonulin

, which loosens 'tight junctions' in your intestinal lining. Tight junctions are when two cells are side by side and they merge together to form a barrier. Essentially the entire gut lining is a large chain of tight junctions. Zonulin is a hormone that is involved in regulating your gut lining at the tight junction level.

Gluten also contributes to the formation of antibodies and cytokines (inflammatory molecules) that cause inflammation. This not only damages the gut lining but also disrupts the balance of your

gut bacteria

. When these changes occur, it creates a vicious cycle of poor nutrient absorption, increased production of 'bad' bacteria, and further inflammation – all of which leads to, or worsens leaky gut.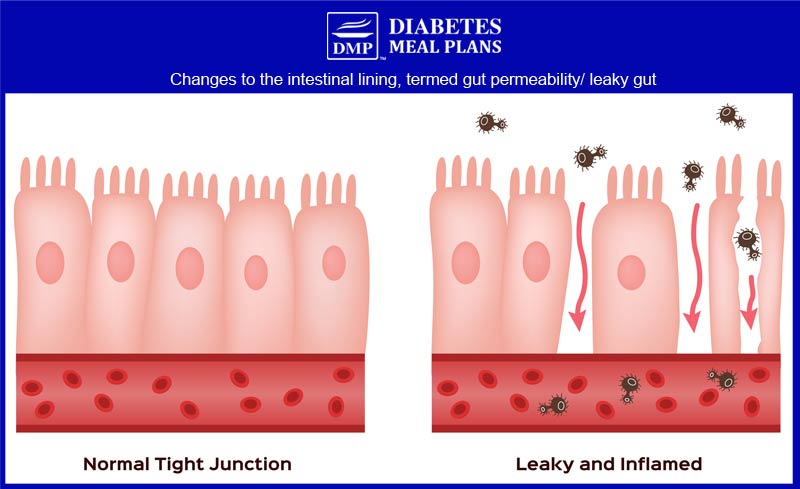 Interestingly, a growing number of research studies are linking leaky gut to a wide range of health conditions.
Common signs and symptoms are:
Bloating
Food sensitivities – this is a big one
Thyroid conditions
Fatigue
Joint pain
Headaches
Skin issues like rosacea and acne
Digestive problems
Weight gain
Metabolic syndrome – high blood pressure, insulin resistance, high cholesterol, type 2 diabetes
Does Going Gluten Free Help Diabetes?
It's a common misconception that eating a gluten free diet is better for diabetes.
The major pitfall in this logic is that people go out and choose gluten free "products." Essentially these are still processed foods and, sorry to say, many gluten free products have just as much, if not more carbs, sugar and calories, than gluten-containing foods. Therefore, a gluten free diet doesn't instantly mean a better diet.
Take this chart as an example.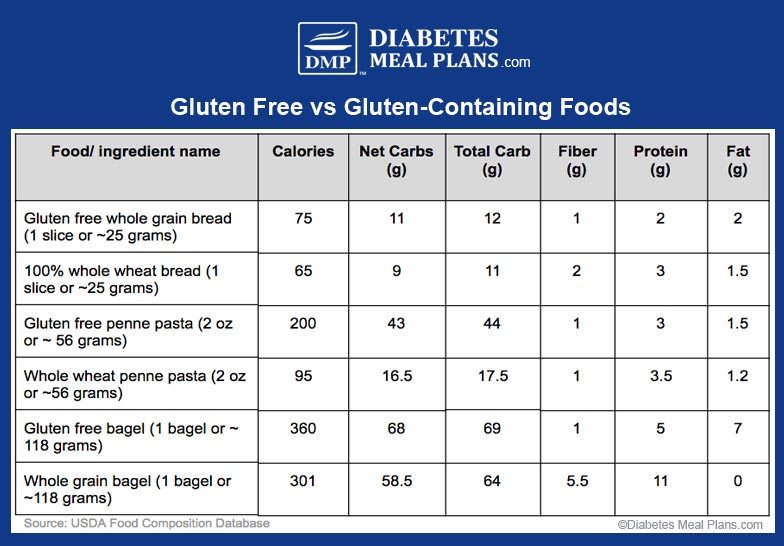 When it comes to breads, pastas, crackers, and cookies, the thing to realize is that a processed food is still a processed food. The only difference with gluten free products is the type of flour that is used.
Instead of wheat flour, a gluten free product may use potato, cornstarch, tapioca or rice flour, and these flours are all high in carbs, more than many gluten-containing foods.
Even "whole grain" gluten free breads contain high carb flours and a long list of ingredients that makes these products 'denser.' This often means you're getting more calories and carbs in a smaller volume of food.
Another negative aspect of gluten free foods is the lack of fiber they contain. Generally, gluten free breads only contain half- to-one gram of fiber per slice. Plus, they are not fortified with B-vitamins either.
However, with all that said, researchers have begun animal studies to determine if a gluten free diet helps type 2 diabetes, and so far their results are positive. They have found a gluten free diet may increase beta-cell volume and improve glucose tolerance.
Interestingly, researchers suggest that zonulin is increased in people who are newly diagnosed with type 2 diabetes. And the increased zonulin (which causes leaky gut) is associated with increased cholesterol levels, inflammation and insulin resistance. Other researchers support these findings, suggesting there is a connection between leaky gut and increased type 2 diabetes risk.
Here at DMP we encourage people to eliminate gluten, whether they are celiac or gluten sensitive or not. Being that gluten consumption increases zonulin, it makes sense that a gluten free diet could help avoid the consequence of leaky gut. And if your gut is in good health, you'll be in better health overall.
To take it one step further though, don't just stop at gluten because eliminating all grains is a great practice to follow for type 2 diabetes and prediabetes treatment!
By default, a grain free diet is a gluten free diet. But the great news for you is you instantly cut down on the high carb offenders and that means lower blood sugar and A1c levels.
Conclusion
So, to answer the question: is gluten free good for diabetes and blood sugar? The answer is yes, but not by consuming gluten free processed products.
While you don't necessarily have to follow a gluten free diet if you don't have celiac disease or a gluten sensitivity, there are health benefits to cutting out gluten if you have type 2 diabetes and prediabetes, and even more so when you cut out all grains.
Adopting the type of low carb diet that we encourage here at DMP, which does eliminate all grains and is therefore a gluten free diet, helps reduce blood sugar and A1c – and that is a major objective of diabetes treatment.
So while gluten free 'products' are not a great choice, when you fill your plate with an abundance of vegetables, lower carb fruits, healthy fats and lean proteins, you will reap several health benefits!
Please pin, tweet or share to help others – thanks!