Is there such a thing as diabetic candy?
Well, some food brands would tell you yes. And in a sense of the word, they are telling the truth.
There certainly are diabetic-friendly candy options that you can indulge in from time-to-time.
But the question still remains, how healthy is this 'diabetic candy'? And what are the best options to choose if you want to indulge in the sweet stuff?
That's what we're here to explore now.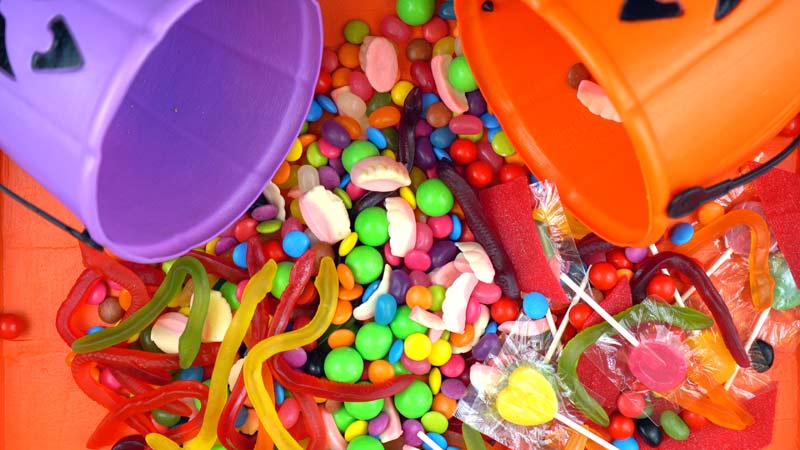 The Truth About Candy We All Know
We all know that indulging in a lot of candy and sweets isn't healthy. Even most children know that candy isn't good for you, although they may not understand the biochemistry behind why that is true.
If you asked a person next to you why candy isn't a health food, they'd probably respond, "because of all that sugar!" – and they would be right!
But what is it about sugar that is so bad for our health?
Not only does candy cause unstable blood sugar levels but it can also have an inflammatory effect in your body, especially if you have diabetes. As a result of these effects, the consumption of sugar has been linked to obesity, diabetes, cancer, dementia, faster ageing, and much more – mainly because we eat too much of the stuff!!
Now, let's be clear that when we're talking about the sugar in candy we're referring to simple carbohydrates, not complex carbohydrates.
What's the difference?
Simple carbs like white rice, white bread, or plain old sugar break down into glucose extremely quickly, which can result in severe blood sugar spikes, inflammation and oxidative stress (aka free radicals).
Complex carbs like whole grains, fruits, and vegetables contain fiber or starch that slows down the breakdown and absorption of glucose in the body. This is why complex carbs are a lot healthier than simple carbs, especially veggies because they are lower in carbs.
The kind of carbs in candy are simple sugars. Eating these kinds of sugars translates into elevated blood glucose levels and, eventually, higher A1c levels.
And although many people with diabetes know instinctively that they shouldn't be eating too many sweets, most people don't realize just how much sugar can be packed into a single serving of candy.
So let's take a closer look at that now.
How Much Sugar Does Candy Contain?
Let's start by saying that, as a person with type 2 diabetes, 50 to 80 grams of total carbohydrates per day is a great carb goal to aim for.
This amount of carbs is already way lower than what an average person eating a Western diet consumes in a day, so this recommendation doesn't leave much room for sweets and 'added' sugars.
And that's where candy can really get you into trouble…
Here is a table that breaks down the fat, protein, and carb (sugar) content of a few popular candy options: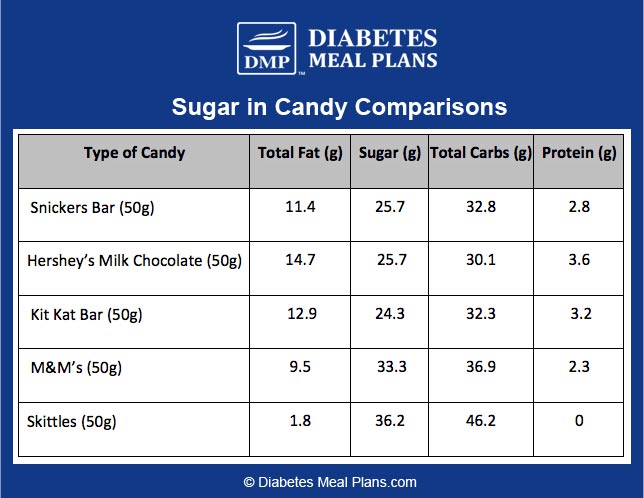 As you can see, one serving of any of these candies would take up more than half of your daily carb allotment if you were abiding by the 50 to 80 gram recommendation.
And the problem with simple sugars like candy is that they don't provide any real nutrition.
Complex carbs like vegetables contain vitamins, minerals, and fiber, while candy just provides sugar and a few hundred extra calories.
Not to mention that a 50 gram serving of candy is only about a quarter cup of M&M's. That's not a lot, and it takes a lot of self-restraint to restrict your serving size to less than a handful when you're enjoying sugary snacks.
Sugar can have an "addictive" quality and it affects your hormones and brain chemistry in a way that always leaves you wanting more.
Because of these affects, it's actually easier to just skip the candy altogether rather than trying to indulge in just one or two pieces before stopping.
As if that weren't enough reasons to set the candy bowl aside, there is another downside to junk foods like candy.
Whether we're talking M&M's, Snickers, or a Hershey's chocolate bar, all forms of candy are processed foods.
Mainstream sweets usually contain highly processed ingredients like modified starches, corn syrups, hydrogenated oils, waxes, artificial flavors, and artificial dyes—none of which are natural ingredients that your body can easily recognize and process.
For all the reasons we just mentioned, it's best to pass on the traditional sweets.
But don't hang your head just yet, because there are plenty of low-carb candy options that diabetics can enjoy alongside their family and friends!
Can a Diabetic Eat Sugar-Free Candy?
When it comes to "sugar-free" candy, there are generally two categories they fall into: artificially sweetened candy or candy sweetened with sugar alcohols/stevia.
Artificial Sweeteners
True to their name, artificial sweeteners are 100% artificial, which by itself is a red-flag for many health-conscious people.
Fake sweeteners like saccharin (Sweet'N Low), aspartame (Equal), asulfame-K (Sweet One), and sucralose (Splenda) may have zero calories and zero carbs, but they aren't exactly the magic, guilt-free sugar replacements that people used to think they were.
Despite containing zero carbs, artificial sweeteners can actually cause increased blood sugar in some diabetics due to the affect that these man-made chemicals have on the human metabolism and gut microbiome.
Research also suggests a connection between fake sweeteners and increased risk for weight gain, high cholesterol, metabolic syndrome, and cardiovascular disease. So if you have the option, say no to holiday treats sweetened with these artificial chemicals.
Sugar Alcohols
Sugar-free candy sweetened with sugar alcohols has been gaining popularity in recent years because sugar alcohols tend to be more well-tolerated with fewer side effects when compared to artificial sweeteners.
Sugar alcohols are derived from naturally-occurring carbohydrates that are then chemically altered to produce a super-sweet sugar alternative that contains few carbs and has a low glycemic index.
They aren't completely "natural" because some processing is involved in creating sugar alcohols, but they are generally safer than artificial sweeteners. The only known side effect from consuming sugar alcohols is mild digestive upset in some people.
Xylitol, erythritol, lactitol, and maltitol are examples of sugar alcohols that can be found in some sugar-free candies.
Stevia
Stevia is an ideal sweetener because it contains zero calories, zero carbs, and it has a glycemic index of zero, which means that it won't raise your blood sugar or contribute to weight gain.
It is also considered to be less processed and a little more natural than sugar alcohols.
Stevia is still plenty sweet and it can mimic the taste of sugar without any of the downsides of eating high-carb candy.
Stevia-sweetened chocolates and candies are harder to find, though, and you may have to get creative and look online or check out health-food stores for these options.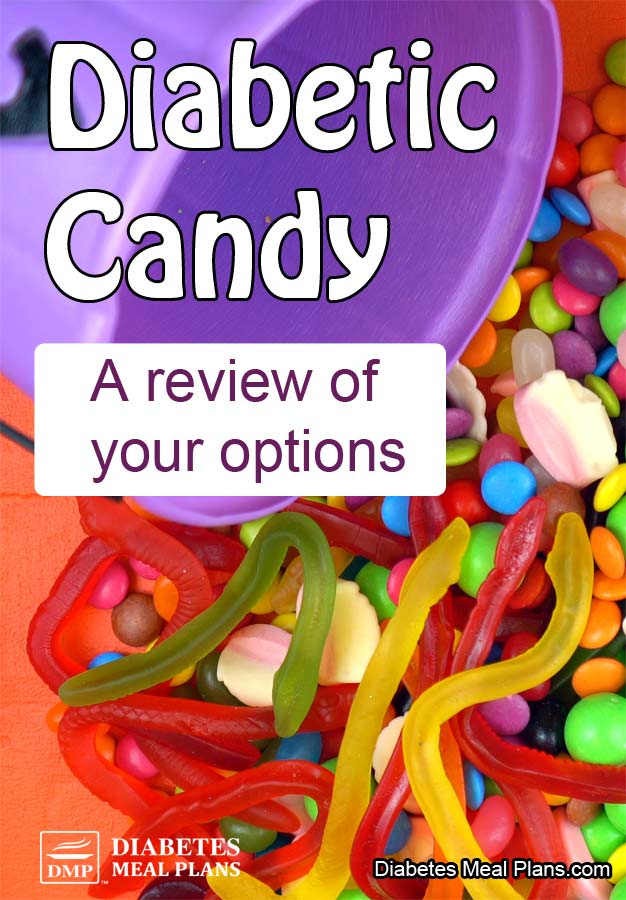 Where to Find Diabetic-Friendly Candy Options
Local Stores
If you browse your local store you're bound to find some diabetes-friendly options.
For instance,
The moral of the story when out shopping is: don't just believe front-of-pack labelling. Always read the ingredients list because it is the only true way to determine the quality of a packaged food.
Amazon
You can also find many diabetic candy options on Amazon. Just place an order and keep some handy when you do feel like a sweet treat.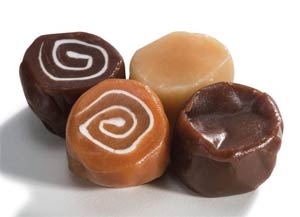 Dr. John's Sugar-Free Caramels (xylitol)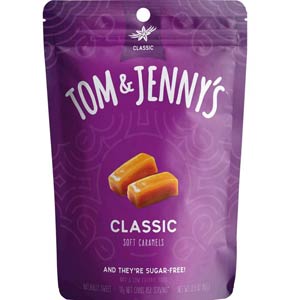 Tom & Jenny's Sugar-Free Soft Caramels (maltitol and xylitol)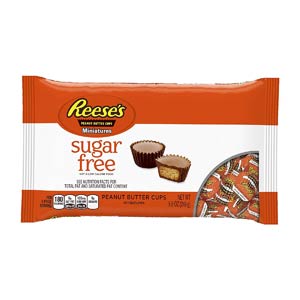 Reese's Sugar-Free Halloween Peanut Butter Cups (lactitol and maltitol)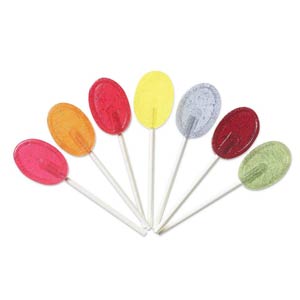 Dr. John's Classic Fruit Lollipops (xylitol)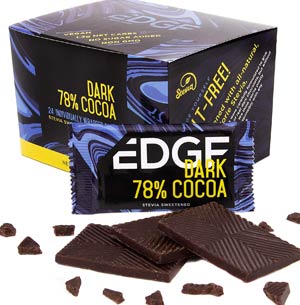 Edge Dark Chocolate Mini Bars (stevia and erythritol)
Lily's Variety Flavor Chocolate Bars (stevia and erythritol)
Lindt Excellence 90% Cocoa Dark Chocolate (naturally low in sugar)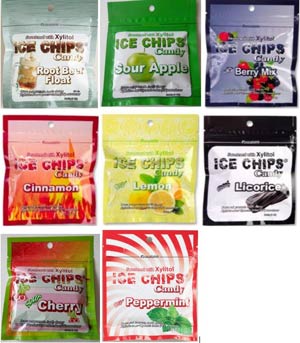 Ice Chips Assorted Hard Candy—Sour Apple, lemon, mixed berry, cinnamon, root beer float, peppermint, licorice, and cherry flavor (xylitol)
Netrition
There are also places like Netrition who stock a number of diabetic candy treats. They have a low shipping fee as well.
Search Netrition for 'low carb candy' or 'sugar free candy' and you will find many more options.
Other low/no sugar candy websites include:
Smart Sweets (naturally low in sugar—ships to U.S. and Canada)
Dr. John's Candy (xylitol candy—ships to U.S., Canada, Australia, New Zealand, and the U.K.)
Conclusion
Being diabetic doesn't mean you have to live without candy. There certainly are many options and alternatives.
However, just remember that candy is still a heavily processed food. So regardless of whether it's sugar free or low carb, it is still the kind of food to eat in moderation.
We always encourage you to stick to real whole foods because we know these have many health-boosting benefits.
But hey, we all get a sweet craving from time to time and we only live once so don't completely starve yourself of those cravings, just don't overdo it either. 😉
Please pin, share or tweet this info to help others – thanks!