When we recommend to people that it's best to eat a low carb diet for diabetes – they often say "But, don't I need to eat carbs?"
Sure, you do.
A low carb diet is not a no carb diet.
But something that most people don't realize is that vegetables are carbohydrates, too.
In fact, they are the type of carbohydrates most of us need to eat more of.
So, we've recently talked about starch and root vegetables and potatoes, now we're going to cover the best vegetables to eat as a diabetic.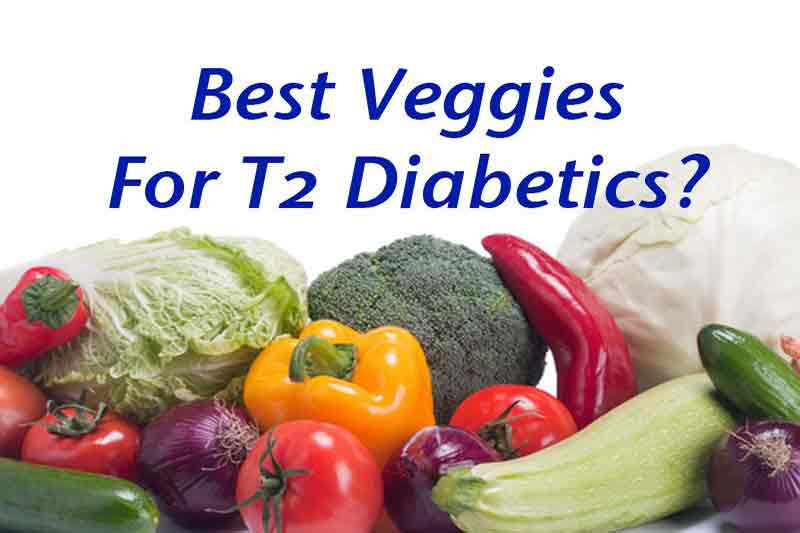 Why You Need To Eat More Vegetables
I could give you a dozen reasons why you need to eat more vegetables because research shows they have unlimited health benefits – they really are incredible – but I'll give you just a few reasons right now.
Low in carbs
You'll see in just a minute in the food charts below, that vegetables are low in carbohydrates. This makes them the perfect source of carbs because they are not going to send your blood sugar soaring like bread, pasta, or rice.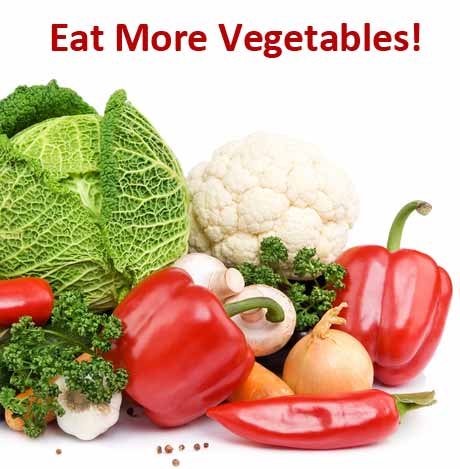 Lots of Nutrients
Vegetables contain many protective ingredients such as antioxidants, flavonoids, vitamins, minerals, and fiber – these all help ward off disease, reduce diabetic complications and keep the cells and organs in your body healthier.
Lower Blood Sugar, A1C & Cholesterol
Research shows that increasing your vegetable intake helps lower blood sugar A1C and cholesterol.
Promote Healthy Digestion
Eating your vegetables helps promote a healthy bowel and keeps you regular!
Eating more veggies is the easiest way to get your daily requirement of dietary fiber and will help reduce your risk of colon cancer and keep you super healthy – or help you get healthy again.
Did you know that your gastrointestinal tract is one of the largest immune organs in your body?
It hosts 70-80% of our immune system and a whole range of gut bacteria that dramatically impact our health.
When we feed the gut bacteria veggies, it helps promote the good guys to do their job of keeping us healthy – keeping the bad guys in check so they don't have a chance to run riot.
Best Vegetables For Diabetes
Okay, let's look at some food lists and all the ones you'll find on these lists are great veggie options to include.
Green Leafy Vegetables
Green leafy vegetables are some of the best vegetables we can eat to get our daily requirements of vitamins and minerals and helping to decrease inflammation. And they are excellent for diabetics.
The Centers for Disease Control (CDC) did a study showing that green leafy vegetables are the most nutrient dense veggies around – so that's saying something!
Here's their nutrition facts: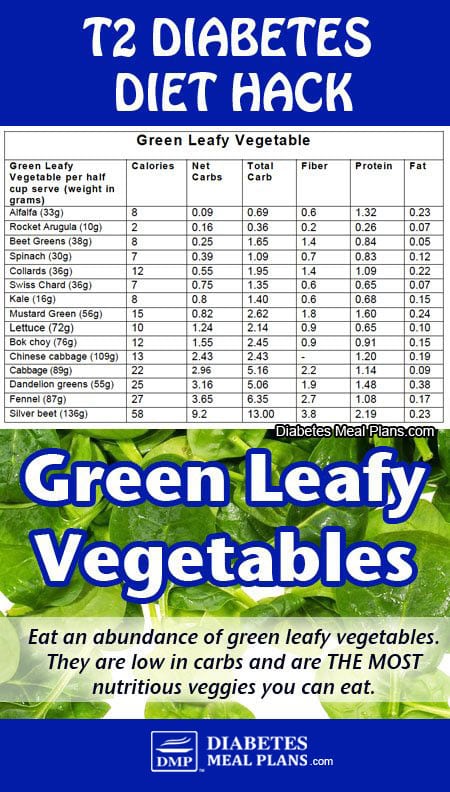 You can eat as many green leafy's as you like – eat them at every meal if you can. Or at the very least have one serve of them each day.
More Vegetable Options
There really are lots of veggies to choose from, which is great because it means we never get bored!
All veggies have their nutritional benefits and I'm not going to go into all of them just now, but let's just take cruciferous vegetables as an example – just to show you the super powers behind veggies.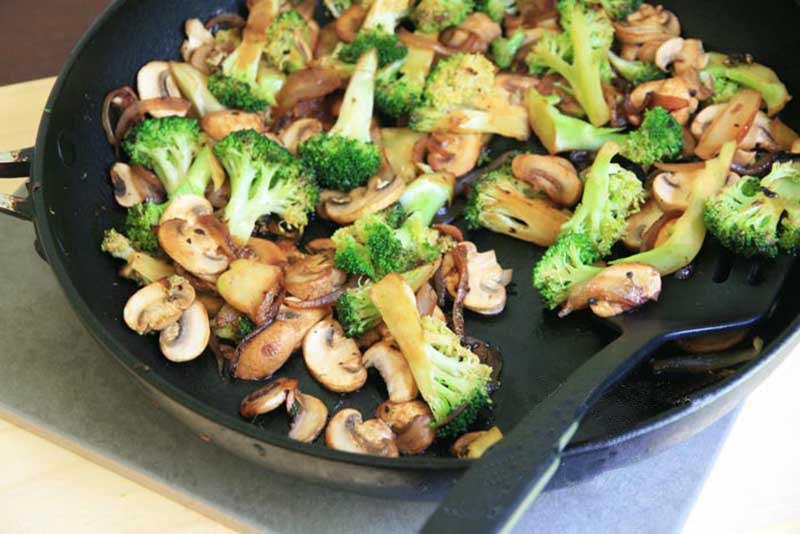 Cruciferous vegetables are those of the Brassica family and include broccoli, cabbage, kale, Brussels sprouts, cauliflower, Chinese cabbage, water cress, radish, turnip and bok choy.
These vegetables have been highly studied for their role in cancer prevention and slowing the proliferation of cancer cells. They have also been associated with reduced risk of other chronic diseases such as cardiovascular disease, diabetes, Alzheimer's, neurodegeneration, cataracts and age-related functional decline. (1)
So, that's saying they can do a lot!
Such is the super power of vegetables – they really are awesome.
Here's some more nutrition facts: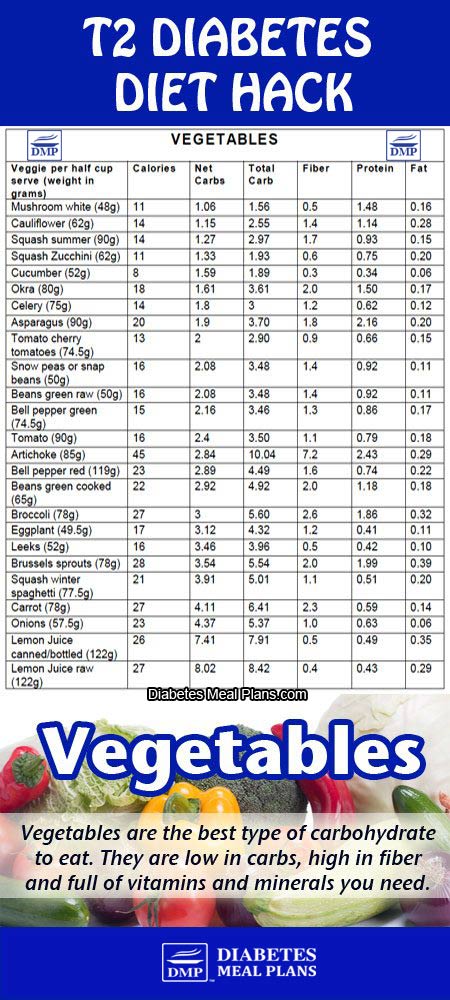 If you need printable copies of the above food lists and all the other carb lists we have, consider joining us as a member – we provide weekly meal plans and resources so you can enjoy life more while regulating blood sugar and A1c at the same time.
As the image shows above, vegetables are the best type of carbohydrate to eat.
They fit perfectly into a diabetic diet, helping you eat the right amount of carbs each day, keeping your blood sugar in a healthy range, and sharing their super powers with you so that you can get super healthy! 🙂
Vegetable Recipes
I understand that veggies aren't a favorite for everyone, But I also know you can grow to like vegetables, especially when you have creative ways to cook them.
Inside our exclusive members-only area, we have over 700 recipes to choose from, with new meal plans available each week.
But here are a couple of delicious options you can try right now.
Cheesy Vegetable Bake
Adding cheese to any meal always makes it tastes great. And the basil and cheese combo of this meal makes it perfect to eat on it's own, or as a side to beef, chicken or fish.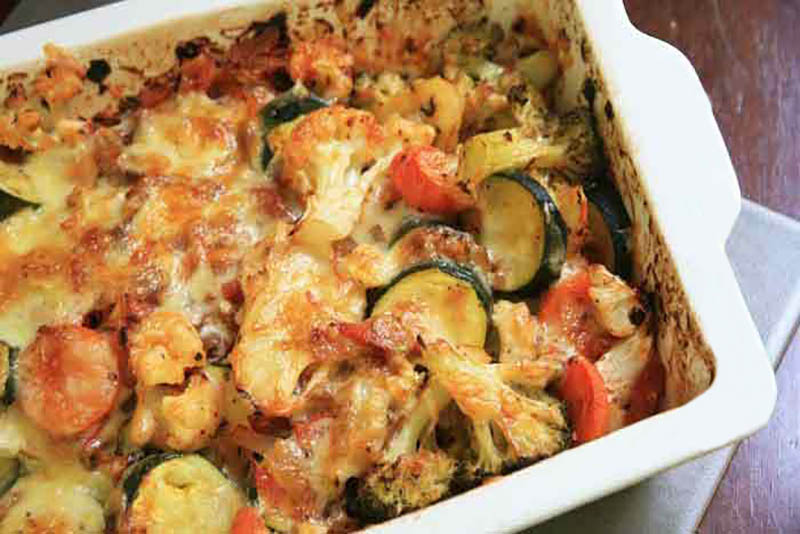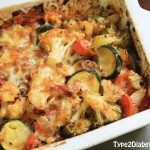 Pin Recipe
Vegetable Bake
Ingredients
1

medium

onion

- finely diced

2

carrot

- sliced

2

zucchini

- sliced

6

oz

broccoli

- equiv. to 1/2 broccoli - chopped

10.5

oz

cauliflower

- equiv. to 1/4 medium cauliflower - roughly chopped

4

tomato

- diced

1

teaspoon

dried basil

2

teaspoon

olive oil

1

cup

cheddar cheese

- equiv. to 1 cup - grated
Instructions
Preheat the oven to 420°F / 220°C. Then place all the chopped cauliflower, broccoli, carrot, and zucchini in a ceramic baking dish.

Heat oil in a pan, add onion, and saute until well browned.

Add the tomatoes and basil, then simmer for 2-3 minutes until nicely softened and saucey.

Pour the mixture over the top of the vegetables, then use a spoon or spatula to mix the tomato into the vegetables so they are covered.

Make sure the vegetables are dispersed evenly and then cover with a sheet of foil and then cook for 40 minutes.

Remove the baking dish from the oven, top with the cheese and then put back in the oven uncovered. Bake for a further 10 minutes with the foil off so it goes nice and brown.

Eat hot or cold and serve beside some fish, chicken, or beef for a tasty, healthy meal.
Share by Email
Share on Facebook
Share on Twitter
Pin Recipe
Chicken Cashew Veggie Stir Fry
A stir fry always makes a simple dinner or lunch. The great thing about stir fries is you can really throw any type of veggie into them.
If you need to use up ingredients, just throw them in – most of the time you can't go wrong. Give this easy veggie cashew stir fry a try – yum!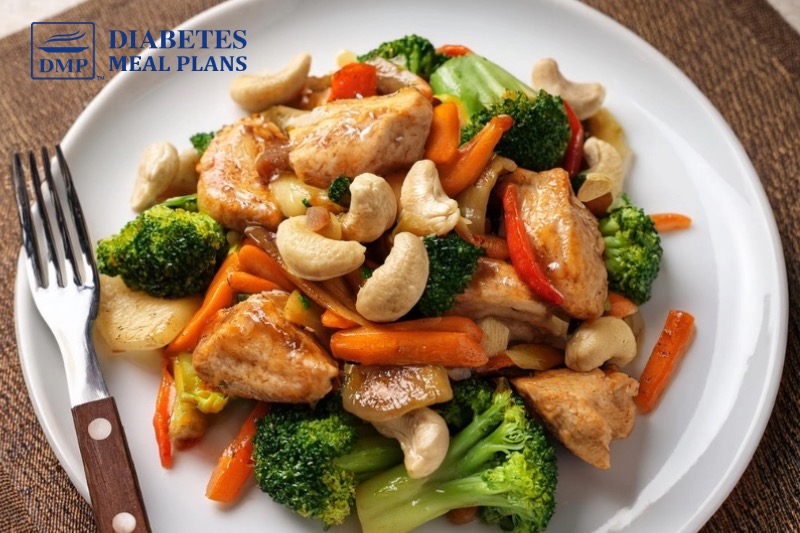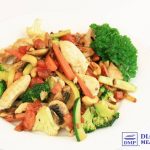 Pin Recipe
Chicken Cashew Veggie Stir Fry
Ingredients
8.8

oz

chicken breast

- sliced

1

carrot

- julienne sliced

1

zucchini

- julienne sliced

4.3

oz

cauliflower

- equiv. 1 cup - chopped

3.5

oz

broccoli

- equiv. 1 cup - chopped

4.5

oz

mushrooms

- sliced

1

tomato

- diced

1

onion

- sliced

2

teaspoon

olive oil

1

Tablespoon

tamari - wheat free soy sauce

konjac noodles

- optional

1.2

oz

cashew nuts

- equiv. 1/4 cup
Instructions
Heat 1 teaspoon oil in a large fry pan or wok.

Add the chicken and fry until just cooked, adding half the tamari half way through cooking. Set aside in a bowl.

Add more oil to the pan or wok.

Add the onion and carrot and saute until starting to brown.

Add the cauliflower, broccoli, and zucchini and continue to stir fry for 3 minutes, until starting to soften.

Add the diced tomato and tamari to the pan, stir through and cook for a further 3 minutes, until the veggies are cooked to your liking - well softened but still slightly crisp is nice.

Lastly, add the cashews to the pan, stir through to combine and heat through and then serve.
Notes
Note: If you want to add konjac noodles to this dish, which works really well, rinse them, then add them to the pan at the same time as the cashews and stir to warm through.
There are lots of additions or alterations you can make to this dish, like, use cajun spice to coat and spice the chicken, add garlic, add ground cummin, or a hint of hot chili. Experiment with the original recipe and see what you can come up with.
Share by Email
Share on Facebook
Share on Twitter
Pin Recipe
Start exchanging all your high carb foods for more veggies – it takes a bit of time to get the cross over – but as you can see it is well worth the effort.
What's your favorite veggie? And what's your least favorite? Share them in the comments below.
References: 1. Carkeet C, Grann K, Randolph KR, Venzon DS, Izzy SM. Phytochemicals: Health Promotion and Therapeutic Potential. CRS Press. Taylor and Francis Group. 2013.