Did you know that artichoke is one of the oldest foods known to man?
This bright green veggie comes in about 140 different varieties, 40 of which are sold regularly. The globe artichoke, which is most often eaten today, is part of the thistle species.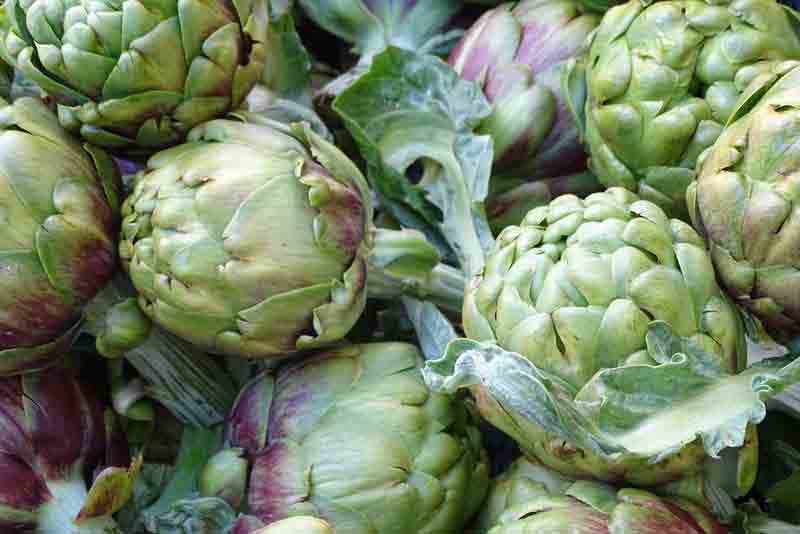 The tender insides of the vegetable, known as the 'hearts,' are used on everything from pizza to salads, and they offer a huge amount of health benefits.
As a fiber-packed green veggie, artichoke is definitely recommended as part of a healthy diabetes diet. Read on to find out the many ways artichokes can contribute to your health and well-being.
Artichoke Nutrition Facts
Artichoke is relatively low in calories – one medium artichoke contains 60 calories.
It contains a moderate amount of carbohydrates (13 grams).
It's insanely high in fiber! One medium artichoke contains 7 grams, which makes them just 7 grams net carb count.
A medium artichoke has 4 grams of protein and is essentially fat-free.
It's packed with antioxidants. One cup has around 150% higher antioxidant content than a cup of blueberries!
It's a good source of calcium, iron, potassium, and B vitamins
It's a great source of phosphorus, magnesium, zinc, and vitamin K
Health Benefits of Artichoke
Antioxidants: Artichokes contain high levels of antioxidants like vitamin C, anthocyanins, and quercetin. These can help prevent heart disease and cancer, fortify your immune system, and reduce inflammation.
Fiber: Artichokes are one of the absolute best ways to get your daily fiber, and it's particularly high in soluble fiber. The recommended daily amount (RDA) for dietary fiber is 38 grams for men and 25 grams for women, and one medium artichoke will give you 7 grams.
Most people don't get enough fiber, but those who do enjoy benefits like reduced risk of digestive cancers and gut-related problems – not to mention, fiber helps with blood glucose and cholesterol control.
And artichoke is one particular veggie known as a "prebiotic" fiber – it feeds the beneficial gut bacteria, which has the offset of producing many additional health benefits.
Vitamin K: Artichokes' high content of vitamin K may protect against Alzheimer's and other brain diseases. It also helps with blood clotting and supports bone health.
Potassium: The potassium in artichoke can help regulate blood pressure – counteracting the blood pressure-raising effect of dietary sodium.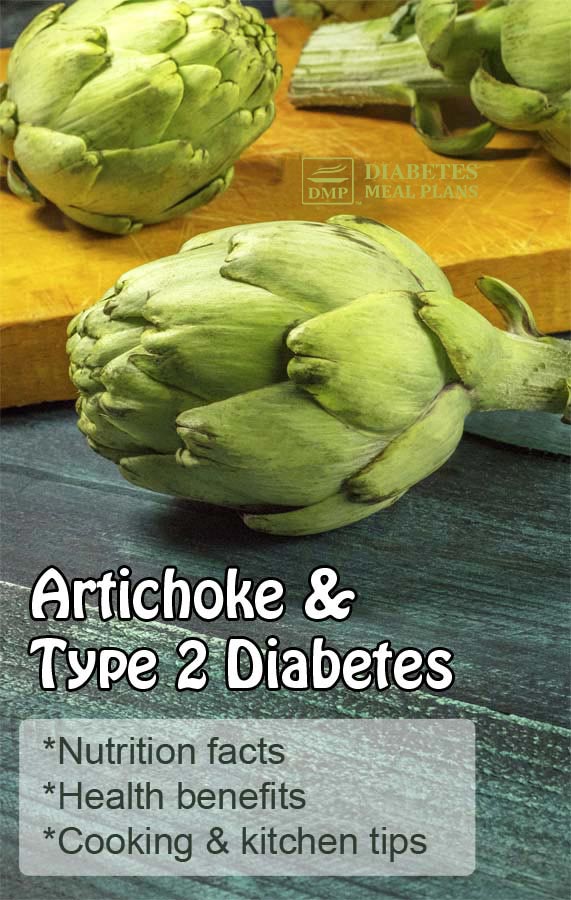 Research on Artichoke
Jerusalem artichoke may reduce lipid disturbance and insulin resistance, which can aid in the prevention of type 2 diabetes and nonalcoholic fatty liver disease.
Artichoke leaf extract has been found to decrease oxidative stress due to its antioxidant content. This means it may protect against organ damage and cancer, and even slow the body's natural aging processes.
Perhaps most exciting for diabetics, consuming artichoke may help regulate blood glucose. It seems to have a particularly powerful capacity to lower post-meal glucose levels. Though it's only been shown in rat studies, but since artichoke is so super healthy and full of soluble and prebiotic fiber, it's bound to be of benefit.
Artichoke may play a role in lowering cholesterol, preventing heart disease, protecting the liver, and potentially even helping liver cells regenerate.
Artichoke is sky-high in fiber content – the type of fiber known as a prebiotic. This means it may help selectively promote the growth of beneficial intestinal bacteria, improving digestive processes and total body health.
Points for Consideration
If you are taking blood-thinner medications such as warfarin, it's important to be aware of artichoke's high vitamin K content. This is because vitamin K is involved in blood clotting, and suddenly consuming considerably more or considerably less vitamin K can affect your medication's efficacy.
Artichoke in the Kitchen
Selection
Choose the heaviest, firmest artichokes possible, and look for a bright green color and compact center leaves. Peak season for fresh artichokes is March through May, but canned and jarred varieties are available year-round.
You can test for freshness by pressing the leaves against one another – if they make a squeaking sound, the artichoke is fresh. Interestingly, many people feel that slightly frostbitten artichokes have the best taste.
Storage
Fresh artichokes can be stored unwashed in a plastic bag in the fridge for up to one week.
Cooked artichoke can be refrigerated for up to four days.
Artichoke must be cooked before it is frozen.
Uses
Artichokes can look intimidating from the outside, but they're actually quite fun and easy to eat!
To eat a whole cooked artichoke, begin at the base and pull off the petals one at a time. Once they're all gone, you'll reach the tender hearts.
Artichoke is delicious atop pizza or low carb pasta, or you can try stuffing it with veggies, cheese, and/or meat. It also tastes great on its own, dipped in a small amount of butter or mayonnaise, sauteed with garlic, and in salads.
Cooking
Before cooking, rinse the artichoke in cold water, and make sure you don't miss the space under the leaves.
Steam: the prepared artichoke for 25-45 minutes.
Saute: for 5-10 minutes in butter and garlic.
Bake: drizzle with olive oil and bake in a 425F (220C) oven for 20 minutes.
Cutting Techniques
If you like, you can trim off the sharper ends of the leaves – this is a bit more work and is completely up to your personal preference.
Before cooking, slice off the top of the artichoke with a sharp knife. Remove any small petals near the base, and slice off the bitter stem (unless you prefer to eat it!).
Please pin, tweet or share this info to help others. Thanks!