"What's in a name?"
Well, Shakespeare probably wasn't referring to food labels when he wrote that line, but when it comes to modern-day grocery shopping the "name" on the front of the package doesn't mean much.
And if this confuses you, you aren't alone! That's why we're going to break down a few marketing gimmicks that often mislead health-minded customers at the supermarket.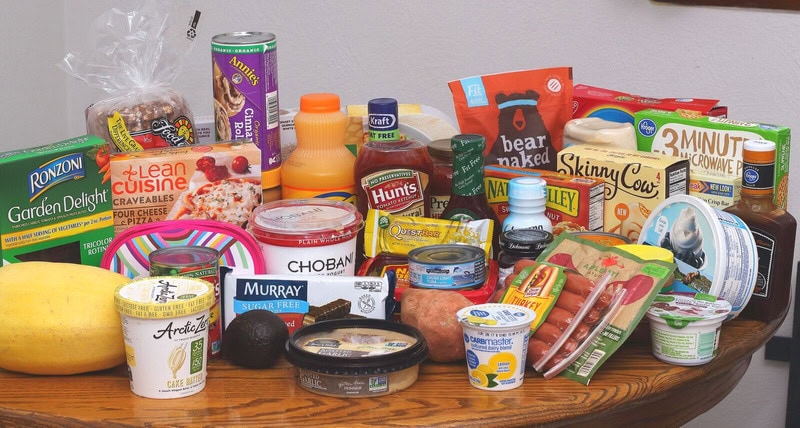 We commonly hear things like: "This product looks healthy" or "It says it's good quality" or it says "XYZ."
But truth be told many of these "so called" claims are just that – claims without any substance.
Let's face it; it can be pretty tough to identify healthy foods at the grocery store just by looking at the packaging. But, surprisingly many people choose products this way, which can get you into big, BIG trouble!
But when you're standing in an aisle of packaged food surrounded by a hundred of labels that all scream "pick me!" – it can be a difficult choice. And it can be time consuming too if you don't know what to look for.
In fact, you comb the rows of canned, boxed, and packaged foods to find that almost every label claims that the food is "all natural," "low in sugar," "sugar free" or "fat free."
But what does this actually mean?
Let's debunk some of the most common health claims made on food packaging:
"Sugar free"
As a person with diabetes, you're likely aware of the need to lower carbohydrate and sugar intake. Therefore, you automatically flock to anything that's labeled as "low in sugar" or "sugar free."
But, you need to think critically about "sugar free" foods before you buy into them so quickly.
Sugar is often used as a preservative in addition to a taste enhancer, so what is the sugar in this food being replaced with? Are they swapping cane sugar out for artificial sweeteners like aspartame? These are known to increase metabolic problems, not help them. You must evaluate the type of sweetener they are using to replace the sugar and assess if it's a good choice of sweetener you want to consume.
This jam is labelled as 'sugar free' and it is a lower calorie, lower carb option, but be aware it still contains artificial sweetener (sucralose) and sugar in the form of maltodextrin.
Are they adding in a bunch of extra preservatives to maintain the food's shelf life? Depending on the ingredient combination, these may also disrupt various metabolic functions. If a product has a long list of ingredients it is really a low quality product. Stick to products that contain a maximum of 10 ingredients, 5 is even better.
It's also good to understand that anything labeled "sugar free" can technically still have up to 0.5 grams of sugar per serving, so it's not always as straightforward as it seems. "Sugar free" and "no added sugar" does not mean carb free.
Consider a container of unsweetened apple sauce…it may still pack 12 grams of carbohydrates from the natural sugar (fructose) in the apples. And carbs are still carbs, no matter what form they come in.
"All natural"
In reality, the claim that something is "all natural" or "made with natural ingredients" doesn't carry much weight. Ingredients may originate from a natural source but by the time they are processed, there is little "all naturalness" left about them.
If you're concerned about pesticides and GMOs, look for the sticker that says "USDA certified organic." That label legally guarantees that at least 95% of the ingredients have been grown or processed without synthetic fertilizers or pesticides.
Like always, your best bet is to check the label on the back of the package. If you see a dozen different chemicals and preservatives buried in the ingredients list, then you can bet that food isn't very natural!
"Fat free"
Twenty years ago, this claim would have made the average grocery shopper leap for joy, because low fat diets were all the rage. Now we realize that our bodies actually need some fat in order to function at their highest capacity.
Clearly, it is unhealthy to indulge in tons of greasy high-fat junk foods, but healthy fats like those in avocado, coconut oil, olive oil, and nuts are an important part of a low carb diet!
While all macronutrients are important (fat, protein, carbs), as a diabetic, the macronutrient you really need to focus on is carbohydrates.
Keeping that in mind, now consider, if they remove all the fat from this food item, what did they replace the fat with in order to keep it tasting yummy?
It's likely that they replaced that "evil fat" with sugar! Yep, it's a common occurance.
Both sugar and fat are used as preservatives in packaged foods, so a lack of one usually means an increase in the other. So, keep an eye out for extra sugars hiding in those "fat free" foods!
Not only that, "fat free" foods often contain a range of other additives and preservatives as well.
This fat free dressing's second ingredient is sugar. Yes it's fat free, but for 2 Tbsp 8 grams carbs is quite high for a dressing.
"Gluten-free"
Gluten free (GF) living is becoming a popular health trend, but there seems to be some assumptions made about GF foods that are simply untrue.
While GF breads and baked goods may be healthier in some ways, they are still very high in carbohydrates.
You need to be aware that if a food is GF, it is not automatically lower in calories, sugar, or preservatives either. In general, common GF flours (like rice flour) actually tend to be much higher in carbs than whole grain wheat flours are. Find out more about best flours to eat over here.
Remember, that just because a food is GF, that does not automatically make it way healthier for people with diabetes, or anyone for that matter. If you're eating a GF chocolate chip cookie or cake…beware – it's still likely a high carb sugar bomb!
This GF cake has 39 g carbs per slice!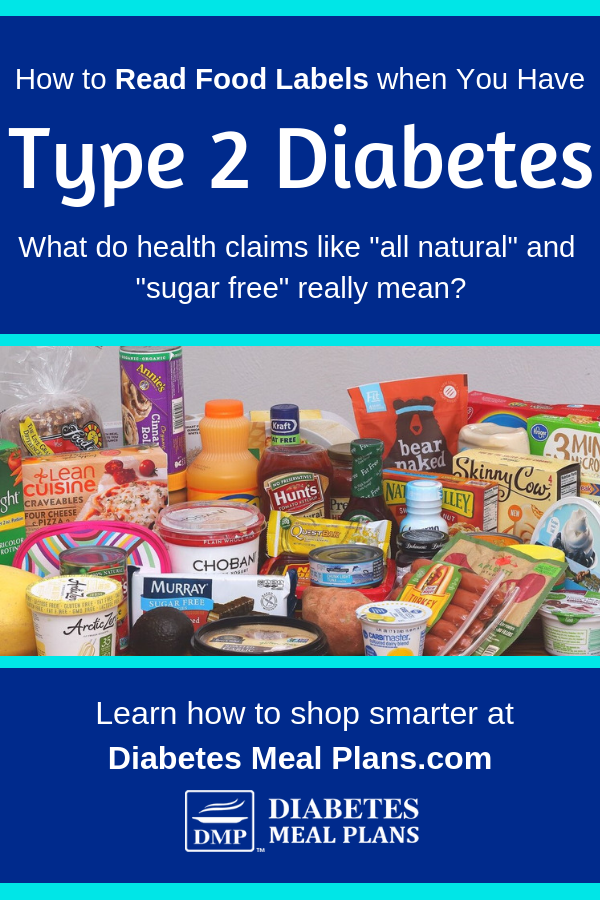 How do I avoid the trap of a misleading food labels?
Read the actual food label – the ingredients list and the nutrition facts panel.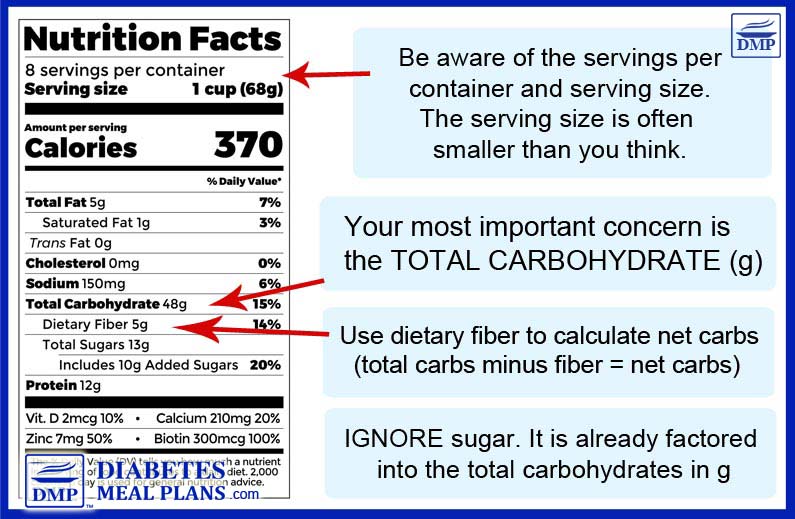 We recommend skimming the back label and keeping your eyes open for sugar and sugar alternatives that might be hiding somewhere in the ingredients list.
Also, make sure to read the fine print underneath those big, bold health claims that take center stage on the front of packaged foods.
The front of the box may be decorated with green leaves and littered with misleading promises, but the real truth lies on the back of the box in the ingredients list and the nutrition facts. Shop smart and read those labels!
Still confused by food labels? Join us as a member to join in our interactive Food Labels Masterclass in February.
In our Food Labels Masterclass, we decode:
ingredients lists
carbs
sugar and sugar alcohol
fats
proteins
more cons and scams
Plus, you'll also have the opportunity to share any food label pics so we can discuss and decode together!
Join us as a member to join in our interactive Food Labels Masterclass in February.