It's no secret that ice cream contains a lot of sugar, which hopefully makes it obvious that ice cream for diabetes – well, in most cases, they just don't make a good match!
But are frozen desserts always off limits to people wanting to gain better blood sugar control? And what about alternative frozen treats like sorbet, frozen yogurt, and vegan ice cream?
Read on to find out the facts.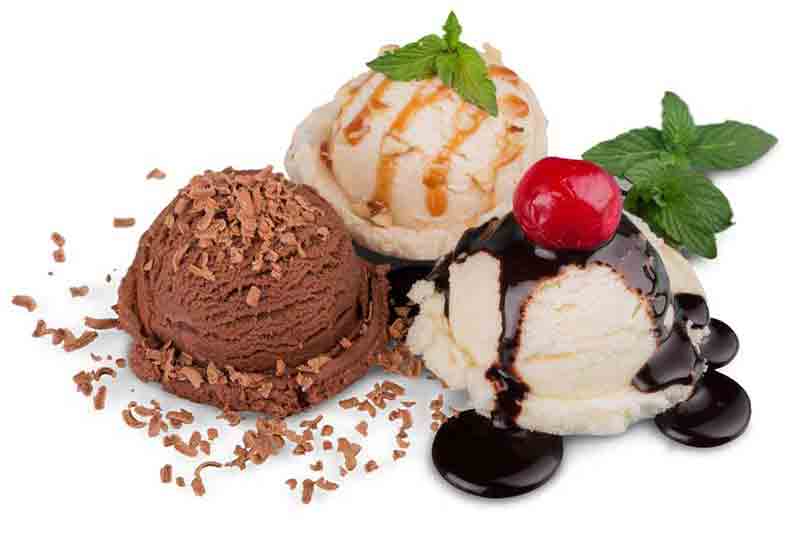 Ice Cream Nutrition Facts
Besides the basics (milk, eggs, and sugar) the ingredients in any given ice cream will vary from brand to brand.
For example, here are the ingredients in a tub of Breyer's Natural Vanilla ice cream:
Milk, cream, sugar (cane or beet sugar), tara gum, natural flavor.
And here are the ingredients in a pint of Ben & Jerry's Mint Chocolate Cookie ice cream:
Cream, skim milk, liquid sugar, water, sugar, wheat flour, egg yolks, palm and palm kernel oil, cocoa, salt, sodium bicarbonate, natural flavor, soy lecithin, guar gum, peppermint extract, carrageenan.
Notice how "sugar" is one of the top ingredients in both these ice creams? Of course we'd expect that. But what's important to realize is the placement of sugar on labels (ie: close to the beginning of the list) is an indicator that these foods are going to be super high in carbs.
Food label tip: Ingredients are always listed in descending order by the amount contained in the product. For example, if sugar is listed first, the product contains sugar at the highest proportion of ingredients.
Not surprisingly, your average half-cup serving of ice cream contains anywhere from 14 to 30 grams of carbohydrates. Not to mention that most people have a very hard time sticking to the suggested serving size (you usually want more, right?), so that number can easily double or triple.
Unlike healthy carb sources like vegetables and fruits, ice cream doesn't provide many vitamins, minerals, or antioxidants. Most junk food provides empty calories and simple sugars, and that's it.
Many ice cream brands also contain harmful hydrogenated oils and trans fats in their products. And lets face it, overall there's not really anyone that would consider ice cream to be a "healthy" food.
Frozen Desserts Compared
The following chart compares the nutrition facts for a variety of frozen desserts from ice cream to sorbet and even vegan (non-dairy) ice cream options.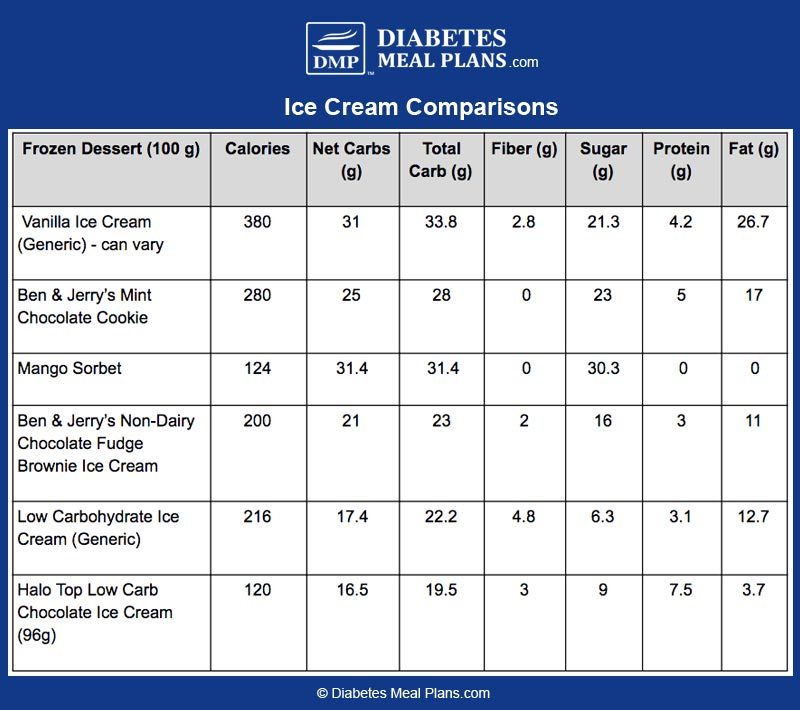 As you can see from the chart, ice cream can range from 19 grams to 34 grams of carbs, some may be more or less depending on the brand.
Alternatives like vegan ice cream and sorbet sound pretty healthy, right? But take another look at the number of net carbs (total carbs minus fiber = net carbs) in each frozen dessert – they are all still high carb foods. Non-dairy ice creams typically replace the cow's milk with almond, soy, cashew, or coconut milk. But despite removing the dairy they still contain plenty of sugar, syrups, and sweeteners.
And don't be fooled by the 'natural' fruit options. As you can see by the chart, the mango sorbet actually contains more carbohydrates than any other item on this list, which makes sense since sorbet is usually just a combination of fruit, ice, and sugar. Combining a super sweet fruit like mango with a bunch of added sugars results in a very high sugar product.
Food label tip: Don't rely on front-of-pack labels because they market features to you such as 'low carb' 'low fat' 'fat free' etc, all designed to fool you. You must read the ingredients list and the nutrition label to determine the nutrition quality of a food.
Please pin, share or tweet, then keep reading.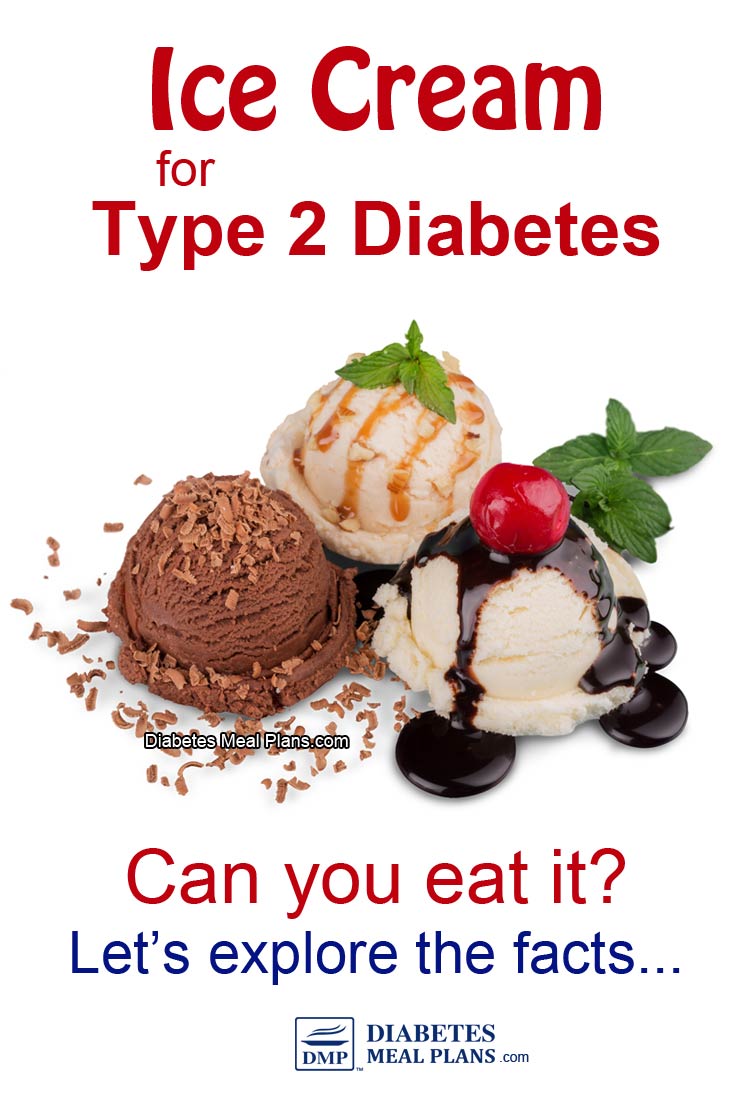 Low Carb Ice Cream: Too Good To Be True?
In recent years, self-proclaimed "low carb" ice cream brands have become increasingly popular. So are these claims legitimate or is it a little too good to be true?
While they definitely can be lower in carbs than their competitors, sadly, most are not as miraculous as they sound.
Think about it logically: even a low carb ice cream has to be sweetened with something, so it's important to take a look at the ingredients in these alternative ice creams.
For example, Halo Top, arguably one the most popular "low carb" ice cream brands, is sweetened with a combination of organic cane sugar, erythritol and stevia. As you saw from the chart above, they are lower in carbs, but they are still not really low carb.
Be wary that other low carb ice cream options may be sweetened with artificial sweeteners like Ace-K, sucralose, and aspartame, all of which have spotty reputations and potential side effects.
The message here is: if you are going to eat ice cream, choose wisely and control your portion sizes.
There are plenty of great low carb desserts that you can enjoy on a hot day. For instance, try this delicious frosty chocolate milkshake.
Or, if you care to try your hand at baking, give our Raspberry Cream Pie a try.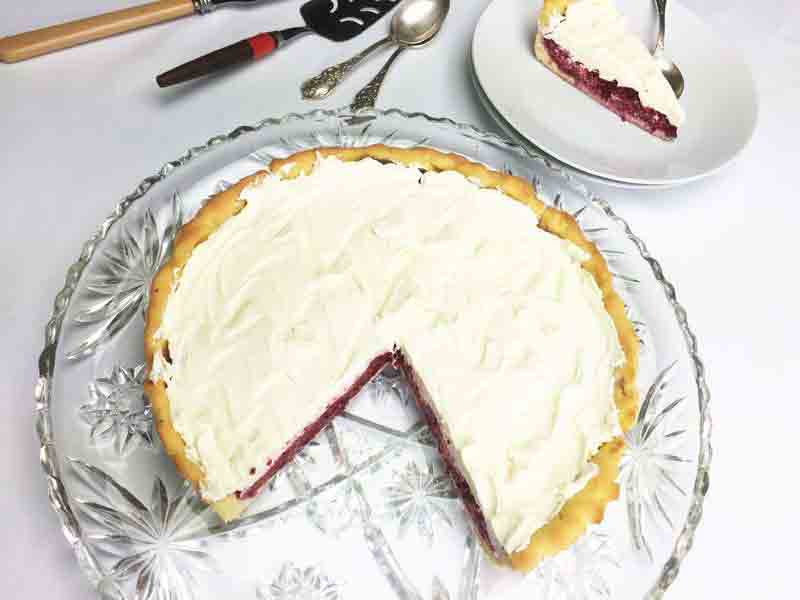 Research on Ice Cream and Diabetes
Full-fat dairy products can actually be a very healthy source of protein for people with type 2 diabetes and prediabetes, so unless you have a specific intolerance to milk products, the dairy in ice cream shouldn't cause any holdups. The real problem is all that sugar!
In fact, ice cream contains so much sugar that a 2017 study found that ice cream can actually replace the standard glucose solution used during an oral glucose tolerance test (a test used to diagnose prediabetes and diabetes). The standard glucose solution typically contains 75 grams of sugar. All those simple sugars can be detrimental to your blood sugar stability and your overall health.
You only have to search through scientific research, or popular health sites to discover that consumption of sugar is responsible for weight gain, obesity, diabetes, inflammation, arthritis, leaky gut, more rapid ageing, and even cancer.
The point is: even though we love the taste of sugar, eating it leads to nothing good – except an instant gratification!
For you though, as a person with type 2 diabetes or prediabetes, eliminating sugar and following a lower carb diet, is a sure way to success!
As a 2017 review showed, low carb diets that minimize added sugars can help people with diabetes gain better blood sugar control, especially early on. The researchers found that type 2 diabetics who followed a low carb diet had a 0.34% lower HbA1c when compared to diabetics following a high carb diet during.
Similar low carb studies have found A1c reductions range from 1-2.2%. Our members are also achieving significant reductions in A1c levels.
Maria G lowered A1c by 1% in 3 months and is now in normal range.
Gloria G lowered A1c by 1.3% and is on track to getting back to normal and reducing insulin dosage.
Sheryl D lowered A1c by 0.5% to normal (for the first time since 2007) and has maintained lower levels for more than a year.
We have evaluated ample research that shows a lower cab diet produces fantastic results – you only have to read the stories and testimonials of our members and subscribers – it works!
Conclusion
Sugar, sugar, sugar… it's not just the enemy of people with type 2 diabetes and prediabetes, it's the enemy of us all. It's tempting, delicious and addictive!
Although we may love it and be drawn to it, real health benefits can be seen when you quit the sugar and opt for blood sugar friendly foods.
Although we encourage you to avoid ice cream altogether, if you are going to indulge in ice cream on the odd occasion, choose wisely and keep your portions very limited.
That doesn't mean you have to kiss sweet treats and indulgences goodbye – there are always alternative options, such as the recipes we shared above and plenty more.
Living with diabetes or prediabetes doesn't mean deprivation or starvation, it just means learning a new way to eat that is equally enjoyable!
TESTIMONIAL: "I learned that alternative foods are just as delicious as "normal" foods. I've lost 16 lbs since I went low carb. I'm not as fearful about eating fat. My daily blood sugar readings are slowly going down. I have really learned a ton from this site. Thank you for all of your efforts."~Cheryl A.