How do you like to season your food?
Some people like to drench their food in hot sauce whereas others may use ranch on everything. But regardless whether you like your food spicy or sweet or tangy, it seems that everyone has their own "go-to" condiments. But what about condiments for diabetics? Are there things you need to look out for? Better options to choose?
Absolutely yes. So let's cover some general tips, and go over some of the best options.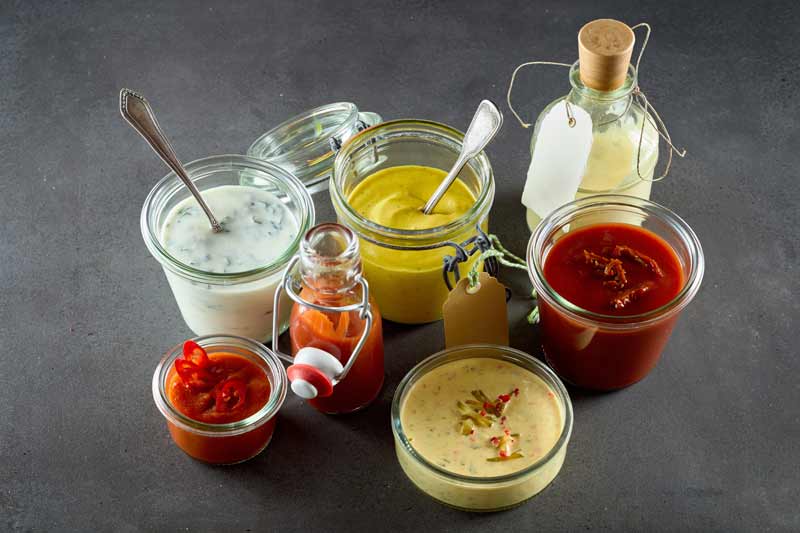 Condiments Add Flavor
Condiments are meant to give food flavor and can help keep certain dishes moist. Examples of popular condiments include mayonnaise, mustard, BBQ sauce, and salad dressing, but the list could go on and on, and on.
Some condiments are used on the side for dipping, such as ketchup or tartar sauce and then other condiments get mixed right into a meal such as a BBQ Chicken dish.
Just like most foods, there are healthier versions of condiments and unhealthy versions. Many condiments, but not all, are heavily processed foods and have various low quality ingredients, along with additives added to the product. Therefore, knowing which ones to pick is crucial in maintaining a healthy diabetes diet.
For your ease we've compiled a list of low carb condiments below including everything from mayonnaise to mustard to soy sauce and salad dressing. 
General Condiment Tips for Diabetes
Before diving into specific recommendations of products there are a few general tips for selecting condiments. For starters you always want to scan the nutrition label to search for a few key sections of the nutrition label.
Total Carbs
Ideally, your condiments should contain no more than 2 grams of carbs per serving. Compare brands and varieties and always try to pick the one lowest in carbs.
Sugar
Beyond the carb count you need to check the ingredient list. You want to watch for 'added' sugar. Remember, sugar can be hidden and may even be called something other than sugar. In fact, there are over 60 names for sugar, and added sugar is found in at least 74% of processed foods.
Some key words to avoid include:
Evaporated Cane Juice

High Fructose Corn Syrup/ Corn Syrup Solids

Honey

Malt Syrup

Molasses

Sucrose
Products made with artificial sweetener aren't necessarily better. Artificial sweeteners have been shown to increase risk of weight gain and diabetes, cause headaches, and some may even play a role in cancer development. Artificial sugar may be labeled as Saccharin, Aspartame, or Sucralose.
Your best bet is a product without any type of added sweetener. This can be hard sometimes, as even things like mayonnaise can contain sugar. In this case, you have to weigh up the benefits.
For instance, if a condiment is low in carbs but still contains a little sugar, sometimes you have to bite the bullet because it's better having that food in your diet, to improve your options, than not.
Type of Fat
In an ideal world, we would avoid all processed fats and stick only to the healthy fats like olive oil, coconut oil, and unprocessed meats. However, that is probably an unrealistic goal for most people, and instead we need to aim to significantly limit the amount of processed and pro-inflammatory fats we consume.
This means trying to limit consumption of margarine, corn, peanut, vegetable and soybean oil. When it comes to many of our condiments the default oil used is often soybean oil.
When possible it is better to pick products made with olive oil, high-oleic sunflower oil, or avocado oil. This is not going to be plausible for every condiment as some condiments are meant to be shelf stable for a very long time, but when possible try to pick something made with one of the better types of fat.
Now that you know what to look for, let's check out some good options for each type of condiment.
"Best" Condiments to Choose for a Diabetes Diet
Mayonnaise
Most mayo is naturally carb free (or very, very low in carbs). Most will also contain some added sugar and other ingredients, but due to the higher fat content it is still a very low carb food item.
Look for (real/ full fat options) and additionally, look for organic types made from olive or sunflower oils and containing the lowest amounts of sugar and ingredients overall.
Below are some products which have slightly cleaner ingredients and may be preferred options.
KRAFT Olive Oil Mayonnaise

KRAFT Avocado Oil Mayo
Best Foods Olive Oil Mayo
Alternatively, try making your own, which is very easy to do. 
Mustard
Regular yellow and brown mustards are generally carb free or very low in carbs. The exception is honey mustard, which as the name implies is sweetened with honey. Make sure to check out some of these favorites.
Heinz Yellow Mustard

French's Classic Yellow Mustard

Gulden's Spicy Brown Mustard

Grey Poupon Dijon Mustard

Annie's Organic Honey Mustard – with only 2 grams of carbs per serving, this honey mustard is a much better option than most
Ketchup
This is where it starts to get tricky. Traditional ketchup is loaded with added sugar so you need to read labels and be very careful with your selections. And unfortunately there aren't too many healthier options available. And those that are available do tend to cost quite a bit more.
Given that you only use small amounts and they last a long time, you may consider the cost worthwhile considering the benefits of better blood sugar control. 
BBQ Sauce
Again, BBQ sauce is notorious for being sweet, sticky, and full of sugar. You'll need to read labels carefully and get a little creative with your selections.
G Hughes Sugar Free (Hickory, Smokehouse or Sweet & Spicy) BBQ Sauce

Simple Girl Carolina (Kick or Sweet) BBQ Sauce (1 gram per 2 TBSP serving)

Classic BBQ Sauce, Organic & Unsweetened (3 grams per 2 TBSP)

Trinity Hill BBQ Sauce (2 grams per 1 TBSP
Tartar Sauce
Tartar sauce typically contains mayo with chopped pickles and capers. Watch out for high fructose corn syrup, which is something you generally want to limit in your diet. Below are some products which have cleaner ingredients and may be preferred options.
Stonewall Kitchen Down East Tartar Sauce (2 grams per 2 TBSP)
The Ojai Cook Bite Back Tartar Sauce ( 1 gram per 2 TBSP)
Or easily make from scratch with one of the mayos above and add your own variation of pickles, capers, and seasonings.
Hot Sauce
Hot sauce is generally a low carb choice and most choices you'll find in the store are perfectly fine. If you're looking for something with sweet heat you need to be selective to avoid added sugar.
Nando's Peri Peri Sauce (Available in medium, hot and extra hot and

are 2 g or less carbs per serving)

Trinity Hill Farms Sweet Chili Sauce (Just 2 grams per 1 TBSP serving.)

Or trying making your own

delicious sweet chili sauce!
Soy Sauce
Soy sauce is a popular condiment in Asian Cuisine. It is low carb so feel free to choose any option, except the sweet versions as they will generally contain corn syrup. Also, traditional soy sauce contains wheat (gluten) and in some cases so you'll want to double check the label before purchasing, in case you need to avoid these ingredients. 
Make sure to check out some of these favorite gluten-free options, plus the most popular traditional option.
Bragg Liquid Aminos (<1 gram per 1 tsp serving, and contains only soybeans and water)

Coconut Secret Coconut Aminos (1 gram per 1 tsp serving, made from the sap of coconut trees)

Tamari Soy Sauce (Wheat free soy sauce containing just 1 gram per 1 TBSP serving)

If you're looking for a traditional soy sauce try Kikkoman Soy Sauce (1 gram per TBSP serving, does contains gluten)
Salad Dressing
For salad dressings it's all about the type of fat – try to pick products made with lots of those quality healthy fats such as olive oil, avocado, sunflower oil, and real mayo. Do not pick low fat options as these are often higher in carbs.
Tessemae's Avocado Ranch Dressing (1 gram per 2 TBSP serving)

Annie's Organic Green Garlic Dressing (2 grams per 2 TBSP)

Primal Kitchen Greek Vinaigrette (<1 gram per 2 TBSP)

Simple Girl Sweet Mustard Organic, Sugar-Free Salad Dressing (0 carbs per 2 TBSP serving)
Or make your own – it's so easy if you start with this Quick Basic Dressing:
Ingredients (2 servings)
2 Tablespoons olive oil

2 Tablespoons balsamic vinegar
Instructions: Blend to combine and use over salads. To flavor, add herbs, spices etc.
Or try this Honey Mustard Dressing (without the honey)
Ingredients (2 servings)
½ Tablespoon tamari- wheat free soy sauce

1 Tablespoon red wine vinegar

1 teaspoon whole grain mustard

½ teaspoon dried thyme
Instructions: Place all ingredients into a jar or airtight container and shake well to combine. Serve over your favorite salads or use as a marinade.
And you'll love this Creamy Avocado Thyme Dressing:
Ingredients (4 servings):
1

avocado

1 Tablespoon red wine vinegar

2 Tablespoon extra virgin olive oil

1/4 teaspoon garlic oil

1/4 teaspoon dried thyme

2 Tablespoon water
Instructions: Add all the ingredients to the blender or food processor and blend for 30 seconds to 1 minute until smooth.
Steak Sauce
Ask any steak lover and they'll tell you another favorite condiment is steak sauce. Steak sauce is a combination of vinegar, tomatoes and spices, but sometimes contains additional wheat and sugar. Look below for some better options.
Trinity Hill Farms Steak Sauce (2 grams per 1 TBSP serving)
Primal Kitchen Organic Sugar Free Steak Sauce (1 gram per 1 TBSP serving)
LC Foods Steak Sauce and Marinade (2 grams per 1 TBSP serving)
Salsa
Regardless if you prefer mild, medium, or spicy, salsa is a pretty safe choice, typically containing diced tomatoes, onion, and other veggies at its base. The only caution when choosing a salsa is to be weary of any fruit style salsa or salsa that may contain a significant amount of corn or beans.
Tostitos Mild Chunky Salsa

(2 grams per 2 TBSP serving)

Paul Newman's Mild Chunk Salsa  (2 grams per 2 TBSP serving)

Pace Organic Salsa Medium (2 grams per 2 TBSP serving)
Conclusion: "Best" Condiments for Diabetics
Condiments can help pull dishes together and bring unique flavors to the table.
Your healthiest option is always to make them from scratch, but that isn't always feasible when you need to whip together a quick midweek meal! Luckily there are many options available both in grocery stores, and online – Amazon and Netrition offer many products.
When picking a condiment always check the labels!
You want to stick to the low carb ones. Where possible avoid anything with 'added' sugar or high fructose corn syrup, honey, molasses, etc. Where this is not possible, make sure your condiment is low in carbs, ideally 2 grams or less per serve.
When possible look for condiments with healthier fats like olive oil, sesame oil, high-oleic sunflower oil, and avocado oil.
Use any of these condiments to top your favorite meat and vegetable, and you have your secret formula to a healthy low carb meal!