Sugar is addictive!
I'm sure you probably know this is true from your own experience. But researchers such as Dr James DiNicolantonio, a cardiovascular research scientist at St. Luke's Mid-America Heart Institute in Kansas City, state that when rats are given the choice between cocaine and sugar, they choose sugar every time.
Scary right?!
Dr Eric Stice, a neuro scientist, has done studies on the brain showing that the same 'addiction' receptors are activated when we consume sugar as they are if we consume cocaine.
So when we're finding it extremely difficult to give up that sweet tasty stuff, you know why. It's definitely not just imagined, and it's not just your lack of willpower!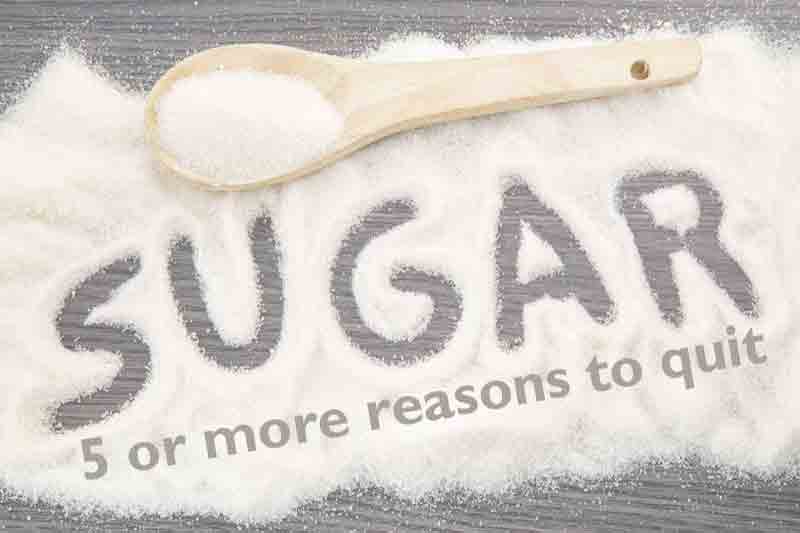 So why is the sweet stuff so bad?
We eat far too much sugar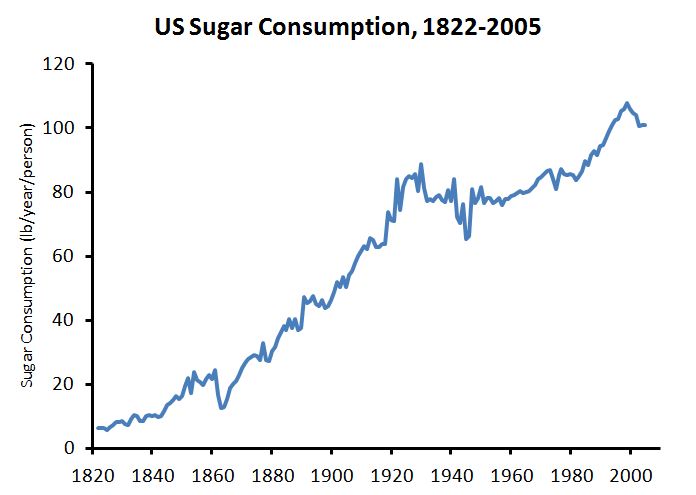 In 1776 people only consumed around 4 pounds sugar per year. Then around 100 years ago people only consumed 10 pounds of sugar per year. Now, on average people are consuming their body weight in sugar per year – estimated at around 40 teaspoons per day.
That's a HUGE contrasting difference from our past.
I remember a striking moment a few years back when I was watching Jamie Oliver give a speech on sugar. He pushed out a wheelbarrow full of sugar and tipped it onto the stage as a demonstration of how much sugar kids were eating. That was a pretty visual and quite shocking realization that there really is a major problem going on and it's affecting the health of every nation worldwide.
Current dietary guidelines from the World Health Organization are to eat no more than 25 g or 6 teaspoons added sugar per day.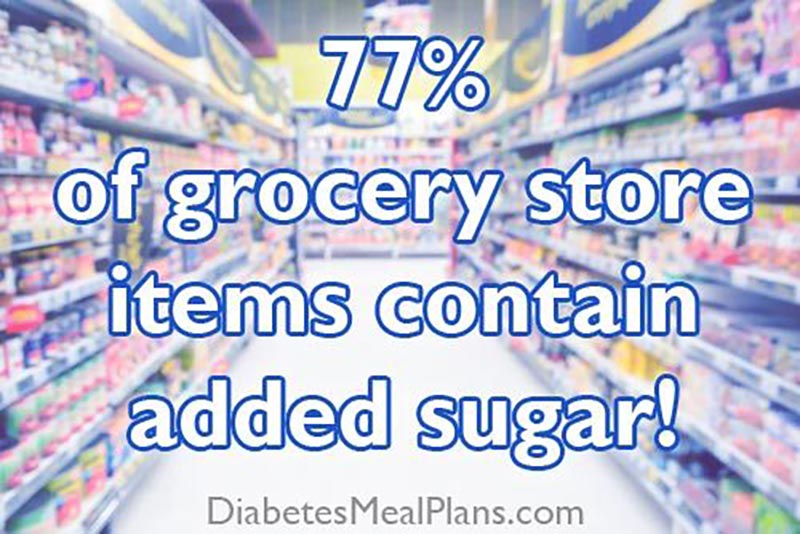 This can be difficult for us to do with the state of our current food supply. According to the Institute of Responsible Nutrition, around 77% of grocery store items contain added sugar.
It's everywhere around us right? And this makes it very difficult for us.
We already know why we like to eat it so much. It's addictive!
Sugar – Half Glucose/ Half Fructose
Glucose is still a form of carbohydrates and sugar but the major issue is the fructose. Sugar just happens to be half glucose / half fructose.
We've always been told that all that matters is calories. So if we eat less calories then we'll lose weight and it's better for us. But this simply isn't the case.
"Different types of calories have different metabolic effects in the body", says Dr DiNicolantonio.
It doesn't take a scientist to work this out, to me that's just common sense. I mean you can eat 1200 calories of junk and 1200 calories of nutrient dense food and it's just not going to produce the same result right?
Right. But just so we know for sure, research has proved it.
Fructose is a MAJOR Issue For Metabolism
In Dr James DiNicolantonio research they compared different tyes of sugars – sugar (50% glucose/50% fructose), glucose, and starch. What they found was that fructose is more harmful to metabolic issues than other carbohydrates.
What does he mean by metabolic issues?
Medline puts it nicely:
"Metabolism is the process your body uses to get or make energy from the food you eat. Food is made up of proteins, carbohydrates, and fats. Chemicals in your digestive system break the food parts down into sugars and acids, your body's fuel. Your body can use this fuel right away, or it can store the energy in your body tissues, such as your liver, muscles, and body fat.
A metabolic disorder occurs when abnormal chemical reactions in your body disrupt this process. When this happens, you might have too much of some substances or too little of other ones that you need to stay healthy.
You can develop a metabolic disorder when some organs, such as your liver or pancreas, become diseased or do not function normally. Diabetes is an example".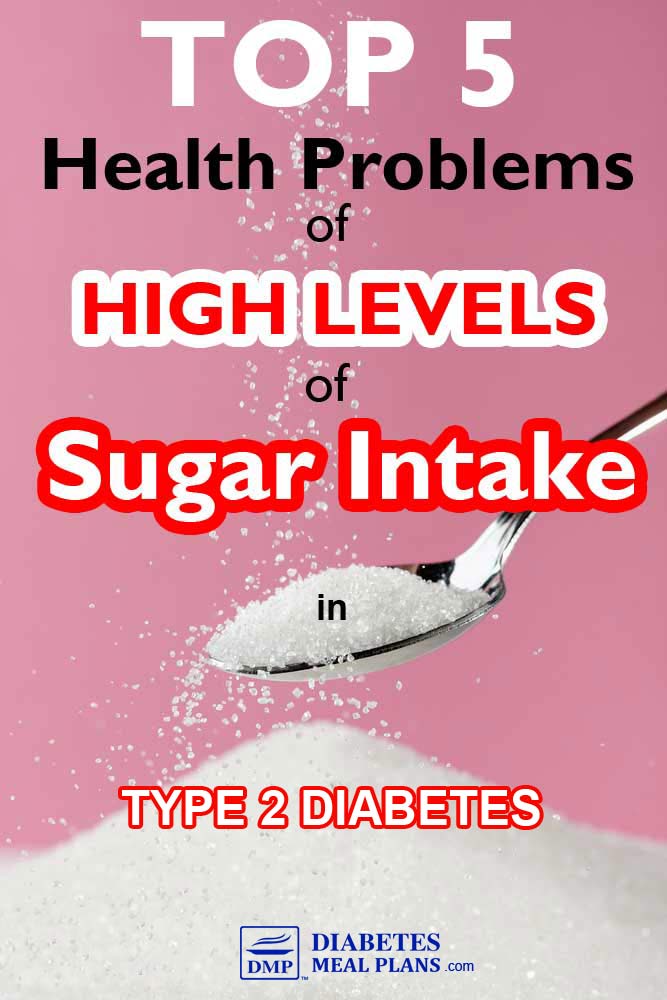 The reason why fructose is more harmful to metabolic issues comes down to fructose metabolism.
According to Dr DiNicolantonio, fructose causes:
Oxidative stress
Fatty liver
Insulin resistance in the liver that leads to insulin resistance in the rest of the body
Increase VLDL in the liver – which promotes muscle insulin resistance
Increases fat storage
Increases LDL, cholesterol
Increases blood pressure
Lots of the results that are seen from fructose consumption are independent of weight gain or caloric intake – meaning it has nothing to do with calories, so we can bust the whole calorie myth, it's entirely the wrong place to put your focus.
If you want to listen to more of what Dr James DiNicolantonio has to say about fructose, this video is really interesting.
If you need more proof about the dramatic effects of sugar (particularly fructose), check out this video by Dr Robert Lustig and the University of California. It is very eye opening!
This is one of my favorite videos of all time. Well, most things Dr Robert Lustig writes, says, researches are awesome – he's such a great health crusader.
Top 5 Health Problems of High Levels of Sugar Intake
We've really just pointed out some of the major problems with our list above but let's just elaborate on a few of these.
1. High cholesterol
We've been told to avoid fat. Fat was reduced in our food supply. And what did they replace it with?
Sugar (and low quality oils, preservatives, additives, etc.).
The thing is, it's not fat that causes high cholesterol. It's not the cholesterol in eggs that causes high cholesterol.
It's sugar!
Sugar promotes the liver to increase production of triglycerides, total cholesterol, LDL, and VLDL – both LDL and VLDL are the 'bad' cholesterol, the stuff we don't need more of.
When people cut sugar, reduce carbohydrates, and quit eating crappy foods, an amazing thing happens, their cholesterol reduces.
Yet this is still not the common advice dished out by doctors and dietitians.
2. Weight Gain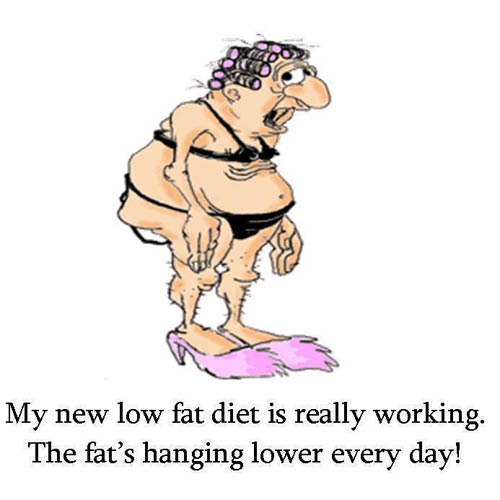 If you're looking for some rapid weight gain, just eat more sugar.
Triglycerides (fat cells) are made with a sugar/carb backbone. In a basic sense, if there was no glucose you basically couldn't create any new fat cells.
As we can see from the rapid rise in obesity, we certainly have no problem gaining weight very rapidly. Any excess sugar our body can't use or store in our liver and muscles as glycogen, gets sent straight to fat storage for that rainy day.
Problem is, there's never a rainy day – well at least not one where we turn it around, because we're always eating the sugary stuff!
3. Increased Insulin Resistance
Majority of type 2 diabetics are insulin resistant. The insulin resistance actually comes way before the onset of diabetes itself (up to 10 years), and sugar is a BIG contributor.
It's no surprise that sodas like Coke and Pepsi have been big culprits in the rise of obesity and diabetes through the sugar/ fructose connection to insulin resistance.
As both Dr DiNicolantonio and Dr Lustig point out, fructose promotes fat in the liver. A fatty liver promotes insulin resistance. Insulin resistance in the liver leads to insulin resistance in the rest of the body. And the increased production of VLDL cholesterol also promotes an increase in insulin resistance.
4. Increased Inflammation
Here's an image from when I studied nutrition and inflammation in my Masters thesis.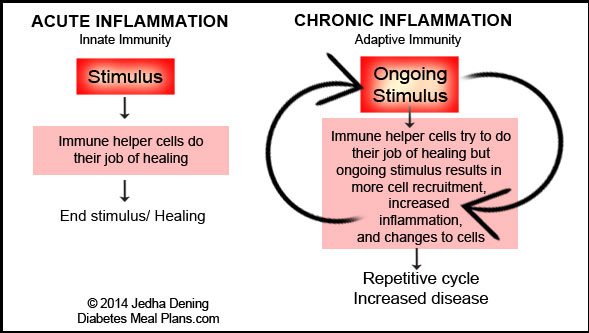 As you can see, an ongoing stimulus is a driver of inflammation. Eating sugar in excessive amounts every single day is a constant stimulus, it is a major, major driver of inflammation.
Inflammation in the bodies cells is now recognized as a key factor in every modern disease. The inflammation makes things like weight gain, cholesterol, blood pressure, insulin resistance, and diabetes worse.
5. Type 2 Diabetes
"It's clear from our review that type 2 diabetes is driven by added sugar – 'refined sugars, added sugars'", says Dr DiNicolantonio.
In a landmark study by Dr Robert Lustig, 43 obese children with at least one chronic metabolic disorder – high BP, cholesterol, etc., reduced their daily sugar intake from 28% to 10% and their fructose intake from 12% to just 4% of total calories.
The results:
Fasting blood sugar DOWN 5 points!
Insulin levels SLASHED by a third
Blood pressure REDUCED
Cholesterol REDUCED
Liver function IMPROVED
IN JUST 10 DAYS!!
ALL of those indicators are associated with type 2 diabetes and metabolic conditions, which just proves that sugar is a MAJOR culprit.
Sure, it might not be just sugar. But I know I've read enough research to be convinced that sugar is something we all do better without.
Dr DiNicolantonio sums it up pretty well: "The current recommendations from some institutions are putting the population at risk of major health issues".
Yes, I like a bit of controversy – you might have noticed that in my article about some of The Major Annoyances in the Diabetes Industry or when we looked at a Low Fat vs a Low Carb Diet for T2 Diabetes.
More than that though, I value the truth.
Funny though, I don't think the rest of society is like this because it certainly feels like, more often than not, we're getting the wool pulled over our eyes and certain "people/ companies" get free rein with their hidden "agenda".
Is their agenda health?
I know what I think but I'll let you decide.
It's tough to quit sugar. It really is. But, with all the health problems associated with high levels of sugar intake, it's well worth the effort.
I sure hope one day we'll also see changes in our mainstream food supply too because that's what we really need to change these issues on a mass scale.
Please share, pin, or tweet this post – lots of people need to know the realities of sugar. Thanks 🙂