Recently we've been sharing a few of our amazing member success stories.
And today we've got yet another fantastic and incredibly inspiring story from Cheryl, a prediabetic who has completely reversed her condition and dodged a type 2 diabetes diagnosis.
Whether you're prediabetic or have type 2 diabetes, her journey and words of wisdom will inspire you to make a few changes.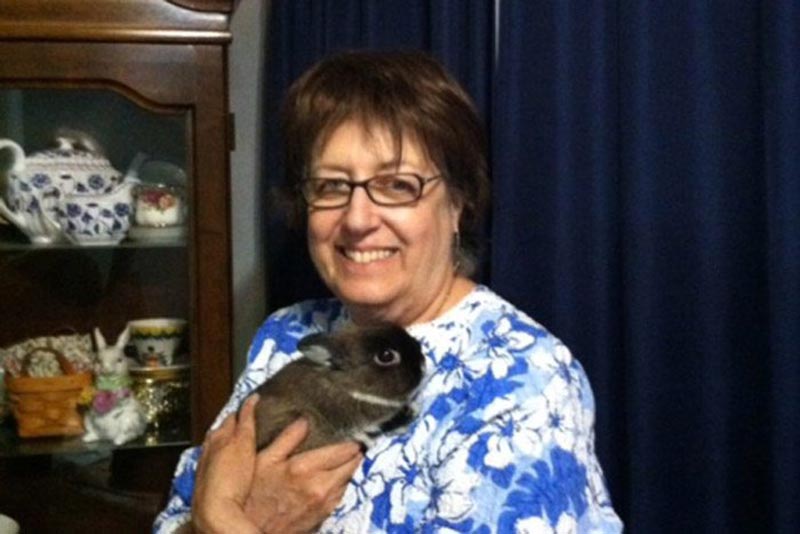 Cheryl's life before
I have always eaten relatively well – at least, what I thought was eating well.
But, like most people, for most of my life I thought that fat was to be avoided and carbs should be eaten in unlimited portions. I have always been overweight. I have always wanted to lose weight. I have always been hungry. And there was never a time that my body would say, "enough food."
In other words, I have struggled a lot with the "supposed" healthy diet recommendations, and over the years I have been on every diet known to man.
Being diagnosed with prediabetes
In February 2016 my doctor told me that I was pre diabetic. My A1c was 6.1.
All he told me was to "cut back on sugar" and take 1000 units of metformin once a day. Then he sent me home – that was it!
I didn't know what it meant to be prediabetic or what "cutting back on sugar" meant, so I started doing serious research.
I read two books cover to cover – the Diabetes Solution by Richard Bernstein and Blood Sugar 101 by Jenny Ruhl. These books gave me a good academic foundation.
Even after reading these books and feeling somewhat more knowledgeable, I still didn't know what to actually do to cut back on carbs. I kept questioning: How do I actually eat???
That is when I found Diabetes Meal Plans (DMP). I was so excited because DMP agreed with everything I had read and all of my research. I knew that I needed help and here it was.
Joining DMP as a member
I first took the 30 Day Turnaround Program and gained so much more knowledge that I knew I was ready to move forward, so then I joined as a VIP member.
I really didn't start completely eating the new way until the end of April (a couple of months after being diagnosed prediabetic). I know that seems like a long time, but it does take time to change everything.
The recipes have helped me find foods to eat that both my husband and I like. The only real difference between what I feed him and what I feed myself, is that he eats wheat bread and I don't. He likes cauliflower rice and all the rest of the low carb foods I eat.
Overall, making the transition has been much easier than I thought it would be.
Flying high as a kite – the results are astounding!
Last Tuesday I was at my cardiologist's office and after looking at my numbers, he actually did a little dance!
After only one year, all of my numbers are way down. My A1c is within normal range – 5.6. Cholesterol, triglycerides, and blood pressure are all normal (they were on the high side before). And I lost weight (21 pounds/ 9.5 kg) – something I have been trying to do for years, and never could!
The best news is, my cardiologist is so happy he doesn't want to see me for a year!
The nurses came in and asked me how difficult it was to cut out sugar. They said that they would love to do what I did but they didn't think they could give up sweets.
I bet in one year they don't have many patients who have experienced such a major transition, as I have had. During this doctor visit, everyone was so ecstatic, I left that office high as a kite!
Please pin, tweet or share this amazing success story; then keep on reading how Cheryl did it below. 😉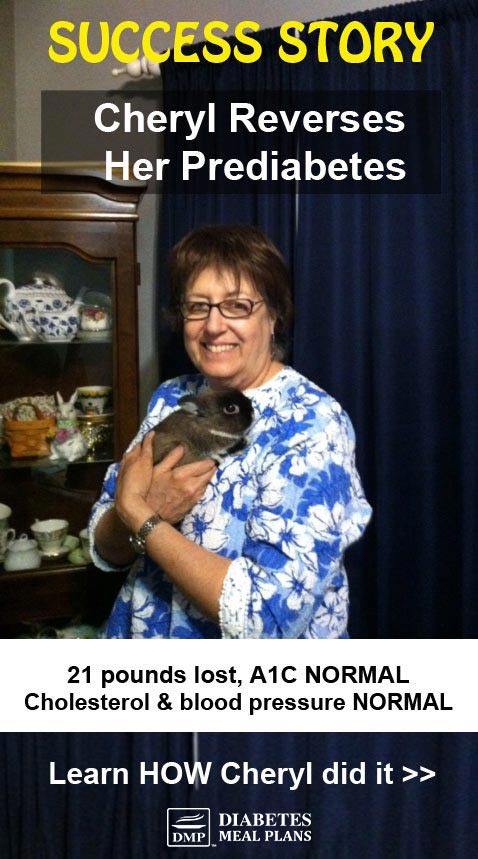 Life-changing realizations
My life is very different now than it was before I started this diet. Maybe the biggest change is that I am not hungry all the time and I don't crave sweets – which is revolutionary because I lived with these feelings my entire life!
All it takes now is just a slice of cheese for a snack and I'm actually satisfied. It still amazes me.
People think I have a ton of will power. I don't. I'm just not being led by my blood sugar going up and down all the time. It's steady now and I feel that I am in control of my hunger and blood sugar.
Another thing I realized is there are lots of books and "so called" experts who will give you very bad advice. There are diabetes books that will tell you that you need to eat grains or lots of fruit. I even know of one national organization that promotes eating at least 30 grams of carbs at each meal.
You have to find out the truth for yourself. You have to take control. Don't kid yourself.
Diabetes is nothing to fool around with. Those people don't have your body and they don't have to pay for the consequences of high blood sugar, with kidney failure, neuropathy, eye problems and all the rest.
I can tell you honestly that I know much more about diabetes than my doctors. They think that just "cutting back" will do it. But, it's simply not true. You can't just "cut back." You have to take control and eliminate foods that don't help treat your disease.
Best advice: Do your homework
I went out to lunch with a friend who is diabetic and on insulin. She ate all the bread and desserts that she wanted. I asked her about it and she told me that it was okay because she would take care of it with the insulin.
I'm not against insulin and if I needed it I would take it without hesitation, but this is just simply wrong. She could control much of her outcomes with diet and lifestyle changes, but she is out of control and doesn't even know it.
The bottom line is this: You have to do your research. Doing the DMP 30 Day Turnaround Program or becoming a VIP member is a great way to get the information (and practical steps) you need to get on track. And following the recipes will help you to figure out how to make meals you and your family will enjoy.
One thing is for sure, everything on DMP agrees with the research I've done – the nutritionists on this website have done their homework and know what they're talking about!
And I can honestly say, getting the diagnosis of prediabetes has actually changed my life for the better. I know I am not struggling with cholesterol or weight anymore and it's such a relief.
Take control and live a full life.
I wish you all the best.
Cheryl A
UPDATE FROM CHERYL
Cheryl checked back in 6 months later with the following message:
"Last week I went in for my yearly physical and my A1c was 5.5! The doctor had told me that if I could keep my A1c under 5.7 for a year he would take me off metformin. So… I'm off metformin and you could say that I'm not pre diabetic anymore, although I know if I went back to eating too many carbs my blood sugar would shoot up again.
Here are a couple of other interesting things that have happened as a result of lowering the A1c and this new way of eating.
I no longer experience tingling in my hands and feet.
My blood pressure, and triglycerides are normal.
I no longer have UTI's (I don't understand the relationship between blood sugar and UTI's, but I have not had even one infection in the 2 1/2 years I've been on this diet and I used to have them all the time)
I've lost weight, and I feel better.
I think if there is one bit of advice I would give to someone who needs to stay motivated to eat correctly, it would be to get a blood sugar monitor and use it. You will know that you are in control.
What you eat makes all the difference and it will be reflected in the number you see each day on your monitor.
Thank you DMP and your sincere staff. You are doing wonderful work.
All the best,
Cheryl"
WOW!! An amazing transformational story, thanks so much for sharing Cheryl – we are doing a happy dance, too!
It's stories like these that inspire us to keep sharing the right information so you can get past many of the nutrition myths that are out there and take care of yourself properly.
Please leave your comments, thoughts, questions and support for Cheryl below.
After all, she has done an amazing job. Congratulate her!