Weight loss and diabetes go hand in hand for many people.

Here's some stats we've collected from our subscribers who've taken our new reader survey: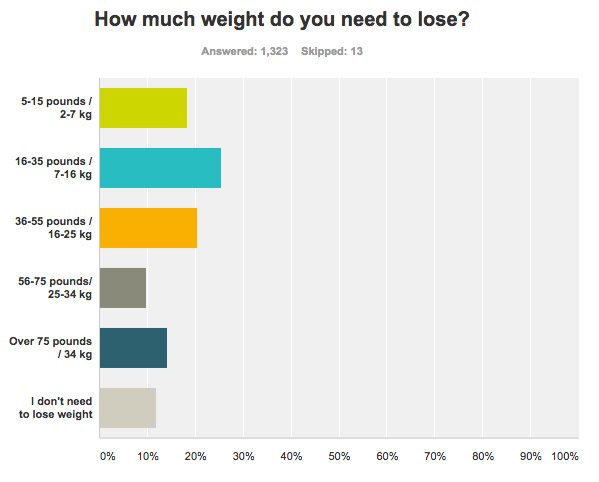 As you can see, lots of people need (and want) to lose weight – of varying amounts.
Not one of our subscribers yet? CLICK HERE to receive our weekly updates.
Here, we've gathered 10 of the most common diabetes weight loss questions. Hope you find some answers to help. If not, leave your comments at the end of the post and I'll be happy to answer them.
#1: Can weight loss cure diabetes?
While there is no "cure" for diabetes, weight loss is one of the most effective outcomes we've seen in reducing insulin resistance, curbing metabolic syndrome, preventing onset of type 2 diabetes, and improving overall health in those who are overweight or obese.
Check out this article for a more detailed description of who weight loss can help in those who have diabetes. And read this great info about how effective lifestyle intervention is.

#2: Is weight loss difficult with diabetes?
Um. YEAH! Weight loss is a challenge for most people.
Let's face it, we are fighting a culture norm that highly values convenience, taste, personal preference and instant gratification. Not to mention liberal access to all of those things along with social acceptability of indulging in them!
It is especially more difficult for those who have carried excessive weight for longer periods of time, as there seems to be a metabolic/ biological shift by way of calorie extrusion. Additionally, the longer a person engages in certain bad habits, the more difficult they can be to break.
Finally, those in the obese and diabetic population often produce greater amounts of ghrelin (hunger hormone) and less leptin (satiety/ fullness hormone). This renders it even more challenging–not impossible, but does mean you'll probably have to work a bit harder if you've carried excess weight for a longer time.
#3: Can diabetes medication promote weight loss?
There are different classes of diabetes medications and they all work a bit differently.
Some work on the liver, others the pancreas, others the gut hormones or muscles. So, in addition to having different "effects," they also have different "side effects" based on their action and outcomes. This will also vary to some degree based on the person taking them.
We already covered a detailed breakdown of different diabetes medications over here.
In terms of weight loss, Metformin, the GLP-1 agonists (ie. Byetta, Victoza), and the SGLT-2 inhibitors (ie. Invokana, Jardiance) have a modest weight loss effect. Whereas insulin, the Sulfonylureas (ie. Glyburide, Glimepiride), TZDs (ie. Actos and Avandia), and Meglitinides (ie. Prandin and Starlix) have weight gain as a common side effect.
#4: How does weight loss effect type 2 diabetes?
Weight loss in the overweight or obese, in those with a BMI >25 (check here to see your BMI) seems to help sensitize cells to insulin. Remember that insulin resistance is a marker of metabolic syndrome, often associated with abdominal weight gain, inflammation, elevated lipids, and high blood pressure.
Reducing weight can help to re-sensitize the body to insulin and improve many of these biomarkers, which tend to have a snowball effect – meaning, they feed off of one another and as one worsens, others do as a result. And vice versa, you improve one thing and you also gain other metabolic benefits as a result.

Note: there is no evidence to support weight loss in those who are already in a healthy weight range.
#5: Is there a diabetic medication that will not cause weight gain?
See question 3 for diabetes medications that tend to cause weight loss versus those that may cause weight gain.
In addition to those listed, the DPP IV inhibitors (ie. Januvia, Onglyza, Trajenta, and Nesia) are weight neutral and are still pill form. They have few, if any side effects.
Apart from Metformin, most medications that don't result in weight gain (namely the injectable GLP-1 agnoists) are a bit pricier.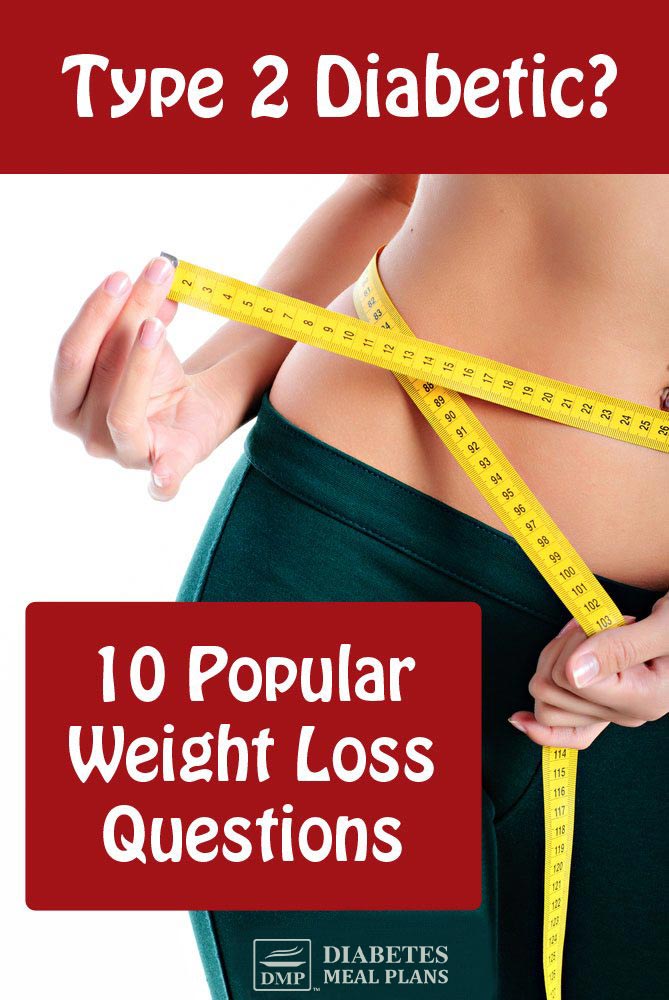 #6: Can diabetes become diet controlled if ample weight is lost?
The answer is yes. But…again, it really depends on the person. The higher your weight, the more likely it is contributing to poor blood sugar levels, so the more likely weight loss will help.
The closer your blood sugar is to normal healthy levels and the less time you've had diabetes, the more likely weight loss and diet will be sufficient to keep your blood sugar under control.
However, the longer the metabolic derangement has been set in, the harder it can be. It's just a fact.

For instance, I recently had a patient who had been diagnosed with diabetes for 10 years with an A1c of over 14 – very poor control. She was hoping that by making changes, she might be able to go off insulin. Unfortunately, because of the rate of her metabolic decline, the tipping point was just a little too late–pancreatic function declines over time so if changes were made early enough it would have been possible. But the longer it persists unaddressed, the less likely control without insulin could be a reality.
However, it is possible as the cells become increasingly sensitized that you may need less insulin over time, which is still a great accomplishment. And in some cases, people can still gain control even after long lengths of lack of attention. Take this 20 year case study example.

The main message here is: Don't stick your head in the sand. Do what you can do, DO IT NOW and keep doing what you can!
#7: What's the best diet for weight loss?
Overall, the best diet for you is the one you're going to stick to…over the long term.
But, evidence does show a lower carb approach outperforms other diets, which is why we encourage a healthy low carb diet here at Diabetes Meal Plans.
We compared a few different diets over here in detail.
Here are the short results:
Low fat diet average weight loss: 7 pounds (3.2 kg)
Vegan diet average weight loss: 2.4 pounds (1.1 kg)
Low carb diet average weight loss: 12.9 pounds (5.8 kg)
As you can see, the deck seems stacked in favor of low carb, which is why we encourage it. And, low carb also has the benefit of assisting with blood sugar levels and other health outcomes more than any other diet, too. Check out this info, which includes more research on how a lower carb approach can help.
#8: What is the best way to lose weight while still controlling glucose levels?
Keeping your carb intake consistent is the first key.
The total number of carbohydrates a person consumes is the top dietary factor in controlling blood sugar levels.
Next it's important to make sure your carbs are coming from healthy high fiber-rich sources such as vegetables, beans, berries, and so forth.
If you are used to eating a lot of carbs, it's wise to decrease your intake gradually so your body can adjust. And if you take insulin be sure you are discussing this with your physician as your dosing may need to change.
Once your carbs are in check, be sure your overall calories aren't too high. Protein intake is pretty stable from person to person so really just check to see that you aren't overdoing healthy fats. Avocados, coconut oil, nuts and seeds are really healthy but calories from fat can add up quickly so you can easily consume a lot if you aren't careful.
Finally, be sure that you make physical activity a part of your daily routine and have an exercise plan. This will help to keep to lower fasting glucose levels as well as maintaining appetite and weight control.
#9: I am a bit overwhelmed, my doctor didn't suggest any diet or guidelines for menu planning. He just said lose some weight and that will probably fix the sugar issue. Is this true?
The reality is, most physicians have very little, if any, background in nutrition. This is not their specialty and they should always refer you to a licensed Dietitian/Nutritionist and or Certified Diabetes Educator to help with the lifestyle implications.
In saying that they 'should,' many of them don't.
Here at Diabetes Meal Plans, while we are no replacement for personalized face-to-face encounters, we can help to ease some of the burden by providing resources, education and support.
To take this a little further, it really depends on what your "sugar issue" is, as to whether weight loss can "fix" it.
There is a lot of evidence that diet and weight loss are very effective at improving insulin resistance and many people have seen normalization of glucose levels along with other health benefits.

#10: Yoyo dieting. Losing and gaining weight. Can you provide some tips on how to break this pattern?
Yo-yo dieting can leave you in a real mess. Remember, every time you 'weight cycle' – as in losing, then gaining significant amounts of weight – you alter your biology in ways that render future weight loss (and maintenance) much more difficult.
Interestingly, studies have shown that when a person loses weight their basal metabolism rate (BMR) goes down – it takes fewer calories to maintain lower weights – so this makes sense.
However, when those same people gain weight again, their BMR does not go back up to baseline where it had previously been. In other words, metabolism stays lower.
Another thing that happens is people become 'leptin resistant.' Leptin is the hormone that signals "satiety"- your feeling of fullness. Leptin tells you you're full and tells you to stop eating. It's produced in the adipocytes – "fat cells."
This is a great design – the more fat cells a person has, the more leptin they produce and this helps decrease intake in the obese. However, when these signals have been overridden, just like with insulin, they can become 'resistant' to the call out of leptin. Not a great place to be because it means you want to eat more and never feel full.

The best way to get out of the yo-yo dieting cycle is to change your mindset. Quit thinking of yourself as being "on a diet" and reconcile the reality that if this is going to work, it has to be a permanent lifestyle change.
You can't go "off" it and expect the results to stick. Figure out what the best weight loss diet is for you. Work out what sort of allowances you're going to account for to be realistic. And quit the idea of "dieting" then "cheating."
Come up with a SMART plan you can stick to and find people who can help keep you accountable.
Well, that's a wrap! Hope you found some of the answers you needed. If not, leave your comments below and let's continue the conversation.
Need help to lose weight and lower blood sugar?