While a packet of dried fruit such as mangos, apples or cranberries may sound like a wonderful way to satisfy your sweet tooth, the question remains: is dried fruit okay to eat for people with type 2 diabetes and prediabetes?
It's certainly easy to assume dried fruit is "healthy." After all, it's fruit that's dried and fruit is healthy, right?
Well, not quite. There is a bit more that you should know.
Keep on reading as we unravel dried fruit nutrition facts, compare dried fruit to fresh fruit and discuss whether dried fruit for diabetes and prediabetes actually make a good match.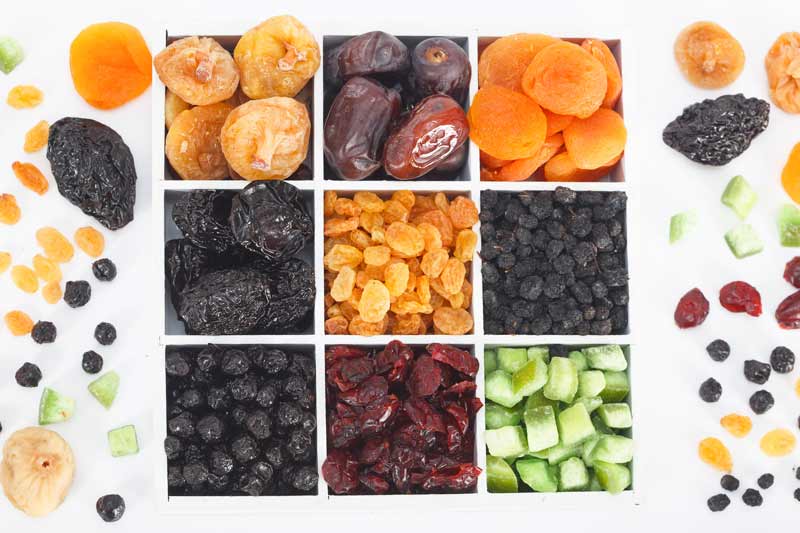 How is Dried Fruit Made?
Dried fruit is made by baking, dehydrating, or freeze-drying pieces of fresh fruit until they are more shelf-stable.
During processing, most dried fruits will be doused in sugar or other sweeteners – sugar is a very powerful preserving agent! They are also commonly sprinkled with artificial colors, flavors, and preservatives to make them look and taste as delicious as possible.
Dried Fruit Nutrition Facts
Dried fruit is a common ingredient you find added to cereals, trail mixes and granola bars. And various types of dried fruit can also be eaten on its own.
Dried fruit certainly does come in many sizes, shapes and varieties, but every kind of dried fruit has at least one thing in common… it contains a lot of sugar!
Just take a look at this chart that shows the nutrition facts per 100 grams of dried fruit (that's about 2/3 cup to 1 whole cup, depending on the fruit).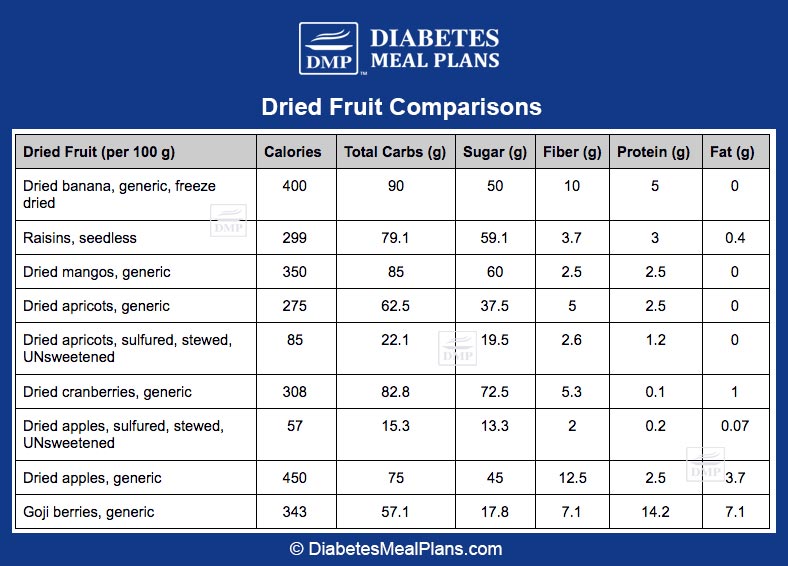 Less than a cup of any of these dried fruits will provide a whopping 60-85 grams of carbohydrates. Not only that, it's mostly simple sugars that raise blood glucose levels much higher than complex carbs, like non starchy vegetables.
If you look at dried mangos as an example – 85 grams of carbs per 100 gram, with 60 grams of sugar!
We often think of fruit as a health food, but innocently snacking on a cup of dried fruit is actually the sugar equivalent of gobbling up five chocolate doughnuts!
Majority of dried fruit is a super injection of sugar, sugar, sugar. Natural sugar or not, all that sugar is still sugar. And there's only one thing that means for you – higher blood sugar and A1c levels – enough said!
UNsweetened varieties of dried fruit are certainly a much better option. But sadly, there aren't too many dried fruits that come unsweetened. Even so, if you choose to indulge, keep a tight rein on portion control.
If you look a little closer at the chart above, you'll notice that dried fruits are also extremely high in calories, which isn't great if you're trying to lose a few pounds or even just maintain your current weight.
And let's face it, it's pretty common to go overboard while snacking on dried fruit, compared to fresh fruit. Most people can't physically scarf down three to four whole apples in one sitting because whole fruit is much denser than dried fruit.
On the other hand, it's pretty easy to down an entire packet of dried apple or mango chunks as they are lighter, sweeter (moreish), and less filling.
Please pin, tweet or share; then keep reading.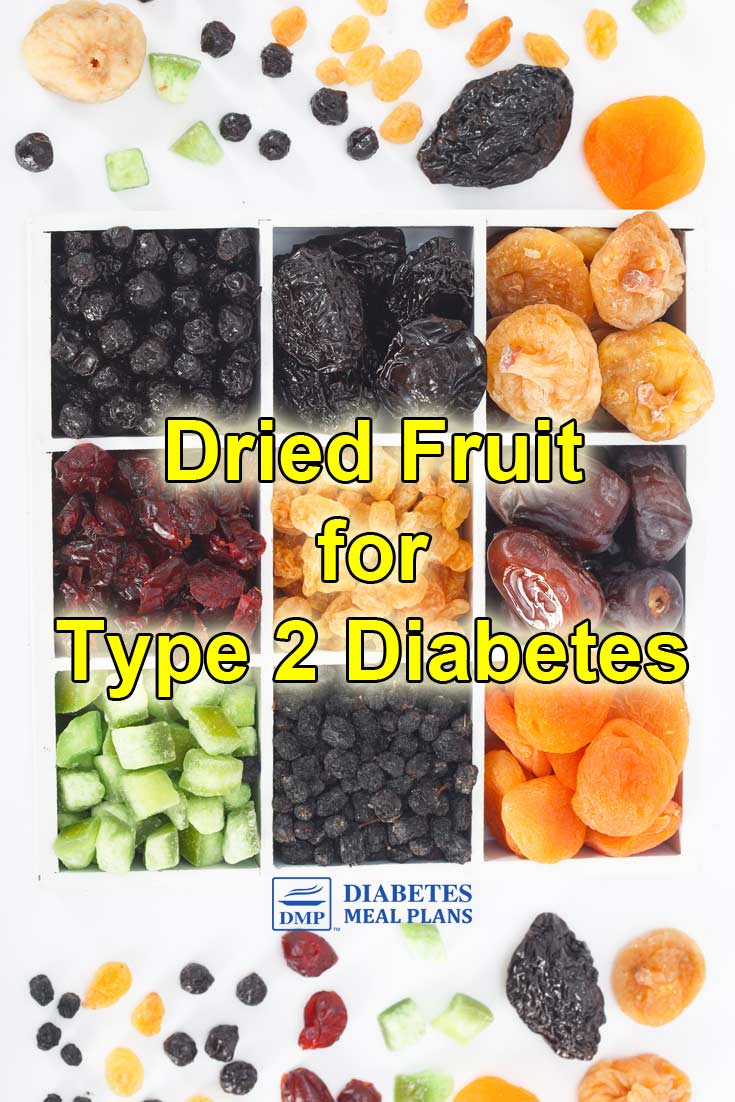 Fresh Fruit vs Dried Fruit Compared
Fruit is so sweet and delicious that it is sometimes referred to as "nature's candy." And not surprisingly, most fruits are naturally equipped with ample sugar content, even before processing.
However, in terms of dried fruit, fresh fruit will always be a better choice.
Take a look at the following chart: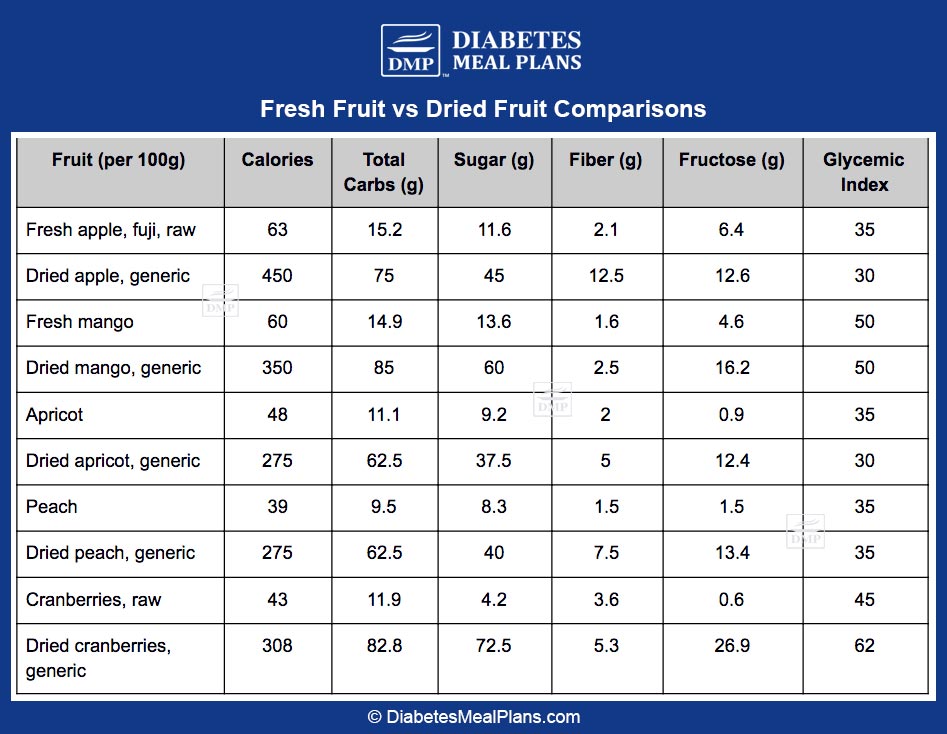 This comparison chart reveals that dried fruit typically contains about 3 to 5 times as much sugar as fresh fruit does. This is due to the sweeteners that are added during processing and the fact that drying fruit concentrates the sugars even further.
Besides the obvious carb and sugar problem, dried fruit has several other drawbacks when compared to fresh fruit.
For one, dried fruit is often lacking in nutrients and enzymes that occur naturally in fresh fruit, because they are cooked out during the drying process.
Secondly, dried fruit has a much higher fructose content than fresh fruit. Fructose is a simple sugar that is naturally found in fruits and can also be made from other foods, for instance, high fructose corn syrup (HFCS) comes from corn.
Fructose behaves differently in the human body than other sugars do, it gets processed entirely by the liver. Ample research suggests that consumption of fructose contributes to metabolic syndrome, worsening conditions like type 2 diabetes and prediabetes.
While HFCS is certainly the worst offender, consuming too much fructose from natural sources such as fruit also contributes to your fructose load. And since a healthy liver and metabolism is key to improving your diabetes, too much fructose may hinder your goals.
Interestingly, the glycemic index between fresh fruit and dried fruit is often very similar. The reason behind this is likely the concentration of fructose. Since it does get metabolized by the liver, higher fructose foods often have a lower glycemic index – but that doesn't necessarily make them good.
Research on Dried Fruit for Diabetes
Unfortunately there aren't too many studies on dried fruit and it's effects on people with type 2 diabetes, which is not too surprising. Since it is a high carb food, it is probably a food most researchers would expect to produce a rise in blood glucose – that's logical and not worth wasting money to research.
Some animal studies have shown benefits of the extracts or polyphenols of dried fruit, but in every day life we don't eat extracts, unless in supplemented form, so it's irrelevant to this discussion.
Some human clinical trials show dried fruits lower post-meal glucose and insulin responses, but this is compared to consumption of things like low fat cookies, glucose ingestion, snacks, jelly candy, or white bread. All this indicates to us is that dried fruit is better than those foods. It doesn't suggest dried fruit is good for treatment of diabetes.
Since we focus on foods that are best for diabetes and prediabetes treatment, dried fruit is not a food that fits into our dietary plan. Some fresh fruit on the other hand does – learn more about best fruits here.
According to our extensive research, that we continuously conduct, a low carb diet is the best form of diet for diabetes and prediabetes treatment. It can improve your cholesterol, stabilize your blood sugar, lower your A1C levels, reduce systemic inflammation, improve insulin sensitivity, decrease blood pressure, and even boost your cardiovascular health – it has a positive effect on your entire metabolism.
It's our mission to help you enjoy life more while regulating blood sugar and A1c at the same time. And in our experience, we have also seen a low carb diet transform the health of our members – read our testimonials here.
Conclusion
While dried fruit may seem "healthy" from the outset, a closer look reveals that dried fruit is brimming with carbs and oh-so-many simple carbs!
Dried fruit also fails to help with blood sugar and A1c control, which are primary goals for any person with type 2 diabetes and prediabetes.
So the message is: skip the dried fruit!
Instead, whip up a yummy low carb snack that will fuel your body, leave you feeling satisfied, and keep your blood sugar happy, too!
Please pin, tweet or share this info to help others – thanks!