Understanding A1c for prediabetes gives you important data about how your condition is travelling. For instance, if your A1c is going down, your health is getting better.
On the other hand, if your A1c is going up, you're moving toward a type 2 diabetes diagnosis. Obviously that's not what you want, so read the following info to understand all you can about A1c.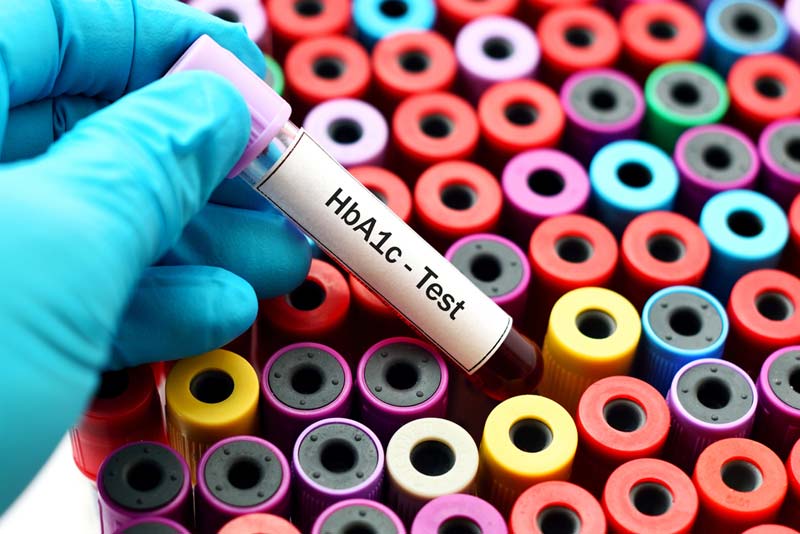 JUMP TO: What is A1c | What is normal A1c | A1c as a diagnosis for prediabetes | Daily glucose monitoring | A1c and cardiovascular risk | A1c and diet | A1c and exercise | A1c and metformin | Conclusion
What is A1c?
Hemoglobin A1c, often referred to as HbA1c, or even just A1c, is the average measure of your blood sugar over the past 3 months. This blood test can be used as a diagnostic criteria for prediabetes, or as part of routine blood work for diabetes management.
A1c measures the percent of red blood cells that have been glycated (covered) in glucose. A higher percent A1c means a higher number of your red blood cells have been floating around in a high sugar environment, and as you can probably imagine, this is not an ideal situation.
Regardless, if you're prediabetic, already type 2 diabetic, or just reading this because you're looking for more information about A1c, your goal is to maintain your A1c as close to normal as possible.
What's Normal A1c?
Depending on where you are located in the world, the information you receive regarding A1c may vary slightly. Being that these differences in recommendations are so small, the generally recognized "normal" A1c range is between 4-6%.

Since you're probably more familiar with interpreting your blood sugar in either mg/dL or mmol/L, use the following chart to understand how percent A1c translates into a normal finger stick reading.
Remember, your A1c is the average blood glucose reading over the past 3 months. If your A1c is 7%, then on average your blood sugar has been running 154 mg/dL or 8.5 mmol/L over the past 90 days.
A1c as a Diagnosis for Prediabetes
Since A1c is a measure of average blood glucose and therefore this value is less subjective to day-to-day fluctuations caused by stress and everyday living, it is one of the preferred criteria for diagnosing diabetes.
In addition, when diagnosed with prediabetes, you may be required to have additional tests such as:
Glucose tolerance: a measure of your blood sugar 2 hours after carbohydrate intake

Fasting blood glucose: a measure of your blood sugar after a 8 hour fast
The following chart indicates the diagnostic criteria for prediabetes and diabetes.

Daily Blood Glucose Monitoring in Prediabetes
Although it's not often recommended people with prediabetes use a blood glucose monitor, we encourage you to do so because it can help you work out what foods influence your blood sugar the most.
One of our members, Cheryl, who reversed her prediabetes, says:
"If there is one bit of advice I would give to someone who needs to stay motivated to eat correctly, it would be to get a blood sugar monitor and use it. You will know that you are in control. What you eat makes all the difference and it will be reflected in the number you see each day on your monitor."
If you're not using regular home testing now, consider making it part of your prediabetes management routine!
A1c and Cardiovascular Risk
By this point you hopefully have a better understanding of what HbA1c is, how to interpret the number, and what is considered a healthy range. Now it's time to talk about why all this matters.
Having an elevated A1c demonstrates poor glucose control, which puts you at an increased risk for diabetic complications such as cardiovascular disease.  
Chronically high levels of sugar in your blood will cause damage to the tiny blood vessels throughout your body. Over time, this can lead to stroke, heart attack, or other adverse events from altered blood flow.
The good news is that one of the best things you can do as a prediabetic (or type 2 diabetic) to prevent heart disease is to maintain good control of your sugar.
A 1% reduction in A1c is associated with a 21% reduction in diabetes related death, 14% reduction in heart attacks and 37% reduction in microvascular complications!
This means reducing your A1c from 8 to 7 is a great accomplish. While 7 may not be your ultimate A1c goal, it's still an admirable reduction that means great things for your overall health!
Please pin, tweet or share; then keep on reading – thanks!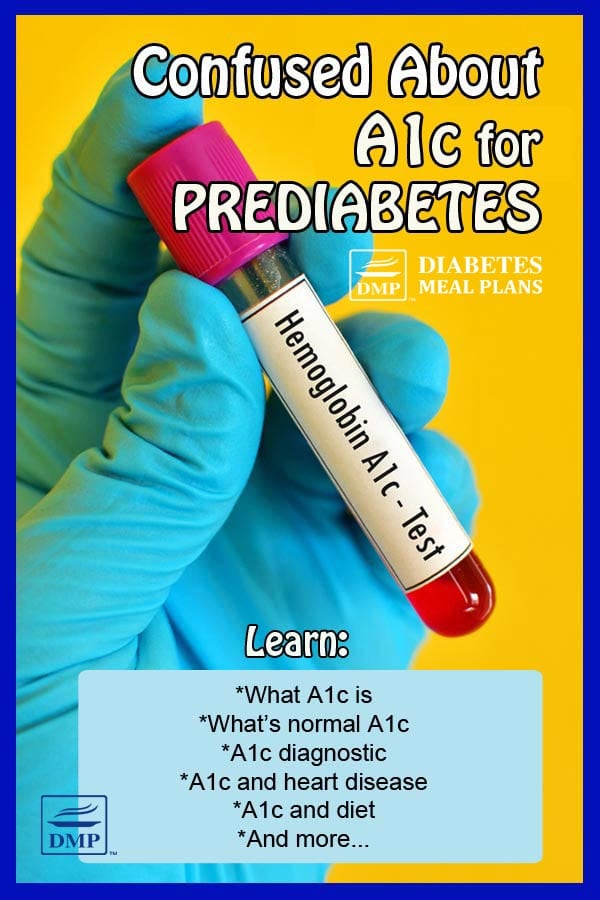 A1c and Diet
One of the biggest determinants of your A1c is the food you eat on a regular basis. The food you eat has a direct impact on your A1c levels.
If you're constantly eating high carb foods and highly processed junk and your blood sugar is totally out of control, that will be directly reflected in your A1c check up.
Science has proven time and time again that carbohydrates are the nutrient that impact your blood sugar the most. That's why we encourage people to follow a low carb diet, keeping carb intake under 130 grams per day, and even better, aiming for a lower range such as 50-80 grams daily.
To demonstrate how effective a lower carb diet is, a 4-year study from 2014 found that after an 8 year follow-up, 35% of participants following a low carb diet maintained an A1c level below 7%, whereas only 11% of participants in the low fat diet group were able to maintain A1c levels at that threshold.
Most traditional diabetes diets put too much emphasis on whole grains and other high carb foods – pasta, potatoes, cereals, rice, bread, etc. Eating all these foods can make it difficult to achieve good numbers.
We recently recreated that Diabetes Food Pyramid, putting much more emphasis on non-starchy vegetables, healthy fats and oils, and quality protein sources – foods that help to achieve good blood sugar and A1c control.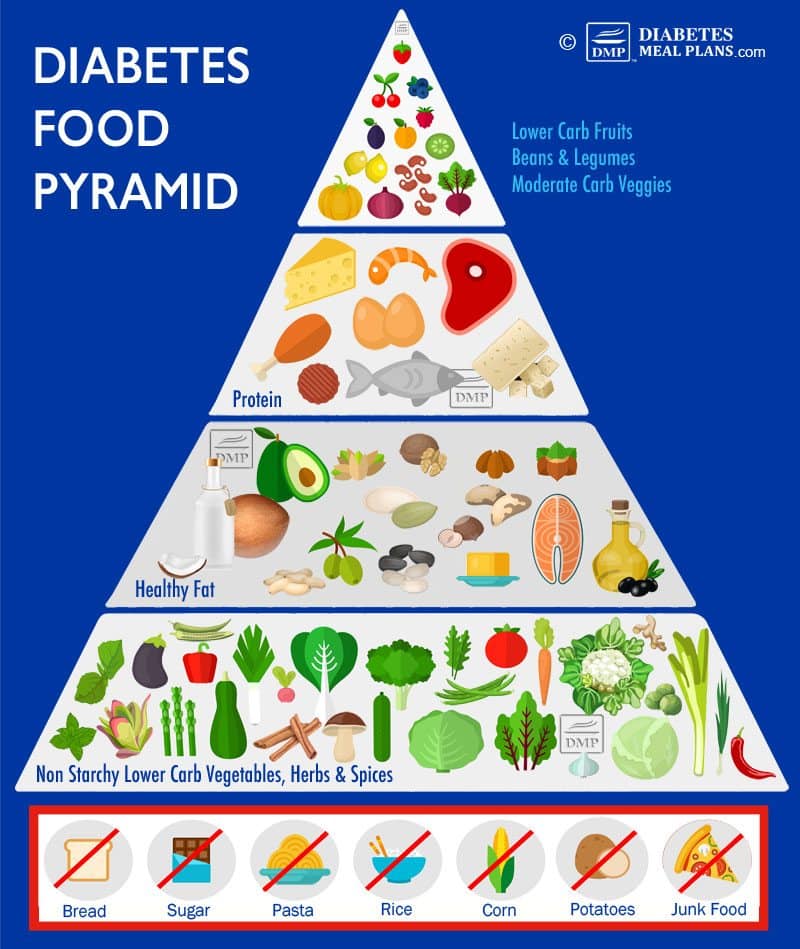 A1c and Exercise
It's common knowledge that regular exercise is important for everyone, including those with prediabetes.
Exercise aides in weight loss, reduces stress, improves mood, and probably most important to our discussion today – it improves insulin sensitivity.
Improving insulin sensitivity, means better glucose control, and that means reduction in your A1c!
At minimum, adults need 30 minutes of exercise daily. This is only a minimum recommendation, but to notice the greatest impact on health, many people benefit from increased time spent exercising. However, if you currently live a very sedentary life, start with just 5-10 minutes of activity and work your way up.
The type of activity you do doesn't make a great deal of difference in regards to health benefits. For instance, researchers instructed sixty patients with type 2 diabetes to follow either an aerobic exercise program (treadmill or bike), a resistance training program (weight machines), or a combination of both programs.
All three groups saw reduction in A1c after 1 year, by 1.33%, 0.55%, and 1.74% in the aerobic, resistance, and combined exercise training groups respectively. Since the largest reduction was observed in the combined exercise group, this may suggest that varying your exercise produces the most appreciable results.
If you're newly diagnosed prediabetic and unsure where to begin with your exercise routine, check out the following for more information on exercise:
Remember to check with your doctor before starting a new exercise routine. Make sure to monitor your blood sugar before, during, and after exercise, as some people may experience very low blood sugar drops, especially if also on medication.
A1c and Metformin
Metformin is one of the most common diabetes medications available today. Metformin lowers blood glucose by decreasing the amount of sugar put out by the liver.
If your doctor has prescribed you to take metformin, he or she believes this will help improve your daily glucose control, which needless to say will improve your A1c levels.
People with prediabetes can eliminate the need to take medications by making diet and lifestyle changes. But you should never stop taking medication without first consulting your doctor.
Conclusion
Knowing A1c for prediabetes, and what it means, is crucial if you want to improve your health and prevent a type 2 diabetes diagnosis.
Through a combination of diet (most important), exercise, medication, and regularly using a glucose meter to know your day-to-day readings, you can, lower your A1c, prevent long term diabetic complications, and quite possibly reverse your prediabetes for good. It is possible, but does require a proactive approach.