We've recently had a number of similar questions, for example:
"Is quinoa a no no for type 2 diabetes or is it okay? I know that technically it is a seed not a grain, so I was wondering where you stand with that."
It's true, quinoa is technically a seed but there is a lot more to this little seed than meets the eye.
If you want to lower (or maintain) your blood sugar and A1C levels, we generally don't recommend you eat quinoa and here's why…
What is Quinoa?
Often claimed as a "superfood," you see this stuff everywhere in magazines and health food stores. But what is it?
Quinoa is often referred to as an "ancient grain" but the part of quinoa that we eat is actually the seed of the goosefoot plant. This plant is native to regions in South America. When cooked, the seeds become soft and are often used as a more nutritious alternative to white rice or wheat pasta.
Quinoa is more nutritionally dense than a lot of grains, plus it is a gluten-free product, which has quickly made quinoa become such an "ideal food" for healthy eating.
However, while quinoa is a fairly nutritious choice for a healthy person, for diabetics there is more to the story…
Quinoa Nutrition Facts
You can see from the nutrition label below that quinoa is high in protein and contains a decent amount of vitamins and minerals as well as 5 grams of fiber. Overall you'd think that stacks up pretty well.
Yes, quinoa is considered healthier than some other grains, because it is a complex carbohydrate that contains more fiber than simple carbs like white pasta, white rice, and sugar.
The fiber causes the sugar/ carbs contained in quinoa to enter the bloodstream more slowly. So technically, high-fiber whole grains are a better choice than simple, processed carbs like white rice.
However, the major issue is the carb count in quinoa. It is a high carb food, containing 20 grams of carbs in half a cup!
If you're trying to follow a low carb diet such as what we encourage people to do (because research shows it works), that's a lot of carbs from one portion of food.
Quite simply, as a diabetic wanting to manage blood sugar, there are far better alternatives than quinoa.
Consider the following nutrition facts. The half-a-cup carb count for both quinoa and white rice is around 20 grams, whereas a double portion of zucchini or cauliflower is an instant 3X slash in your overall carb intake.
What that means to you is lower blood sugar and A1C!
Quinoa
(½ cup)
Carbs: 20g
Protein: 4g
Fiber: 2.5g
Calories: 111
White Rice
(½ cup)
Carbs: 22g
Protein: 2g
Fiber: 0.3g
Calories: 100
Zucchini
(1 cup)
Carbs: 6g
Protein: 2.5g
Fiber: 2g
Calories: 33
Cauliflower
(1 cup)
Carbs: 5g
Protein: 2g
Fiber: 3g
Calories: 25
I know what you're thinking – zucchini and cauliflower as a replacement for quinoa or rice, that just doesn't work.
As a matter of fact…yes it does.
You can pick up a vegetable spiralizer and make amazing zucchini noodles.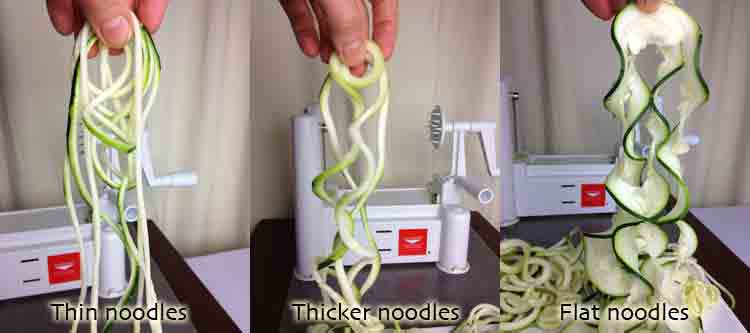 You can use a food processor or grater and make cauliflower rice, which is a perfect substitute for rice – you'll be surprised how good it is when you try it.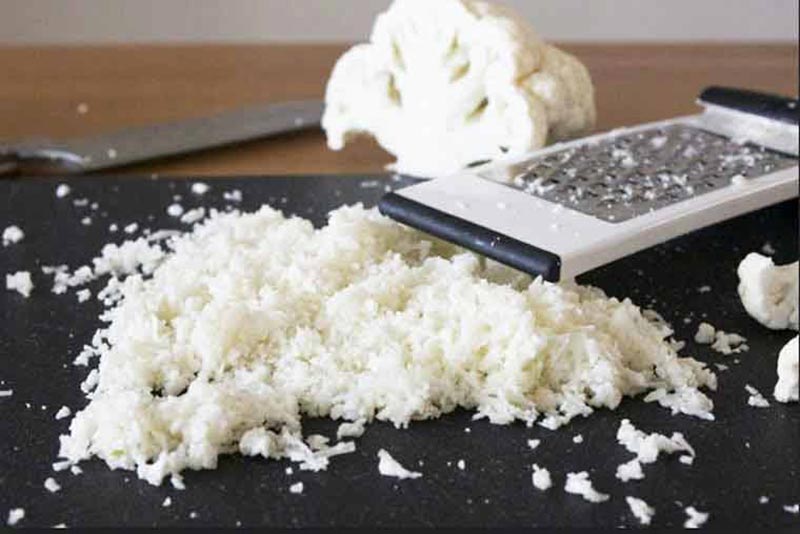 What about quinoa flour?
Check out the following chart:
| | | | | | | |
| --- | --- | --- | --- | --- | --- | --- |
| 1 cup | Calories | Total carbs | Fiber | Protein | Fat | GI |
| Quinoa | 229 | 42g | 3.6g | 8g | 3.5g | 53 |
| Quinoa flour | 440 | 64g | 8g | 16g | 6g | 53 |
As you can see, the flour is worse per cup – higher in both calories and carbs.
The above nutrition facts make it clear — although quinoa/ quinoa flour is a better option than white rice or even other whole grains, a vegetable alternative like zucchini or cauliflower is even better — your blood sugar and A1C numbers will thank you for it.
The Myth about Diabetes and Grains
Myth: Whole grains are a healthy choice for diabetics because they are nutritious, filling, and have fewer carbs than refined grains.
Truth: Even though whole grains are more nutritious than refined grains, they still are not a good choice for a person with type 2 diabetes because whole grains are high in carbs.
For example, if you eat a cup of quinoa you will be consuming a whopping 40 grams of carbs!
Up goes blood sugar…
It's important to remember that lowering the total amount of carbs is what matters most. While the type is important, the amount is what influences your numbers the most.
We've found a good daily goal to aim for is about 80 grams of carbohydrates per day (or maximum 120 g) and if you're eating foods like quinoa, you will surpass that amount very quickly.
High carb foods = higher blood sugar, period!
Research on Quinoa and Type 2 Diabetes

We know that eating lots of refined carbohydrates will worsen type 2 diabetes, that goes without saying. And while whole grains may work for some (always test, test, test), for most, they will only lead to struggles in controlling blood sugar.
What we do know is that more and more research is showing that a low carb diet is the best diet for diabetics.
In one study in type 2 diabetics, half the participants were placed on a general low carb diet that discarded grains altogether. The other half of the participants were placed on a diet that was specifically low glycemic and calorie restrictive, for a period of six months.
At the end of the six months both diets led to an improvement in each participant's A1C, fasting glucose, and fasting insulin levels. Plus, they all lost weight!
But… the group on the low carb diet had better blood sugar control than the group on the low glycemic, calorie restrictive diet. Even better, they discovered that 95% of the participants who followed the low carb diet were able to lower or completely stop their diabetes medication!
This is not surprising, as a low carb diet has been shown time and time again to get better outcomes with blood sugar and A1C, along with a reduction or elimination of medications.
Another study put type 2 diabetics on a diet high in monounsaturated fats (good fats – like olive oil and avocado) and low in carbohydrates; or a typical high carb, low fat diet. They found that the higher fat, lower carb diet was better for type 2 diabetics than the high carb, low fat diet.
The participants on the low carb diet also experienced an improvement in body weight, body composition, blood sugar control, and cardiovascular factors.
Yes, a high carb, low fat diet is slowly becoming a thing of the past because basically, years ago when it was popularized we had very little nutrition research. Now we're discovering that much of the dietary guidelines that have been recommended for years, are in fact — WRONG!
Some are even calling this the biggest nutrition blunder in history because they believe these recommendations are the cause of our epidemic health problems. Crazy stuff, right?!
That's why you'll often read things on this website that might seem different to what you've read elsewhere. But here we do try to stay on top of the latest research.
Please pin, tweet or share this info; then keep reading.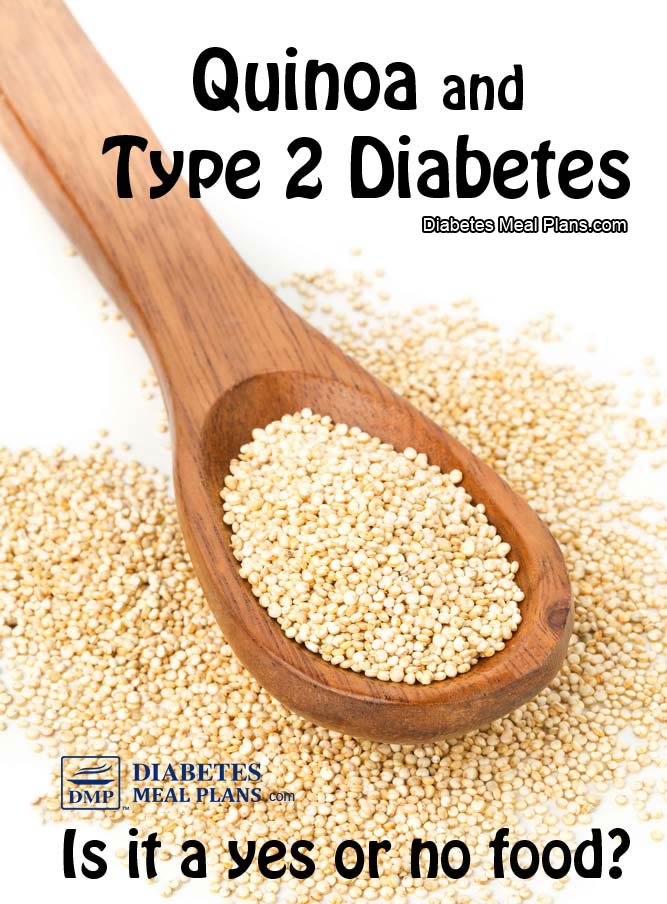 Is Quinoa OK for diabetics?
Jumping on the "quinoa bandwagon" is not in the best interest of a diabetic, not because quinoa is inherently unhealthy, but because it is still a high carbohydrate food.
Remember, high carb foods = higher blood sugar, period!
While quinoa may be a good choice for people who don't have diabetes, the amount of carbs found in quinoa will raise blood sugar too much in most diabetics. I say most because the odd person with diabetes will find small amounts (1/2 cup max) may be okay. That's why it's always recommended you test to work out what foods work for your individual body.
Still, instead of going for quinoa, you can try replacing grains with lower carb vegetables like zucchini or cauliflower – check out these super cool low carb food swaps.
Trust me… there are great replacements for all high carb foods – and you will love the replacements equally as much. You just have to learn what they are and give them a try – try digging around a few of our free recipes.
That's what we're all about here at Diabetes Meal Plans – busting myths, telling truths, helping you lower blood sugar and A1c, and taking the stress out of eating so you can get healthy low carb diabetic meals on the table, fast!
We're on a mission to help change thousands of peoples lives one fork at a time – hope our info helps change yours. 😉
Please pin, tweet or share this info with others.