What is the best diabetic diet for weight loss?
Ask 10 experts and you just might get 10 different answers!
Look at the American Diabetes Association, weight watchers, or talk to a registered dietitian (or 5) – and you'll end up even more confused than ever.
Yep, join the club. Even as a nutrition "expert" with my Masters in Nutrition and being a Certified Diabetes Educator, sorting through research is very cumbersome and can be overwhelming.
Many of the studies seem to contradict one another in their findings and it is impossible to do a perfectly designed study because human beings are very complex with a great multitude of barriers beyond our control. That said, I do think the research is helpful and one thing it tells me when it comes to weight loss, is that different things work better or worse for different people.
While there are general healthful principles we should all follow – for instance, avoiding junk food and eating more whole natural foods, the way the principles are applied in a "dietary pattern" may vary from person to person.
Below is a very brief synopsis and comparison of a few of the more popularized diet approaches. And we'll wrap it all up by trying to examine what the best diet for diabetic weight loss really is (based on the scientific evidence).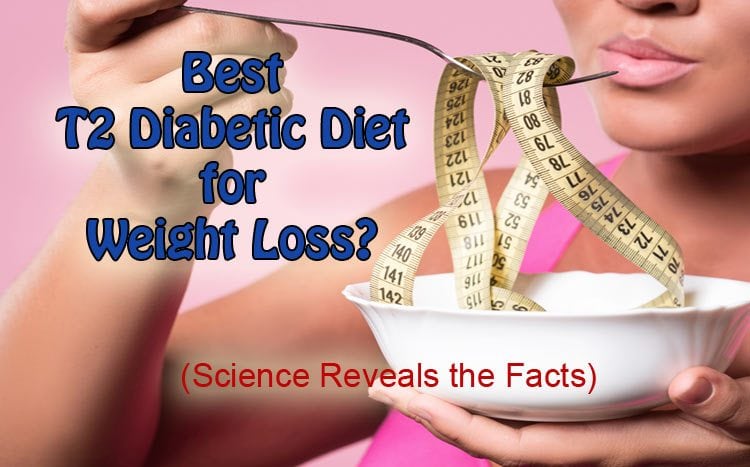 JUMP TO: Low fat diet | Vegan | DASH/Mediterranean | Low carb | Comparisons | The overall verdict is…
Low Fat Diet

Low fat diets were all the rage of the 1980s but started making considerable headway even earlier with Dr. Dean Ornish who promoted a diet high in fruits, vegetables and complex carbohydrates and very low in fat–especially fats from eggs, red meat, and full fat dairy.
The concept seemed to make a lot of sense in theory: if you want to lose fat, eat less fat, right? Especially the solid "artery clogging" kinds coming from saturated sources.
The low fat mantra has been the heartbeat of most of our public health recommendations for several decades, under the assumption that dietary fat caused heart disease and obesity. However, it seems much of that information was based on faulty science as even the recommendation of reducing saturated fat has fallen under scrutiny in multiple meta-analyses.
Additionally, let's consider that since we've begun telling the public to reduce their intake of fats generally, and saturated fats specifically (1977), intake of fat as a percentage shifted from 40% to 35%. Intake of cheese, butter, milk and red meat decreased, while intake of vegetable oils, margarines, and fat free products shot up dramatically, being sold as a "healthier" option.
Clearly there are flaws.
That said, the type of diet adopted by Westerners was very high in simple carbs, high in overall calories and the intake of sweetened beverages skyrocketed–to his credit, Dr. Ornish would never have supported such a diet.
In terms of evidence toward a low fat diet and diabetic weight loss, a long term study in Diabetes Care, showed that adherence to a low fat diet improved glycemic control and sustained weight loss when followed over a 5 year period. In a large meta-analysis, researchers found low fat diets of around 27% fat effective at producing weight loss of about 7 pounds (3.2 kg) on average when compared with control groups with an average fat intake of 37%.
Vegan
A vegan diet is entirely plant-based foods; that is it includes no animal products whatsoever. Those who choose this lifestyle often do so for ethical reasons (animal rights), but many choose it for health reasons as well.
This meta analysis summarizing 12 studies showed that those following vegetarian diets for an average 18 weeks lost significantly more weight (about 4.5 pounds/ 2 kg on average) than the control groups, but results were less significant after 1 year (about 2.4 pounds/ 1.1 kg).
There is a lot of evidence to support the general healthfulness of vegan diets. However, much controversy exists as to whether correlations observed are causative in nature or simply a result of the lifestyles adopted by those who tend toward veganism – what we'd call a 'correlation.'
For example, many people who choose to go vegan have already adopted many other healthy lifestyle values such as exercise, stress reduction, not smoking, portion control, etc. Personally, I've met very few chain smoking, binge drinking, sedentary vegans. They are often proactive about their health and the well-being of others. If these types of lifestyles were adopted more universally by those consuming animal products, would we see the same results?
It's hard to tell–again this is where it becomes difficult to design such a study. That said, some drawbacks to a vegan diet are lack of low carb protein options – things like chicken, fish, turkey, beef, and eggs are all out. And the potential of choosing very unhealthy non animal-based foods. For instance, one could in theory have 2 frosted donuts fried in vegetable oil and a sprite for breakfast and call it vegan!
A vegan diet is almost inevitably higher in carbs and often people following a vegan diet need to take supplements to provide certain nutrients only available in animal products, such as Vitamin B12. Advantages are that if followed veganism correctly, it can be a very high fiber, environmentally-friendly, lower cost diet and lifestyle.
Please pin, share or tweet this important info. 🙂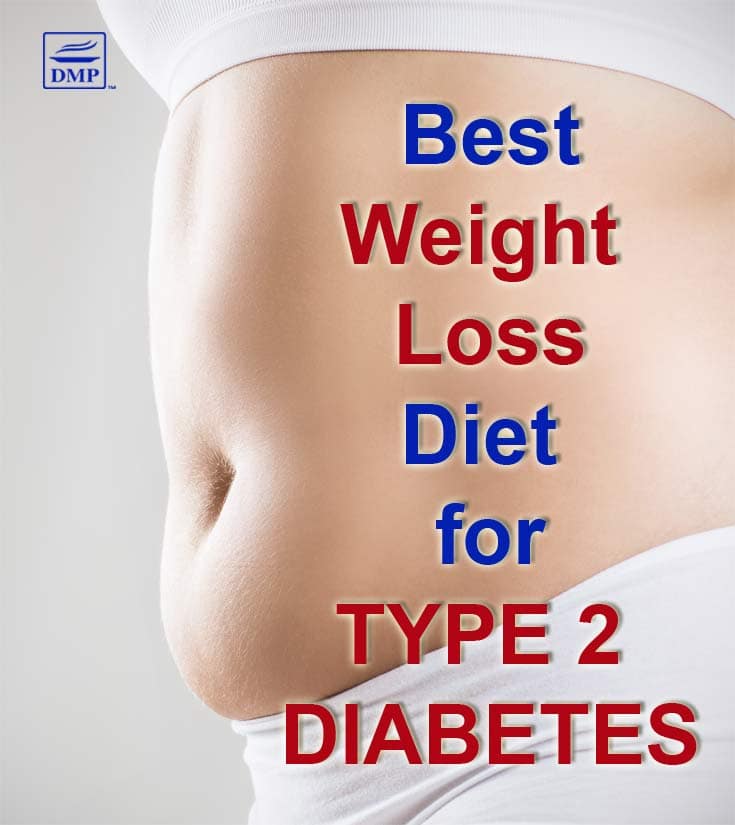 DASH/Mediterranean Diet
DASH stands for 'Dietary Approaches to Stopping Hypertension.' It was developed by the National Institutes of Health. While originally designed to help people reduce high blood pressure, it has since been touted as an effective diet for weight loss.
The DASH diet adopts similar principles of a Mediterranean, promoting lots of fruits and vegetables and moderate amounts of low fat dairy, lean meat, and nuts seeds and ample intake of olive oils. While lower in fat than a standard diet, it doesn't put a specific fat limit and does encourage intake of certain healthy fats, like olive oil for instance.
Unlike a low carb approach, it includes plenty of whole grains such as oats, whole grain cereal or whole grain pasta. And it also doesn't limit starchy vegetables such as potatoes, beans, peas and so forth. If you've been reading this blog a while, you'll know that these higher carb foods can be problematic for type 2 diabetics. Though, it does emphasize low glycemic index choices.
There is quite a bit of research supporting the efficacy of the DASH/ Mediterranean diet in supporting a multitude of health benefits, including weight loss. If followed correctly, people would be consuming large amounts of fiber, potassium, magnesium, and many other vitamins and minerals. And  they'd also be limiting sodium, trans fats, and refined starches.
However, you could easily consume a LOT of carbs on these diets – breads and potatoes in the same meal, more sugar, juice…along with cereal and bread for breakfast. For diabetics this is going to stack up your blood sugar and A1C and in turn you won't be getting great weight loss results.
Low Carb Diet

The low carb diet (sometimes termed a paleo diet) is in large part a response to the perceived failure of the low fat diet. Now to be fair, many people who adopted the low fat diet principles were not choosing wholesome foods, but rather switched to "fat free" versions of their favorite delicacies – cookies, salad dressings, cakes and so forth. And they also felt the freedom to eat as many carbs as they wanted – pretzels, pasta, bread, and so on.
Their assumption was that they could eat them in ample supply because there wasn't any fat in them. Oh and since there is no fat in diet OR regular soda, not to mention sweet tea, Gatorade, or other sugar-laden beverages, these have also been consumed in ample supply. Had more people followed the general principles and kept their carb sources to healthier whole grains and limited portions, perhaps there wouldn't have been the explosion of obesity we've seen since the 80s and 90s.
That said, there is much evidence to support the notion that a low carb diet is more effective for weight loss than low fat.
One study among the obese (39% had diabetes) showed a weight loss of 12.8 pounds/ 5.8 kg for those on a low carb diet compared with 4.2 pounds/ 1.2 kg on the low fat.
Another study showed greater weight loss in those with type 2 diabetes on a low carb diet, 14.6 pounds/ 6.6 kg vs low fat, 4.6 pounds/ 2 kg; however it was very small study (only 13 people in each group) and short (only lasting 3 months).
This larger, 2 year study compared a low fat, Mediterranean and low carb diet and found a moderately better weight loss with the low carb group, 10.4 pounds/ 4.7 kg compared with the others, 6.4 pounds/ 2.9 kg in the low fat and 9.7 pounds/ 4.3 kg in the Mediterranean group.
This short 6 week (but small study) showed that a low carb approach was more effective at producing weight loss than the low fat group – 14.1 pounds/ 6.3 kg in low carb vs 9.3 pounds/ 4.2 kg in low fat group. It was also effective at reducing hunger.
A one year study comparing low fat to low carb diets on weight and glycemic control in type 2 diabetics showed similar results in both weight and A1c reduction with a slight improvement in HDL seen in those in the low carb group.
Another study comparing the 2 diets found greater weight loss with the low carb group (7.3% of body weight) than the low fat group (4.5%) for the first several months but a year out, no difference was seen. This study basically found the same thing.
Comparison of Best Diabetic Diet For Weight Loss
Low fat diet average weight loss: 7 pounds (3.2 kg)
Vegan diet average weight loss: 2.4 pounds (1.1 kg)
Low carb diet average weight loss: 12.9 pounds (5.8 kg)
Obviously we've seen the weight of evidence support the low carb approach, which is why we encourage it on our site.
However, realize that there can be drawbacks to a low carb approach. Just as with any healthy diet approach, people can find loopholes. Remember how people who were all on board with the low fat approach simply replaced their fats with sugar or refined carbs?
Well in the same light, those following a low carb approach can simply load up on "unhealthy" foods that don't have any carbs. For instance, wrapping your meat in bacon and snacking on pork rinds. These are all nice low carb ways of inviting a heart attack, not to mention high calories, sodium and processed chemicals likely to exacerbate weight and other health problems.
If you follow a healthy low carb dietary pattern with a balance of protein, fats, and carbs, namely LOTS of fresh non starchy vegetables (like the type of diet we encourage here and in our weekly meal plans), then low carb is the clear winner in terms of the best diabetic diet for weight loss.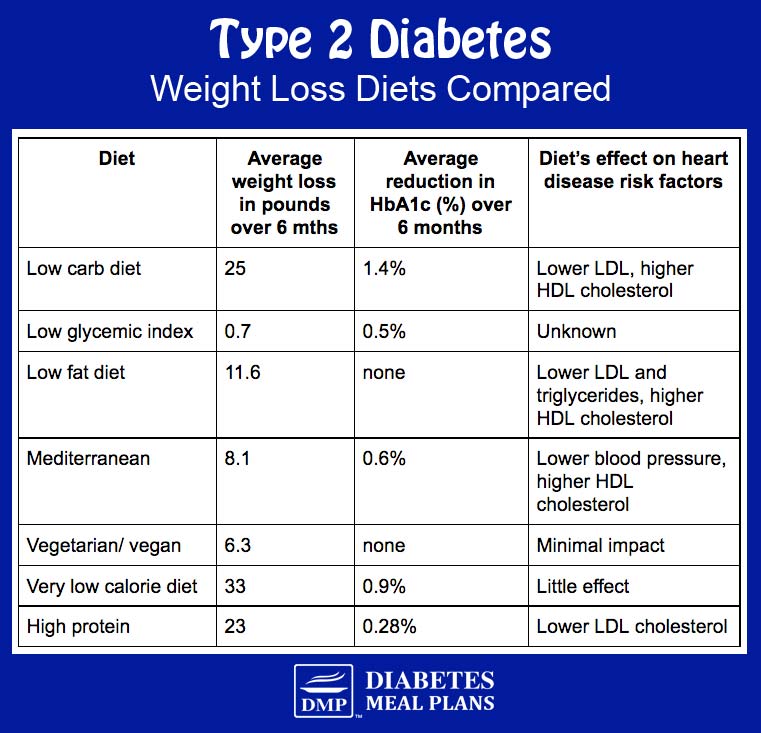 So, What's the Overall Verdict? Which is the Best Diabetic Diet for Weight Loss?
Answer: the one that works best for you.
While we advocate a "low carb" approach here at Diabetes Meal Plans, if you are able to maintain a healthy weight, controlled blood glucose, and sustain energy on one of the other options and prefer that, by all means, go with what works best for you.
Keep in mind that many of these diet parameters overlap or are extensions of one another. For example, DASH and Mediterranean diets embrace the same principles of many diets high in fruits, vegetables and whole grains, while minimizing added sodium. A vegan diet can be applied to any of the diet guidelines by simply substituting vegetable proteins for meat/fish/eggs and so forth.
How one person (or study for that matter) interprets "dietary patterns" may vary slightly from another. And how it affects one person compared to another is vastly different too. For instance, a person who does a lot of physical activity who follows a DASH diet consisting of non starchy vegetables, fruits, salmon, eggs, low-fat dairy and oatmeal is going to fare far better than a sedentary low-carber whose diet consists of bacon, lunch meat, and cheese.
While the deck seems stacked in favor of low carb, it is not so crystal clear that we need to throw out all other options and cash in our chips. That said, low carb also has the benefit of assisting with blood sugar levels and other health outcomes more than any other diet, too. In some cases helping people reduce or eliminate diabetes medications.
Still, while we do encourage a healthy low carb approach, in the end the best diet is the one that works best for you – the one you're going to stick to as an everyday way of eating!
What has worked well for you? Let us know by leaving your comments below.
Need help eating well each day and each week? Check out our delicious weekly low carb meal plans.