Grocery shopping can feel like an overwhelming undertaking when you must stick to a diabetes-friendly eating plan. 
You may feel your options are limited, or that managing meal after meal by following specific guidelines or having to find "diabetes foods" is too much to handle. 
The good news is, you don't have to buy special foods or follow a complicated meal plan. Read on for tips on how to navigate your next shopping trip.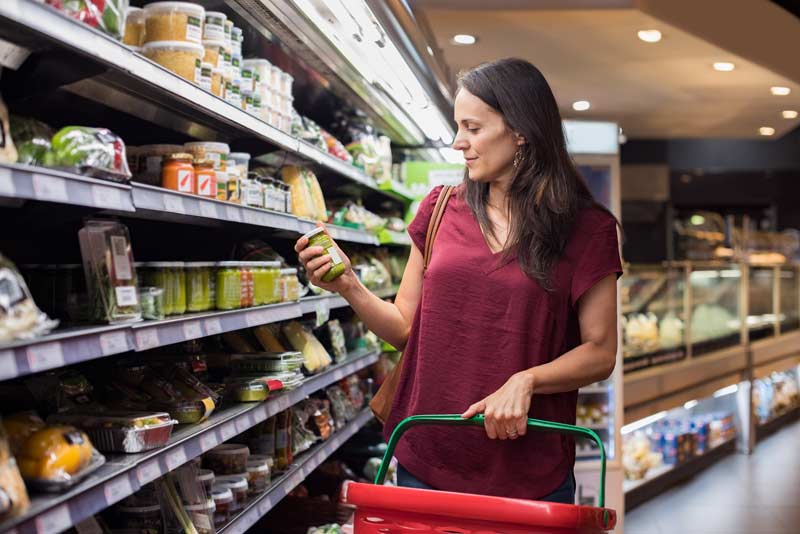 Plan Meals Ahead of Time
Before you even get to the store, it is a good idea to know what you need for the week. Having a plan of what you want to eat decreases the chances of impulse purchases at the store. 
Planning ahead also makes you more likely to cook a meal at home instead of running through the drive thru on a busy day. 
You can do something as simple as writing down your meals for the week on a notepad. But if you're the kind of person who doesn't know what to eat or needs more diabetes-friendly ideas, get weekly diabetes meal plans delivered straight to your inbox for the week.
Read Labels
Reading and understanding food labels is vital for monitoring your carbohydrate intake and successfully following a low carb diet. Although the ultimate goal is to be eating mostly foods that don't require a label (think produce and fresh meats), it is still important to understand what those labels mean. 
When it comes to carbohydrate counting, focus on these three items on the food label: 
Serving Size 

Total Carbohydrates

Fiber  
Remember the nutrition facts are based on ONE serving, so if you eat more than one serving, you need to add the additional calories, carbs, etc. 
To calculate net carbs, take the total carbohydrates minus the fiber. Since fiber does not impact blood sugar levels, the net carbs is the amount of carbs that will have an effect on blood sugar levels.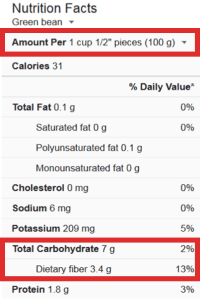 You can see on this example food label how the serving size (in this case, 100g) as well as the dietary fiber and total carbohydrates are clearly marked. These are the main things you want to look for. 
In general, foods with fewer total carbs and higher amounts of fiber will be best for blood sugar management and digestion.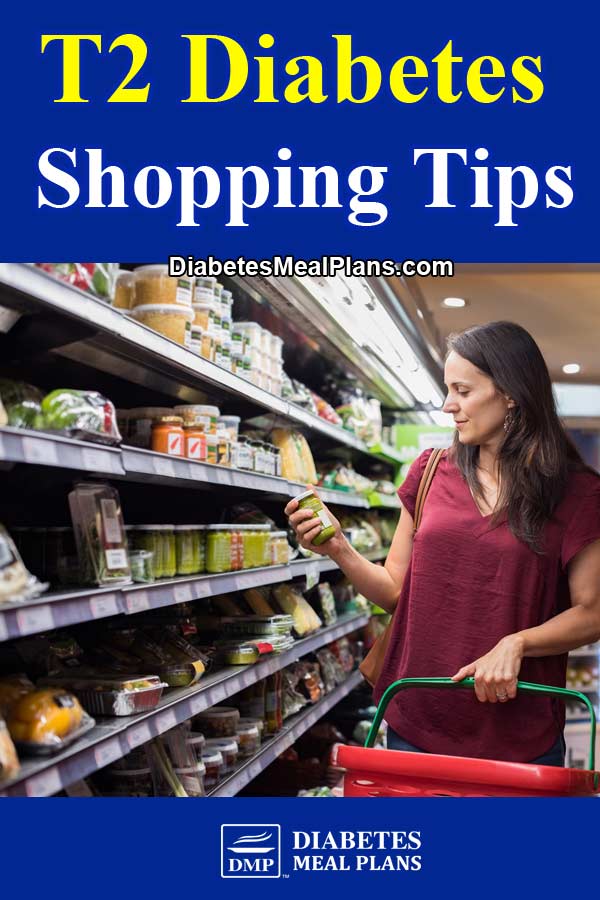 Check Ingredients
Along with the food label you also want to check out the ingredients list. Product ingredients are listed by quantity — from highest to lowest amount. 
This means that the first ingredient is what the product is mostly made of. Scan the first few ingredients, as they make up the largest part of what you're eating. 
You don't want to see words like "sugar" (or other words for sugar) "partially hydrogenated oil," or enriched grain ingredients. 
Instead, try choosing items that have whole foods listed as the ingredients. If the ingredients list is filled with words you don't recognize then you may have your hands on a highly processed food. 
Fruits and Vegetables 
While the produce section can pack some serious nutrient-punch, you still have to be mindful of carbohydrates. 
Some examples of lower carbohydrate fruit choices include: 
Lemons

Limes

Strawberries 

Raspberries 

Blackberries 

Blueberries

Cherries 

Grapefruit 

Cranberries (raw) 
Non starchy vegetables are also a great bet. Focus on choosing something different every week so you get all the benefits these whole foods have to offer. 
Some great choices include: 
Broccoli

Cauliflower

Brussels sprouts

Green beans

Eggplant

Asparagus

Celery

Salad greens, such as arugula, kale, or romaine lettuce

Carrots

Zucchini
A great tip is to choose in-season produce to help cut down on cost.
If you are concerned with pesticides you can choose organic produce or refer to the Environmental Working Group's Dirty Dozen and Clean Fifteen lists to determine which fruits and vegetables to buy organic. 
Meats, Seafood, and Eggs 
Choose wisely in this section to get good sources of protein and minimal carbohydrates.
Protein stabilizes blood sugar and should be included in every meal to help keep you full and satisfied. 
Beef, chicken, pork, turkey, and fish can all be incorporated in the diet as protein sources. It's great to stock up on lean protein choices like fish, turkey, and chicken, but that doesn't mean that you need to cut red meat (beef and pork) out altogether. 
For fish, focus on items high in omega-3 anti-inflammatory fats and low in methyl-mercury, such as anchovies, herring, mackerel, salmon, sardines, and trout. 
To get more omega-3s from your beef, look for "100% grass-fed" varieties as this meat is richer in healthy fats than beef raised on corn and grains.
Make sure to avoid any breaded meat and seafood products as these are typically high in carbohydrates plus other additives.
Finally, don't pass up the egg section! 
Eggs are an easy, nutrient-dense, low carbohydrate food that can fit any food budget. Looking for "pasture-raised" eggs can help increase the omega-3 content and other nutrients like Vitamin D.
Breads and Cereals 
Don't spend too much time in this aisle – your blood sugar will thank you!  Too many carbohydrates can cause blood sugar spikes.
Breads and cereals are primarily carbohydrates so you'll want to be extra careful with these choices – or try to avoid most processed versions. 
If you choose to buy a loaf of bread or box of cereal make sure to read labels for serving sizes and total carbohydrates.
For example, one tiny cup of Raisin Bran cereal has 47 grams of carbs! That is almost the amount of carbs we recommend for the entire day.
As for breads, skip buying the 'traditional' breads and make your own at home to get a healthier product. Or, look out for lower carb options, which are (thankfully) increasing in availability.
Dairy
Don't fall victim to the "low fat" trap. Choosing full fat dairy products gives you less carbohydrates and will leave you satisfied. This includes butter, cream, cheese, milk, and yogurt. 
Watch out for added sugars in yogurt. They can hide in flavorings and add-ins, such as granola or cookie bits. Your best option is to choose plain, greek-style yogurt. If you just can't get on board with plain, try adding a small amount of berries or even a no-carb, natural sweetener like stevia or erythritol. 
If you and dairy don't get along there are plenty of plant-based alternatives.
Depending on what the product is, however, the carbohydrate content can vary widely. Opt for unsweetened varieties of flax, almond, soy or hemp milk and yogurt to keep carbohydrates in check. 
Fats and Oils 
Again, don't fear fat! Not only does fat provide nutrients that your body needs, out of all the macronutrients (carbs, protein, fat), fat has the least impact on blood sugar and A1c levels.
Some of your best fat choices: 
Olive oil

– select virgin or extra virgin 

Avocados

or avocado oil 

Seeds – pumpkin, chia, flax 

Nut butters – check for natural varieties without added sugar

Nuts

– choose raw or dry roasted 

Butter or ghee 

Coconut oil

– select cold pressed, virgin 
As for salad dressings, look for brands with minimal ingredients, no added sweeteners, and use a healthy fat base such as olive oil and avocado oil. Avoid using salad dressings that primarily use soybean oil and/or corn oil. Better yet, make your own at home so you can control the ingredients! 
Conclusion 
For people with diabetes, diet is the body's best natural medicine. Because foods directly affect your blood sugars, make sure your food has a positive effect on your blood sugar by choosing wisely. 
With most grocery stores filled with refined carbs and highly processed foods, stick to a good variety of whole foods. These foods will help maintain stable blood sugar, increase your energy levels, and even help you to maintain or even lose weight.