It's common to think that fruit and fruit juice is "healthy." And because of that, a common question we get is: Is watermelon good for diabetes?
While it's true that fresh fruit contains valuable nutrients that may offer health benefits to the general population. Watermelon on the other hand, well… read on to learn why it's best avoided for better diabetes management.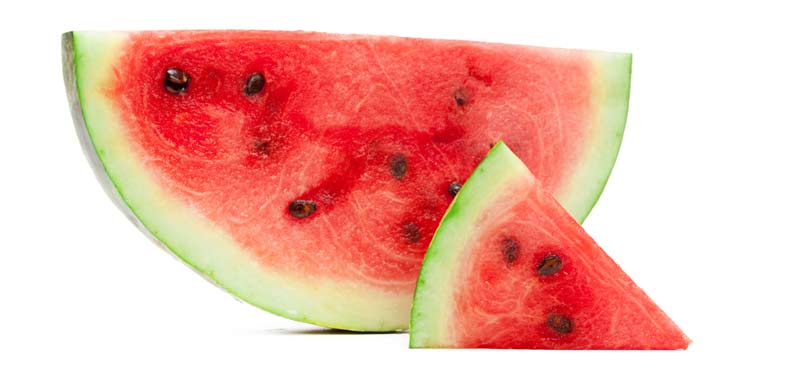 JUMP TO: Watermelon nutrition facts | Watermelon vs other fruit | Research on watermelon and diabetes | Conclusion
Watermelon
Watermelon is a fruit that is easily recognizable due to its large size, its oblong (or round) shape, and its bright red center encased in a green rind.
Due to modern agriculture, watermelons now come in a variety of shapes, sizes, and colors, but they all have one thing in common – a high sugar content!
But, sorry to say, that means watermelon doesn't really fit into a diabetic diet when you're trying to manage blood sugar and A1c levels.
Check out these nutrition facts to see for yourself.
Watermelon Nutrition Facts
Based on its name, it probably isn't a shock that your average watermelon is roughly 92% water!
And while it is very important to stay hydrated throughout the day, you might want to reach for a glass of cool, refreshing water rather than of a slice of sugary melon.
So, just how much sugar does watermelon contain?
Here's a quick rundown of the basic nutrients found in 1 cup diced classic red watermelon (equal to about half a wedge):
Carbohydrate content = 11.48g
Sugars = 9.42g
Dietary fiber = 0.6g
Protein = 0.93g
Fat = 0.23g
Calories = 46
It's easy to see that carbohydrates and sugars are the top nutrients in watermelon, which isn't great news for people with type 2 diabetes or prediabetes.
While all fruit contains "natural sugar," it is still sugar nonetheless. Your blood sugar can't tell the difference between added sugar or natural sugar, at the end of the day, it's all the same.
Watermelon also contains almost no protein or fat and it also has very little dietary fiber. These factors combined with almost 12 grams of carbs per serving means that snacking on just one cup of watermelon will result in a sudden surge of blood sugar with little to slow it down.
Another red flag is watermelon's high glycemic index of 75 – foods with a GI of 70 or more are "high glycemic index." The general gist of it is that high GI foods will cause a sharp rise in your blood glucose very quickly, which is what you want to avoid. So for the most part choose low GI fruit options.
Avoiding foods that cause these major ups and downs in your blood sugar is a key factor in achieving a lower A1C level.
Watermelon vs. Other Fruit

When it comes to sugar and fiber content, not all fruits are created equal.
For example, check out this chart that compares the nutrition of several fruits and berries: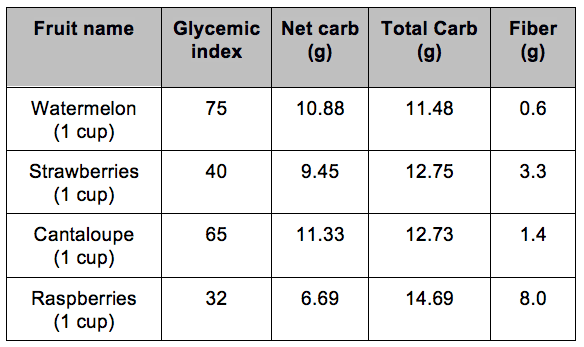 Pay special attention to the differences in net carbs for each fruit.
The net carbs are calculated by subtracting the amount of fiber in a given food from the number of total carbs (total carbs minus fiber = net carbs). This means any food containing more fiber will usually have fewer net carbs (the available carbs for digestion).
Since dietary fiber helps maintain healthy digestion and slows the absorption of sugars, you want to move towards fruits that are lower in net carbs and higher in fiber.
Looking at the comparison chart above, that would mean that both the watermelon and cantaloupe are getting the boot.
In general, berries tend to be richer in fiber, lower in sugar, and have a lower glycemic index than fruits like melons.
Please pin, tweet or share; then keep reading more info below – thanks!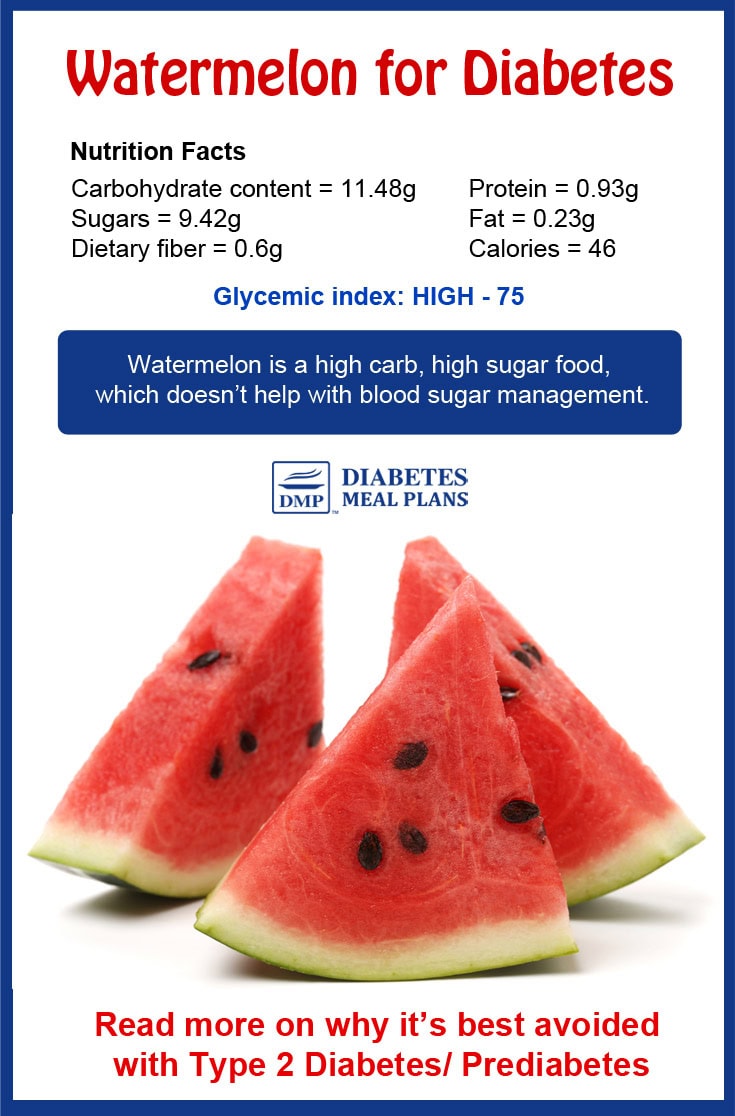 Research on Watermelon and Diabetes
Bitter melons have serious potential to benefit the health of people with diabetes and prediabetes. But bitter melons are quite different from sweet melons in terms of their chemical makeup.
There is no research benefits for watermelons because sweet melons fall flat in three specific areas: they are high in carbs, lower in fiber, and have a higher glycemic index than is tolerable for most people with type 2 diabetes or prediabetes.
Here at DMP we encourage a low carbohydrate diet because research shows it's the way to go if you want to lower your A1C and improve glycemic control.
The impact of low carbohydrate diets can be so powerful that many people with diabetes (and prediabetes) are able to reduce or eliminate the need for blood sugar lowering medication, such as Metformin, along with dramatically improving blood sugar and A1c levels.
We've seen the impact with our members and subscribers:
Leisa lowered her blood sugar from high blood sugar of 300's to normal and lost 20 pounds in just 30 days when she took the 30 Day Turnaround Program.
Cheryl reclaimed her health by reversing her prediabetes and is now living a healthier, happier life.
Tony has lost weight and is bringing his blood sugar levels down, and he's enjoying cooking his own food at home.
After taking the 30 Day Turnaround Program, JoAnn lowered her A1c from 9.5 to 6. And after one year she's still maintained these healthy levels.
Sheryl, a 66 year young heart patient, lowered her blood sugar, weight loss, A1c and cholesterol.
You can read many more testimonials here.
We have done a ton of research on treating type 2 diabetes and prediabetes because our goal is to help you make more informed choices about your diet and health so you can live your best life possible.
And according to hundreds of researchers, a lower carb diet is the way to go – click here for our diabetic low carb guidelines.
Further to the above benefits, research has found that following a low carb diet may improve high blood pressure, boost vascular health, reduce insulin resistance, and decrease cellular inflammation.
Additionally, as you've already learned above, watermelon is relatively low in fiber, which isn't ideal.
Research has shown that increasing your dietary fiber intake by an extra 10-20g/day may have a therapeutic effect on factors like body weight, blood sugar, insulin resistance, metabolic profiles, triglycerides, and LDL "bad" cholesterol.
Soluble fiber, such as the kind found in psyllium husks has been found to improve fasting blood glucose levels (-37.0 mg/dL) and A1C levels (-0.97%). You can also find soluble fiber in foods like artichoke, asparagus, winter squash, Brussels sprouts, broccoli, onion, carrots, blueberries and nuts.
Lastly, diabetics should steer clear of high glycemic foods like watermelon because they make blood sugar control more difficult.
Studies have found that a higher glycemic diet is associated with higher A1C levels and a larger waist circumference among type 2 diabetics. Other research supports that a lower glycemic diet results in better blood sugar control and lower A1C levels.
Conclusion: Is Watermelon a Suitable Food for Diabetes/ Prediabetes?
It's pretty clear that watermelon isn't the best fruit option, due to its high sugar content and its lack of nutrition.
While some diabetics may be able to tolerate very small portions of watermelon (a 1/2 cup or less), it may be wiser to just skip adding this fruit to your meal plan.
If you are going to indulge in a high sugar fruit, then it's best to pair it with a stabilizing protein or fat to help blunt the blood sugar spike that will result. Though, overall, it is best to just avoid these high carb traps altogether when possible.
Please pin, tweet or share this info to help others – thanks!