Too many of the wrong foods can quickly send your blood sugar levels soaring after eating, which will in turn raises your A1c and makes it difficult to gain control over your type 2 diabetes or prediabetes.
When blood sugar or A1c run riot, you can increase your risk of developing diabetic complications such as neuropathy or cardiovascular disease – and of course, no one wants that, right?
That's why it's important to know your numbers. So let's go over some commonly asked post-meal blood sugar questions. And make sure to join the discussion by asking your own questions in the comments below.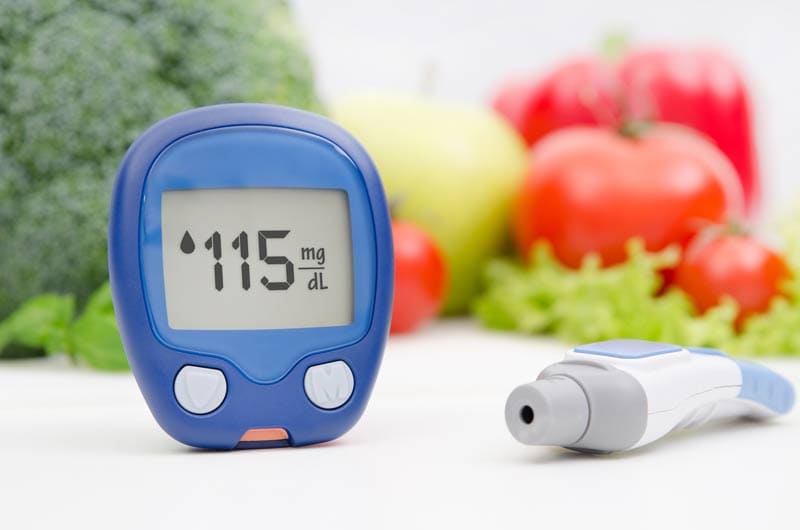 What level is considered high after eating?
Ideally, your goal is to maintain blood sugar levels under 140 mg/dL (7.8 mmol/L) after a meal. Therefore, if your levels run above this on a regular basis, they would be considered high.
My blood sugar levels after eating are always different, is this normal?
Of course this is normal because your blood sugar levels are directly impacted by what you eat!
If you're talking about small variations in glucose levels, and you're generally staying below the 140 mg/dL (7.8 mmol/L) threshold, then you don't need to worry about those differences.
However, if your sugar levels are all over the place, and they are running high on a regular basis, then you need to stop and think about what you're eating.
Carbs are the nutrient that most affect blood sugar levels. Research continually shows low carb diets are more effective at lowering A1c and blood sugar when compared to low fat diets.
If you indulge in a slice of pizza (high carb), then I would predict (with much certainty) that your post-meal blood sugar will be much higher than had you enjoyed some chicken and cheesy vegetables (lower carbs).
Consider tracking your food intake and blood sugar levels for a few days to identify which meals are most elevating your blood sugar. You can use something like this glucose spreadsheet or printable version if you prefer.
If you should take your blood sugar levels 2 hrs after eating, does that mean you have to wait 2 hours after a meal before you can eat a snack, since you can't eat a snack and then test your blood sugar?
For a true 2-hour post-meal reading, you should not snack after you finish your meal.
The 2-hour time frame is the amount of time it takes your body to digest your meal, break down the nutrients, and absorb the sugar into your cells. If you're snacking mid-way through this 2-hour time frame then you are disrupting normal metabolism and therefore the blood sugar reading isn't all that telling.
Make sure your meals are packed with protein and lots of healthy fat. This will help you stay fuller longer so that you don't have the urge to snack right after a meal.
My blood sugar levels after eating are always changing and often higher than they should be. I don't understand, how do carbohydrates affect blood sugar? Obviously it's not just sugar.
Like we said above: Carbs are the nutrient that most affect blood sugar levels.
Carbohydrates are the broad class of nutrient, and sugar is a subcategory of a carbohydrate. The other two subcategories of carbs are starch and fiber.
Something many people forget is that both sugar and starch break down into sugar (glucose) molecules, which can be used for cellular energy. For this reason, only counting grams of sugar isn't enough; you need to look at the total grams of carbohydrates.
Let's talk about a few different foods so that you have a better understanding of sugar, starch, and fiber.
Sugar: Most people can identify a high sugar food – think of a candy bar or can of soda. Clearly these types of foods are best avoided by people with diabetes and prediabetes.
Starch: Rice, pasta, and potatoes are examples of foods that are high in starch. Since starch is a type of carbohydrate it also means these foods are high in carbs. None of these foods are high in added sugar, but as soon as you eat them your body will begin to break down the starch into glucose.
If your blood sugar levels are high after eating bread, oats, or rice it's because your body is breaking down these foods into sugar. Even "healthy" grains like whole grain bread or brown rice are very high in starch, and therefore will directly raise blood sugar levels.
If you have prediabetes or type 2 diabetes you should avoid, or significantly limit, these types of high starch foods.
Fiber: Fiber is a non-digestible carbohydrate. This type of carbohydrate does not get turned into sugar, which means great things for your blood sugar levels. Vegetables are packed with fiber and most contain very little starch; hence why we recommend you include tons of non-starchy vegetables in your diet.
My blood sugar is always high at noon (11.0 to 14.0). The only way to have normal sugar reading is to not have breakfast at all. When I have breakfast and a shot of fast acting insulin reading at noon, my levels are always over 10.0. I have changed what I eat too many times that I don't care. Any suggestions on why this is or what to do?
The most obvious thought is to look at what you're eating for breakfast; common breakfast items like cereal or pancakes are going to spike your blood sugar much more than eggs or some plain yogurt with berries.
Another thought relates to your fasting (before breakfast) sugar level. If you're already starting off elevated (> 100 mg/dL or 6 mmol/L) then you're right that no matter what you eat, your blood sugar will continue to rise.
If you're struggling with elevated morning sugar, then it may be beneficial to try some apple cider vinegar and cheese, or a protein-fat combo snack before bed.
Since you're on insulin, it might be worthwhile to talk to your doctor about the particular fast acting insulin you are on. Short acting insulin starts working in 30 minutes; peaks in 2-4 hours; and lasts 4-8 hours. Your dosing may be off if you're having trouble covering your breakfasts.
Please pin, tweet or share; then keep on reading.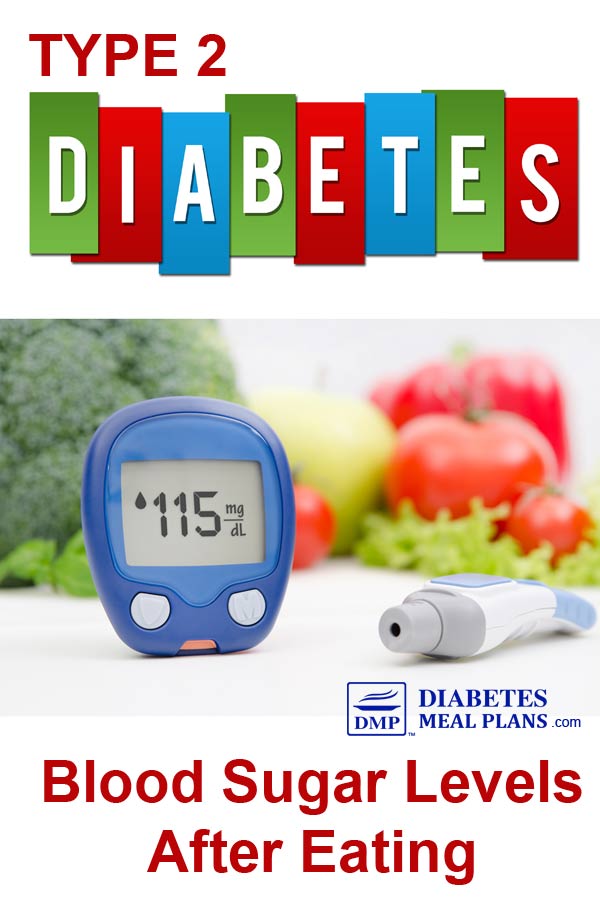 My husband is 76 and has a problem with his blood sugar count, it is too high. Would his age have anything to do with it?
Age does not factor into blood sugar control nor recommended ranges.
What will impact your husband's blood sugar level is diet, exercise, and stress. You may suggest a low carb diet and some physical activity such as walking if he is not already doing so. Excess weight can also negatively impact blood sugar levels.
How much weight to lose until my blood sugar levels are normal after eating?
Research shows 5-10% weight loss can significantly improve blood sugar levels.
For example, if you weigh 200 pounds (91 kilograms), that means 10-20 pounds (4.5-9 kg) is enough to see improvements in your A1c and post meal readings.
The good news is that the foods that will help you lose weight are the same foods that will help improve your post meal sugar levels. These include plenty of non-starchy vegetables, protein, and healthy fats.
My a1c is good but my daily blood glucose averages around 140. Do A1c and blood glucose have a long term relationship?
It's important to interpret and analyze both A1c and daily glucose levels; they often go hand-in-hand but that's not always the case. Let's review what each reading is measuring.
A1c is the average blood sugar level over three months. A1c is a firm average, there is no changing that number.
A blood glucose reading is a single reading at a single moment in time. This number can fluctuate immensely depending on food intake, exercise, and stress.
If the average of your daily blood glucose readings in 140 mg/dL (7.8 mmol/L), then it would be expected that your A1c for that period is around 6%.
If your A1c is not around 6% you may be wondering what that means.
Well, if it's significantly higher than 6% it means that your missing (not checking) many daily blood glucose readings that are above 140 mg/dL (7.8 mmol/L). You may not accurately be capturing your post-meal high sugar levels, or you could be experiencing unnoticed high levels overnight.  
On the other hand, an A1c under 6% means you aren't capturing all your low readings. Depending on how much under 6% you are you could be experiencing bouts of hypoglycemia (extreme low blood sugar) throughout the day.  
Continue checking your daily blood sugar as advised by your doctor. Work with your healthcare team to identify trends and strategize to eliminate any extreme highs or lows that will show up in your true A1c average.  
Should I be monitoring my blood sugar after eating?
Generally, that is between you and your doctor. It depends on your levels, your control, and your goals.
Many of our members have found that the more often they are able to check their sugar levels, the better their A1c is. This is because measuring blood sugar gives you instant feedback on how you're going on a day-to-day basis.
If you are having difficulty gaining control over your sugar levels it can be beneficial to check more often.
My doctor said that rather than fixating on blood sugar readings he wants me to do 3-month blood tests to read my body's longer term adjustment – what experiences can you relate to this thinking?
The 3-month blood test you are referring to is called hemoglobin A1c, or simply A1c level. This value will represent your average blood sugar over the past 3 months; basically, as your doctor described, it will provide a "big-picture" on your control.
The downfall of solely relying on that A1c value is that you have to wait several months before making any adjustments to your diabetes regimen. Especially if it turns out your A1c is high, then you let 3 months pass where you could have been gaining better control.
Most diabetes organizations recommend you test at least 3-4 times per day. And many of our successful members report they have achieved better control when they are able to check blood sugar regularly, at least until they know what they are doing and are confident to keep on track. Testing more frequently will allow you more opportunity to make corrections to your diet and exercise regimen.
A1c and daily blood sugar readings are best used in tandem so that you can maintain near normal sugar levels and prevent any nasty complications of uncontrolled diabetes. The sooner you're able to gain control, the lower your risk of developing any diabetic complications.
Ultimately, your checking regimen is between you and your doctor and will be dependent on your current levels and control.
Need help with lowering your after meal numbers? Join us as a member for weekly meal plans, resources and support.
We're proud to say we're making a real difference in people's lives!
TESTIMONIAL: "3 months ago my A1C was 8.7 and my recent blood work showed it at 7.4. My endocrinologist was very impressed and thinks I will be at the target level by my next testing in 3 months. Just eating your meal plan for a month and seeing the results gives me motivation to continue." ~Gloria G.