The past couple of weeks, we've shared some delicious roll-up type diabetic appetizers – Cucumber Rolls and Zucchini Rolls.
Today, you're going to enjoy these mouth watering variety bites. Or if you want to get fancy, you can call them 'canapes.' 🙂
We all have parties to host, parties to attend, or even just as an alternative afternoon snack, these variety bites should keep you and your guests satisfied with a variety of flavors.
Also, you won't find any bread or pastry in our low carb options, like you do at many other parties around. These are designed to be super tasty and enjoyable, yet keep your blood sugar levels and health in check.
1. Olives and Cheese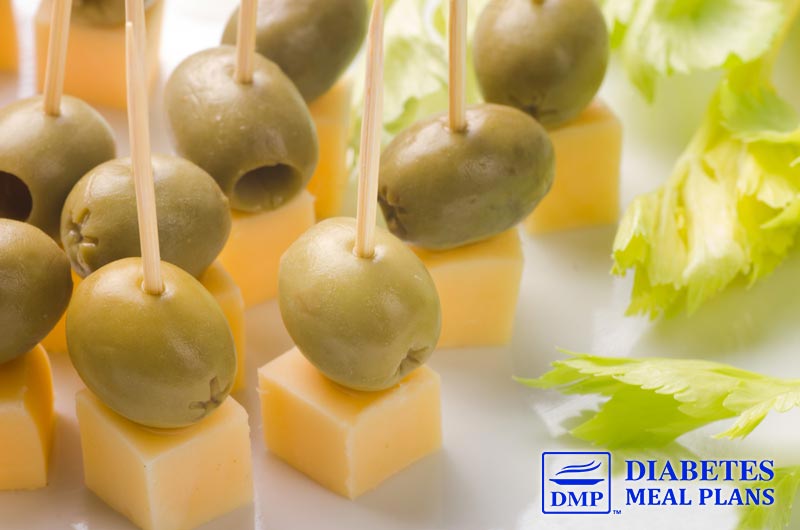 You can't go past loading up the complimentary combination of cheese and olives. Easy to make and bound to be enjoyed by most. And of course you can make up a combo on green, black and kalamata olives, too.
2. Cheese, Sausage, Pickle, Pepper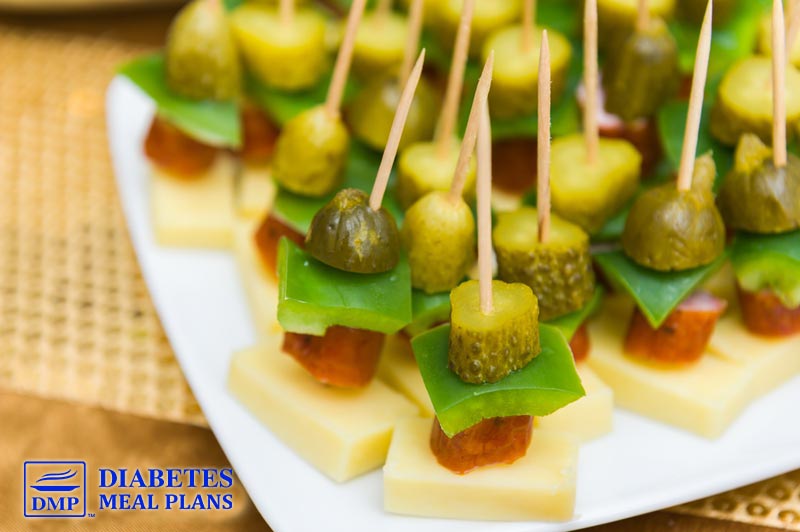 Take some chunks of cheddar cheese and grab your favorite cured sausage from the deli section, then top with some diced peppers and pickles.
3. Mediterranean Bites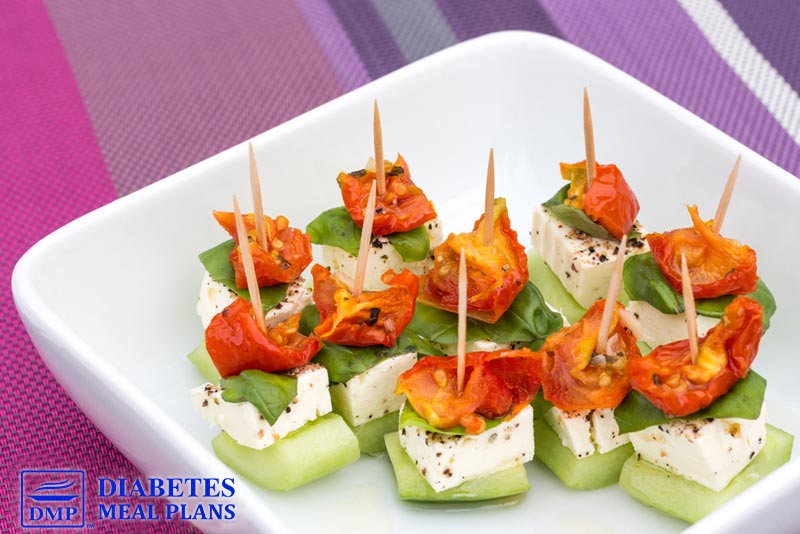 These put a zing in the step. Use peeled cucumber pieces as you base, topped with peppered feta cheese, a fresh basil leaf and semi dried tomato. Definitely a mouth watering treat.
4. Tuna Cucumber Bites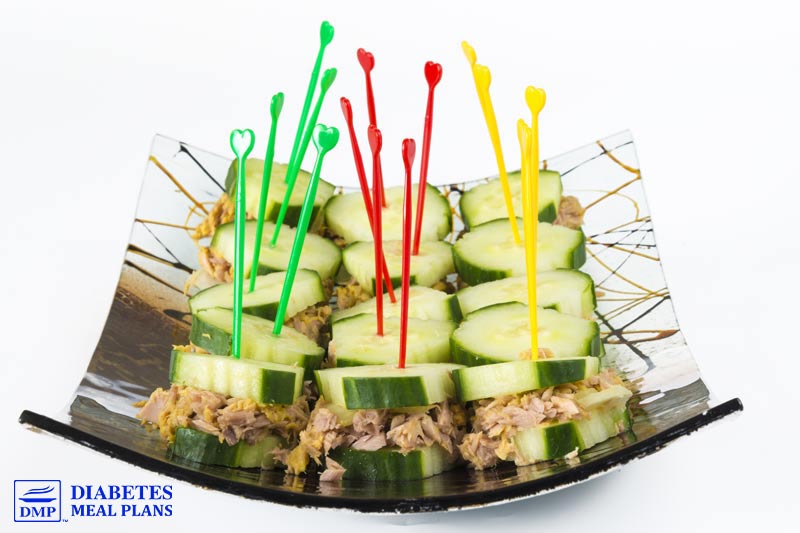 Mix some tuna with mayonnaise, cottage cheese or mustard, slice your cucumber and pack that tuna into mini sandwiches to be enjoyed.
5. Mini Egg Wraps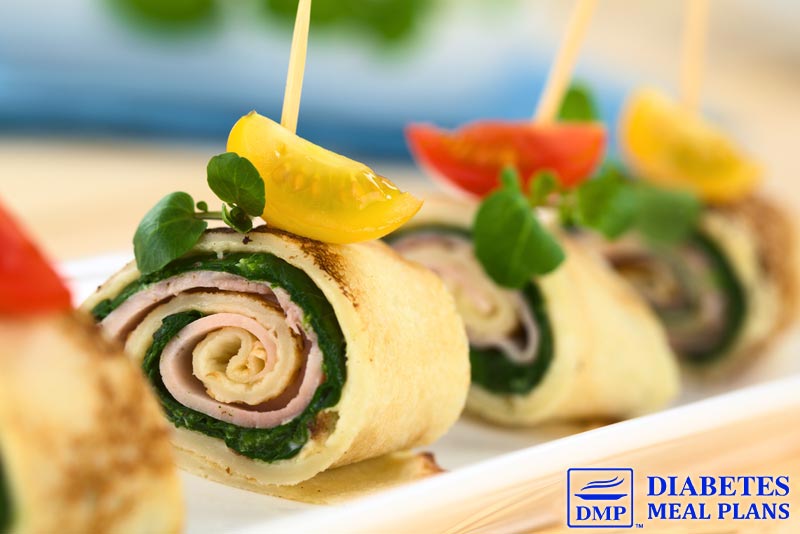 Whip up a few thin omelets. Fill with slightly steamed baby spinach and ham, seasoned with a little salt and pepper. Top with a little tomato to garnish.
You can really get creative with these and fill them with a whole range of delicious fillings.
6. Bite-Sized Meatballs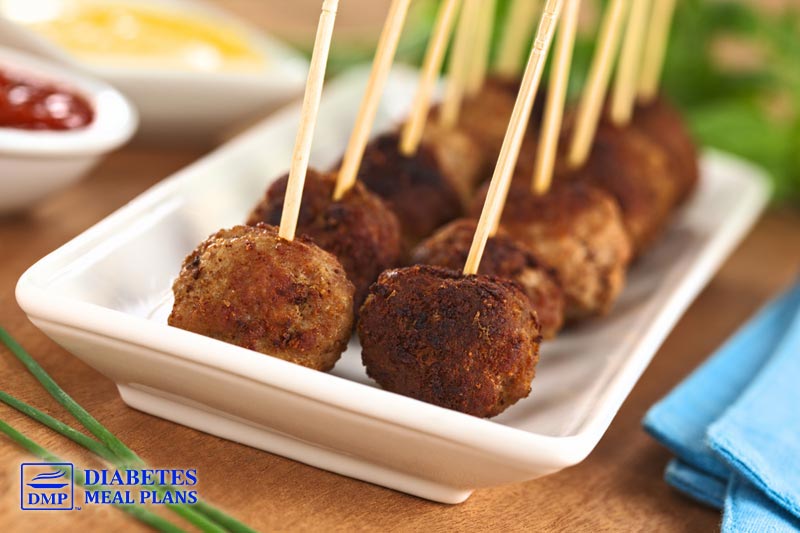 Meatballs are always a hit. Simple take 1/2 pound ground beef, turkey, or chicken, mix in your favorite herbs and spices, roll into bite sized balls and cook under done. Serve with mustard and some sugar free sweet chili sauce. Or buy some sugar free BBQ sauce, hot sauce or dressings.
7. Cheesy Smoked Salmon Bites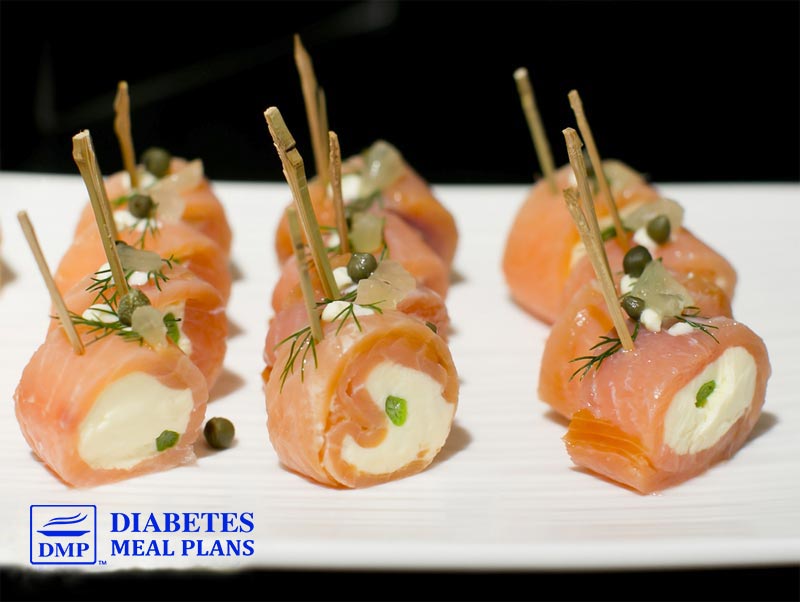 Buy a pack of smoked salmon pieces, ricotta or cream cheese and spring onion. Wrap the cheese and spring onion in smoked salmon and stick to hold together. Top with garnishes of dill, capers and pickled ginger, using a little squeeze of cheese to hold them on top.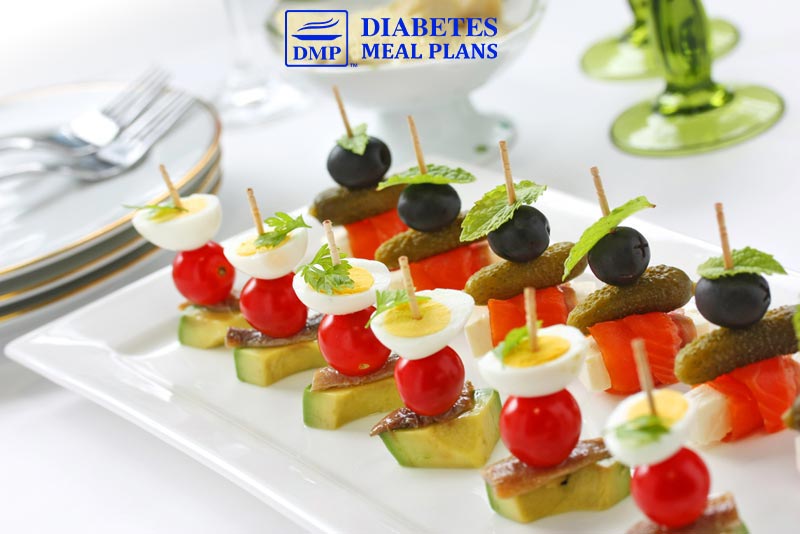 Here we've got two flavors. First take some chunks of avocado, anchovies or sardines, cherry tomato and eggs. Second, wrap some pieces of feta cheese in salmon pieces and top with gherkins, black olives and mint.
9. Zucchini Spritzers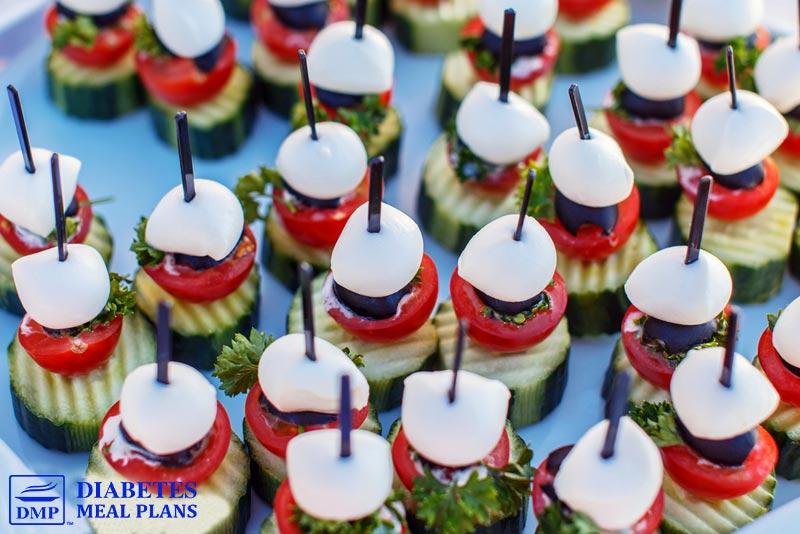 Use a fancy crinkle cut knife to cut zucchini into slices. Top with halved cherry tomatoes, a little mayonnaise, an olive, parsley to garnish and some mozzarella cheese.
10. Cheesy Ham Wrap-Ups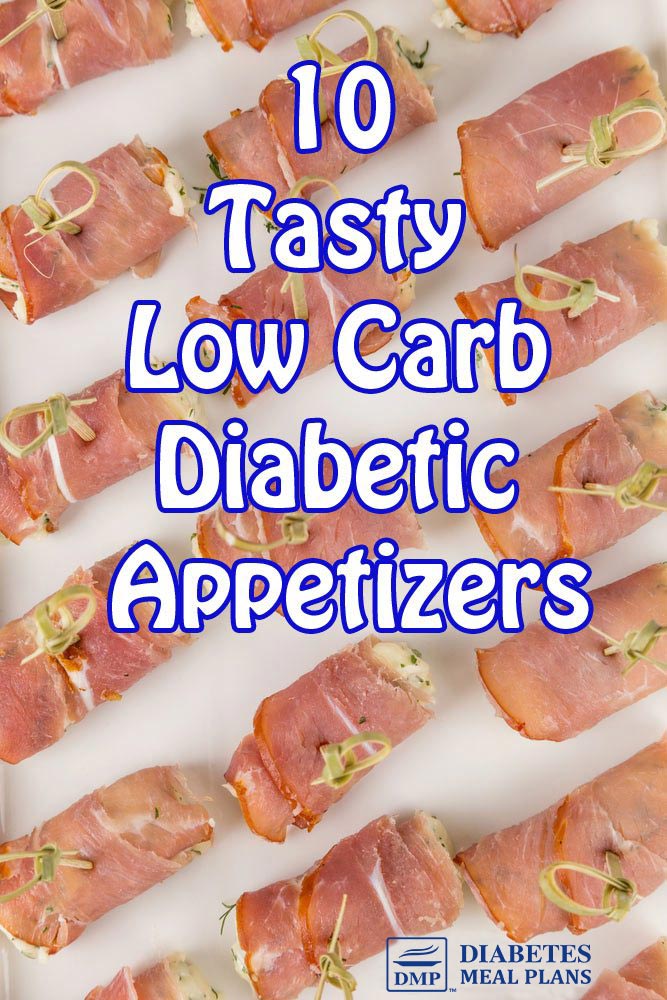 Last but not least, ham can be used to wrap all sorts of things, and of course works well with cheese. Mix some cream cheese with herbs, dill, parsley, spring onions and such, then wrap inside the ham. Super tasty and enjoyable.
You can also use sliced tomato, guacamole, baby spinach leaves, pesto and all sorts of things. You could even mix wilted or cooked spinach with cheese and make a spinach pastry-like appetizer – without the pasty of course. Just wrap in ham instead – delish!
The key with appetizers is to get creative. Have fun and mix and match combinations to make fresh tasty treats.
Kitchen Essentials for Making Diabetic Appetizers Easy and Beautiful
Using a crinkle cut knife to cut some of the vegetables you may use, makes things look more appealing.
If you need to cut things thin, use a mandolin. These are also great for getting consistency with your cutting.
A variety of serving boards always make interesting and appetizing servers.
You can purchase some great serving sets. Or simply go for simple rectangular serving plates.
And one thing every kitchen needs, is a range of small sauce bowls. These are not only great for serving sides to appetizers, but also for sauces and sides for dinner.
As you can see, there are loads of ideas for tasty diabetic appetizers – ones that are low carb without bread and pastry! Give some of these a try and impress your guests and family with your creative flair.
Bon Appetit!!
Please pin, tweet or share this with others. 🙂
Save