I know what you're thinking–this is a diabetes site and I already have diabetes so how can this info on type 2 diabetes prevention help me.
Well listen up because it can. And it will be helpful to someone you know, too.
While it may be true that you already have diabetes, the information below will provide some encouragement and hope because it is applicable to those who already have type 2 diabetes.
This info will also give you a sense of urgency to encourage some changes for those in your lives who may have prediabetes, be on the brink, or be heading in the wrong direction. So please share this with loved ones, friends and colleagues.
Type 2 Diabetes is Reversible
While diabetes is not reversible from a diagnostic standpoint (once you have it, you have it), diabetes can be reversible from a physiological standpoint in many.
That is, you may be able to get your blood sugars within a normal, healthy range so that you are functioning like a non-diabetic. This is possible and we would say you have "controlled diabetes."
Here are some more resources on reversing your diabetes:
This is what Sheryl says after taking our 30 Day Turnaround Program.
Sheryl's says – after 3 months my A1C is now normal for the first time ever since diagnosed in 2007; LDL down to 60; Total cholesterol down to 130; Taking less diabetic meds; Weight within 5 lbs of normal BMI!!
You can make changes, too! Read on…
Type 2 Diabetes Prevention
If we use the word "prevention," we generally relate it to actions that do not necessarily guarantee an outcome, but which drastically decrease the risk of what we are trying to avoid. Eg: wearing a seatbelt or helmet prevents injury, locking our doors prevents robbery, writing a note prevents forgetfulness.

And in majority of cases, eating well and exercising can prevent (or reverse) the onset of diabetes, or the development of diabetes and complications.
Now, I just want to say that while I want to give you hope and encouragement, I also don't want to portray a false hope, which can lead to disillusionment down the road.
While people can reverse their condition, not all people can. So, there are no promises that making changes in your diet will inevitably reverse diabetes. This sets people up for guilt and shame when they aren't able to achieve control despite their best efforts–because for some people, pancreatic damage has been sufficient to require medication or insulin to control glucose levels.
But, you can do you best to prevent diabetes onset and prevent it from developing at a faster rate and also prevent risk of complications.
Lifestyle Changes Can Reduce Risk and Outcomes by 58-71%

The good news:
Lifestyle changes make a HUGE difference in diabetes development and outcomes.
Here's the scoop: years ago the National Institutes of Health did a very large clinical trial at multiple sites in which they enrolled 3,000+ participants who were at risk for diabetes. They divided them into 3 groups.
The control group received some basic information about diet and exercise and were given a placebo (a pill that has no effect). The second group received the same information, but were given Metformin (850 mg daily). The third group received no Metformin, but were enrolled in an intensive lifestyle change program.
Do you want to guess which group did the best?
The exciting part is the degree to which lifestyle changes worked.
Compared to the control group, the group taking Metformin were 30% less likely to get diabetes – pretty decent results.
BUT–the intensive lifestyle group decreased their risk of developing diabetes by 58%!
That means, more than half of the participants did not develop diabetes when compared with the control group, who still had basic diet and exercise information provided. 58%!!

Even more amazing is that when they broke it down into subgroups, those over the age of 60 reduced their risk by 71%. In addition, they improved their lipid (cholesterol) profiles and blood pressure. And it has been since forecasted that results of lifestyle changes save participants $2650 per year in annual medical costs.
What Does Intensive Lifestyle Changes Mean?
Now, I know what you're thinking: intensive lifestyle change? 
Are you're saying I have to start doing hardcore workouts or crossfit every day and eat nothing but salad???
Not so!
In the study I mentioned above, the "intensity" was simply related to the number of weekly sessions and the level of accountability.
There were only 2 goals participants were asked to meet, both of which were more than reasonable:
Lose 7% of their body fat – this breaks down to about 15 pounds (7 kg) for a person who weighs 200 pounds (90 kg).

Engage in a minimum of 150 minutes physical activity weekly – this equates to less than 30 minutes/day – 21 minutes – which is achievable, right?!
But here's the catch:
It has to be a lifestyle change that is maintained long term.
Once the weight is gained back or a person quits exercising, the risk goes right back up again.
Please pin, tweet or share this post, then read our practical tips below. 🙂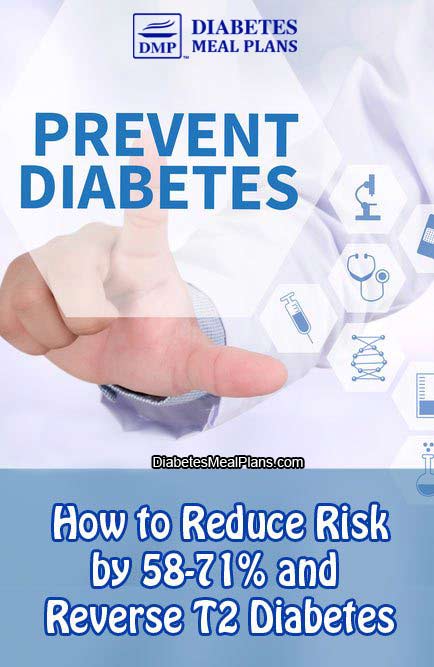 Practical Tips for Diabetes Prevention (of development and complications, too)
What does all this mean for you?
Here are a few take home points:
1. If you already have type 2 diabetes, do not despair! Lifestyle changes are highly linked with improved control and outcomes. Engage yourself in the same behaviors that help reduce blood glucose and obesity and you will see improvement!
2. Weight loss is key to preventing diabetes and in glucose control. While we advocate a lower carb approach on this site, participants have seen improvement on a variety of healthy, balanced diets so long as they lose a reasonable amount of weight and keep it off.
3. The number one factor associated with weights loss was logging or tracking foods. Keeping a journal or diary of what you eat and drink, will keep you accountable as well as increase your awareness of what's going in.
From my experience, participants were amazed at the quantity (portion sizes) and quality (processed junk) of the foods they ate–much of our eating is mindless and tracking helps reduce that.
4. Exercise is important and you don't have to be a professional athlete to see progress and results. Start small and stay consistent. Everyone can do something even walking.
If you're doing less than 30 minutes/day, work your way up. If you're at that goal, challenge yourself with some additional activity, either adding in something new exercises (bridges, squats, leg lifts), or increasing the intensity or duration of what you're already doing.
5. Support is often underrated. I'm sure that weight loss through healthy diet and exercise as being key components to diabetes prevention didn't shock anyone. We all know those things are linked with better health. I suspect the reason participants were so successful is that they were meeting weekly with a group of like-minded individuals who were all striving toward the same goal.
Who is your support network?
That is one thing we strive to provide in the form of an online community here at Diabetes Meal Plans, BUT it's not the same as having physical one-on-one relationships with others. If your family is on board, be grateful, as that's not the case for everyone.
If they aren't, find some friends who will provide support and not sabotage your efforts. You will find them at places like health food stores, parks, gyms, community events. Active, health-conscious people are all around you. And many of them would love to have another friend they can relate to and help push one another toward common goals.
The key takeaway here is that the onset of type 2 diabetes and diabetic complications are largely preventable, if not reversible in many cases.
Don't stick your head in the sand. Eat well, get active and do what you can to take care of yourself.
And, subscribe (below – and get our freebies) to our email list for weekly inspiration. Share your thoughts, comments and questions on all our blog posts. Or join our VIP Members Club for more help and support.
We love hearing from you and we hope that our efforts help you be healthier and enjoy life more. 🙂